Pomegranate is one of my favorite fruits ever. When poms are in season I have to buy them at every single grocery store trip that I make. Have to have them. My love for pomegranates can be considered borderline obsessive but really what's not to love about this fruit? Tiny pearls of yumminess that burst to release a splash of sweet juice in your mouth. When I was little, a pomegranate tree grew in my grandmas back yard in their Jaipur home and when we would visit them during our winter break, the tree would be full of pomegranates. Now, these poms were a little bit of a different kind (a different variety may be). They were small, almost pale pink on the outside, and had pale, off whitish to light pinkish arils. They might not look like the picture perfect pomegranates that we can buy here in the United States but they were just as good, if not better, and what can beat a fresh, picked off the tree pomegranate. Very few other things in this world, I would say!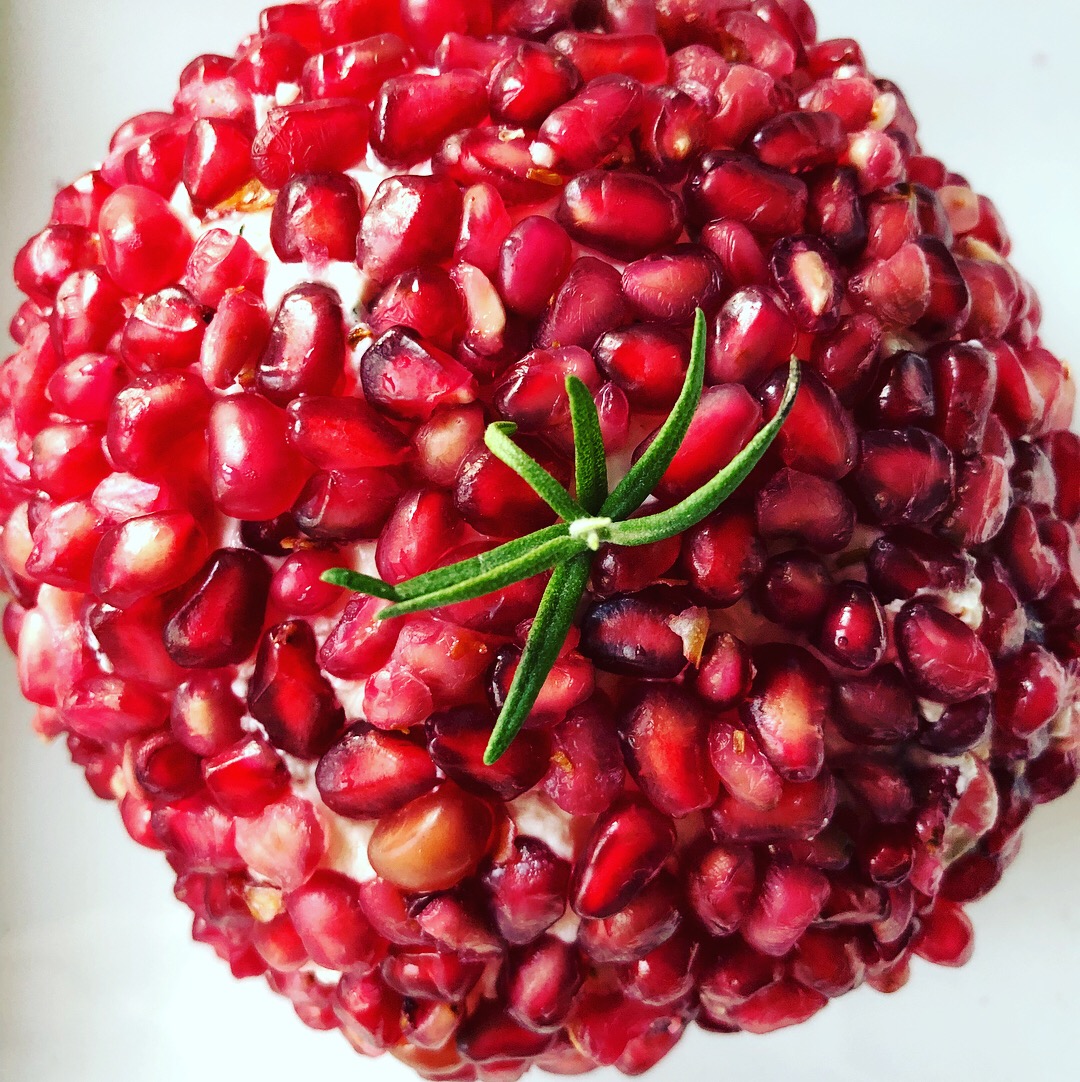 Our family loves to eat pomegranates as such, but when in season, I like to include them in salads, with roasted vegetables (find a recipe here), and any other way I can think off. So not be intimidated by how to cut a pomegranate, it is easy peasy (find my method here). For Christmas Eve party at a friend's house, I made this cheese ball and decorated with some fresh pomegranate arils. It looked so festive that it was hard to take that first dig at the cheese ball. Very pretty and festive. I did stick in few leaves of rosemary to make it look more festive and Christmassy. Also, there are herbs mixed in with the cheese so the rosemary kind of represented those herbs.
There are three kind of cheeses that I used – have to have cream cheese; a cheese with a stronger flavor – I used feta, you can use goat cheese, blue or any other cheese flavor you like; and a shredded white cheese – I used Gouda, again go with your favorite white cheese – cheddar, Gruyere or something else. I added sliced and toasted almonds to bring in some nuttiness and then some brown butter fried sage and finished with some very mild seasonings. So here is the rundown:
Ingredients:
Cream cheese – 12 oz (340 g), softened, at room temperature
Feta cheese – ½ cup, crumbled
Gouda cheese – ¾ cup, shredded
Sliced almonds – ½ cup, toasted
Salt – ¼ teaspoon
Fresh ground black pepper – ¼ teaspoon
Garlic powder – ¼ teaspoon
Seasoned salt – ¼ teaspoon (optional)
Red pepper flakes – ¼ teaspoon
Salted butter – 2 tablespoon
Sage leaves – about 10, (or use 2 – 3 tablespoon of fresh thyme or rosemary)
Pomegranate arils – 1 cup
Crackers – for serving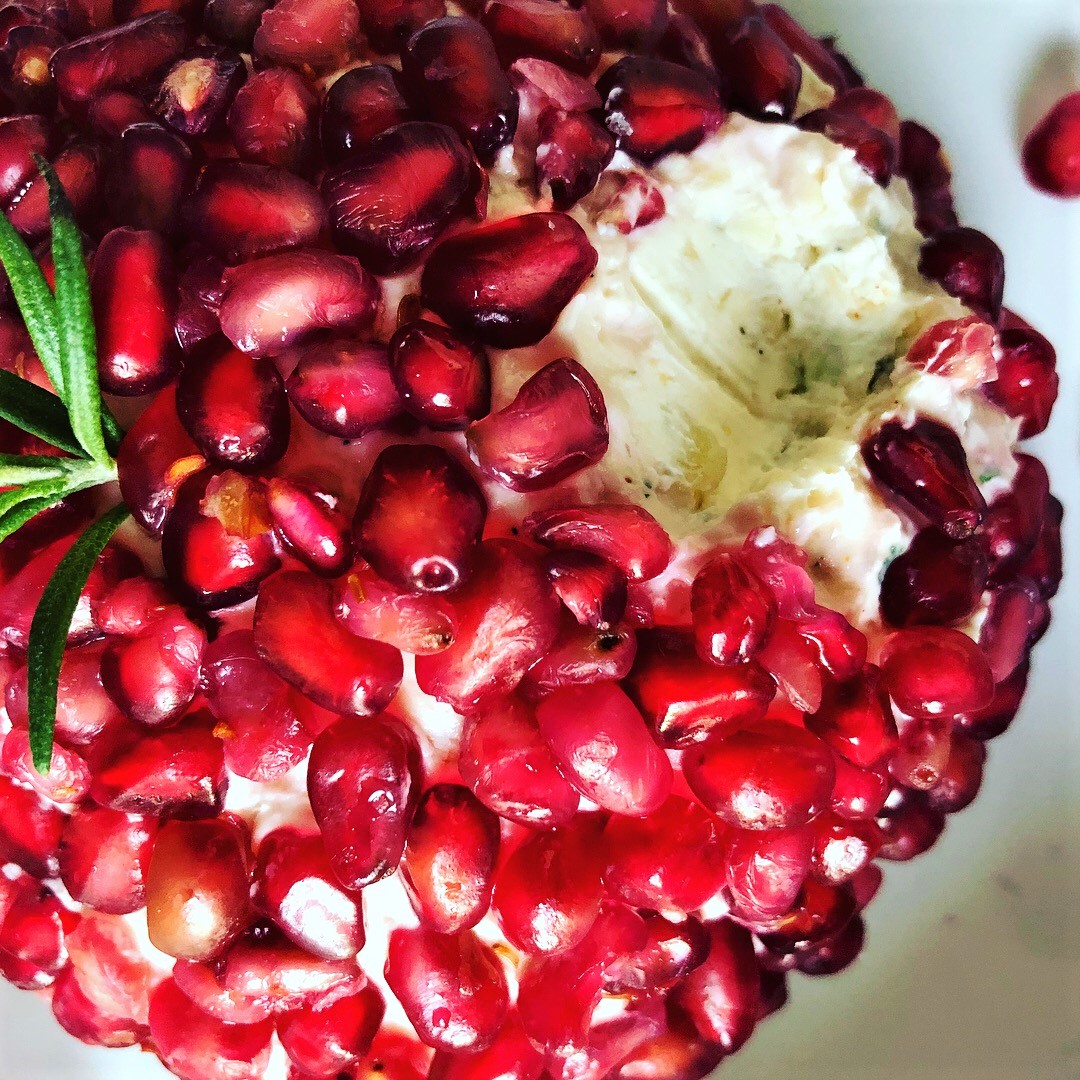 Method:
Set a small, heavy bottomed skillet on medium heat and add butter to it. Once the butter melts, lower the heat and let the butter sizzle and turn a little brown and nutty. Add the sage leaves and cook until crispy about a minute or two. Set aside.
In the bowl of your stand mixer fitted with whisk attachment, combine the cream cheese, feta, and Gouda cheese. Add the seasonings and beat until well mixed. Fish out the sage leaves from your brown butter and beat into the cheese mixture. With the mixer running on low speed, pour in the brown butter and keep mixing until all the butter is incorporated. Remove the bowl from the stand mixer, and using a rubber spatula, mix in the toasted almonds, scraping down the sides and the bottom of the bowl.
Lay a big piece of plastic wrap on your kitchen counter and dump the cheese mixture on it. Cover the cheese mixture with the plastic wrap and mold it into a ball. Cover it completely with plastic wrap and let chill in the refrigerator for at least 30 minutes.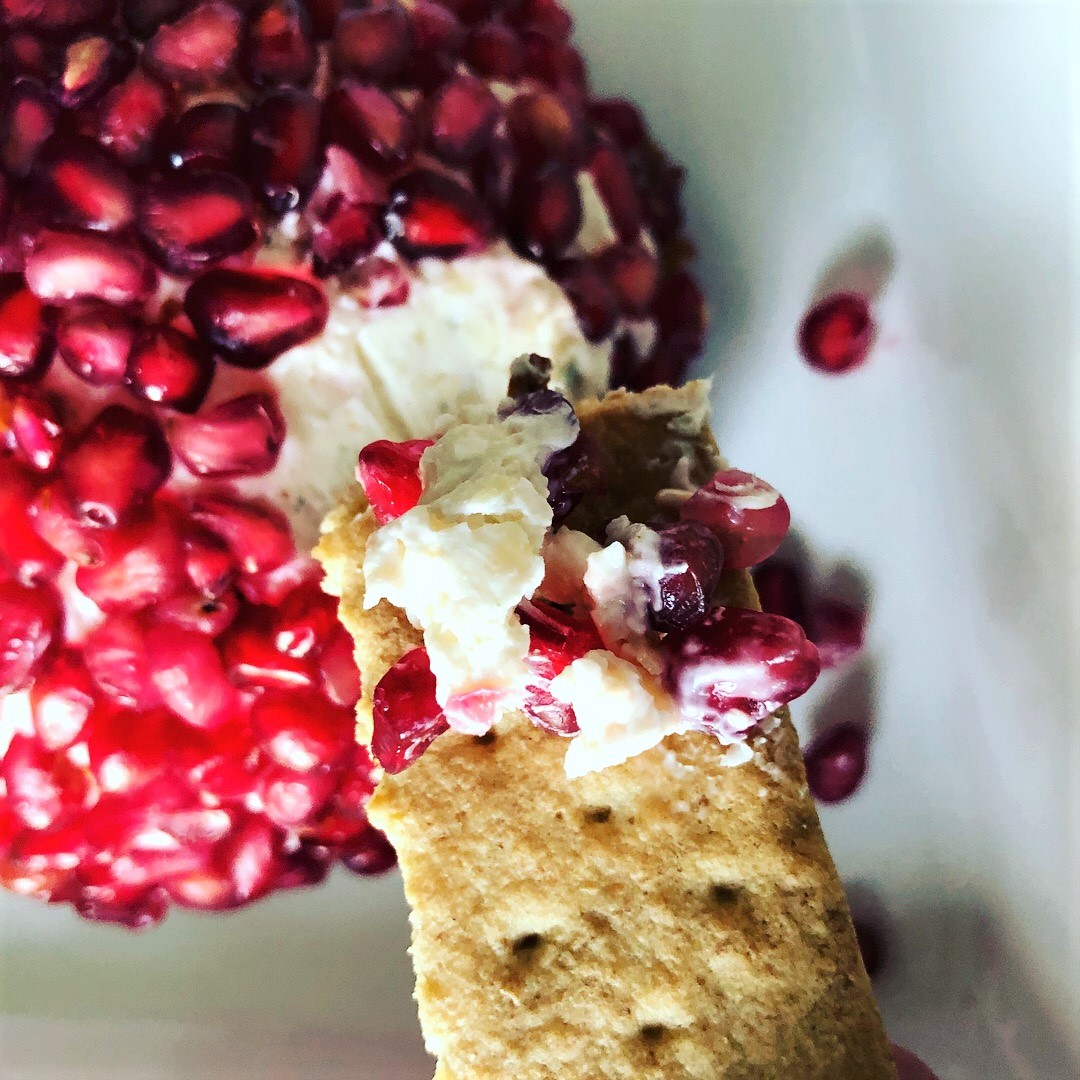 Meanwhile, place the pomegranate arils on a paper towel and pat them completely dry. Cover with another sheet of paper towel and set aside. Half an hour before you are ready to serve the cheese ball, bring it out and let it come to room temperature a little bit. After about 15 minutes, unwrap the bowl and smoothen it a bit with help of a rubber spatula. Add pomegranate to a plate and using your hands, start pressing them into the cheese ball or you can roll ball through them. Either way, the idea is to make the arils stick to the cheese surface. Once the entire surface of the ball is covered with pomegranate, it is ready to serve. Remove it from the parchment sheet and move to serving platter. Serve with crackers of your choice.
Love – Vaishali.
Notes:
You can serve the cheese ball immediately after coating it with pomegranate or keep it in the fridge until ready to serve.
The cheese ball can be made a day or two in advance and stored in the refrigerator (before adding pomegranate).
Tools used:
Stand mixer (or hand held electric mixer)
Plastic wrap
Measuring cups and spoons
Box grater
Rubber spatula
Skillet