Way before McDonald's attacked Indian food and restaurant scene, aloo tikki and veggie burgers had already made a great impact on the food cart and street food culture. Food carts with big flat tops shining in oily glory, were becoming a production line of sorts. Two people generally manning a burger food cart would perform like an automated assembly line – golf ball size balls of potato or veggie mixture would get flattened out and fried in oil on that flat top till browned and crispy and cooked "burgers" would get lined up on the edges of the tava (flat-top). The other person would be toasting buns simultaneously and spread the toasted buns with some kind of mayo-tomato ketchup concoction; add a perfectly cooked crunchy burger; top it with shredded cabbage and red onion; sprinkle some magical seasoning and chutney; wrap the whole thing in a sheet of wax paper; cut it into two and hand you the perfect veggie burger there ever was. And then do it all over again and again and again. May be 2457403 times a year. And I am not even exaggerating.
Personally, I feel I have come a long way since those days of standing on the street and chowing down that burger. Nothing against that burger and the burger wala but I cannot, now, go back home, and enjoy one of those burgers. Both my body and my mind will not allow it.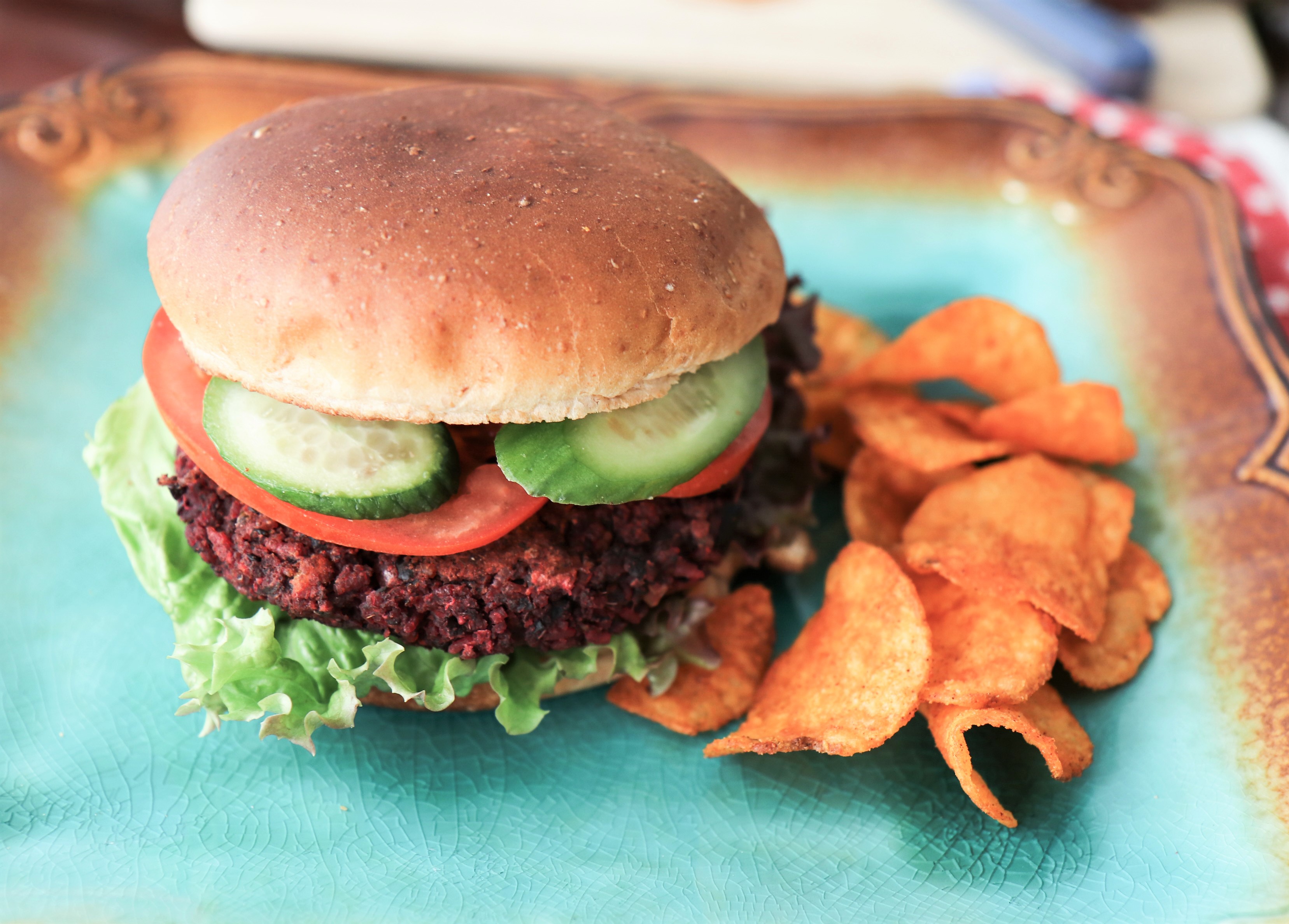 Veggie burgers are awesome! I mean you get the nutrition – beans, veggies, some grain component as a binder, endless flavor combinations – I am already drooling. For people like me, who do not eat beef, veggie burgers are God-sent. Most of the restaurants have now started serving some kind of veggie burger but sometimes a veggie burger patty can just be completely flavorless. This burger recipe, on the contrary, is a flavor bomb.
This veggie burger is a combination of beans, veggies, awesome Indian flavors and cooked quinoa or rice. Addition of a beet takes the flavor and beauty of this burger to a different level. Beets are in season these days and are so flavorful and bonus points for being super healthy. Beets are rich in calcium, important for healthy bones and teeth, are full of flavonoids and other anti-carcinogenic compounds as well as great immune boosters. Their deep red color comes from a form of betalain phytonutrient called Betanin, which provides antioxidant, anti-inflammatory and detox support. Therefore, the bottom line is that these gorgeous red roots are good for you! So let us move on to incorporating this health food into our humble veggie burgers – shall we?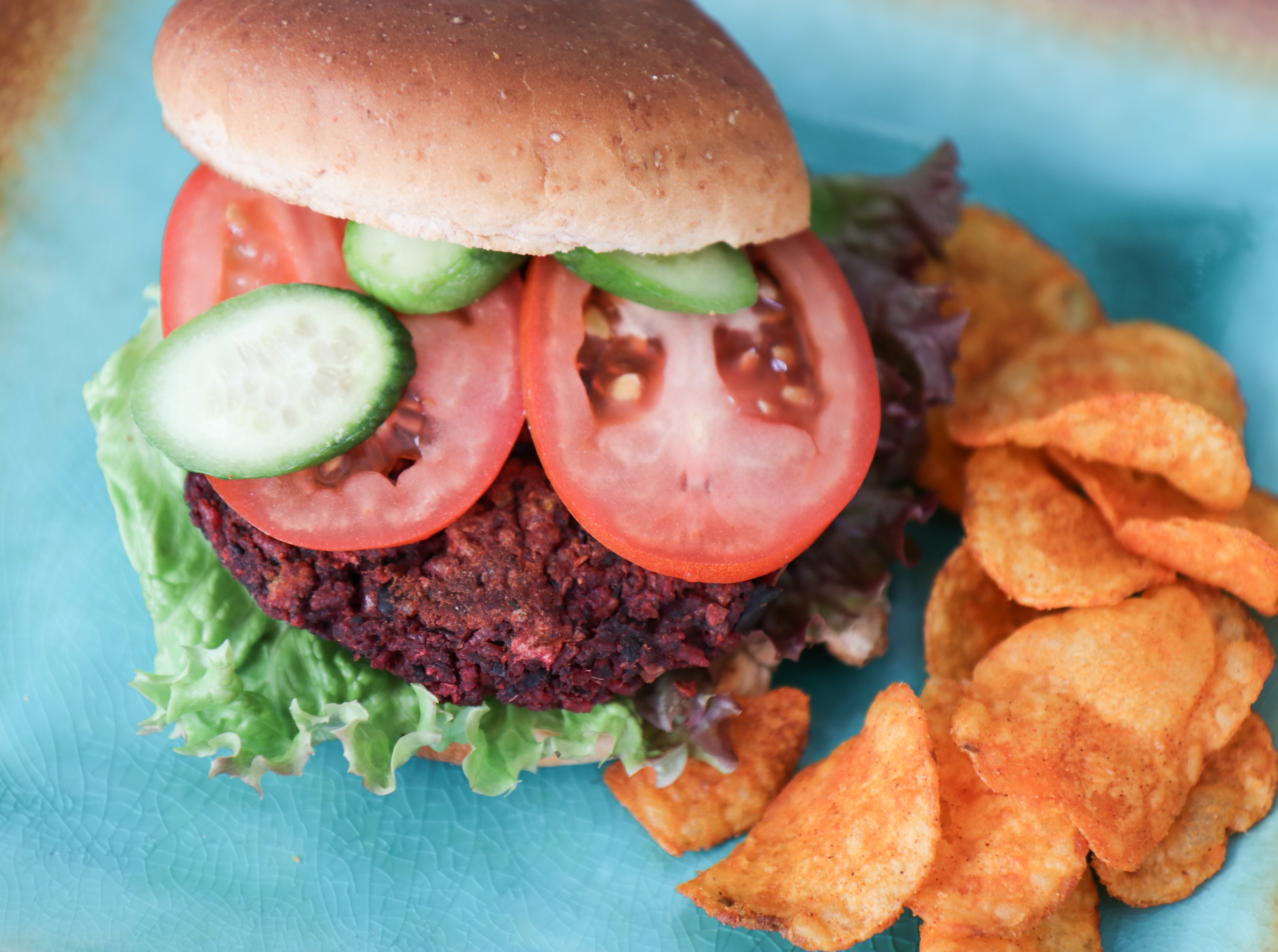 Ingredients:
Black beans – 1 can (drained and rinsed)
Beet – 1, small
Carrot and peas – ½ cup, frozen
Cooked rice or quinoa – 1.5 cup, (rice recipe here and quinoa recipe here and here)
White onion – ½ , chopped (about ½ cup)
Ginger – 1 inch piece, peeled
Garlic – 2 cloves, peeled
Green chili – 1 (optional)
Lime juice – 1 tablespoon
Garam masala – 1 teaspoon
Cumin powder – 1 teaspoon
Salt – to taste
Olive oil – to cook the burgers
To serve:
Whole-wheat buns – 8
English Cucumber – 1, sliced
Tomatoes – 2, sliced
Lettuce – washed, patted dry and torn into big pieces
Red onions – ½, thinly sliced (optional)
Pickled jalapenos – optional
Chipotle mayo (see note below)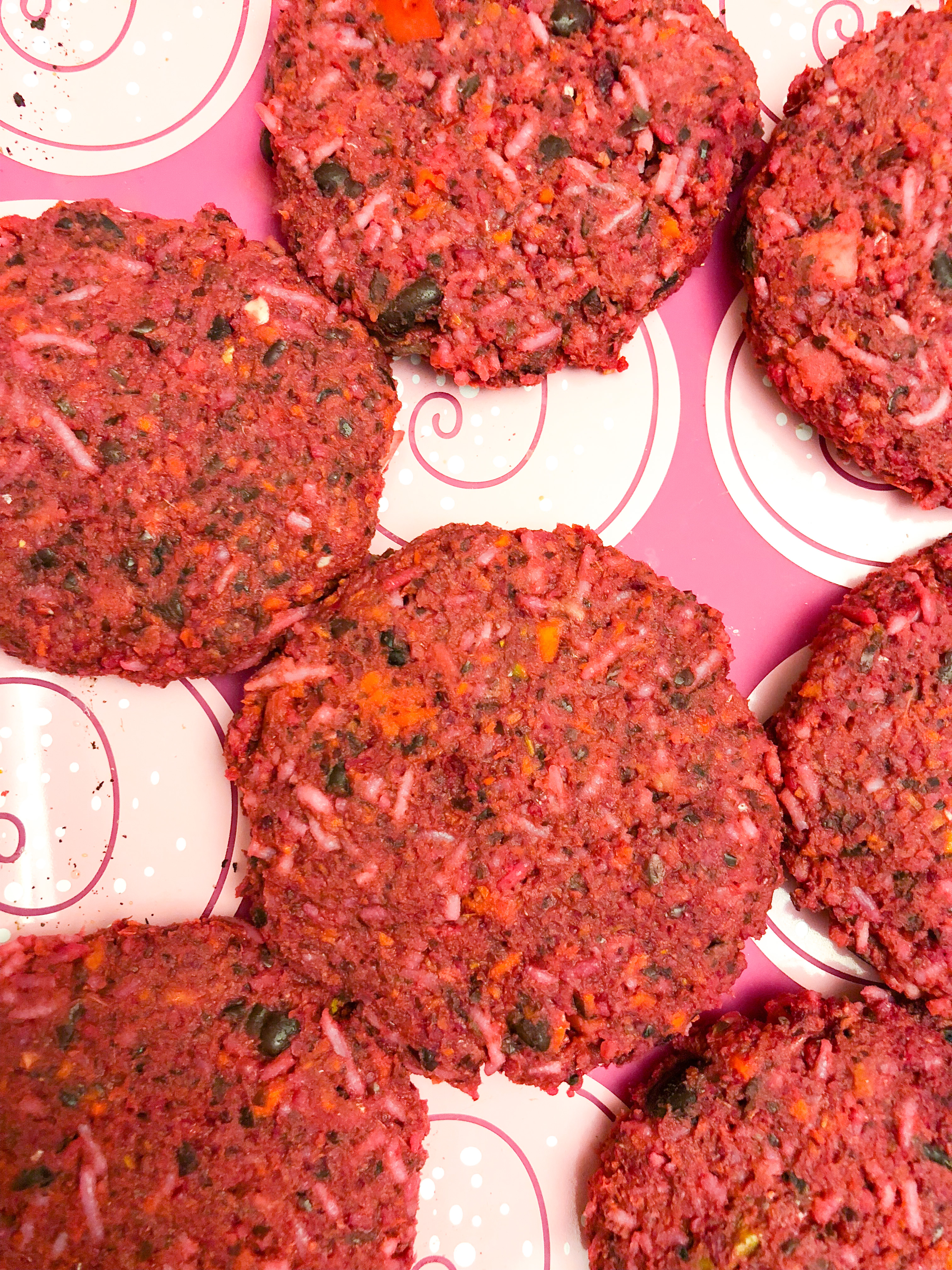 Method:
Start by cooking the beet – pressure cook, roast or microwave. Microwaving is the quickest – wash the beet and wrap in a piece of plastic wrap. Poke a few holes in the wrapped beet with a fork. Place a bowl of water in the microwave and set the beet beside it. Microwave on high for 4-5 minutes. Once cool enough to handle, unwrap and peel.
Microwave the frozen carrots and peas for a minute with a tablespoon of water. Drain.
Add all the ingredients to your food processor. Pulse a few times until everything is mixed, 5-6 times. Give a taste check and adjust seasonings, if needed. If you do not own a food processor, you can add everything in a deep mixing bowl (make sure to grate ginger and garlic, and mince green chili). Mash everything together till mixed well.
Line a cookie sheet with a sheet of parchment paper or non-stick silicon mat. Divide the mixture into eight equal portion, form patties and lay on the cookie sheet. It is a good idea to size your burgers according to the buns you are using. Stick the cookie sheet into the refrigerator for half an hour while you prep the other ingredients.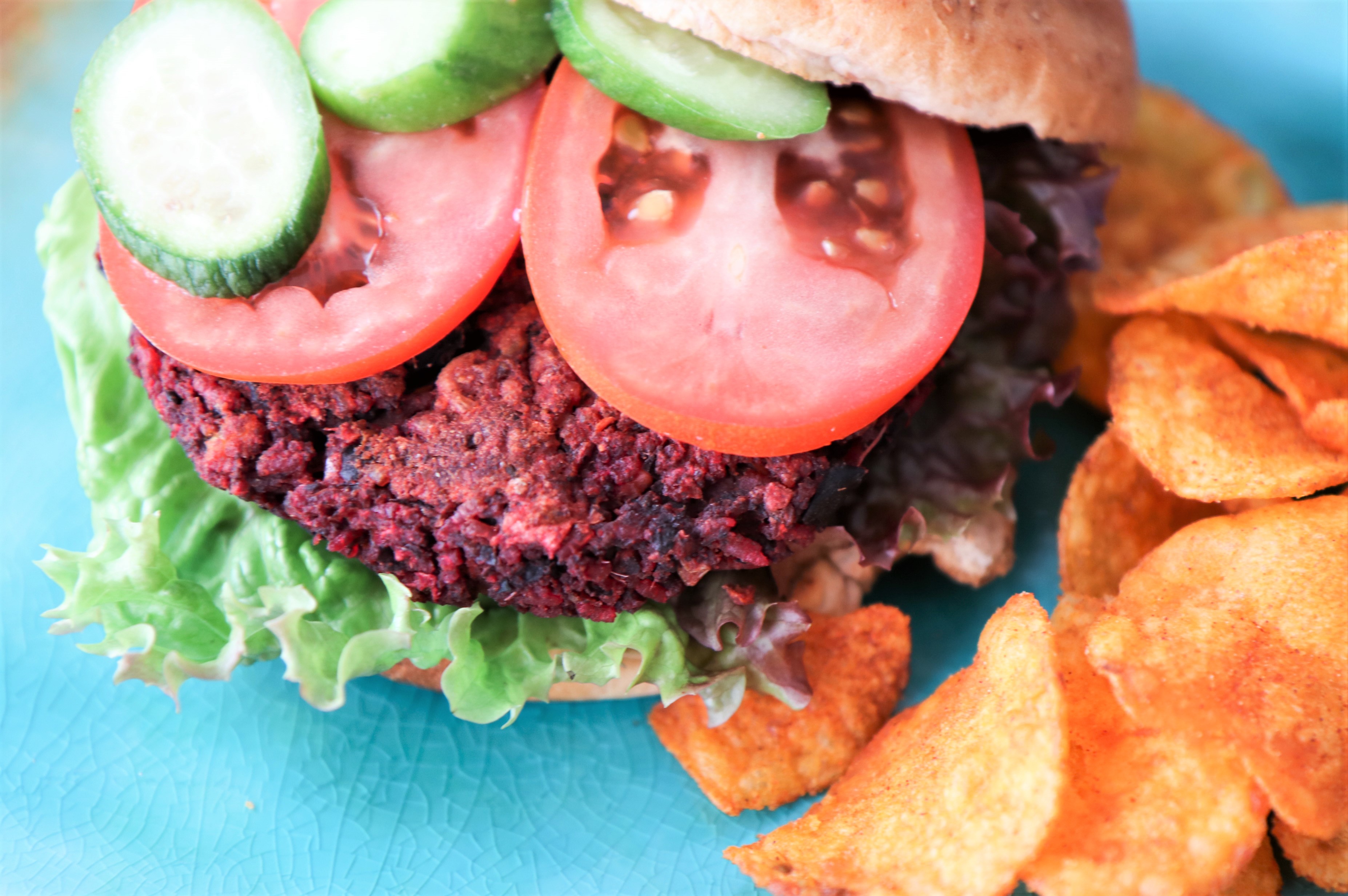 Take the burgers out of the refrigerator. Set a heavy bottomed non-stick (I use Scanpan) or cast-iron pan (this is my favorite) on medium high heat. Add about a tablespoon of oil and add as many burger patties to the pan as will fit, without overcrowding the pan. Cook the burgers until crispy or slightly crusty on each side, flipping carefully to avoid breaking. These burgers are very delicate while they cook and might break while flipping if you are not very meticulous about it. If you are not consuming them right away, keep them warm in a cookie sheet in the oven set to warm. Or keep the cooked burgers aside on a paper towel lined plate.
Arrange the burgers with: chipotle mayo, lettuce, the bean and beet burger, sliced cucumbers, onion, tomato jalapeno – go to town with whatever toppings you like on your burger. Enjoy!
Love – Vaishali.
Notes:
These burgers freeze nicely – flash freeze the formed burgers (before cooking) in a lined cookie sheet for about an hour, then store in freezer bags for up to 3 months. To cook, thaw slightly and proceed the same way as you would if the burgers were fresh.
You can use store bought chipotle or spicy mayo or mix ¼ cup plain mayo with 1 tablespoon spicy tomato ketchup to make your own.
Pickled jalapeños are my favorite!
It is a good idea to save a small portion of burger mixture and taste. Since there is no egg in this burger, you can taste it raw to make sure the seasoning and flavors are spot on.
The burgers itself are gluten free and vegan. Use toppings and buns according to your dietary preferences.
Please do not skip the ginger and garlic.
Tools used:
Food processor/mixing bowl
Skillet
Spatula
Cookie sheet
Knife and chopping board
Measuring cups and spoons