Do you have those moments when you find yourself binge eating on desserts? As I have confessed earlier, I am not a big dessert person but have found myself craving more and more sweet things. Not a good sign as I approach the end of another decade on this earth! We have been on a roll with dessert making and eating in the house lately. Sometimes Ms. Little A wants to bake, sometimes we are entertaining company, and sometimes it's just plain, simple lust of something sugary….:P.
You must've noticed some of the recent recipes that I have shared were desserts and trust me when I say I haven't shared every dessert that I've made in the past few weeks here. I am sorry dear friends.
This recipe though is a great balance – smooth, creamy, and luscious without being super sweet and heavy. Shreekhand is a traditional recipe from western states of India – I know most of Maharashtrian friends make a killer shreekhand. Simply put, it is sweetened thick yogurt that can be flavored with flavors your heart desires – mango, pistachios, cardamom, saffron..etc. etc. It's also a relatively simple recipe with not too much of prep work – just patience…:). To make shreekhand to serve 5-6 people you will need: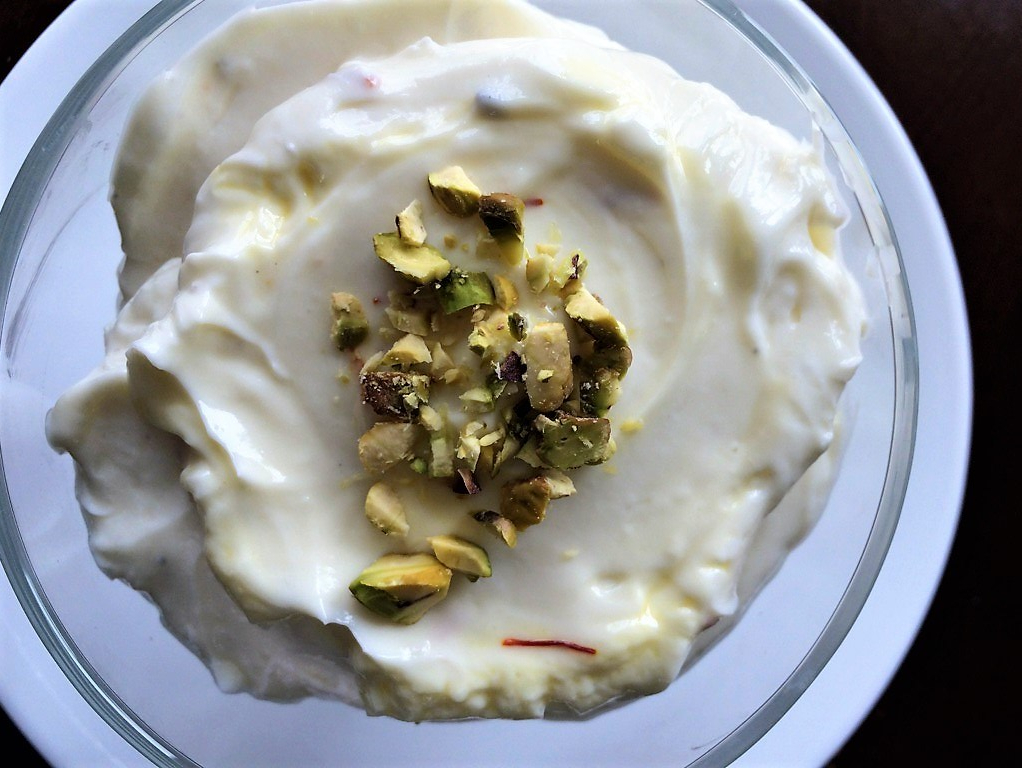 Ingredients:
Whole milk plain yogurt – 4 cups
Powdered/confectioner's sugar – ½ cup
Green cardamom pods – 4
Saffron – 10 -12 strands or about 2 pinch
Milk – ½ tablespoon
Pistachios – 7-8 (optional)
Method:
Line a steel mesh strainer with muslin cloth or several layers of cheese cloth. Set the sieve over a deep bowl where it can drain into. Add the yogurt to the lined sieve. I use homemade yogurt for this recipe but feel free to use any store-bought yogurt you like if you don't have homemade yogurt. If Greek yogurt appeals to your taste buds, it will work well too. A little tartness to the yogurt gives shreekhand the very traditional taste that we are looking for here. So choose your yogurt wisely..:).
Bring the corners of the muslin cloth together and give the yogurt a gentle squeeze (just like when making chaina or paneer). Secure the top of your muslin with a knot and lay it back in the strainer. If you want, you can weigh the yogurt with a heavy bowl or plate. Set the whole contraption – deep mixing bowl, strainer with yogurt in a muslin 'bag', and the weight in the refrigerator for at least 6-8 hours. We are trying to make "hung curd" here without actually hanging it..lol. I don't feel comfortable leaving yogurt out at room temperature for so long..so I had to come up with this method. Otherwise you can just hand the muslin bag on your sink faucet and let it drain for 6-8 hours. I am not sure about that though. Please stick to the refrigerator method..will you?
Once the yogurt has been draining for 6-8 hours, you have got yourself "hung curd" and this is what we are going to make shreekhand with. Transfer it to a mixing bowl.
Take out the seeds from green cardamom pods and grind them into a fine powder (You can use a mortar pestle to do this). Soak saffron strands in ½ tablespoon of warm milk. To the hung curd add confectioners sugar, powdered cardamoms, and saffron soaked in milk. Using the whisk attachment on your stand mixer, whip until thoroughly mixed, smooth and little bit fluffy. You can also use hand held electric beaters or if you are feeling motivated – use a good old hand whisk and put in some elbow grease. Chill the shreekhand until ready to serve. Garnish with chopped pistachios before serving. Enjoy!!
Love – Vaishali.
Tools used
Sieve
Muslin/cheese cloth
Heavy bowl
Deep mixing bowl
Whisk