It's apple season! In our modern day supermarkets we find almost all produce all year long. That makes it hard to tell that what is in season and grown locally, what comes from the cold storage, or what is imported – all of it making it hard to eat seasonally and locally. Just the way nature intends us too. I try to plan our meals and what we cook and eat raw according what is in season. There is a beauty and satisfaction associated with it and it feels like a connection (may be an odd one) to Mother Nature. Fall means pumpkins, apples, and sweet potatoes. You will notice the trend when it comes to various recipes associated with the different Holidays of the season.
We picked up a few pumpkins from local pumpkin patches in the past few days. Some of them are gracing our front porch and some are pie pumpkins which I plan to turn into homemade pumpkin puree. So watch out for pumpkin recipes on this page. You have been warned..:). We have grown sweet potatoes in our patch in the past few years and have had a good harvest. This year I somehow totally missed the window so I will be relying on sweet potatoes from our farmer's markets or local stores. Apples –aaahh, oh how miss the Pacific Northwest right now. You can just drive (or walk) to a neighborhood orchard (yes we had an orchard less than half a mile from our home) and pick the best apples that the United States has to offer. No more fresh, hand-picked, juicy crisp, "harvest" apples for me, but we still try to make the best of what our present has to offer!
When I and Dr. A were still working on our PhDs, I used to volunteer at a local church day care center that Ms. Little A used to go to (in the toddler's room…where has the time gone?). I had long and very interesting conversations with the wonderful ladies there. I was new in the country and they were so loving and welcoming. We would talk about our cultures and food. I cooked Indian food for them a few times and they could somehow see the urge in me to learn more about American food and culture. As I got busier with grad school, I figured that I won't be able to volunteer at the church anymore and these gracious and loving friends of mine gave me a "going away" party of sorts. And they gave me two books about southern recipes, one of which was from personal collection of one of the ladies. It's hard to put in words that how dearly I hold these books in my recipe books collection. This apple cake is a modified version of the traditional harvest apple cake recipe in one of these books.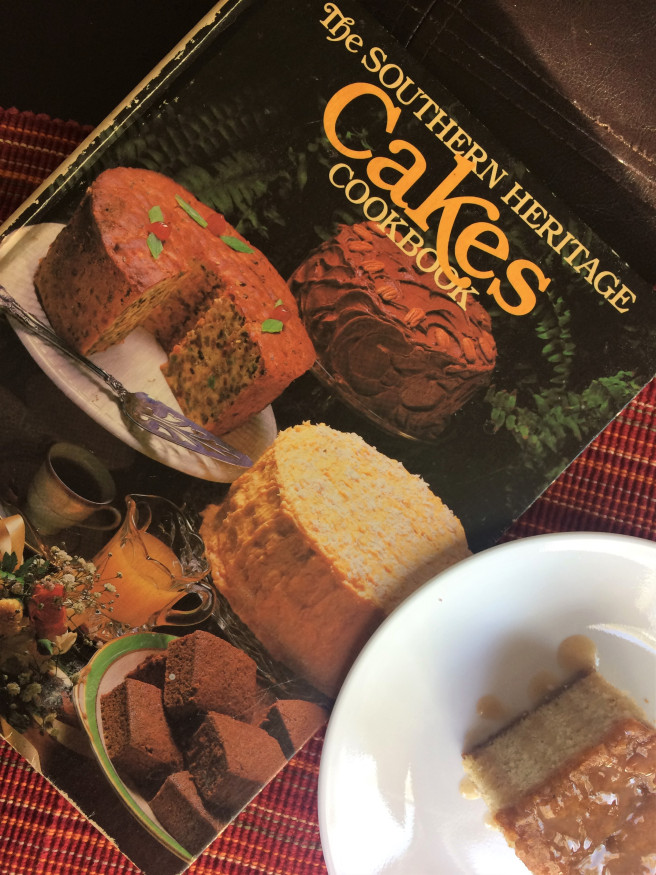 So today I am sharing this recipe of an All-American cake with you, because it's comforting, hearty, great for sharing, and is full of love from my old friends. This cake is easy to put together, turns out to be moist with spicy flavors from cinnamon, and nutmeg. Though traditionally tart apples like granny smith are used in this cake, but feel free to make it with any kind of apples you have on hand. I have made it with red delicious, fuji and gala apples. This cake still works its charm. The cake can be enjoyed on its own, or drizzled with the silky maple syrup glaze. Either way, I hope this cake makes your family and friends feel loved, if you plan to share it with them that is…:P.
Ingredients:
For the apple cake:
All-purpose flour – 1 ½ cups
Baking powder – ¾ teaspoon
Baking soda – ½ teaspoon
Salt – ½ teaspoon
Ground cinnamon – ½ teaspoon
Ground nutmeg – ¼ teaspoon
Unsalted butter – 1 stick or ½ cup, at room temperature*
Sugar – 1 cup
Egg – 1 large, at room temperature*
Pure vanilla extract – ½ tablespoon
Milk – 1 cup (whole milk recommended)
Apple – 1 peeled and diced small (granny smith recommended)
For the maple glaze:
Powdered sugar – ½ cup
Cinnamon – a generous pinch
Pure vanilla extract – ¼ teaspoon
Pure maple syrup – 2 tablespoon
Milk – ½ tablespoon (or as needed to adjust the consistency)
Method:
Preheat the oven to 350 degrees F or 180 degrees C. Grease an 8 X 8 inch baking dish and set aside. I always save the wrapper of my room temperature butter stick to grease the pan. In a mixing bowl sift together the flour, baking powder, baking soda, salt, cinnamon and nutmeg. In the bowl of an stand mixer (I love my kitchen aid), cream the butter and sugar together until light and fluffy, 3-5 minutes. Scrape the bowl and slowly beat in the egg and vanilla. Add the dry ingredients and milk, alternating, until the batter is just smooth. Do not over beat, as it will make the cake tough. Then scrape the bowl again and stir in the apple by hand.
Transfer the prepared cake batter into your greased baking dish. Smooth out the top and bake for 40 minutes until a toothpick inserted into the center of the cake comes out clean. Cool to room temperature. Slice in and enjoy.
If you are making the glaze, whisk the ingredients till smooth. The glaze is on the sweeter side (maple syrup+sugar..right?) so use accordingly. Also, we always end up with some glaze leftover, though it might not be true for everyone! Drizzle the glaze over the sliced cake before serving. Do not glaze the whole cake if you know you won't be able to consume it all, as the glaze will make the cake soggy over time. Just cut up a slice and glaze it. That's how I will do it. Enjoy!
Love – Vaishali.
* Note – My number 1 rule of baking, room temperature butter and eggs!
Tools Used:
Mixing bowl
Knife and chopping board
Stand Mixer/Electric mixer
Measuring cups and spoons
Oven
Baking dish