I was browsing through some of the recipes that I have shared here on The Kitchen Docs and I was kind of disappointed at how few cake recipes I have shared so far – just two actually – the marble bundt cake (recipe here)and apple harvest cake (recipe here). The thing is that I love to bake and I bake a lot but somehow it is hard for me to take pictures of cakes before the cake is attacked. I always announce after getting the cake out of the oven that nobody touch it for at least 10 minutes. That never happens. Ninety percent of the time Ms. Little A is the first one to "try it while it's still hot" and more often than not Mr. Little V will join too. So there goes my whole cake shot.
I baked this cake last weekend while everyone from our household (except me, of course) was away…brain fart..I don't recall where they had gone, but that is not the point. The point is that when everyone was away, I was able to give this beauty a chance to rest, and then dust it with some light and fluffy powdered sugar, slice and click some pictures.
This mocha cake is my weakness as it combines two of my favorite things in the whole wide world – chocolate and coffee. There was this time few years ago when Dr. A was in Canada for almost two months, I was alone in the country with two kids and we were BUILDING A HOUSE. Can you imagine? And to top it all – our builder was not the most friendly person. I baked this cake one fine day and I might have consumed the entire loaf over a period of 2-3 days. Such were the stress levels! Anywho, Mr. Little V and me now compete "who will eat more" of this cake. Dr. A and Ms. Little A most graciously let us enjoy it while they nosh on some crumbs and skinny slices.
The recipe rules are same as I have talked about earlier –
I always (almost always) use butter for baking
Butter has to be room temperature
Eggs have to be room temperature
Do not over-mix the cake batter
This cake is better when you use good coffee and good cocoa. You be the judge of that, but the depth of flavor definitely comes from quality ingredients. We need brewed coffee, so if you are more of an instant coffee kind of person (uhmmm), let the instant coffee granules (about 2 teaspoon) sit in ½ cup of hot water while you prep your other ingredients.
Ingredients:
Butter – ½ cup or 1 stick, at room temperature
Sugar – 1 cup
Eggs – 2, at room temperature
Milk – ½ cup
Strong coffee – ½ cup
Good quality vanilla extract – 1 teaspoon
All purpose flour - 1 cup
Unsweetened Cocoa powder – ½ cup +more for dusting the loaf pan
Baking powder – 1 teaspoon
Salt – a pinch
Powdered sugar – 1 tablespoon (optional)
Method:
Preheat your oven to 375 degrees F or 190 degrees C. Grease and lightly dust a loaf pan with cocoa powder. The paper in which your butter stick was wrapped, works great for greasing!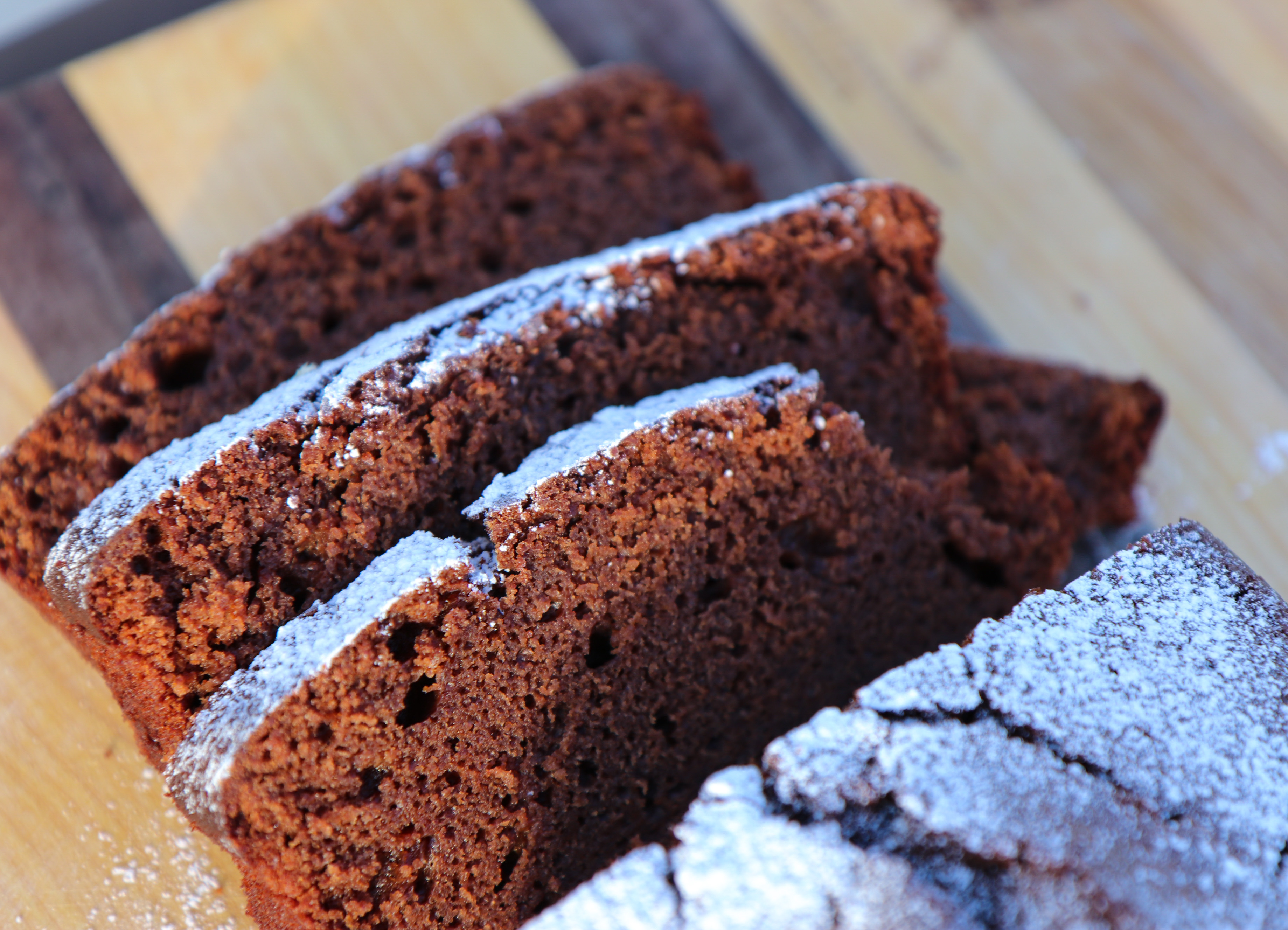 In the bowl of your stand mixer ( I love my Kitchenaid) fitted with the paddle attachment, cream the butter and sugar. You can, by all means, use a hand mixer over a deep mixing bowl. Once the butter and sugar are light and creamy, add eggs, one at a time, and beat until silky.
In another mixing bowl, sift together all-purpose flour, cocoa powder, baking powder and salt.
Pour the milk, coffee and vanilla extract into the eggs, butter and sugar mixture and give one more good mix. If the mixture looks curdled, do not worry, everything will be all right in the end. I promise!
Slowly add in the dry ingredients into the wet ingredients and whisk everything together until it is smooth. When I used to bake in India, I would always look for the "ribbon consistency" which is what we are looking for here. When the cake batter drops into the bowl from a spoon, it falls like a ribbon, smooth and continuous - like a dream.
Pour the cake batter into your greased loaf pan. Bake for 40 - 45 minutes, or until a toothpick comes out clean. Take the cake out of the oven and let cool for about 10 minutes.
Once cooled sprinkle some powdered sugar. Slice and enjoy with a cup of coffee or toast it slightly and serve with a dollop of glorious vanilla bean ice cream.
Peace out – Vaishali.
Notes:
Every oven is different. Start checking the cake at the 40-minute mark.
If making it for grown-ups only, add a generous pinch of cayenne pepper in with the dry ingredients. It adds a great dimension and kick to this cake.
Tools used:
Oven
Loaf pan
Measuring cups and spoons
Stand mixer/ hand mixer
Sieve
Mixing bowl/s