The Kitchendocs and family would like to you wish all you lovely people very happy holidays. Stay warm, be with people that make your heart happy and rejoice in everything that is right in our world. I have been busy with work and lot of holiday baking but most of this craziness is of my own making. I want to have it all but to have it all you have to do it all. But anyways a quick recipe of sugar cookies since some of you might still be working on those last minute cookies for Santa or just for yourself.
I have experimented with many sugar cookie recipes over the years since baking cookies is not something I grew up doing. Lot of reading, searching on the internet, consulting cookbooks etc. and I finally narrowed down to a sugar cookie recipe that is a combination of few and though you might not believe it, a recipe on back of a all purpose flour bag made for the most useful notes. The best thing about this cookie dough is that unlike most other sugar cookie doughs, this requires no chilling. Make the dough, roll it, and cut the shapes out to your heart's content.
We ended up glazing the cookies with simple vanilla sugar glaze and making buttercream Christmas trees on the glazed surface. Few weeks ago, I saw these cookies on Pinterest (find my pinterest page here), they were from an Etsy shop that had sold out. So I thought of trying it, and given my challenges in my frosting/glazing, I have to say that these were fairly simple. I had to do a few iterations on the green buttercream frosting, where it was thick enough to hold the tree shape and not spread out to make a weird green shape all around the cookie. And if I can frost a cookie, you can too! This recipe made us around 3 dozen cookies, so if you want to half it, please do.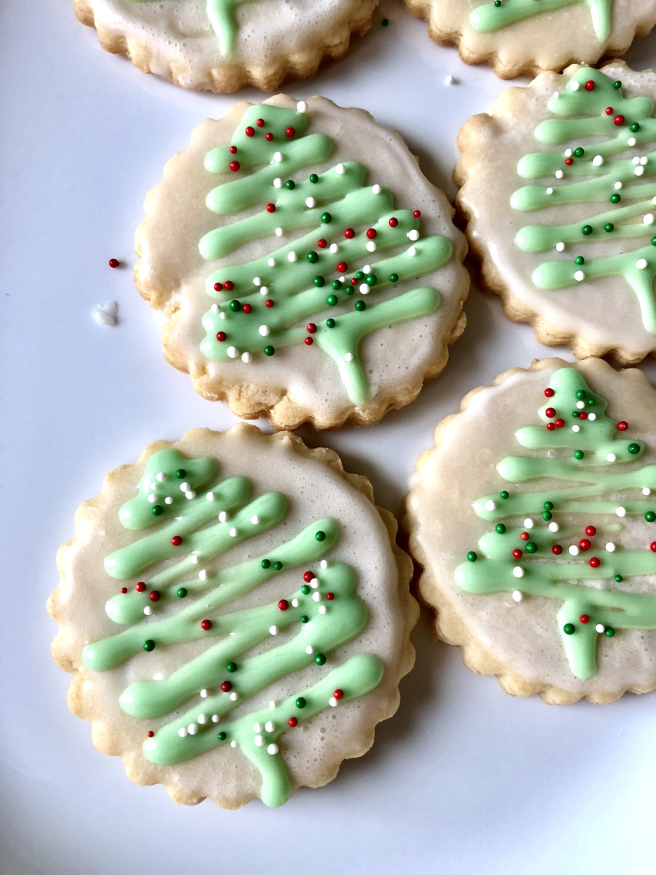 Ingredients:
For the cookies:
All-purpose flour – 3 cups + more for dusting
Baking powder – 2 teaspoon
Sugar – 1 cup
Butter – 1 cup or 2 sticks, cold and cut into chunks
Egg – 1, large
Pure vanilla extract – ¾ teaspoon
Pure almond extract – ½ teaspoon
For the glaze:
Confectioners or powdered sugar – 2 cups
Half and half (or milk) – 4 tablespoons (you need the glaze to be on a thicker side)
Pure vanilla extract – ½ teaspoon
For the green buttercream frosting:
Unsalted butter – 1 tablespoon (softened)
Confectioners/powdered sugar – ½ cup
Green food coloring 3-4 drops
To assemble:
Sprinkles
Method:
Preheat your oven to 350 degrees F or 175 degrees C.
In the bowl of your stand mixer, cream sugar and butter at medium speed. Mix the flour and baking powder in a mixing bowl, set aside. To the butter and sugar mixture, add the egg and both the extracts and mix in on low speed. Gradually add the flour mixture and beat on low speed until just combined, scraping down the bowl. Transfer the dough out on a floured kitchen counter, the dough will be crumbly, so knead it together with your hands just a little bit. Using a rolling pin, roll the dough to about ¼″ to ⅜″ thick, and cut into desired shapes. For these cookies, we used medium flower shaped cookie cutter, you could also use a glass jar or cup to cut a circular shape. Place on parchment or silicon mat lined baking sheets and bake for 10-12 minutes. Let sit a few minutes on the cookie sheet, and then transfer to a cooling rack. Let cool completely.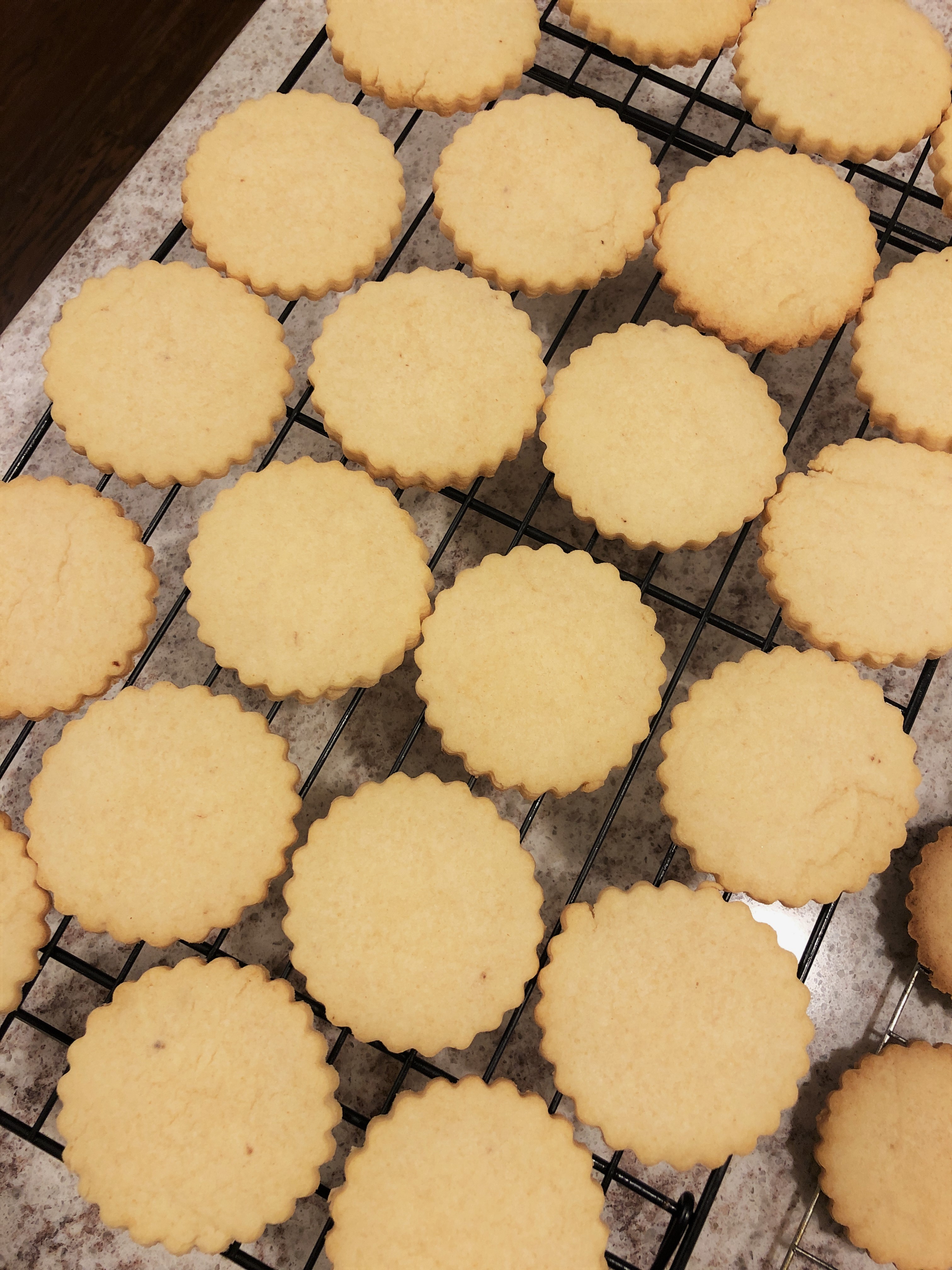 While the cookies are cooling, start working on the glaze. Put a cooling rack on a big cookie sheet or kitchen towel, to catch any glaze drips. Combine powdered sugar, half and half and vanilla extract in a medium-size shallow bowl. Whisk until smooth. Glaze should be thick but pourable. To glaze the cookies, take a cookie and dip the top surface into the glaze, and make sure the entire surface is glazed. Allow excess glaze to drip back into the bowl, flip the cookie and put it on the cooling rack to set. We had to spoon some glaze onto the cookies that had some "bald" spots. Allow the glaze to dry (about 30 minutes), and in the meantime get the buttercream frosting ready.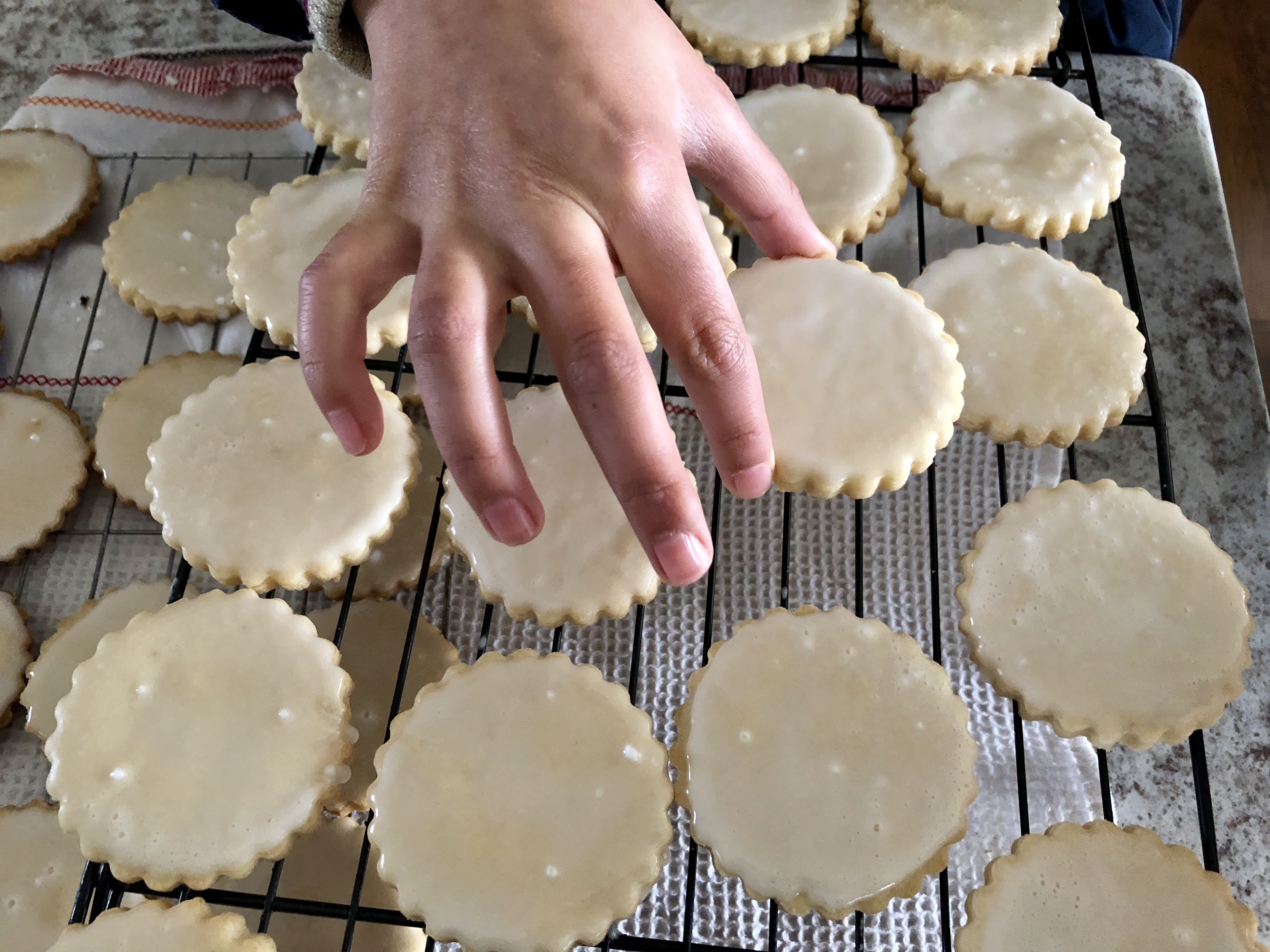 Take a cup of leftover glaze and add softened butter and powdered sugar into it. With a hand blender, blend it until smooth. The consistency should be thick and not very flowy. You might need to add more powdered sugar, if it seems that way. Add food coloring, a drop at a time, to reach desired shade of green. We went with a more pastel shade of green. Take a zip top bag and add the buttercream in it. Once the glaze is set, snip a tiny hole at one corner of the ziptop bag that has frosting in it and begin piping the trees on the cookies. Start at one edge of the cookie and pipe the shape of a Christmas tree (see picture).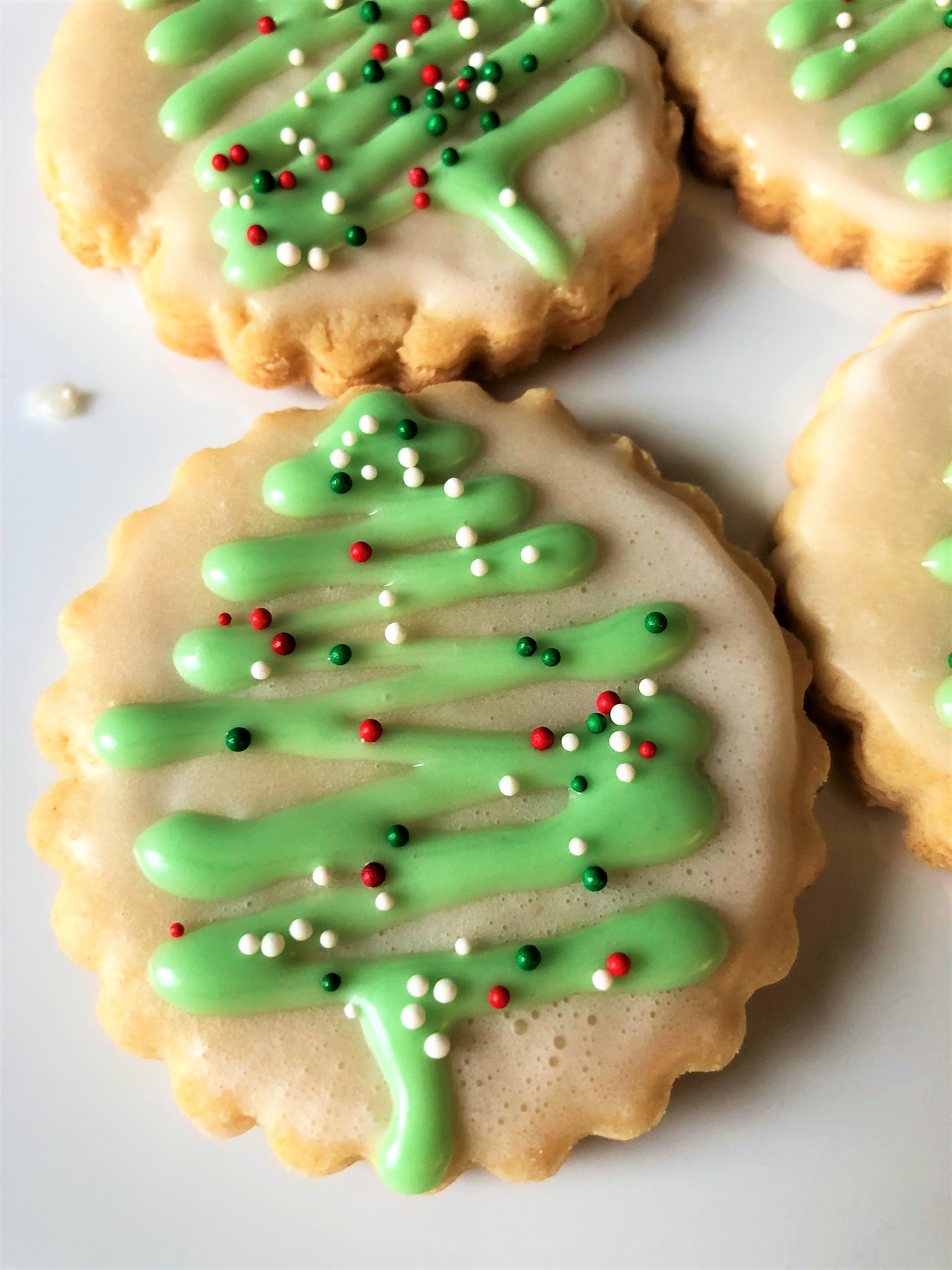 Sprinkle with sprinkles of your choice and set aside to dry.
Love – Vaishali.
Tools used:
Oven
Stand mixer
Cookie sheets
Cooling rack
Parchment/silicon mats
Mixing bowls
Measuring cups and spoons
Spoon
Rubber spatula
Rolling pin