Daal Pakwaan is a traditional Sindhi Breakfast given a modern twist to make Lentil Tostadas that are vegan and gluten free. Enjoy this spicy (or not) meal with bold flavors of Indian spices.
Jump to Recipe
Jaipur and my childhood
Some foods are etched in my mind forever as associated with certain places. Like this Daal Pakwaan (or Lentil Tostadas, as I am calling these). The story goes back to the days of my childhood (like many you've read on this blog). My grandparents used to live in Jaipur - the Pink City of India. If you live in India and have not been to Jaipur, what are you even thinking? And if you live elsewhere, and India is one of your dream travel destinations, put Jaipur on your itinerary. As soon as this whole covid situation calms down, pack your bags and head to Jaipur. It is gorgeous! Beautiful architecture, pink/red sandstone forts and buildings, gardens, museums, courtyards. Each and every brick of the city has history attached to it. Did I say it's gorgeous? Never mind - oh the daal pakwaan or lentil tostadas - will get back to it.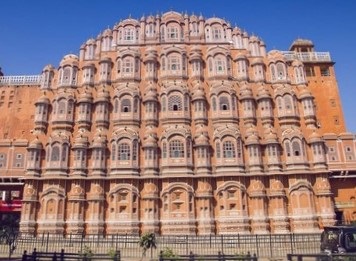 So every Diwali or winter break we would go visit my grandparents in Jaipur. It was a fun time - grandparents, uncles, aunts and lots of cousins. Jaipur was a very different city from the small town in Punjab where we lived so it was a great change for me and my sister. The big bazaars, so many shopping and food options, a zoo, beautiful white marble temples, big movie theaters...but wait! This post is not only about Jaipur but also daal pakwaan or lentil tosatadas...uhmm.
Daddy
Every Sunday, the daal pakwaan guy would make rounds of the streets in my grandparents' neighborhood. The daal pakwaan "bhaiya", as we used to call him, would come with his street cart that was almost a mobile restaurant. It had a huge flat top grill sort of thingamajiga that he would use to keep everything warm. With a long steel spatula he would bang on the flat top making a loud noise. That noise was a signal that he is here, come get your daal pakwaan fix. Think about the neighborhood ice cream truck- yup just like that.
My grandfather, we called him Daddy, was a big time chaat fan. Basically any food that was spicy, tangy, and fried, was his jam. He would hear the daal pakwaan guys signal and instruct my uncles and my dad to get some for the "kids". But we all knew who rally wanted that daal pakwaan breakfast. Him!!!
What in the world is daal pakwaan?
It is a traditional Sindhi breakfast. There is a huge population of Sindhis in Jaipur and hence the popularity of this street breakfast. Daal component of the dish is made with chana daal (split chickpea lentils) and pakwaan is a deep fried crispy flatbread that is almost like a cracker (think tostada). The spicy lentils are scooped on the pakwaan, topped with fresh chopped onion, cilantro, tomatoes and green chillies. The whole yumminess is then drizzled with mint cilantro chutney and sweet tamarind chutney. No wonder my grandfather loved it. How can you not? Sheer deliciousness.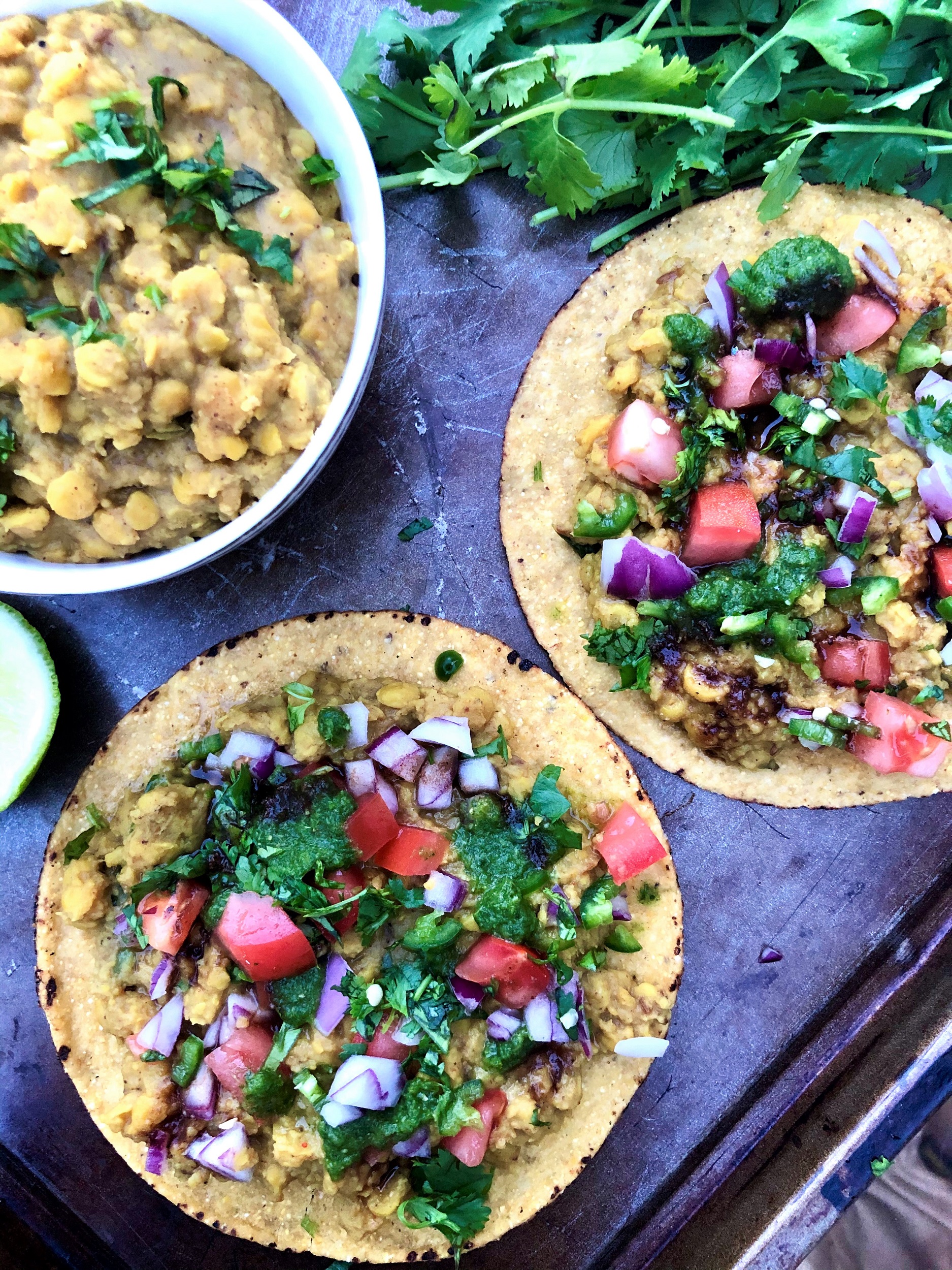 Lentil Tostadas?
I have been craving daal pakwaan for quite sometime now. But the idea of making pakwaan from scratch and deep frying was giving me second thoughts. Then I thought about these chicken tostadas and voila! This idea to make these vegan lentil tostadas or healthier version of daal pakwaan took birth. I mean seriously - it's brilliant - lentils are super healthy and inexpensive. Tostadas are store bought and gluten-free. It was meant to be! Now traditional lentils for this dish are cooked in ghee but I'm using avocado oil to make the dish vegan.
Recipe run down
The only thing that you have to cook are the lentils. The idea is to cook the lentils until they are just done - not mushy but al-dente. If you have time and can soak the lentils, they will cook faster. I cooked my chana daal in pressure cooker and then strained the lentils. Save the broth for making chapati/whole wheat flatbread dough - super nutritious. Then proceed to temper the lentils with green chili, curry leaves and the spice powders. After that it is basically just assembling the daal pakwaan. Spread lentils on a tostada, top with desired toppings, drizzle the chutneys (recipes here) and go to town with it.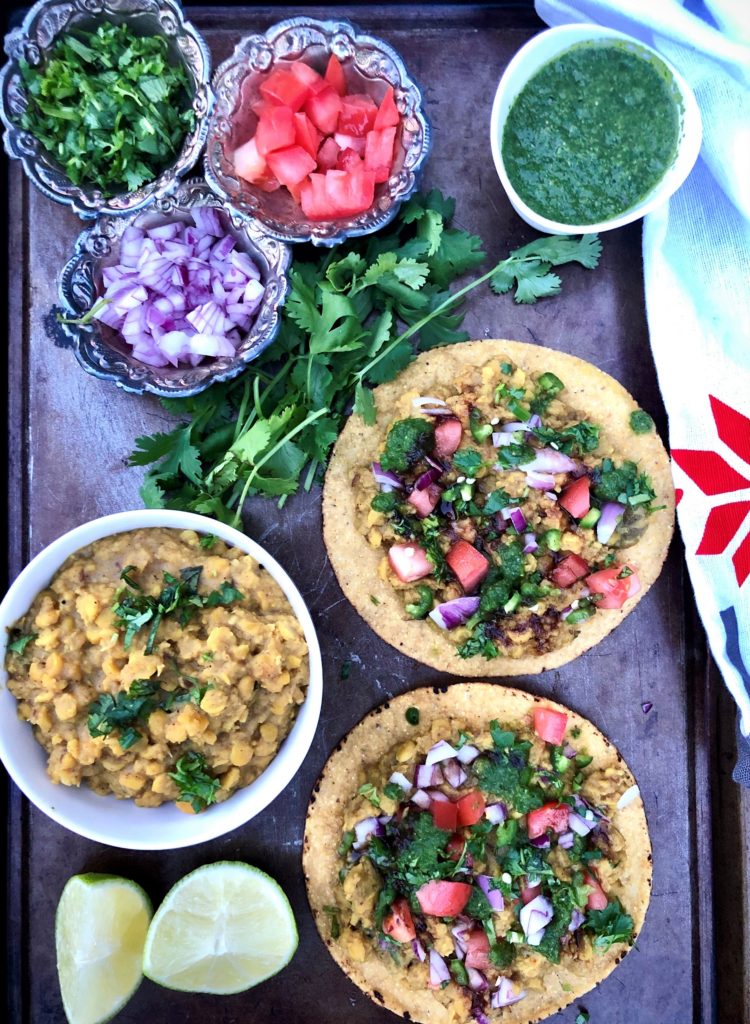 Here is your handy dandy printable
Daal Pakwaan Recipe - Lentil Tostadas (Vegan, Gluten-free)
Daal Pakwaan is a traditional Sindhi Breakfast given a modern twist to make Lentil Tostadas that are vegan and gluten free. Enjoy this spicy (or not) meal with bold flavors of Indian spices.
Equipment
Pressure Cooker (optional)
Ingredients
For Daal (Lentils):
2

cup

chana daal soaked

½

teaspoon

turmeric powder

Salt to taste

3

tablespoon

avocado oil

I recommend using ghee if not making it vegan

2

teaspoon

cumin seeds

1

green chili minced

optional

2

sprigs curry leaves

optional but highly recommended

¼

teaspoon

heeng

asafoetida

1

teaspoon

amchur

dried mango powder

2

teaspoon

cayenne pepper

or red chili powder of your choice, adjust amount according to the heat

½

teaspoon

garam masala
For Serving:
Gluten-free tostadas - 8

Green Mint Cilantro chutney

Sweet Tamarind Chutney

½

cup

finely chopped red onion

½

cup

finely chopped cilantro

1 -2

green chillies

finely chopped (optional)
Instructions
To make the daal:
If you are able to, soak the daal/lentils for at least 30 minutes. This will cut down the daal cooking time. The time given below is after I soaked the daal for 30 minutes in warm water.

Drain the lentils and add to your pressure cooker with 3 cups of water, salt and turmeric. Pressure cook on high for 8 minutes and wait for the pressure to release naturally. See notes.

Set a heavy bottomed saute pan on medium high heat. Add avocado oil (ghee, if not making it vegan) and once it's shimmery and hot, add cumin seeds.

Once the cumin seeds start to crackle add minced green chili and curry leaves (stand back, curry leaves splutter). Turn the heat to low.

Add heeng, amchur powder, cayenne powder, and garam masala. Let the spices toast for a minute until nice and fragrant. This is your masala.

Using a slotted spoon, transfer the cooked lentils (you do not want the broth or cooking liquid) to the saute pan with the prepared tempering/masala. Turn the heat up to medium.

Add salt and garam masala. Mix and cook for a minute or two. Your daal for daal pakwaan is ready. Keep aside.
To serve Daal Pakwaan/Lentil Tostadas:
When ready to serve, make sure that the lentils are warm. Place a tostada on a chopping board or serving dish and spread around ¼th cup of daal on it.

Spread chopped onions, tomatoes, cilantro and green chili on the daal and squeeze some lime on it. Drizzle 1 to 2 teaspoon each of mint-cilantro and sweet-tamarind chutneys. Serve immediately and enjoy!!
Notes
If you have an instant pot, cook the lentils on manual pressure for 8 minutes and then let the pressure release naturally.
Add 5 minutes to the cooking time if the lentils were not soaked.
In an open pot, the lentils might take upto 30 minutes to cook until al-dente.
Find the chutney recipes here!
If you cannot find tostadas, you can use khasta mathi or papdi from Indian store (not gluten-free)
This dish is traditionally made spicy. Feel free to choose a green chili to your likeness - jalapeno, serrano, thai chili etc.
Key Recipe Tools and Ingredients:
Knife:
Split Chickpeas/Chana Daal Lentils:
This recipe is perfect for Meatless Monday or any other day of the week! If you make this Daal Pakwaan be sure to leave a comment and let me know how you liked it! Snap a photo and share it on Instagram with the hashtag #thekitchendocs or share on Facebook, too.
Love- Vaishali.