Easy Homemade Churros - perfect to snack on when that sweet craving hits. Simple vegan pastry dough deep fried and coated in cinnamon sugar for a perfect dessert bite
There is so much going on around us right now friends that it is even hard to comprehend. Where to start? Black Lives Matter protests during a pandemic that refuses to go away. Natural disasters all around the world, so much sadness and so much to be stressed about. At the same time though, so much goodness of humanity shining through. That's what I like to focus on. The positives and working towards the positive. Through this turmoil food has been providing comfort. Like always. And dessert! That's why these easy eggless churro recipe with cinnamon sugar for you.
I was reading about how great chef's around the world have come together to feed the masses right now. Whether somebody has lost a job due to Covid or is participating in BLM protests. Or whether you just do not have food to eat right now. Irrespective of the circumstances, no questions asked. There is a lot of good around the world, you just have to look. One thing that is common across cultures is ending a meal with something sweet, something comforting and something that is a like a hug in a bite. That is what this recipe is. Easy, homemade, eggless, vegan, fried, doughy goodness coated in a dust of yummy cinnamon sugar.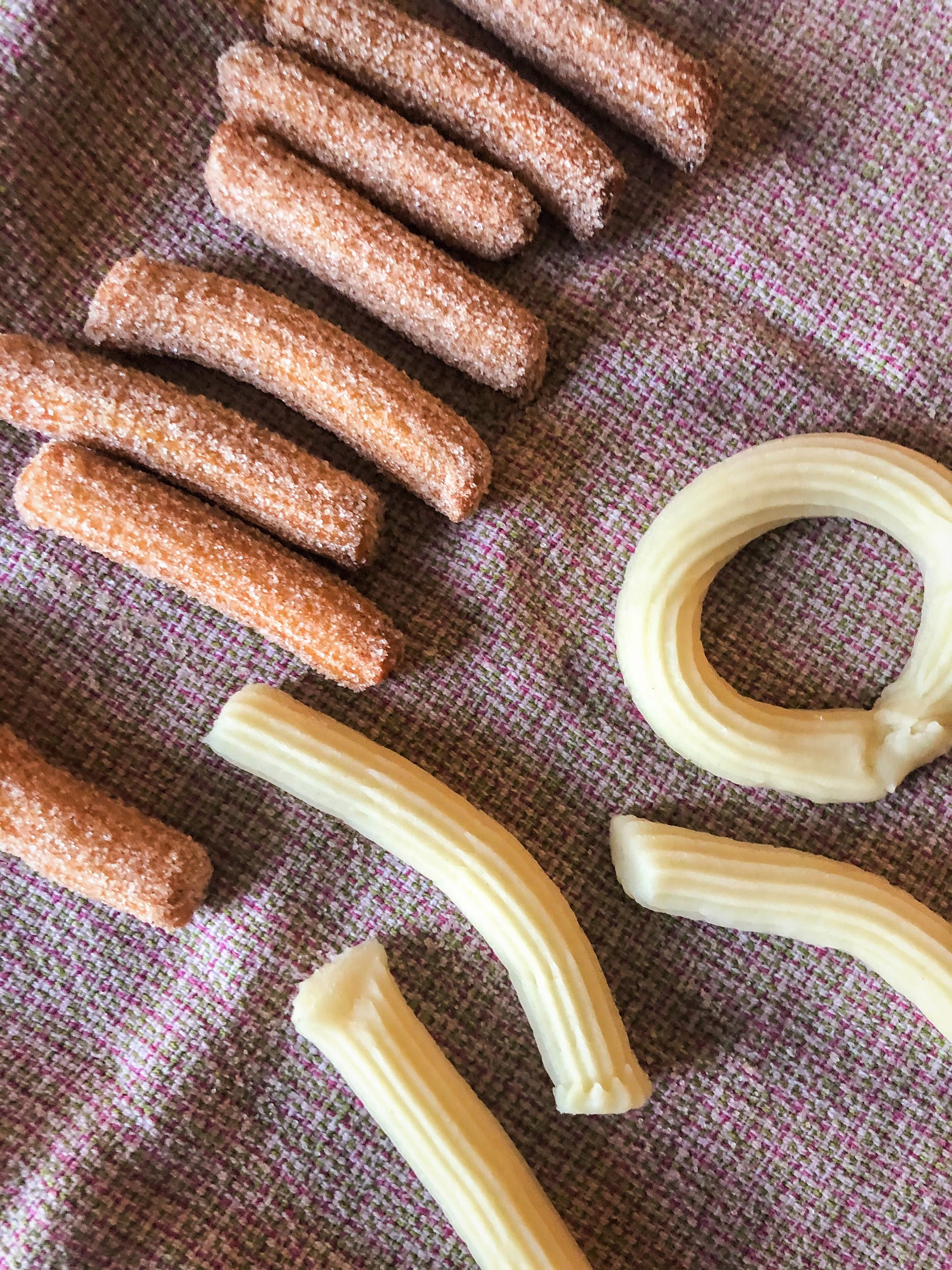 Churros and I
I will confess that I had not heard of churros before I moved to the US. As cliché as it may sound, my first encounter with churros was in Disneyland, California. I know, I know…I was told not to set my churros taste benchmark with the ones I had just had. There are better ones out there. And my pursuit for the "best churros that I ever ate" began. I have tried churros at every restaurant where they were on the menu and overall meal was promising. I have ordered churros at food trucks, at carnivals, basically everywhere. Until recently, churros from a restaurant in Branson, Missouri were top on my list. But then this new Mexican shack opened in one of the parking lots in our town and their churros are legit.
I have seen several recipes of churros made with a choux pastry dough of sorts. Choux dough usually is water, oil, and sugar boiled together and then the flour is dumped in. After mixing the flour in you add eggs and that's your choux dough, roughly speaking. You then pipe the dough into churro shapes and deep fry. And that's where my problem lies. Deep frying …may be that's why I had not made churros in so long. But you know when the craving strikes!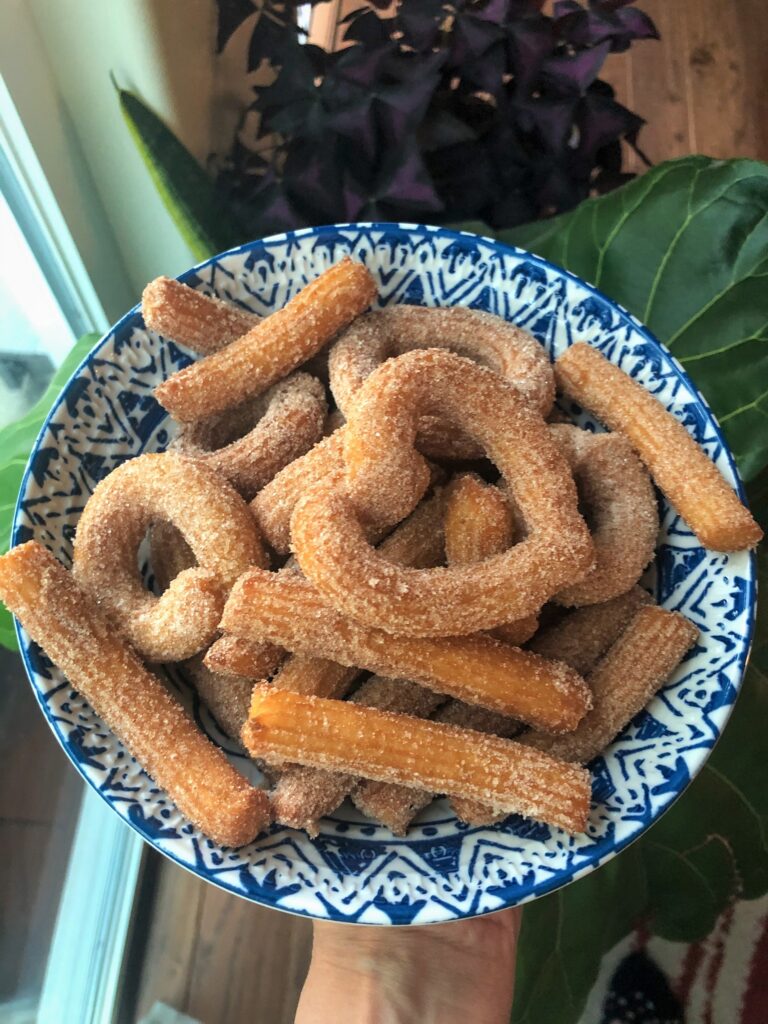 The craving struck on a Tuesday and we do not eat eggs on Tuesdays so that is the main reason that you have this eggless churro recipe here. A craving strikes, it's a Tuesday, and you have an eggless recipe. Since it was eggless, I swapped out the butter in pastry dough with oil and voila – you have a vegan churro recipe. There – everything falls into place. Meant to be.
Recipe Run Down
You make your eggless choux dough and add it to a piping bag. No, a ziplock bag will not work. The dough is pretty tight and the bag will rip. Trust me, I know it. Pipe the churros either directly into about a 375 degrees oil or onto a cookie sheet, depending on whatever you are comfortable with. Fry until golden brown and then roll the warm churros in cinnamon sugar. Enjoy warm!
Here's your handy dandy printable: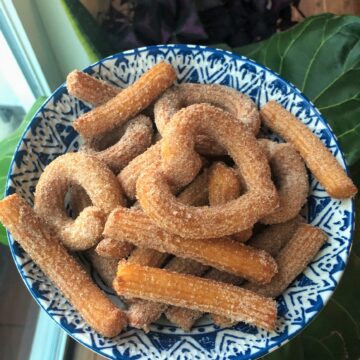 Easy Vegan Churros with Cinnamon Sugar | Meatless Monday
Easy Homemade Churros - perfect to snack on when that sweet craving hits. Simple vegan pastry dough deep fried and coated in cinnamon sugar for a perfect dessert bite
Ingredients
For Cinnamon Sugar
½

cup

white sugar

1 ½

teaspoons

ground cinnamon
For Churros
1 ½

Tablespoons

white sugar

1

cup

water

½

teaspoon

salt

2

Tablespoons

oil

1

cup

all-purpose flour

Oil for frying

choose a neutral tasting oil, for e.g. vegetable or canola
Instructions
Cinnamon Sugar
In a small, shallow bowl, stir together the sugar and cinnamon. You might have some extra but God forbid if you run out!!!
Churros
Set a small saucepan over medium heat. Whisk together the water, sugar, salt and oil. Bring the mixture to a boil then remove it from the heat. Stir in the flour, mixing until it comes together and forms a dough ball.

Heat enough oil in a deep, heavy-bottomed pot set over medium-high heat until it reaches 375ºF. Line a cookie sheet or a plate with kitchen towels.

Transfer the prepared churro dough into a pastry bag fitted with a large star tip (see notes).

Pipe the dough over the pot of oil to a length of about 4 inches, then using scissors or a sharp knife, cut it so it releases into the oil.

Alternately, you can pipe the dough onto a parchment lined cookie sheet while you oil is heating up and then fry them.

Fry two to three churros into the oil at a time. Make sure your oil is at the right temperature, otherwise the churros might brown too quickly from the outside and not get cooked through.

Use a slotted spoon to transfer the churros to the kitchen towel-lined cookie sheet to drain for about a minute or 2.

While the churros are still hot, transfer them to the shallow bowl containing the cinnamon-sugar mixture and roll them around until completely coated.

Use up the remaining dough, frying and coating the churros as explained above.
Notes
The pastry tip used gives the churros the traditional shape.
You can use any other contraption like a bhujiya squeezing thingy or an actual churro press (believe me, it's a thing).
You can also pipe and flash freeze the churros before you fry them.
Best if consumed warm the same day.
Churros serve great as is but you can also serve a chocolate dipping sauce (recipe here - not vegan) on the side if you desire.
If you make this recipe, please don't forget to share it on Facebook or Instagram and tag #thekitchendocs
Love - Vaishali.
Tools Used: