"Romance is the icing but love is the cake"- Julia Child
And it is all about love! I love to bake and what I love more is to bake a cake. I consider myself a fairly romantic person but I dread frosting a cake – so I totally agree with Julia Child. You make the connection..ha ha!!
A beautiful cake on the dessert table is such a joy and leaves you wanting to rush through dinner and grab a slice asap. Bundt cakes, in particular look so pretty and you can often get around with just drizzling some yummy glaze or sauce on top and do not have to get into frosting the cake. Set it up on a pretty cake stand or platter and there you have it – a show stopper of your dinner show! Luckily for me, Ms. Little A has taken upon frosting and all things pretty to do with cakes and cookies on herself, so there is hope. May be you will get to see and enjoy some "frosted" cakes and cookies from our mother-daughter duo sometime in the future. We shall see. For now, we stick to a drizzle or a glaze.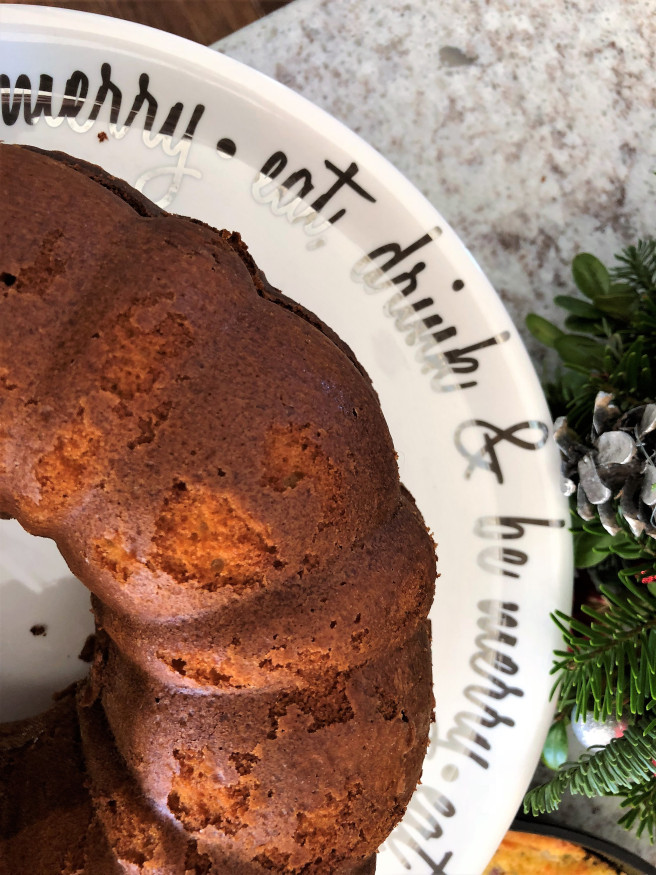 Coffee and chocolate are two of my favorite things in the whole world and we combine them both in this cake that is soft, buttery and dense at the same time. The mocha flavor in the marbled part is strong (just the way I like it), without overpowering its vanilla neighbor. The original recipe is by the great Dorie Greenspan (in her book Baking: From my home to yours). The original recipe uses walnuts which I switched to almonds to accommodate allergies in our family. Plus the fudge sauce is a delicious addition that is not in the original recipe. I would recommend following the recipe to the letter. And do not skip baking powder (do not ask me how I know this)! Baking this cake will transform your kitchen into that small downtown bakery with the delicious aroma peering out from the oven. And this cake takes freaking 65 minutes to cook…more than an hour! Enough to drive you crazy with all that craving. But it is totally worth the wait!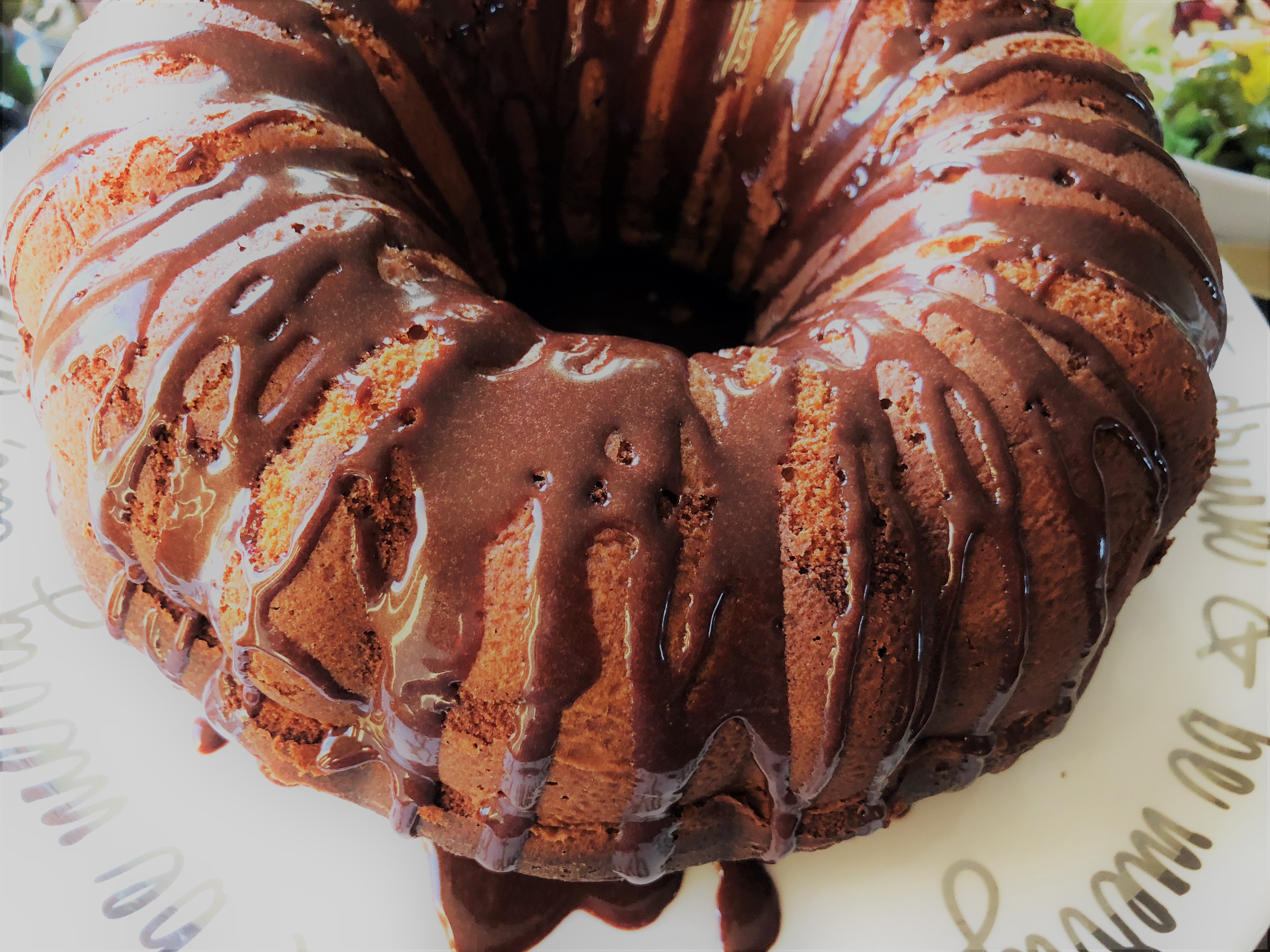 Ingredients:
For the cake:
All-purpose flour – 2 1⁄4 cups
Finely ground blanched almonds – 1⁄2 cup,
Baking powder – 1 teaspoon
Salt – 1 teaspoon
Unsalted butter – 2 sticks or 1 cup, at room temperature (8 oz)
Unsalted butter – 2 tablespoons, at room temperature (1 oz) (for mocha batter)
Bittersweet chocolate chips – 3 ounces (good quality)
Coffee –  1⁄4 cup (just coffee and water)
Ground instant coffee – 1 teaspoon (for eg. Nescafe)
Sugar – 1 3⁄4 cups
Eggs – 4, large, preferably at room temperature
Pure vanilla extract – 2 teaspoons
Whole milk – 1 cup, at room temperature
For the fudge sauce:
Unsweetened Cocoa Powder – 1 cup
Sugar – 1 cup
Heavy Cream – 1 cup
Salted Butter – 1 stick or ½ cup, cut into pieces
Pure vanilla extract – 3 teaspoons
Method:
Plan ahead: take out unsalted butter, eggs and milk from the refrigerator to bring them to room temperature. Prepare your Bundt pan by greasing it with melted butter, dust the inside with flour and tap out the excess. Grind your almonds in to a powder, use whatever method suits you – spice grinder, blender, meat mallet, rolling pin…
Preheat your oven to 350 degrees F or 175 degrees C.
Whisk together the dry ingredients – flour, ground almonds, baking powder, and salt.
Set a saucepan with about a cup of water on medium heat and let the water come to a simmer. Set a heatproof bowl over the saucepan of simmering water. Turn the heat to low, put 2 tablespoon unsalted butter, cut into 4 pieces, into the bowl, along with the chocolate chips, coffee and instant coffee powder. Whisk the mixture until the butter and chocolate are melted and everything is nice and smooth. It is very important to keep the heat low so that the butter and chocolate don't separate (Dorie says so). Remove the bowl from the saucepan and turn the heat off.
In the bowl of a stand mixer, beat the remaining 2 sticks of unsalted butter along with the sugar at medium speed (a 4 or 5) for about 2 to 3 minutes until mixed. Use the paddle attachment or if you do not have a stand mixer, you could use an electric hand mixer and a large, deep bowl. Beat in the eggs, one at a time, and waiting for each egg to be completely mixed with butter and sugar before adding the next one.  At this point, the mixture should look smooth, light and almost silky. Reduce the mixer speed to low and add the vanilla extract. Now and add the dry ingredients and the milk alternately, starting and ending with the dry ingredients. This is your vanilla cake batter.
Take about a third of the prepared vanilla cake batter and mix it into the bowl with the melted chocolate and gently fold to blend completely.
Alternate spoonful of vanilla and mocha batter in the Bundt pan and when both the batters are completely used up, make a swirl pattern with a butter knife to create the marble effect.
Bake for 60 to 70 minutes, or until a thin knife inserted deep into the center of the cake comes out clean. Transfer the Bundt pan to a rack and let cool for 10 minutes before unmolding, then cool the cake completely on the cooling rack.
To make the fudge sauce:
While the cake is baking, you can make the hot fudge sauce (if using). Set a saucepan over medium low heat. Whisk together sugar and cocoa powder. Slowly add the heavy cream, increase the heat to high and whisk everything together. As the mixture heats up, add the butter and stir to melt. Then add the vanilla extract and give everything one final mix. Turn the heat off and let the sauce cool a bit. Store in a clean, dry jar in the refrigerator. Warm it up before using (if using later).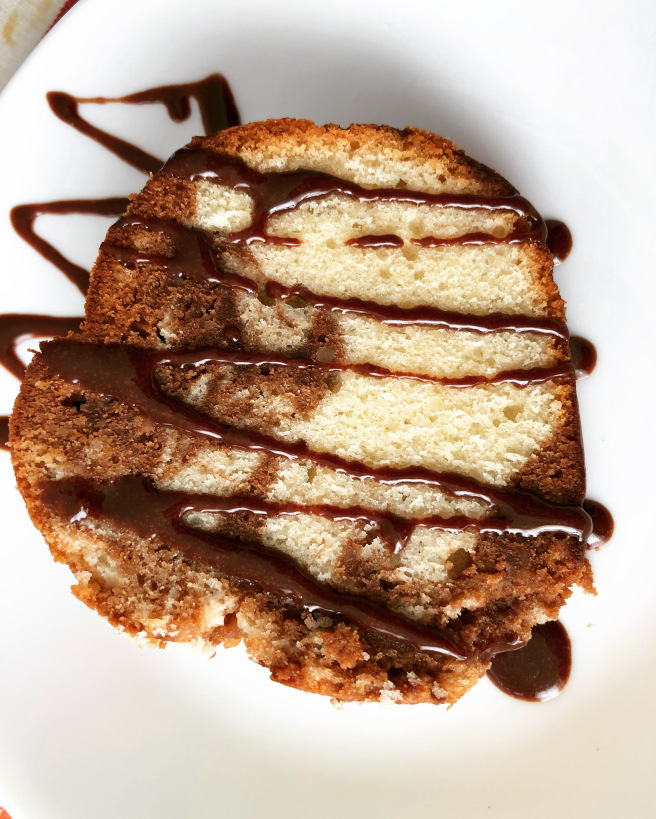 To serve:
Transfer the cooled down cake to a cake stand or serving platter, drizzle the sauce on the cake and enjoy! I served some sauce on the side, and everyone enjoyed drizzling more sauce on their slice of cake. You just cannot have too much chocolate sauce!!
Love – Vaishali.
Tools used:
Oven
Stand mixer
Measuring spoons and cups
Bundt cake pan
Whisk
Sauce pans
Mixing bowl