This is really part 1 of a 2 part recipe. I have had so many of you ask me to post the recipe of "Punjabi" kadhi with pakodas (recipe here). And since we cannot have kadhi without pakodas, we have to have a recipe for pakodas first. Simple as that!
I learnt to make kadhi observing my mother in law make it. My massi (my mom's older sister) also makes a killer kadhi and though her kadhi and my mother-in-law's kadhi have not much in common – they are both delicious. Such is the world of flavor! I will save more details on kadhi for the kadhi post but for today we have these pakodas – simple fritters made with chickpea flour, very mild spices and onions. And please do not underestimate the mighty "onion pakoda". One of the most iconic snack of Indian cuisine spread in different forms all across the country – may it be kanda bhaji, ulli pakodi or vengaya pakkavada – different names, essentially the same crispy batter fried onion fritter. Apart from being a popular street food, I am pretty sure it is made in every Indian household.
There is no way around other than deep frying pakodas to get that crispy texture, with light and fluffy interior, other than deep frying it. Do not even try to disappoint yourself by baking it …I have tried it. It may be healthier but it is no way close to the deep fried goodness of a regular onion pakoda and it does not stand the test of being submerged in the sea of flavor called kadhi.
There are so many variations of pakodas in Indian cuisine and I am sure over the course of time I will share some other versions but the basics are the same. Chickpea flour batter, spices and a main vegetable or paneer. The vegetable will give pakoda its first name, for eg. Spinach will make it Paalak pakoda, paneer will make it paneer pakoda, mixed vegetables will make it mix pakoda and so on. You get the point, right?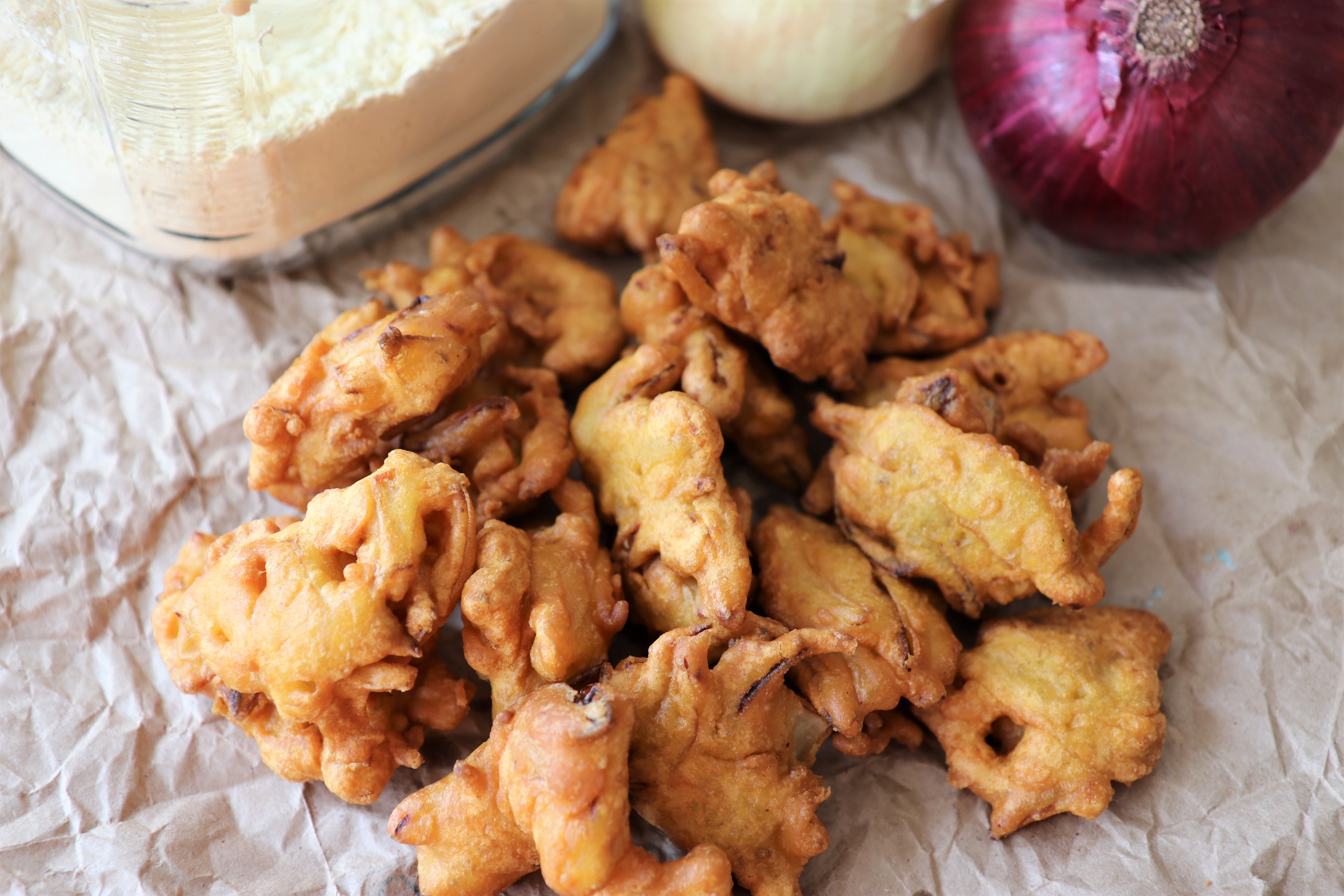 Ingredients:
Onion – 1, big, red or white, medium sliced (atleast 2 cups)
Chickpea flour/Besan – 1.5 cups
Water
Coriander seeds – 1 tablespoon, coarsely crushed
Salt – to taste
Red chili powder – ¼ teaspoon (optional)
Turmeric powder – ¼ teaspoon
Baking powder – ¼ teaspoon
Oil – for deep frying
Method:
Set a deep frying pan or kadhai on medium high heat. Add oil, about 2-3 inches. While the oil is heating, prepare your batter. In a deep mixing bowl, add the sliced onions followed by besan, baking powder, and all the spices. Mix around, and let sit for about five minutes. The onions will release some moisture as they sit and will help determine how much water is needed in the batter. After five minutes, start adding water, 1 tablespoon at a time to get to a consistency that is not too thin. The amount of water will also depend on the moisture in onions and also the humidity in the air. Trust me. The onions that we get here in the US have too much moisture in them so sometimes I end up adding only about ¼ cup water in total. So you be the judge. The idea is that the batter should not be dry but also not flowy, so medium consistency.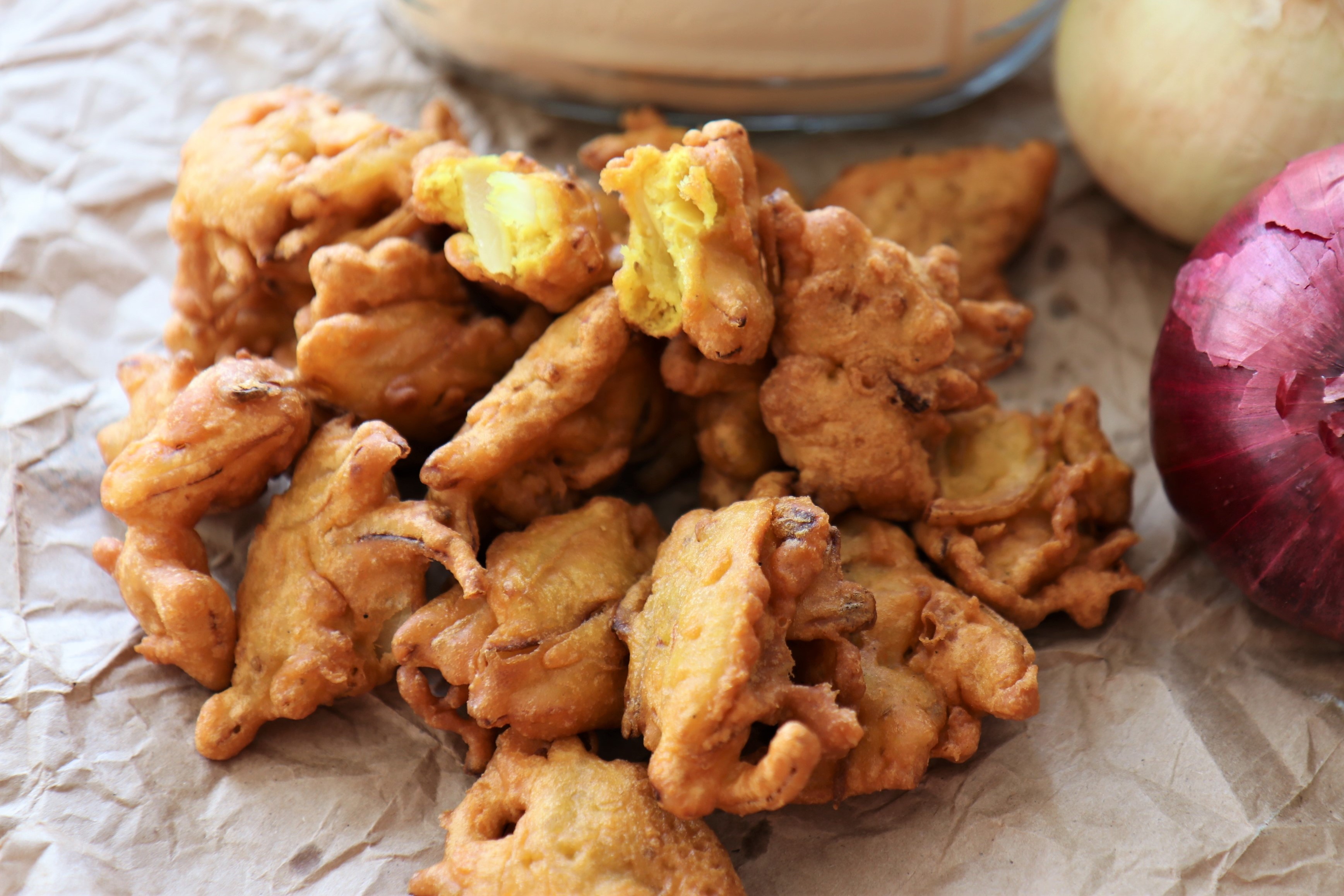 Very carefully add about a tablespoon of oil that has been heating in the kadhai to the onion batter. This will help make the batter lighter and the pakodas/fritters will turn out crisp. Mix the batter 2-3 times so that it is aerated a little bit. Drop a small spoonful of batter to the oil to test if the oil is at right temperature, the pakoda should not sink to the bottom and it should not fry too fast. Medium high heat works best. Take this test pakoda out of the oil and drain on a paper towel lined plate. Give it a taste check and adjust seasonings in the batter, if needed.
Using a tablespoon, drop spoonful of batter into the oil and fry the pakodas, flipping them once. Fry till crisp and almost golden/light brown. Using a slotted spoon, take the pakodas out on a paper towel lined plate. Repeat till all the batter is used up.
If making these for kadhi, let the pakodas cool down and then add to prepared kadhi. If making for snacking, serve the pakodas right away with tomato ketchup or chutney. Enjoy!
Love- Vaishali.
Notes:
Make a double batch and freeze one batch in freezer bags. These freeze and thaw great! I ALWAYS do this!
Tools used:
Kadhai/deep frying pan
Mixing bowl
Knife and chopping board
Measuring spoons and cups
Slotted spoon