Happy New Year dear friends! Few days ago, I shared the recipe of pakoras or onion fritters (recipe here) with a plan to follow it up with the Kadhi recipe, but then got sidetracked with all the holiday baking and end of the year business. So today, as we step in to a brand new year, it seems appropriate to share with you what I had promised. As I mentioned earlier (read here), I learnt how to make Kadhi from my mother-in-law. It starts with a mix of yogurt and besan (chickpea flour) and then we go to town with it. It's good to use yogurt that is stale or a little sour. If you are using homemade yogurt, use yogurt that is 2-3 days old, as fresh yogurt tends to be sweeter. If using store-bought yogurt, use a brand that is less slimy and not too sweet. I have found generic store brands work better for Kadhi than some of the brand name ones.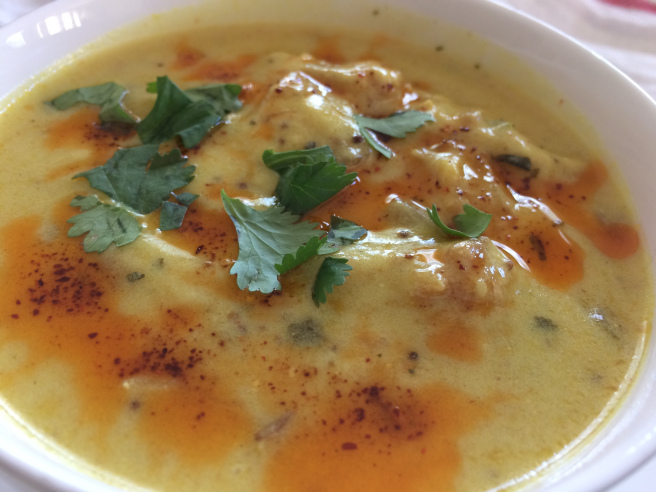 Ingredients:
Yogurt – 2 cups
Besan (Chickpea flour) – ¾ cup
Turmeric powder – ¼ teaspoon
Salt – to taste
Red chili powder – ⅛ teaspoon
Water – 5 cups
Oil – 1.5 tablespoon
Rai/ fine mustard seeds – 1 teaspoon
Methi daana/ Fenugreek seeds – 1.5 teaspoon
Clove – 1
Cumin seeds – 1 teaspoon
Dry red chili – 1 (optional)
Green chili – 1, slit in to two
Garlic – 2 cloves, grated
Onion – 1, medium, sliced
Ginger – 1 inch piece, grated, about a tablespoon
Coriander powder – 1 tablespoon
Water – 3 to 4 cups to adjust consistency
Salt – to taste
Pakore/Onion fritters – about 10 – 12 (recipe here)
Ghee – 2 teaspoon (recipe here)
Garam masala – ½ teaspoon
Kasuri methi – 1 tablespoon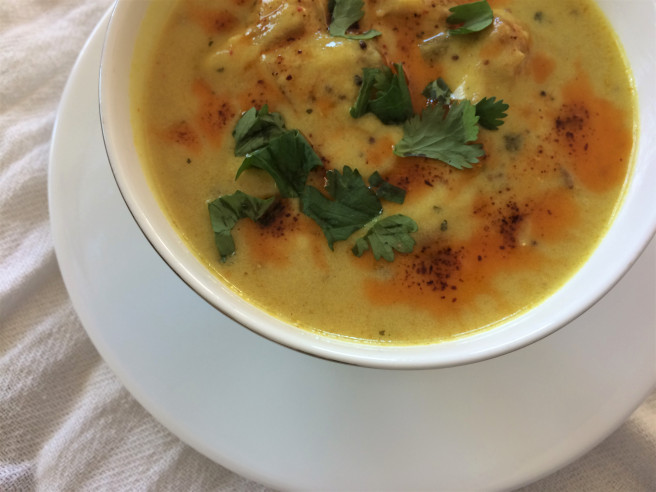 Method:
Start the prep work about an hour before you plan to start cooking Kadhi.
In a large mixing bowl or in your stand mixer whisk together yogurt, besan, salt, turmeric powder, red chili powder and 5 cups of water until well mixed. Set aside for at least an hour. This will help in developing the flavors and adding a sour flavor to the Kadhi.
If you are making pakore (using this recipe), make them now. If using from the freezer, take them out of the freezer to thaw.
Prep green chilies, garlic, ginger and onions.
After an hour, set a big heavy stockpot or dutch oven on medium high heat. Add the yogurt mixture to this pot and stir with a wooden spoon.
To prepare the tadka/tempering, set a heavy bottomed skillet/frying pan on medium high heat and add oil to it. Once the oil is shiny, add the fenugreek seeds and let them get slightly golden, then add rai and cumin seeds along with clove and dried red chili. Fry for 30 seconds. Then add slit green chili and garlic and mix until the raw smell of garlic goes away.
Meanwhile keep stirring the yogurt and besan mixture in between so that it does not curdle.
To the skillet with tadka, add sliced onions with a pinch of salt. Mix and let cook for two to three minutes. Then add the grated ginger and cook for another minute. Add coriander powder and mix.
By this time, the yogurt and besan mixture might be close to coming to a boil. Add the onion and ginger-garlic mixture/tadka to the pot with yogurt mixture. Add another 3 to 4 cups of water to adjust consistency along with some salt. We like our Kadhi to be a little bit on a thinner side. Stir everything together and set the timer to 60 minutes. When the Kadhi starts boiling, turn the heat to low and let it simmer for an hour. It is important to cook it low and slow so that the besan/chickpea flour cooks properly and there is no raw taste in the Kadhi.
When about 5 minutes are left into the one hour timer, add the pakoras and ghee. Finish the kadhi with garam masala and kasoori methi. Give it a taste check and adjust salt if needed.
Serve hot with rice (recipe here) or roti (recipe here).
Love – Vaishali
Notes:
A good consistency check is to coat a wooden spoon in Kadhi when it is done and run your finger over the spoon. If your finger leaves a line on the spoon, Kadhi is good!
I also make spiced ghee/oil mixture to drizzle on top to make it spicier. Here is how you can make it:Ghee – 1 tablespoon (recipe here)

Oil – 2 tablespoon

Green chili – 1, chopped

Red chili powder – 1 teaspoon

Salt – a pinch

Heat ghee and oil in a skillet, add green chili and after about 30 seconds add red chili powder and salt. Cook for a minute on low heat. Your spiced ghee is done! It stores well in the refrigerator. Spoon it over your bowl of Kadhi. Be cautious!

 If you like Kadhi sourer, you can add some amchur (dry mango) powder along with garam masala.
Tools used:
Whisk
Mixing bowl
Dutch oven
Wooden spoon
Knife and chopping board
Measuring cups and spoons
Frying pan/skillet
Spatula