Happy Holi friends! Holi, the festival of colors symbolizes welcoming of spring and colors of nature in form of new flowers and leaves. Lots and lots of snacky foods and sweets are made in our homes during Holi, various kinds of pakoras (fritters), like these and this mirchi vada being some of them.
I find the title of this post funny – I mean I could have gotten more creative with it but somehow it just came to mind and got stuck there. So it is what it is – Indian Style Jalapeno poppers. It cannot get more realistic than this – mirchi (think jalapeno peppers) are filled with an appetizing potato mixture (instead of cream cheese), dipped in batter and deep-fried. The flavors are different but concept is the same – just like human race. Hah – there is my moment of wisdom.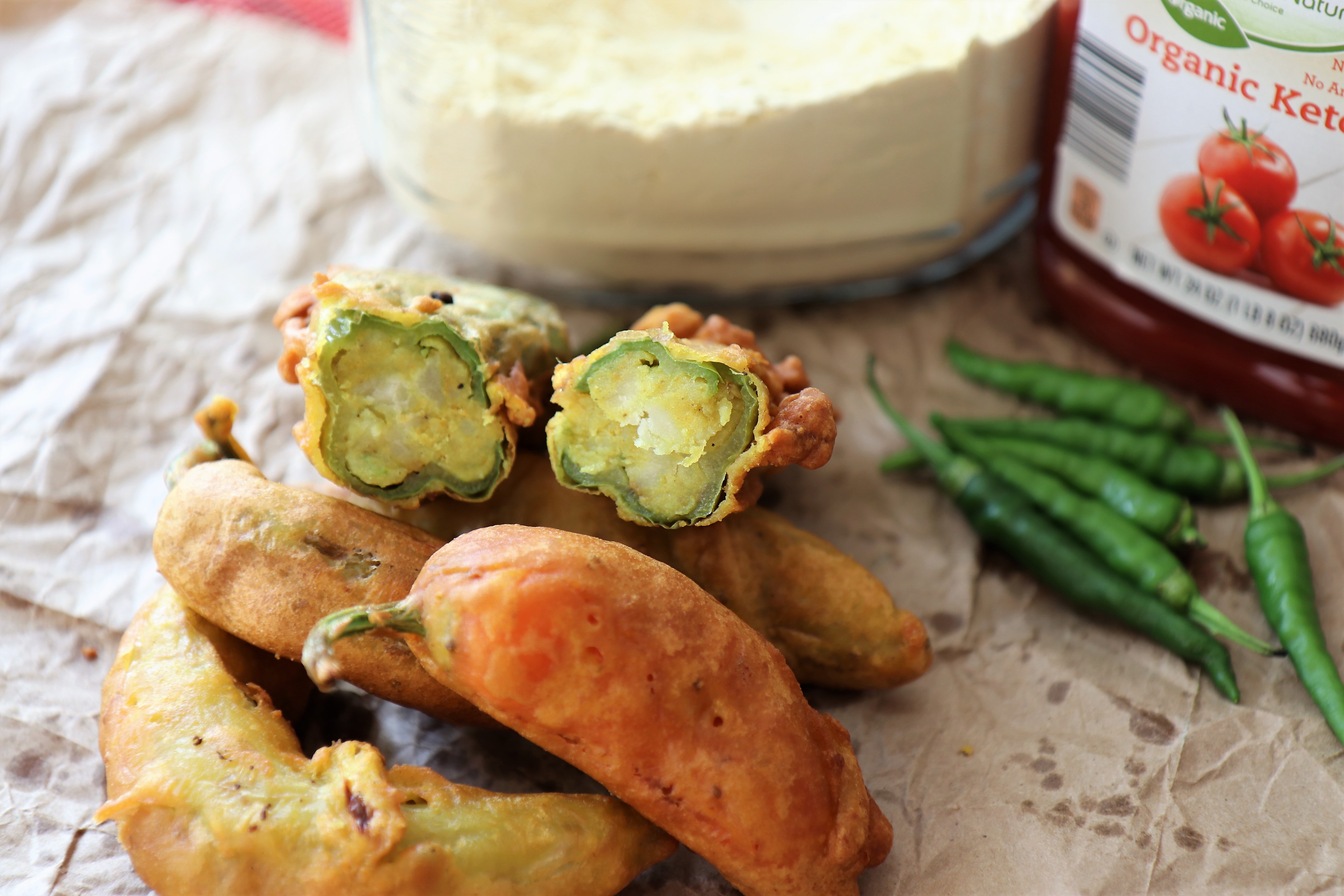 Most small towns in India have at least one famous "Pakora" shop, that specializes in all kinds of batter fried vegetables (having you seen these Onion pakoras?). The vegetables range from humble potatoes and onions to more exciting options like cauliflower, eggplant, paneer (recipe here) etc. oh and mirchi and bread pakoras too. The special thing about these mirchi pakoda or vada (just like bread pakoras) is that these are stuffed. Even more power to stuffed pakoras!
Unlike its American counterpart though, Mirchi wada is not tied to any particular occasion on sporting event (football food?). It can be enjoyed throughout the year, when it's rainy outside, when its cold outside, when the moment strikes, or when you just have to use up some not so pretty looking peppers (that might be just me). Use peppers according to your liking or according to the spice level you can handle – jalapenos, anaheims, sweet peppers, or Hatch chili. The idea is that the pepper should be plump and decent size – you definitely cannot use a serrano or thai chili for this. The masala is made with boiled potatoes mixed with spices. You can choose to temper the potato stuffing or not. Here is the recipe run down.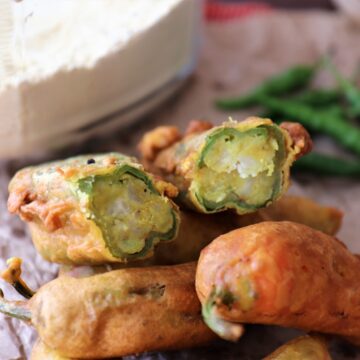 Mirchi Vada
Mirch vada is prepared with mildly hot chili pepper, which are stuffed with little tangy potato masala, dipped in chickpea flour batter and deep fried until crispy.
Ingredients
For Potato stuffing:
2

Potatoes

boiled and coarsely mashed

1

green chili finely chopped

optional

1

tablespoon

oil

A pinch asafoetida

1

teaspoon

cumin seeds

1

teaspoon

coriander powder

¼

teaspoon

turmeric powder

¼

teaspoon

red chili powder

¼

teaspoon

garam masala

½

teaspoon

Amchur, dry mango powder

See Notes

Salt – to taste
For the batter
1

cup

Chickpea Flour/besan

¼-

teaspoon

caraway

ajwain seeds

¼-

teaspoon

turmeric powder

Salt – to taste

A pinch of baking soda

½

cup

water

– or more if needed
Other Ingredients
12-15

big jalapenos

or other big chili peppers

Oil for deep-frying

Chaat masala – optional
Instructions
Rinse the chilies with fresh water and pat dry with a clean kitchen towel. With a paring knife, make a slit in each chili pepper, length wise, making sure not to cut all the way. Carefully remove the seeds and veins from inside the pepper. Repeat until all the chilies are slit and their innards removed.

Set a heavy bottomed skillet on medium high heat and add a tablespoon of oil to it. Once the oil is hot and shimmering, add the cumin seeds and chopped green chill. Let the cumin seeds splutter and then add turmeric, coriander and red chili powder.

Add the boiled and mashed potatoes to the skillet, sprinkle salt, amchur powder and garam masala. Give everything a big mix and check for seasonings. Adjust if required, turn the heat off and set aside to cool.

While the potatoes are cooling, get the batter ready. Take a deep mixing bowl and add the besan along with ajwain, salt, turmeric and baking soda. Whisk to combine. Slowly start adding the water while whisking until a smooth batter forms. The batter should be medium consistency – neither very thick (think pancake) nor too thin (think crepe), so somewhere in-between a pancake and crepe batter consistency. I hope this makes sense.

Take about 2 teaspoons of potato mixture and start stuffing the chili peppers. The amount of potato mixture you use for each chili will depend on the size of the peppers you are using. The potato mixture should be completely contained in the pepper and not over stuffed.

Set a kadaahi or small skillet on high heat and oil for deep-frying. Heat the oil (if you have a candy thermometer, it should read close to 350 degrees F. While the oil is heating up finish stuffing all the peppers. If you do not have a candy thermometer, a good way to check the oil temperature is by dropping a drop of batter in the oil. The batter should sink and then slowly rise to the top of the oil.

Dip each stuffed pepper in the batter, one at a time, and carefully drop into the hot oil. Fry till golden. Remove the pakoras out on a cookie sheet or tray lined with paper towels. Sprinkle chaat masala and serve hot with ketchup or chutney.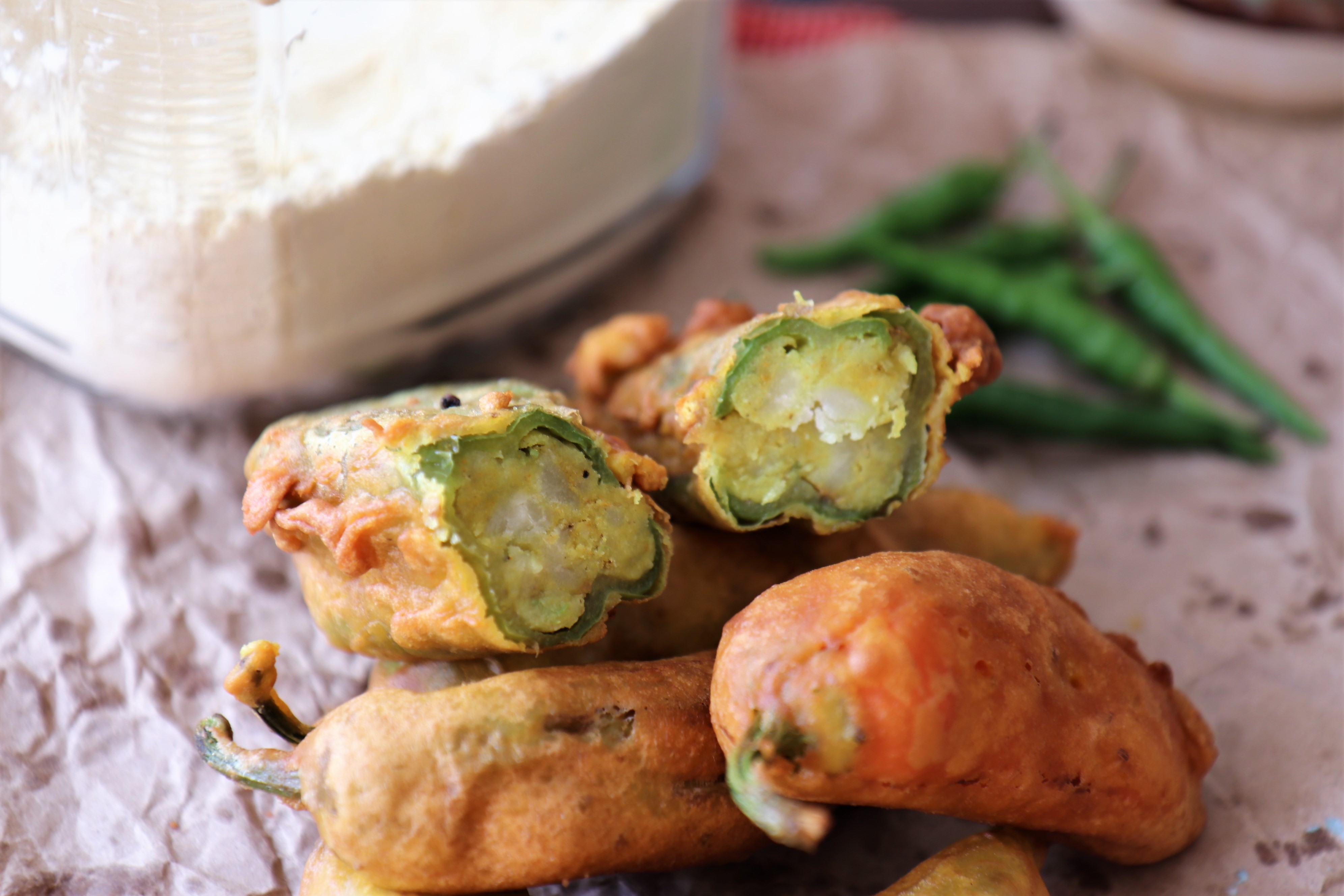 Hope you enjoy these!
Love - Vaishali.
Notes:
This recipe is naturally vegan and gluten free.
If making a bigger batch, keep the fried mirchi vadas warm in an oven set to "warm" setting, while you finish frying all.
Leftovers can be toasted in a toaster oven for a perfect crunchy snack with your evening cup of chai.
If you do not have Amchur (dry mango powder), feel free to use lime juice to add desired level of tartness to the potato mixture.
Tools used:
Mixing bowl
Knife and chopping board
Measuring Cups and Measuring Spoons
Skillet (I love mine)
Kadaahi or deep pan to deep fry
Frying Spider
Whisk
Spatula
Potato masher/Fork