I literally took a double take on "made from scratch" part of this recipe – whether to include that catch phrase or not. But it is true – I have been asked so many times by so many people – "Do you make mac and cheese from scratch?" Now, do not get me wrong here, both my kids can survive on auntie annie's shells and cheese; but making mac and cheese "from scratch" is very simple and does not require a lot of special ingredients or skill.
This recipe, of course, is a little bit more than a regular, good old mac and cheese. I made this mac and cheese for a holiday dinner that we hosted at our house for Dr. A's work friends. So I wanted it to be a little more fancy with some special flavors that would appeal to the "grown-ups".
I count myself in this group of incredibly blessed parents whose kids love to eat veggies. Can you believe that Mr. Little V's favorite vegetable is broccoli. I mean a four year old who loves all greens and broccoli…must be a dream right? Well, the point is that my kids loved this mac and cheese. And yours can too – the idea is to expose the kids to all the different flavors, textures, colors, and smells that our culinary world has to offer. They might take some time to open up and try new food, but keep at it and it will happen!
This is the richest, creamiest, most decadent, and seriously addictive mac and cheese that you will ever put in your mouth. Do not go near this mac and cheese if you are trying to keep your carb intake in check. Just to be clear and upfront – this recipe is not low fat, low-carb, or vegan.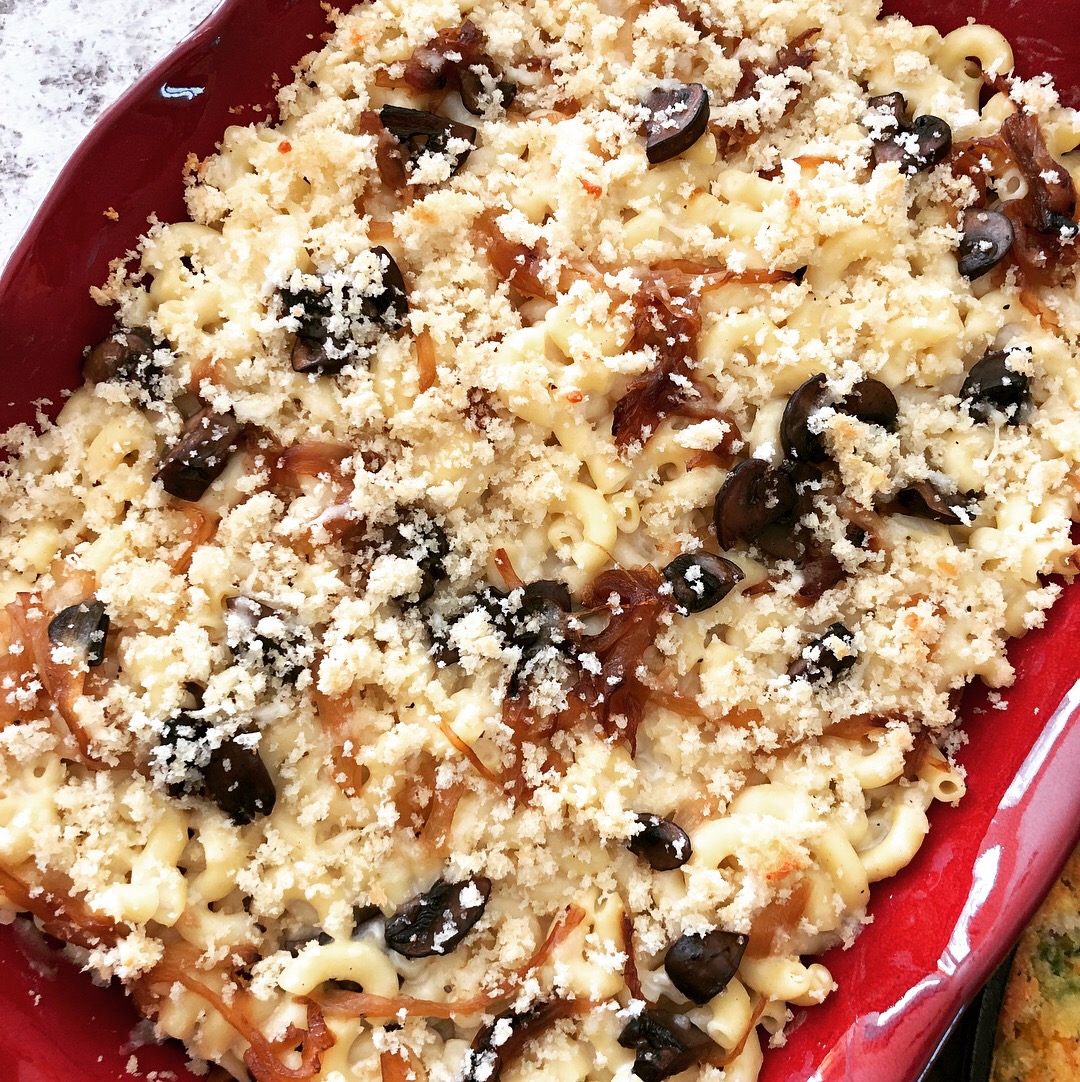 A blonde roux forms the base of the recipe, along with deep, nutty flavors of different cheeses that we use. Roasted mushrooms and caramelized onions add depth of flavor and veggie goodness. And there is a fresh bread crumb crust topping that is buttery and crunchy. Have I convinced you yet to try this "made-from-scratch" mac and cheese recipe? Lets go down the ingredient list and see…shall we?
Ingredients:
Dried elbow macaroni pasta – 1 and a ½ pound or 700 gms
Baby Bella or white mushrooms – 8 oz or 225 gm wiped clean and cut into quarters.
Olive oil – for drizzling
Salt and fresh ground black pepper – to taste
Yellow onions – 2, peeled, halved and thinly sliced
Butter – 5 tablespoons (divided 4 + 1), plus more for buttering the baking dish
All-purpose flour – ¼ cup
Milk – 2 cups
Half-and-half  – ⅓ cup
Ground nutmeg – ¼ teaspoon (optional)
Ground mustard – ¼ teaspoon (optional)
Eggs – 2, beaten
Fontina cheese – ½ cup, grated
Gouda cheese – ½ cup, grated
Parmesan cheese – ½ cup
For the bread crumb topping:
White/wheat bread – 2 slices, crusts removed
Olive oil – 1 tablespoon
Parmesan cheese – 1 tablespoon, grated
Method:
Set a cast iron skillet or other heavy bottomed skillet on medium low heat. Add the mushrooms to the pan and drizzle some olive oil on them, and then sprinkle some salt and pepper. Toss them around and cook till the moisture dries up and the mushrooms are roasted and turn deep brown in color. Remove the mushrooms on to a plate or bowl.
In the same skillet, sauté the onions in 1 tablespoon of the butter, stirring occasionally, until golden brown and caramelized, about 15 minutes. Set aside.
Cook the macaroni 1 minute shy of what is directed on the package. So if the macaroni package says cook for 10 minutes, cook for 9 minutes and then drain. This method of undercooking the macaroni ensures that the pasta does not get mushy when we bake it. Set aside.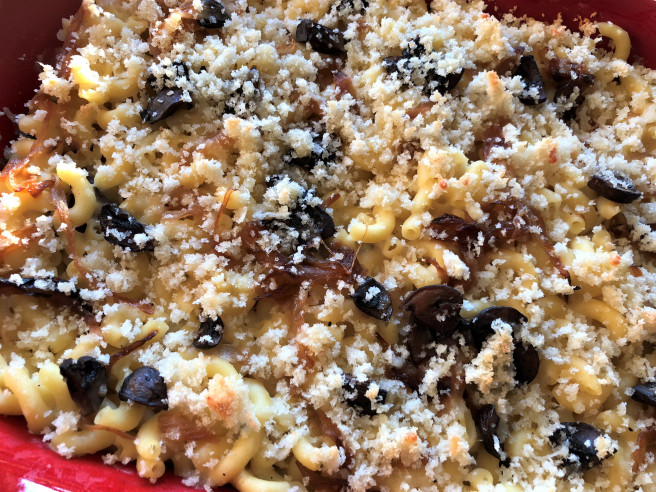 To make the sauce, melt the remaining 4 tablespoons butter in a large pot or saucepan over medium heat. Once the butter is bubbly add the flour, and whisk to combine. This mixture of some kind of fat (butter in our case) and flour cooked together is called a roux (pronounced ru), and is used to thicken sauces. The extent to which you cook the roux gives it a color and that ultimately determines the shade of your sauce. For this mac and cheese, we are going to cook it until it is just light golden. Let the roux cook for a minute or so, whisking constantly. Then pour in the milk and keep whisking. Cook this white sauce for about 4 to 5 minutes or until thick and bubbly. Next, add the half-and-half, salt, pepper, nutmeg and mustard powder.
Preheat you oven to 350 degrees F or 180 degrees C.
In a small bowl whisk the eggs and add about ¼ cup of the hot sauce, 1 tablespoon at a time, to the eggs to temper them. Keep stirring or whisking the eggs continuously as you pour in the sauce. The idea is to "temper" the eggs and gradually increase their temperature so that they do not curdle or cook when we add them to our pot of sauce. Pour the tempered eggs into the white sauce, whisking constantly as you add them. Add the fontina, Gouda, and Parmesan cheeses. Stir until all the cheese melts. Add the cooked macaroni and mix. There should be enough sauce so that the pasta does not dry out after baking. Splash in a little milk, if needed, to thin the sauce.
In a spice grinder or blender, grind the bread slices to make breadcrumbs (you can use store bought breadcrumbs for sure, about ½ a cup). In a small bowl, combine the breadcrumbs with olive oil and Parmesan cheese.
Generously butter a 9- by 13-inch baking dish. Lay on half the caramelized onions, half the macaroni, and half the mushrooms. Repeat the layers, spread the breadcrumb cheese mixture on top, and bake until bubbly and hot, about 20 to 25 minutes.
Serve as a side dish with Chicken or any other meat of your choice or as main dish with a salad or other vegetables (these will work great!) or soup (this!)
This is no way a simple dish or a one-pot pasta but it is delicious! Because sometimes calories do not matter, what matters is the sheer comfort and satisfaction that comes out of taking one bite of this mac and cheese and your taste buds burst into a happy dance!
Love- Vaishali.
Tools used:
Cast iron skillet
Oven
Spice grinder
Sauce-pan
Mixing bowls
Strainer/colander
Knife and chopping board
Measuring cups and spoons
Box grater
Baking dish