Happy Monday friends!
As we are approaching the end of school year, the Sharda household is abuzz with activity. For Ms. Little A, there are tests going on to assess her placement in advanced courses as she starts middle school. Middle school, What? Where did my little first born go? My chubby, talkative and everything pink loving toddler has suddenly transformed into this tall, skinny, super smart and compassionate preteen who doesn't love color pink anymore. Huh? There are also concerts, competitions, planning for end of school sleepovers, and an upcoming trip to California stirred in the mix.
Jump to Recipe
Dr. A and me are planning summer research, publications, conferences and travel. Mr. Little V - well he is living the life, where the biggest thing to worry about is what to take to school for show and tell. I want to be him!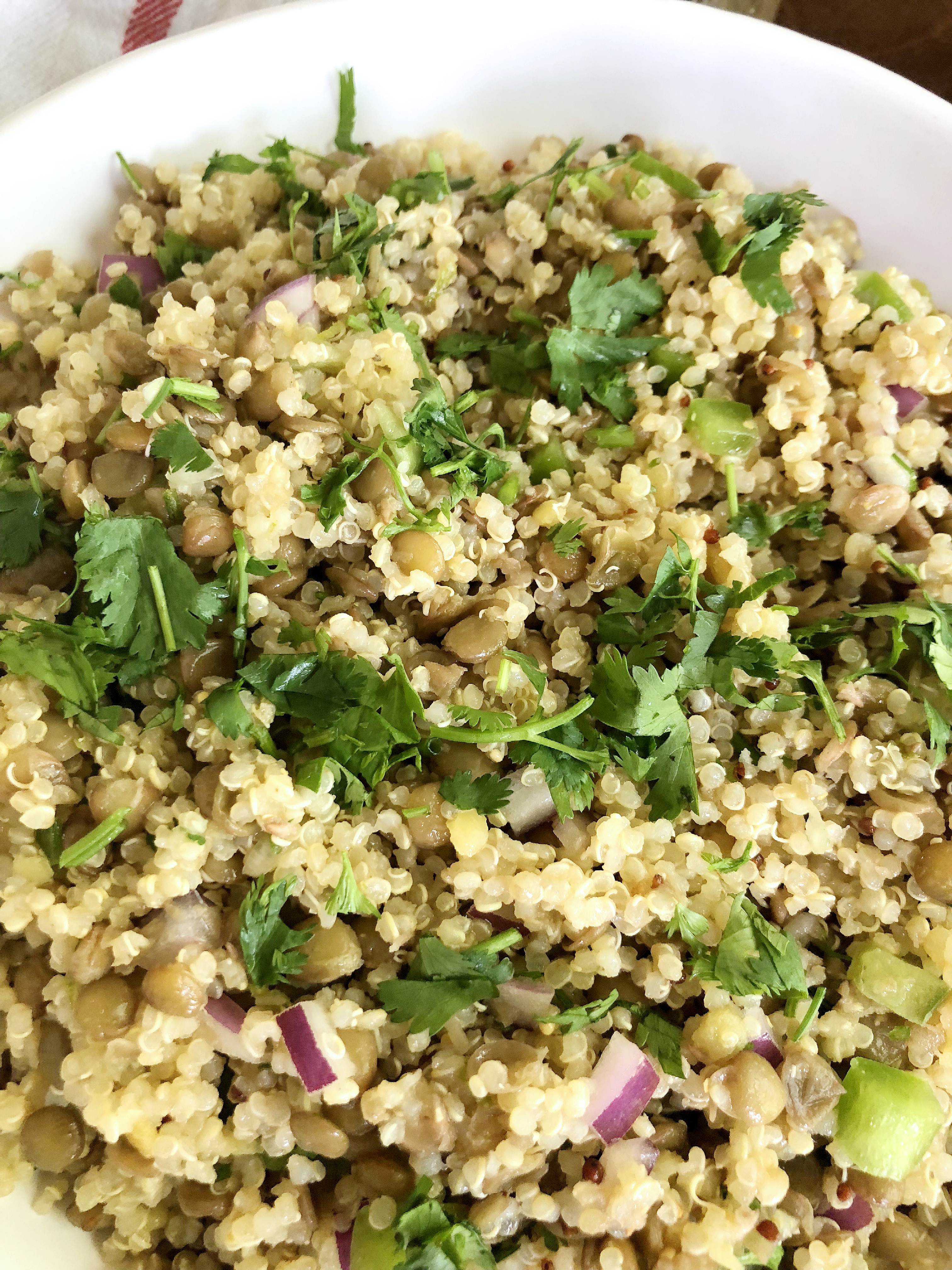 With crazy days like these, I feel we can always include some more protein in our diet to keep us full and going longer. This Quinoa Lentil Salad is a protein powerhouse that is meatless (Yayy for Meatless Monday) and vegan. Since my intention was to create something with enhanced protein factor, this quinoa lentil salad has FOUR amazing sources of protein:
Quinoa
Lentils
Pumpkin Seeds
Tahini, sesame seed paste (optional)
We made this salad to go with some burgers (recipe here) and Indian Spiced roasted potato salad (recipe here) and blueberry cobbler (recipe here) dinner. Wow. I might have to write down this menu to repeat it every time we grill burgers. So if you're looking for an accompaniment to a killer grill menu, or simply something that is satisfying and filling or a pick me up after a  run or a workout, this salad has got you covered. And the best part - it is super easy to make and is ridiculously delicious. Bonus points for being high in dietary fiber and zinc.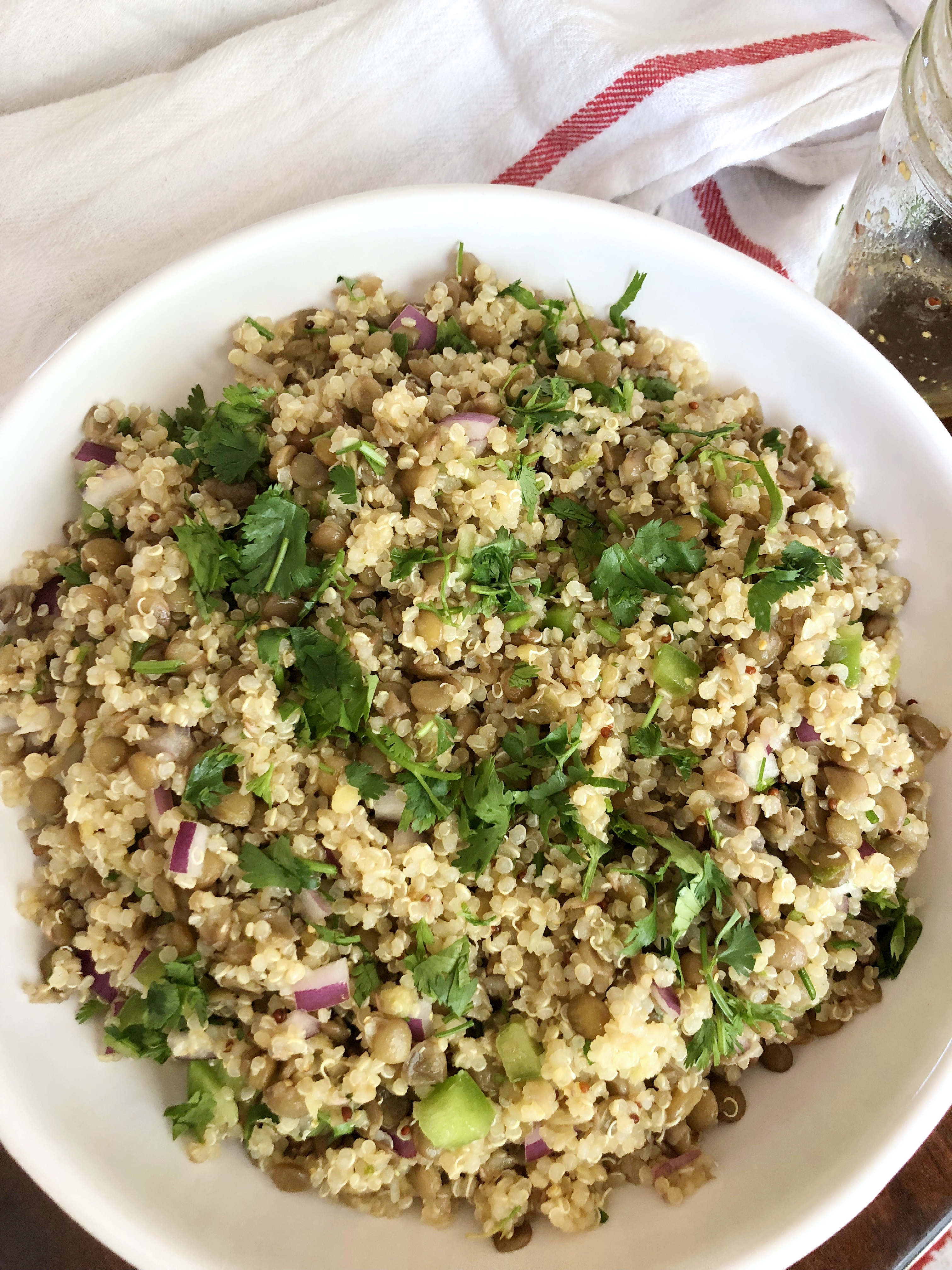 The only time consuming step in this salad is cooking the lentils. So, that is where I would start this salad. I cooked the quinoa in the microwave for this one - which I thought was a complete genius. I might have outdone myself over this pressure cooker quinoa (recipe here). Dr. A even made a point that the quinoa in this salad is the best that I have cooked so far. My "not a big fan of microwave" self cringed a little. Nevertheless, I have to share it with you and I might do a separate "how to" post or video on cooking quinoa in the microwave.
While the lentils are cooking, which will take 25-30 minutes, everything else for this salad can be prepped and kept ready. Then it is just draining the lentils and mixing everything together. I served it at room temperature, but chilling it would be great too.
Protein Rich Quinoa and Lentil Salad with Homemade Vinaigrette|Meatless Monday
A vegan quinoa and lentil salad that is full of protein rich ingredients and is made flavorful by an easy homemade vinaigrette
Ingredients
½

cup

quinoa

3 ½

cups

water

(divided into 1 ½ cups for quinoa and 2 cups for lentils)

½

cup

dryed lentils

Brown or green (available at most grocery stores)
Vinaigrette Ingredients
½

teaspoon

Dijon/whole grain mustard

1

teaspoon

tahini

2

tablespoons

red wine vinegar

¼

cup

extra virgin oil

¼

teaspoon

garlic powder

1

lime

zested

Salt and freshly ground black pepper
Other Ingredients
¼

cup

chopped red onions

¼

cup

pumpkin seeds

toasting suggested

1

tablespoon

chopped fresh cilantro leaves
Instructions
Rinse and drain the lentils. Set a saucepan on high heat and add lentils with 2 cups of water and a pinch of salt. Cover and bring to boil. simmer the lentils in 2 cups water until the lentils are tender, but not mushy, about 30 minutes.


Rinse the quinoa in cold water using a sieve. In a large glass bowl with a lid, add the rinsed quinoa, a pinch of salt and 1 ½ cups water. Cover and microwave on high for 12 minutes.


Chop and prep all the other ingredients.


In a small mason jar, add all the vinaigrette ingredients and shake until emulsified.

Once the quinoa is cooked let it sit for 2-3 minutes and then fluff with a fork.

Once the lentils are cooked, drain and add to a big mixing bowl.

To assemble the salad:
In the bowl with lentils, mix the quinoa, chopped onions, pumpkin seeds and chopped cilantro. Top the salad with the dressing, toss to coat, give a taste check and serve.
Notes
Feel free to add finely chopped red bell peppers for crunch and color. I am definitely doing this next time. Instead of pumpkin seeds, you can add almonds or walnuts. I tend to use more pumpkin seeds because for nut allergies in our family. Store leftover salad in the refrigerator for 2-3 days and enjoy chilled.
Make ahead tip
Cook the lentils and quinoa ahead of time and make the vinaigrette. Store in the refrigerator. When ready to serve, add all the ingredients in a deep bowl, give the vinaigrette a vigorous shake, add to the salad and give a big mix.
If you try this salad, let me know how it went. Comment below or share a picture on Instagram with #thekitchendocs.
Love - Vaishali.
Tools Used:
Microwavable Glass Bowl
Sauce Pan
Spatula and fork