Aahh..Baklava..the flaky nutty goodness doused in flavorful syrup. When me and Dr. A were graduate students, we had a special friend named Nejla. She was actually the international student adviser at the school we attended and became our friend. Nejla was from Turkey, full of personality, warm, friendly and very helpful. We would have long conversations about traditional foods from our respective countries and Baklava came up in these conversations quite often. One time Nejla invited us over for a traditional Turkish dinner and made Baklava. She knew how much Dr. A loves Baklava, so she gave us quite a bit to bring home after dinner. That Baklava was something.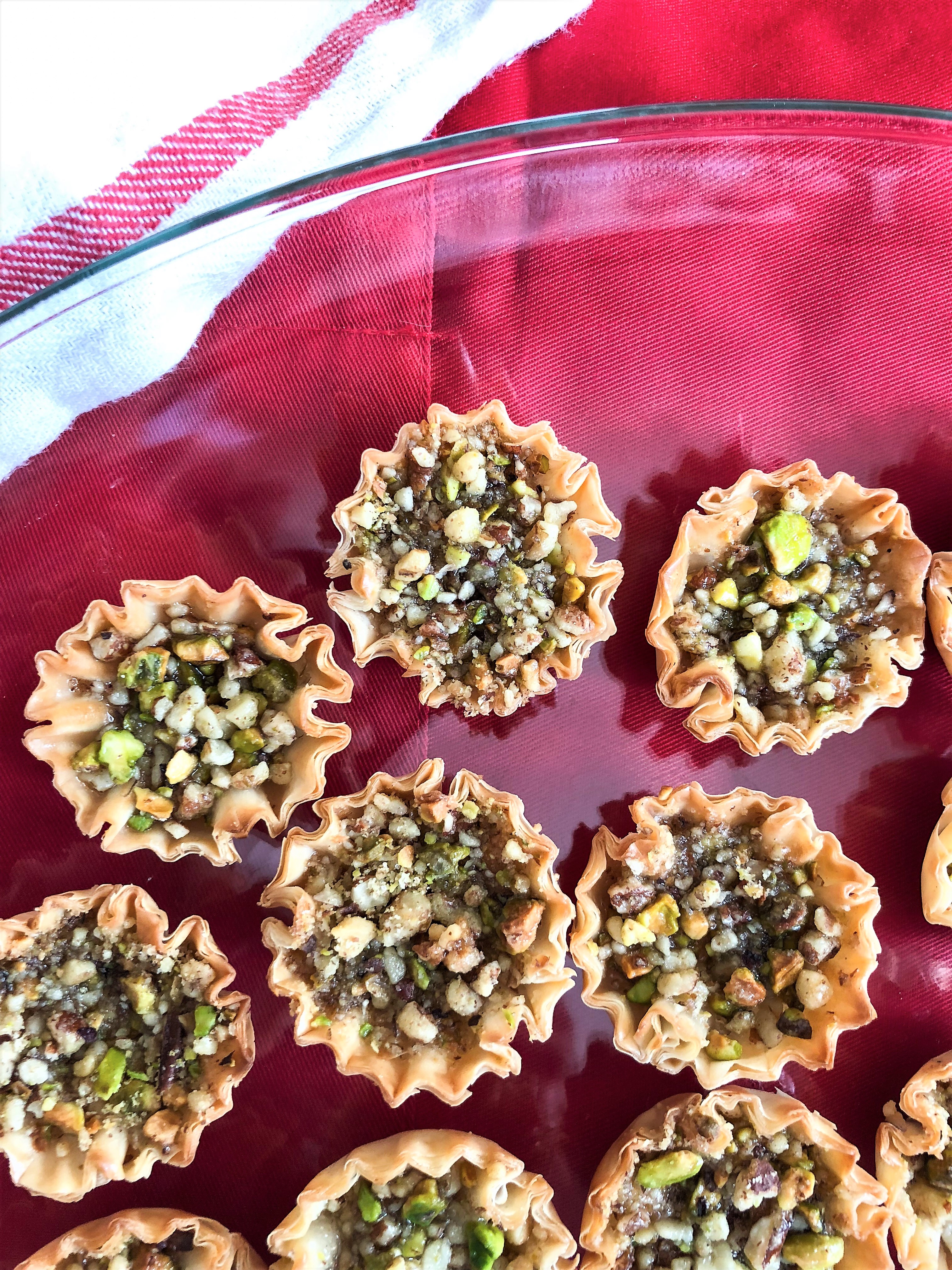 Over the years, we tried Baklava at multiple places. Mediterranean restaurants, Greek cafes, food courts, fancy pastry shops but nothing even came close to the flavor of Nejla's Baklava that lingered on my taste buds memory. Then recently Dr. A found Nejla on Facebook and while chatting with her, the topic of Baklava came up (of course). If you knew Dr. A, this would not come as a surprise. He can pretty much squeeze food into any conversation. She had published her Baklava recipe in a magazine and was very kind to share the snapshots for her recipe with us. I tucked her recipe carefully in my recipe binder making a mental note to try it soon.
Then one day while roaming the freezer section of our grocery store, I came across phyllo dough sheets, which instantly took me to a Baklava state of mind. Right next to the phyllo dough package were two boxes - one was ready-made frozen baklava and another was pre baked phylllo dough mini cups. Phyllo dough-baklava-phyllo cups! A stroke of genius - an Edison moment! I thought - why not to make Nejla's baklava using the phyllo cups. The filling, the syrup, the technique remains the same but instead of buttering and layering phyllo sheets and tucking in the nuts mixture; I would use thy phyllo cups and call it Baklava Bites. You cannot fail until you try, so that's how this experiment began.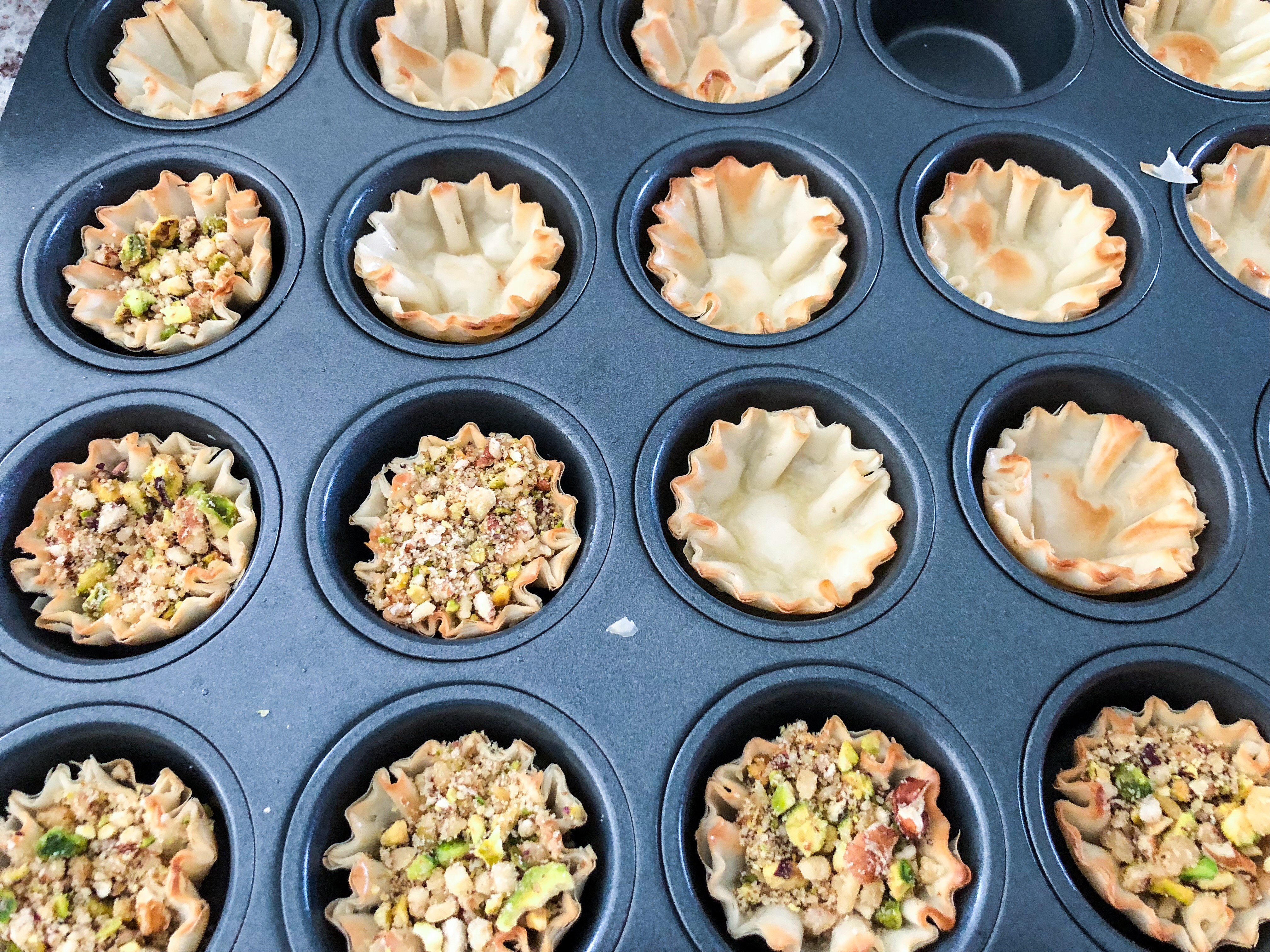 I searched the mighty internet and found that similar things have been attempted before. So that gave me some confidence and armed with Nejla's baklava recipe I dived in to make a cheater's version. Call it a semi-homemade version of Baklava or as I say Baklava Bites. Sorry, Nejla!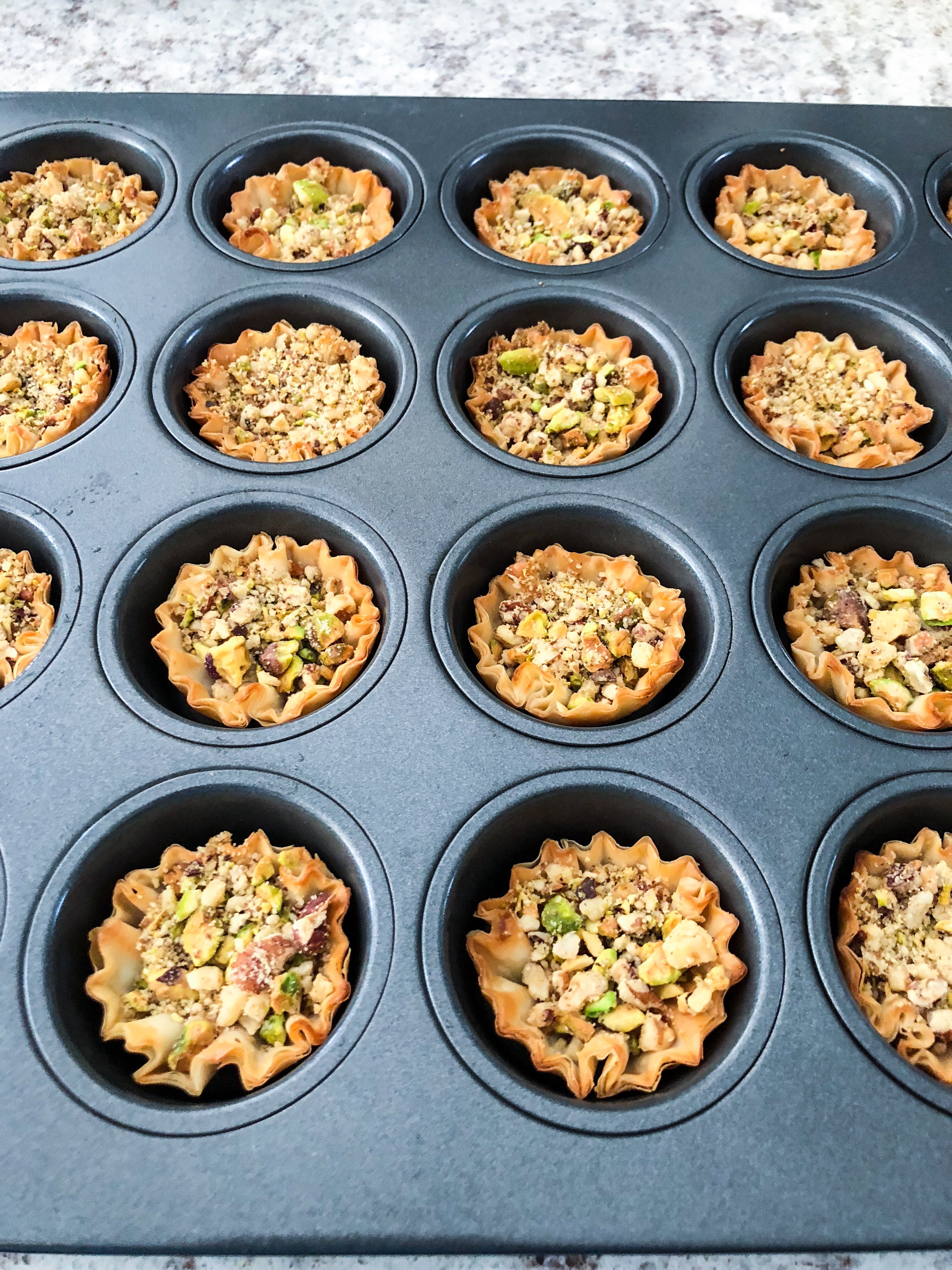 The original recipe called for walnuts, but I used a mix of walnuts, pistachios and pecans. I adjusted the amount of syrup and nuts to make a double batch of mini Baklava Bites. It is a perfect petite dessert that is enough to satisfy a sweet tooth without being too indulgent or heavy. I am no way shying away to make Baklava from scratch and it will happen sooner or later - but for now this quick version of Baklava is sure to impress your family and guests.
So here it goes:
Easy Baklava Bites
Baklava bites are easy, a lot simpler than traditional baklava, and excellent. Just pop one in your mouth and get ready to be impressed. A must try even for a beginner!
Ingredients
3

packs

mini phyllo shells, 15 each

pre baked, available in freezer section

½

cup

pistachios

½

cup

pecans

½

cup

walnuts

2

tablespoon

sugar

2

tablespoon

unsalted butter

melted (optional)
For the sugar syrup
1.5

cups

sugar

1 and ¼

cups

water

1

teaspoon

lime juice
Instructions
Preheat oven to 350 degrees F or 175 degrees C.

Add all the nuts along with 2 tablespoon sugar to a food processor or blender and coarsely grind them. (See notes)

To make sugar syrup
Set a small saucepan over medium heat and add the water and sugar. Bring to boil. Reduce the heat to a simmer and cook for 5-7 minutes. Add lime juice and let the syrup cool.

To make Baklava Bites
With a pastry brush, lightly butter the mini phyllo cups with melted butter and lay them in two mini muffin pans. (if you are not using butter, you can skip this step).


Add 1 teaspoon of the nut mixture into each shell. Bake for 10 minutes.


Once the bites are out of the oven, let them cool for 6-7 minutes. Then add one teaspoon syrup to each baklava bite. Wait for 6-7 minutes and then add ½ teaspoon more syrup to each bite. Let sit for a few minutes so that the syrup soaks in.


Chill in the refrigerator for at least 4 hours before serving.

Notes
You can choose to use only walnuts (more traditional).
Some people like cinnamon in their baklava. If so, add a teaspoon of cinnamon to the nuts when grinding them.
You can grind the nuts coarsely or to a complete powder (more traditional).
This recipe can easily be halved (or doubled).
The phyllo cups that we got are vegan. If you want to keep the recipe vegan, skip the step of basting the cups with butter.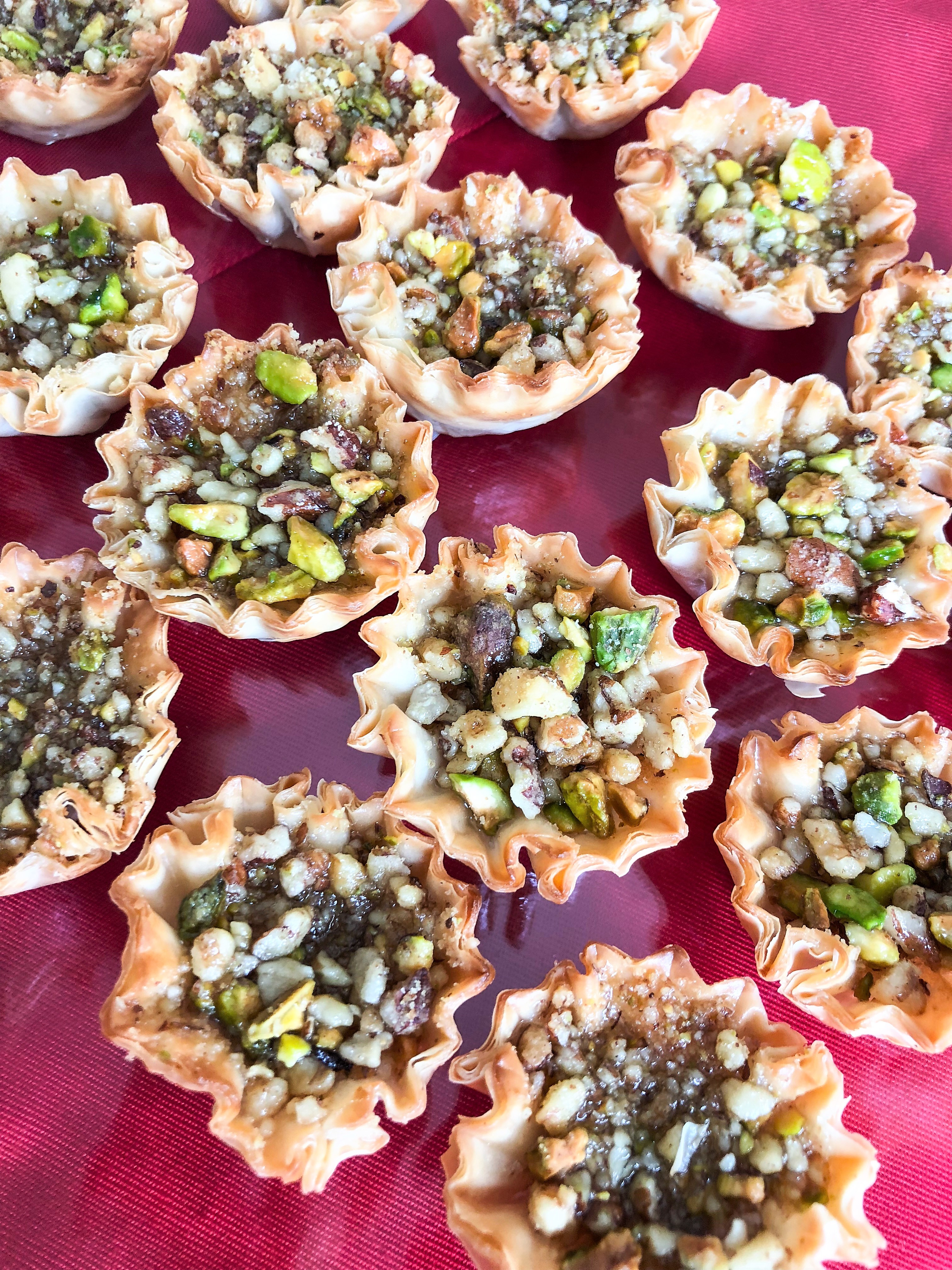 Give this semi-homemade version of baklava a try and you won't be disappointed.
Happy July 4th week..:)
Love - Vaishali
Tools Used:
Oven
Measuring Cups:
Measuring Spoons: