You know how they say one thing leads to another – yup- that's just what this recipe is. Remember when we made paneer and then we also made veggie kabobs a few weeks ago, so this recipe uses both of these ingredients, though using veggie kabobs is totally optional.
There is a cuisine group in India called Indo-Chinese – yeah I know that sounds kind of confusing. It is a flavor group that I believe was totally developed at some very innovative and fusion concept restaurant in India and spread like a wildfire. It basically involves using ingredients that are predominantly Indian and mixing them with flavors and sauces of Chinese cuisine like adding soy sauce, chilli garlic sauce, lot of spring onions (scallions), ginger and garlic. I don't want to step into the unchartered waters of Chinese cooking but this is how I know it..:p.
So if you have some paneer lying around in the refrigerator or freezer and have some leftover veggie kabobs from last night's grill out – you are in luck here and chilli paneer will come together for you in a blink of an eye. If not, don't hold your breath, still pretty simple though it might require you standing over your chopping board for just a wee bit. And I have a trick for that – read in the notes after this recipe.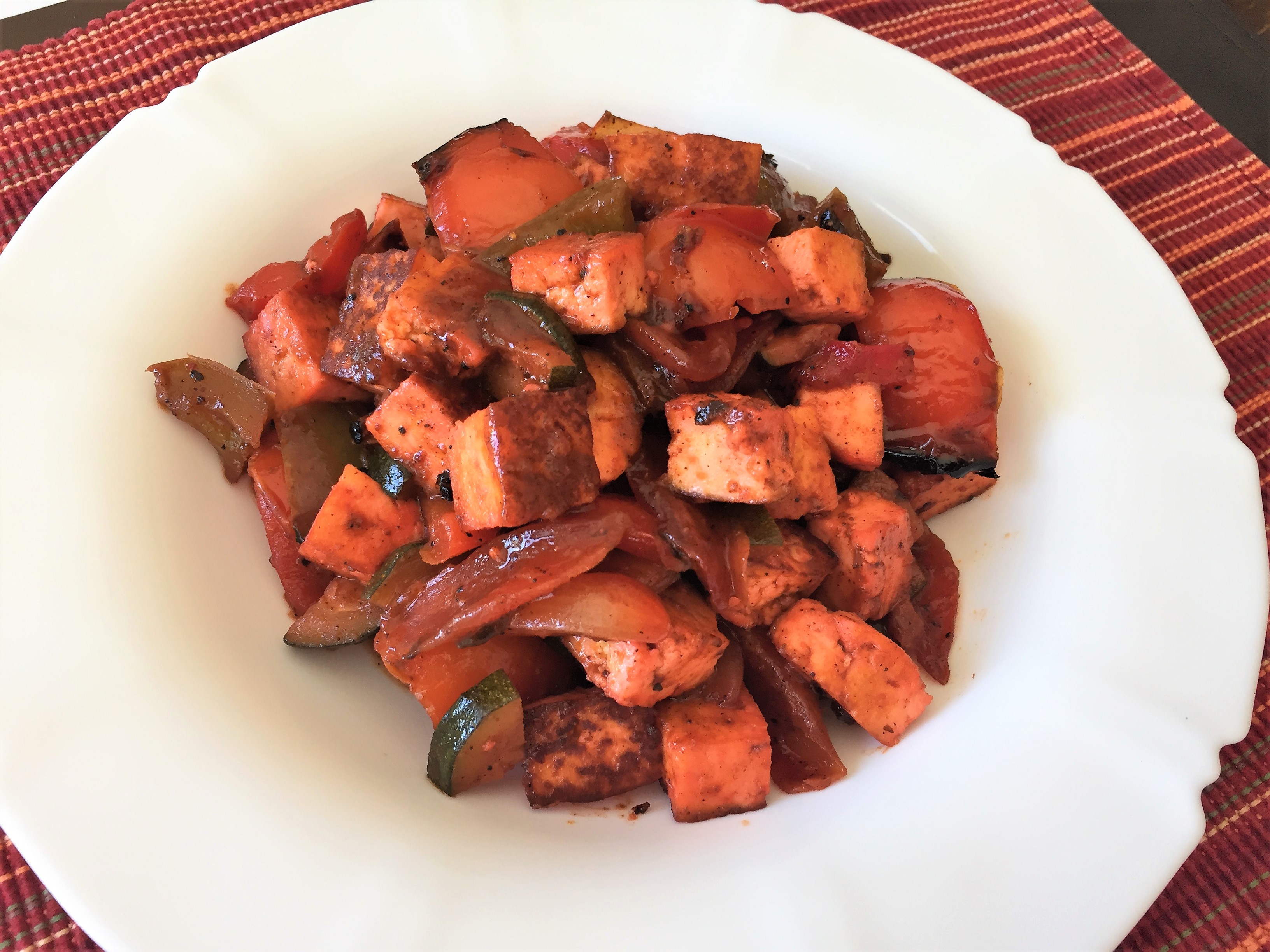 Ingredients:
Paneer – 1 batch or 1 pound (recipe here)
Oil – 1 tablespoon + 2 tablespoon if you plan on frying the paneer
Red onion – 1
Zucchini – 1 small
Green bell pepper – ½
Red bell pepper – ½
Green chilli – 1 (optional)
Ginger paste – 1 teaspoon
Garlic – 1 clove
Scallion/green onion – 2
Soy sauce – 1 tablespoon
Chiili garlic sauce – ¾ tablespoon
Tomato ketchup – 1 teaspoon
Sugar – 1 teaspoon
Salt and Pepper – to taste
Method:
Cut the paneer into cubes. If you plan to fry the paneer cubes, add 2 tablespoon oil into a nonstick (love my Scanpan) pan and shallow fry the paneer cubes until lightly browned. I normally fry my paneer if making this dish for company; otherwise, I just skip this step and use the paneer as is. Cut the green chilli and mince garlic. Chop the onion, zucchini, and bell peppers into chunky pieces, almost similar size as your paneer cubes. Cutting the ingredients of a dish in same size makes them cook evenly and almost at a same time and it looks pretty..:). Thinly slice the scallions. I find using kitchen shears the easiest way to chop green onions…give it a try..will ya?
In a heavy bottomed, wide frying pan, add 1 tablespoon oil. Add ginger and garlic and turn on the heat to medium low. Heating the oil after adding ginger-garlic to it perfumes the oil as well as your kitchen. Add the chilli garlic sauce. After a few seconds, add the onions and green chilli (if using). Increase the heat to medium and stir around for a minute or two. Then add the zucchini and bell peppers and let them cook. If you like to use the white part of scallions, now would be a good time to add those in too. Let all the ingredients mingle and socialize. After two minutes, add soy sauce and tomato ketchup. Give it a good stir, then add paneer, sugar, salt and pepper. Be cautious while adding salt since soy sauce can be salty. Cover and cook for 10 minutes on low heat. Give it a taste check, add scallions and serve with rice or roti.
Note 1: If you have veggie kabobs, then skip adding all other vegetables. After adding the chilli garlic sauce, add the veggies from kabobs and then the sauces. Proceed the same way for rest of the recipe.
Note 2: If you don't have kabobs, you can still save sometime by cutting veggies as you go. While ginger garlic and green chillies are cooking, cut onions, after adding onions cut bell peppers while the onions are cooking and so on. This way your prep time is reduced substantially.
Enjoy!!
Love – Vaishali.
Tools used:
Chopping board and knife
Non stick skillet for frying paneer
Wide, heavy-bottomed frying pan with lid
Measuring spoons
Spatula