This past Friday I shared a picture of my breakfast on my Instagram account (find me here) and I got so many messages to share its recipe. There is no recipe really – it is an avocado, tomato and fried egg toast. However, since so many of you asked, I am happy to oblige. I was wondering what to call this recipe, played around with names like breakfast avocado toast; avocado and egg breakfast toast; etc. Then I quickly realized that I do not want to label this toast or sandwich as just a breakfast recipe. Do not get me wrong, this toast is excellent breakfast as it covers so many brain food groups – there are "good" fats from avocado, vitamin C from tomato, carbs from whole-wheat honey oat bread, and proteins from egg. But who said you cannot have it for lunch or for dinner. Eggs are my absolute favorites to quickly put together a balanced meal when I am not in mood to cook. I am sure all of us have been there at one time or the other.
Since it is such a simple toast/sandwich, the quality and freshness of the ingredients used becomes very important. So good quality bread ("How can a country be great of its bread tastes like tissue" – Julia Child), fresh and ripe avocados and tomatoes, and good (as fresh as you can get and preferably organic) eggs are the key.
So here is what it took to make one toast (add another slice of bread on top, slathered with more avocado to make it a sandwich):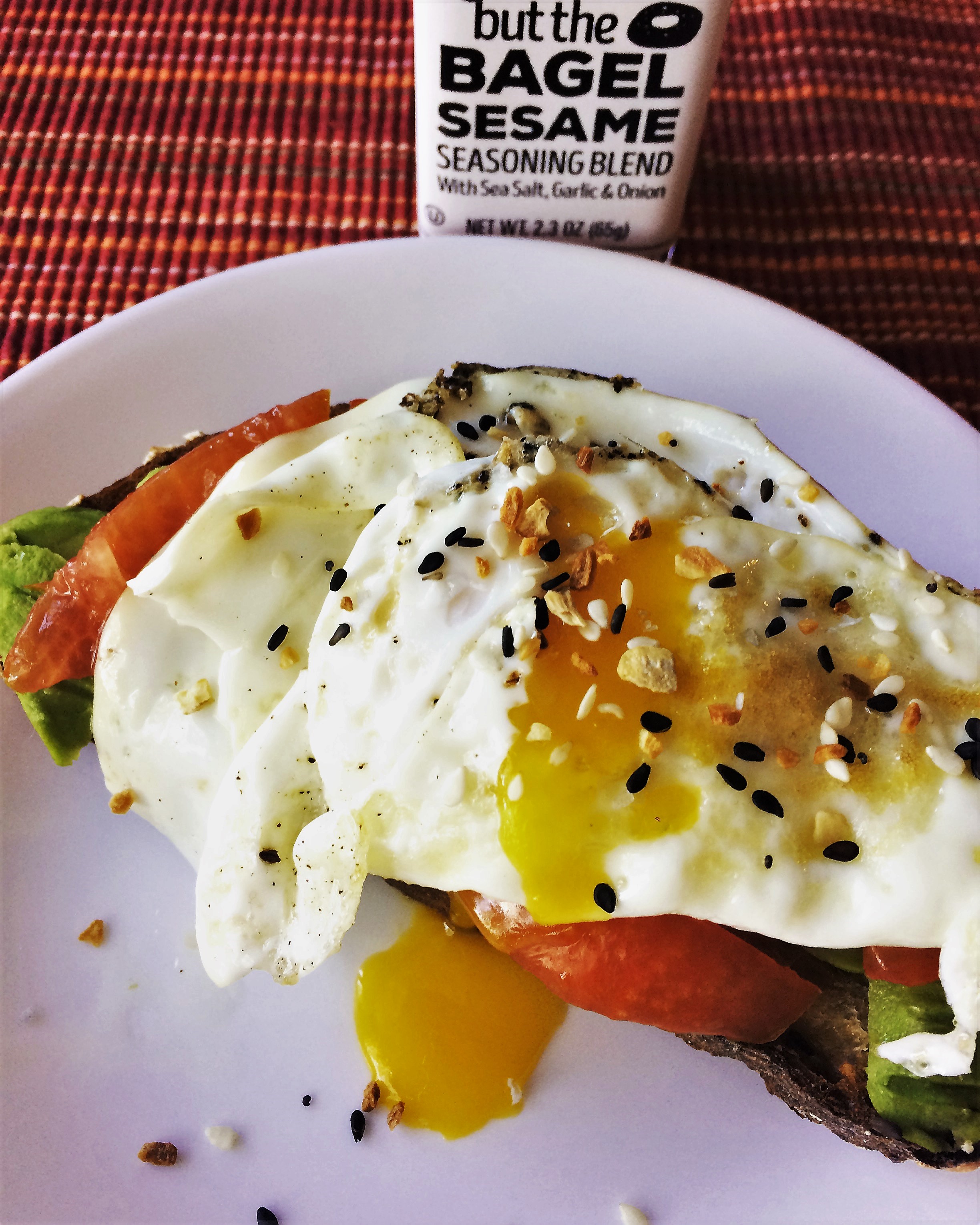 Ingredients:
Whole grain bread – 1 slice (or two)
Avocado – ½, small, thinly sliced or mashed
Tomato – ½, medium, sliced
Egg – 1
Butter – ½ tablespoon
Salt and freshly crushed black pepper – to taste
Everything but the bagel spice blend – for topping (optional)
Method:
Set a small non-stick skillet on medium low heat. Add butter and let it melt. Gently break the egg into the skillet, paying attention to the yolk. While the egg is cooking, slightly toast the slice of bread. Add salt and pepper to the egg. Flipping or not flipping the egg is your choice. However, if not flipping, make sure to tilt the pan and spoon some of the melted butter over the uncooked part of the egg that is closer to the yolk. Alternatively, you can lower the heat and cover the pan with a lid for 30 seconds to cook the egg. Spread avocado on the bread slice, add salt, layer sliced tomatoes, a pinch of salt and pepper and top with the fried egg. Sprinkle with everything but the bagel seasoning, if using. Poke the yolk with a fork to let that luscious goodness dress your toast. Enjoy!
Love – Vaishali.
Note: It's important to slightly season every layer of this sandwich/toast to achieve great flavor..:).
Tools used:
Nonstick pan
Spatula
Knife and chopping board
Measuring spoon