Pasta in various forms is one of the most requested dinner in our home. I am mostly quick and happy to agree to pasta requests (more recipes here, here, here, and here). I have written earlier about how we like to plan our weeknight meals on the weekend, and then do grocery shopping and some prep work accordingly. This saves a lot of time, effort and "what to cook tonight" headache. Trust me when you have to handle two busy work schedules, kids' school and extracurricular activities, and social engagements, it's good to have one less thing to worry about.
I follow some basic rules when cooking pasta for the family.
Use whole grain pasta (almost always)
Lots of vegetables and sauce
Protein – from veggies/beans/meat and cheese
Use good quality cheese and shred your own. The pre-shredded cheese, though convenient, has needless additives.
I am not trying to preach but these rules are "good for you" to follow. So please consider. Or not – whatever yanks your crank!
Does it ever happen to you – when you have one perishable ingredient sitting in your refrigerator that you want to use up by a certain date, and you end up buying more 'not so frequently' used ingredients to make a dish and then the whole circle repeats itself? It's like a spiral – though I kind of like this spiral..:P. I had a tub of ricotta cheese that I needed to use and some lasagna noodles in the pantry made the idea of these lasagna roll ups click. This recipe is a cross between regular layered vegetable lasagna and simple spinach roll ups that I have separately made many times. The spinach roll ups recipe was shared by a member on a Facebook group of home chefs, which I am a part of. I have made and modified the spinach roll ups recipe ever since. To add body and nutrition to the tomato sauce for roll ups, I made sauce with veggies, just as you would if you were making layered vegetable lasagna. Feel free to whatever veggies you have, mushrooms, zucchini, broccoli, yellow squash, bell peppers, carrots, frozen mixed veggies – sky is the limit. You can use jarred marinara sauce (as I did) or just use crushed tomatoes while cooking the veggies to make your own.
So here is how the recipe goes:
Ingredients:
Lasagna Noodles – 16 to 18
For the vegetable tomato sauce:
Olive Oil  – 2 Tablespoons
Onion – 1, medium, finely chopped
Garlic – 2 cloves
Red Bell Pepper – ½, Diced
Zucchini – 1, diced
Carrots – 2, diced
Frozen mixed vegetables – 1 cup
Marinara sauce – 1 jar (I used garlic and herb), 24 oz/680 g
Fresh Parsley – ¼ cup Chopped
Red Pepper Flakes – ½ teaspoon
Salt and pepper – to taste
For the cheese mixture for roll ups:
Ricotta Cheese – 3 cups
Egg – 1
Spinach – 2 cups (if using fresh)
Parmesan cheese – ½ cup grated
Mozzarella cheese – 1 ½ cup, grated
Salt and pepper to taste
Method:
Preheat your oven to 350 degrees F/175 degrees C.
Set a big pot of salted water to boil on high heat. Once boiled, add spinach and let sit for a minute or two. Take the spinach out using a spatula and add to a bowl full of cold water to retain its color. Return the boiled salted water back to heat and once it starts boiling again cook lasagna noodles in it according to package directions. Drain and lay flat on a greased cookie sheet. Greasing the cookie sheet prevents the noodles from sticking.
Set a large skillet over medium heat and add olive oil. Add onions and garlic and cook for a minute. Add diced carrots, red peppers and sauté for another minute or so. Add frozen veggies and cook everything for a few more minutes. Add the marinara sauce, salt, pepper, and red pepper flakes, and stir. We like a lot of sauce in our pasta so I usually end up using the entire jar of sauce, but if you feel like it is a lot, adjust accordingly. Let the sauce come to a boil and then cook another 5 minutes. Give the sauce a taste check and adjust salt and pepper, if needed. Stir in most of chopped parsley, saving some for garnish.
Drain the spinach, squeeze the moisture out using a clean kitchen towel and chop finely. If using frozen spinach (12 oz), thaw and squeeze out any moisture.
In a bowl, combine ricotta, chopped spinach, Parmesan cheese (save some for sprinkling on top of roll ups), ½ cup mozzarella, salt, and pepper. Give it a taste check and then add a beaten egg. Your roll up mixture is ready.
To assemble, spread half of the vegetable/tomato sauce in a lasagna pan or a 9 X 13 dish. To make a roll up, take a cooked lasagna noodle, and spread about two tablespoon of spinach cheese mixture on it, leaving about half an inch of the noodle uncovered at the end. Roll the noodle gently and place in the dish with sauce in it, seam side down (so that it does not un-roll). Repeat with all the noodles. After all the roll ups have been placed in your lasagna pan, pour over the rest of the vegetable/tomato sauce. Cover with rest of the mozzarella cheese and sprinkle some Parmesan cheese.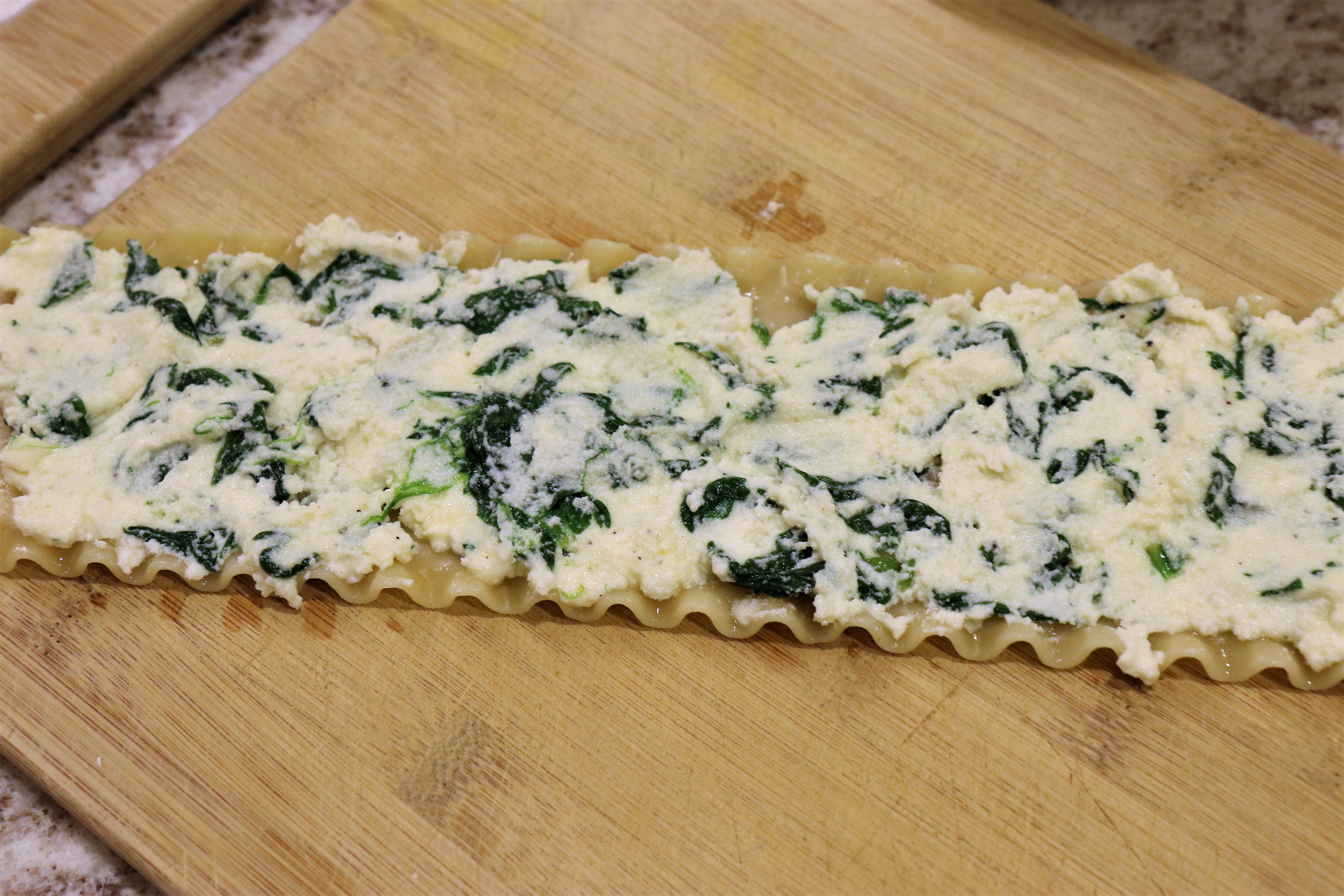 Bake at 350 degrees, covered in foil, for 20 minutes, then remove foil and continue baking for 5 to 10 minutes. Remove from oven and allow to stand for 10 minutes before sprinkling parsley for garnish and serving.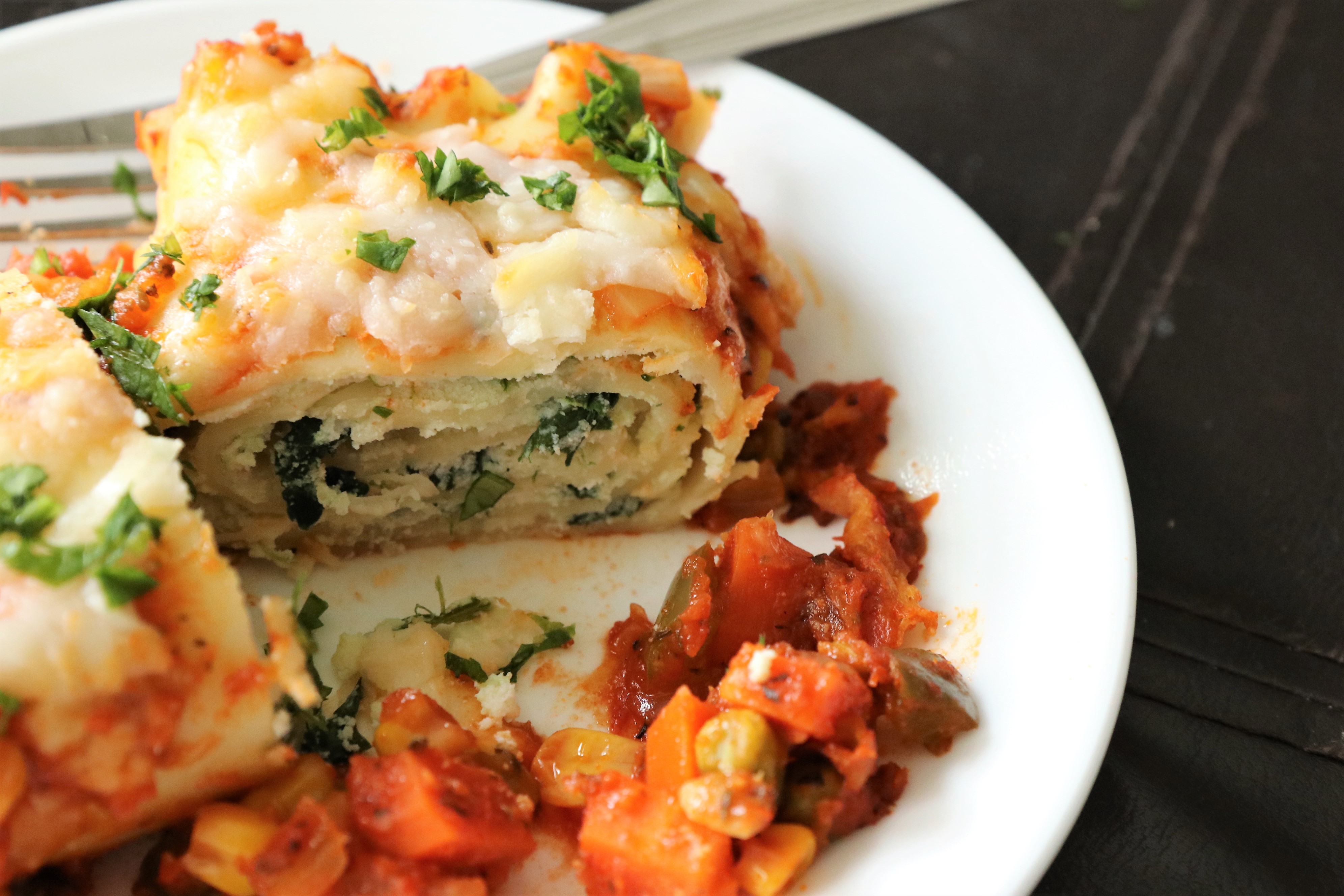 Tastes great with a cheesy garlic bread and a glass of chilled white wine! Cheers!
Love – Vaishali.
Tools used:
Oven
Lasagna pan/dish
Skillet
Pan to boil pasta
Measuring cups and spoons
Mixing bowl
Knife and chopping board
Spatulas
Strainer