Are you a kale lover? Or not a fan? I would confess that it took me a while to become friends with kale but now we are tight. I think that's true with so many things in life. It can be a food, a color, some smells, people, and even our feelings. It might take some time to warm up to something or someone but if you don't give it a chance, it will never happen. And I have come to realize this over time – maybe it's a part of growing up and acquiring wisdom from the absolutely stupendous teacher called "Life". Whatever it might be but over the years I have become more open minded and casual, if I can put it that way, towards new things, new ideas, new complex feelings and new people in my life. Everything happens for a reason and I try to take it in a stride.
Uhmmm…yeah right …Kale? I believe kale happened to me for a reason too. A friend of Dr. A, Mr. E, grew kale in his garden and sent some home with him to try. It was my first time laying my hands on kale. I had looked at numerous kale recipes since it was the big craze around that time and passed on it. But now there it was – a bunch of beautiful, dark green, curly, homegrown, fresh-from-the-garden kale. You most likely cannot pass on it, right? So I set to make it my way…sautéed it with a bunch of Indian spices, ginger garlic and tomatoes. It tasted like nothing. Totally blah. And then that was it. I had to make it better and try to love kale.
That day and today…friends, I and kale have come a long way in our relationship. The thing is if cooked the right way and not messed with too much, kale has a beautiful, earthy flavor that you do not need to do much to. Just let that natural flavor and hardiness of kale shine. And above all, it's so good for you.  Kale belongs to the family of cruciferous vegetables that have been long linked to benefits against cancer, especially breast-cancer. Ladies do I have your attention yet? Its rich in anti-oxidants, is considered anti-inflammatory and provides cardiovascular support. And all that thyroid talk around kale – don't consume it too much if you like it raw. Kale in a salad every now and then won't hurt your thyroid. Moderation and cooking is the key here.
This recipe of spaghetti is super easy and comes together rather quickly with just a handful of ingredients. The addition of garlic, Parmesan and lemon juice give this dish a spunky personality. And I love it! It is satisfying and is REAL FOOD. So here we go!
Ingredients:
Kale – 1 bunch, about ½ lb or 250 gm
Whole wheat spaghetti – ½ lb or 250 gm
Olive oil – 2 tablespoon
Garlic – 2 cloves, minced
Parmesan cheese* – ¼ cup, grated
Lemon juice – from ½ a lemon, more if you like..:)
Salt and pepper – to taste, freshly ground black pepper would be my suggestion
Red pepper flakes – a pinch
Method:
Wash the kale really well. Strip the kale leaves from the woody stems and tear or chop them into small pieces. Bring a large pot of water to a boil. Add salt to this water, it is important to salt the pasta water since it is your only chance to season the pasta itself. Add the spaghetti to the boiling water, and cook until al dente (according to your package directions).
While the pasta is cooking, set a medium skillet over medium high heat and add olive oil to it. Add the red pepper flakes and minced garlic. Stir around for about 30 seconds and then add the kale and continue to sauté until the kale has wilted and slightly cooked (about 5-7 minutes).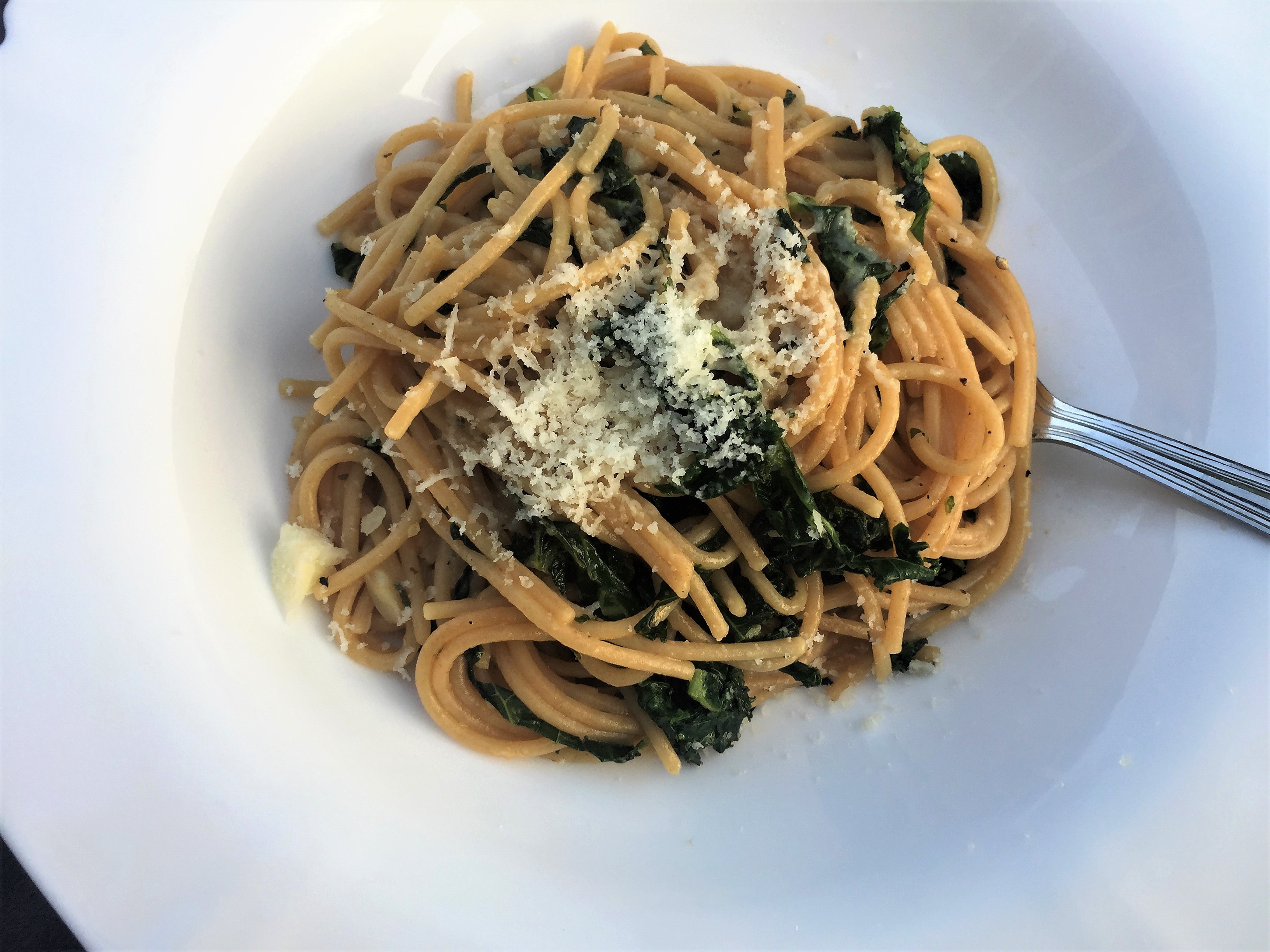 Before draining the cooked pasta, save about a cup of pasta water*. This starchy pasta water can help us loosen the pasta and create a yummy lemony sauce. Add the drained pasta to the pot with the sautéed kale. Add salt, squeeze lemon juice and toss everything together. Turn the heat to low and add Parmesan cheese, mix and add some pasta water if needed.  Crush some fresh black pepper on the pasta. Mix again, give a taste check and adjust seasonings.
Serve hot with additional Parmesan and a pinch of red pepper flakes sprinkled on top if you like. Enjoy!
Also checkout this recipe to make with kale.
Love – Vaishali.
Recipe Notes:
*Switch to vegan parmesan cheese to make this recipe vegan – Jennifer Perillo's recipe here
*Pasta water can also be added while reheating the leftovers.
Tools Used:
Pot for boiling pasta
Skillet
Spatula
Knife and chopping board
Box grater/Grater
Cup
Measuring cups and spoons