Do you have a picky eater on your hands or just someone who doesn't like to work his/her jaw muscles on biting and chewing veggies? Then this recipe is just for you and that special someone in your life. Even if not, this pasta is packed with so much nutrition that you would like to include in your regular weekly menu planning. There are some vegetables that, in opinion of some, don't taste good in a pasta dish – for eg. Cauliflower. But it's just such a versatile veggie to cook, you can find it fresh almost all year round, and is a great source of Vitamin C, B3 and folic acid. I cook a lot with cauliflower, in many different forms and flavors. Indian recipes like aloo gobhi (potatoes and cauliflower), gobhi parantha, in rice, biryani, mix vegetable sabzi etc., and also in tacos, soups and just as roasted cauliflower. So good!!
I started adding cauliflower to kid's pasta not as a way of sneaking and hiding some veggies but as a way to make the pasta sauce more hearty and healthy for the little tummies. Both my kids are good about eating their veggies and salads but still this recipe is a great way to add more punch to any pasta dish. The pasta sauce is loaded with cauliflower and carrots along with the usual pasta participants like onion, garlic, tomato sauce and whatever other veggies (or meat) your heart desires.
Using whole-wheat (or any other whole-grain) pasta is the absolute best pasta choice nutritionally. Step away from "enriched" macaroni/pasta products because there is no need of any fancy nutrients or health benefits added to whole wheat/grain pasta, as it is naturally packed with nutrition. I try to follow, as much as possible, the rule of having less than 5 ingredients on the box of any packaged product I buy, to avoid highly processed foods.
Another practice that I adopted few years ago, is not to buy the pre-grated/shredded cheese bags. As convenient as it is to use that stuff, it is not the healthiest. Try to buy a block of whatever cheese you need and then grate/shred it at home. You could also use your food processor to grate a block of cheese and then store it in the refrigerator or portion it and freeze it (yes I freeze my cheese…sorry!).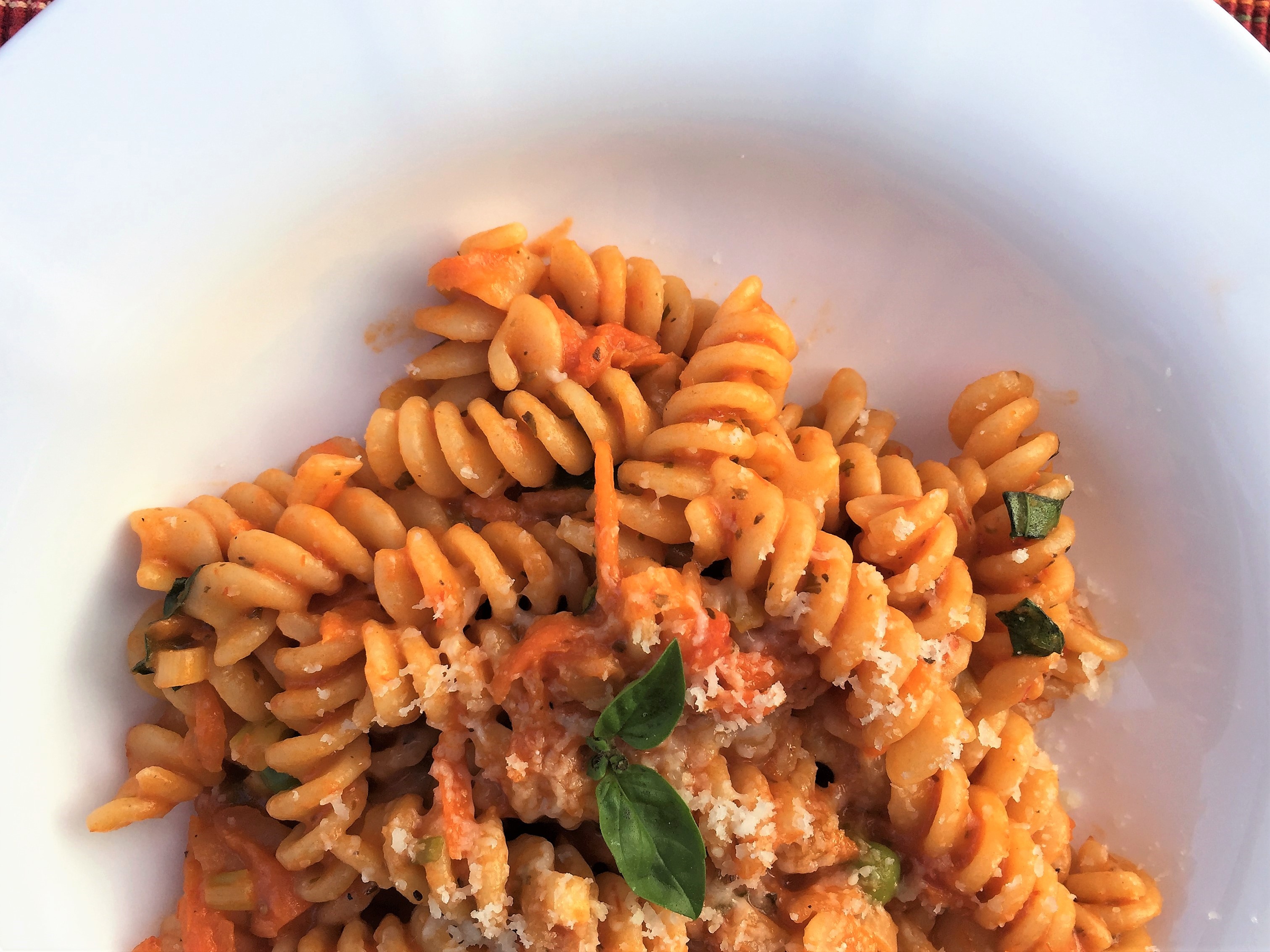 Ingredients:
Whole wheat pasta (Rotini or Penne work best in this recipe)– ½ lb or 250 gm
Cauliflower – about ¼th head or 1 cup of florets
Carrot – 1, big
Olive oil – 1.5 tablespoon
Garlic – 1 clove
White onion – ½, medium
Frozen chopped mixed vegetables/ your choice of chopped veggies – 1 cup (optional)
Pasta sauce/ Marinara (store-bought or homemade) – 1 cup
Italian seasoning – 1 teaspoon
Heavy cream/whole milk – ¼ cup
Fresh basil – 5-6 leaves
Parmesan cheese – ¼ cup
Salt and pepper – to taste.
Method:
Add water to a big sauce-pan/stock pot and set it on high heat. Add generous amount of salt to this water, cover and set to boil. While you are waiting for the water to boil, grate/shred the cauliflower and peel and grate the carrot. You can also use your food processor for this step, but since I don't own one, I use my trusted box grater..:P. The idea behind shredding these veggies is that you should not be able to tell that there is cauliflower and carrots in the pasta sauce. Mince garlic and chop the onion. Grate Parmesan and chiffonade or tear the basil leaves.
Once the water starts to boil, add the pasta to it and cook it according to package directions. If making this pasta for kids, I boil the pasta a minute or two longer that the suggested time so that it is not as "al-dente".
In a heavy-bottomed skillet add olive oil and minced garlic and set it on medium low. Adding garlic to the oil first and then heating it perfumes the oil and your kitchen fills with garlic aroma. Once the garlic starts sizzling (don't let it brown), add onions, cauliflower and carrots. Add a pinch of salt and cook, stirring frequently, for about 10 minutes to cook the shredded veggies. Add the frozen veggies (if using) followed by the marinara/pasta sauce. Mix and cook for 2-3 minutes before adding cream or milk. Lower the heat.
Check the pasta for doneness. Reserve a cup of pasta water and then drain the pasta. Add the drained pasta to the skillet with the veggie sauce. Add Italian seasoning, salt (sparingly) and pepper and give everything a big mix. Add parmesan cheese and basil leaves. Serve hot!
Love – Vaishali
Note: Remember that pasta water we reserved – if you feel that your pasta gets too dry after cooking, add pasta water to loosed the sauce and "moisten" your pasta.
Tools used
Sauce pan/stock pot
Heavy bottomed skillet
Spatulas
Colander/strainer
Measuring cups/spoons
Knife and chopping board
Box grater