More and more tomatoes still showing up in the garden – so here's another recipe from my garden. Oh and fresh basil too. I also made a focaccia (recipe here) to go with this soup and will share the focaccia recipe soon. So many herbs are growing in our garden right now and I love it. Trying to use them fresh, at least as much as I can, and then I will move on to making compound butters, pesto, freezing some in oil, and dry the rest.
The garden is a lot of work and but it brings so much satisfaction and joy. The weather here doesn't permit us to have a garden year round so we try to make the most of it during warm summer months. I move my herbs, curry leaves plants, and holy basil plants, that are growing in the containers, inside during colder months to protect them from the harsh weather.
Though a bowl of warm soup in hot summer time sounds counter-intuitive, this soup came out to be surprisingly light and fresh. Ms. Little A even enjoyed it cold. The recipe is simple. You start with the basics – sautéing some white onions and garlic in butter-olive oil concoction, add carrots for sweetness, fresh chopped tomatoes, handful of basil leaves, some broth, cook, add cream and seasonings, blend and enjoy!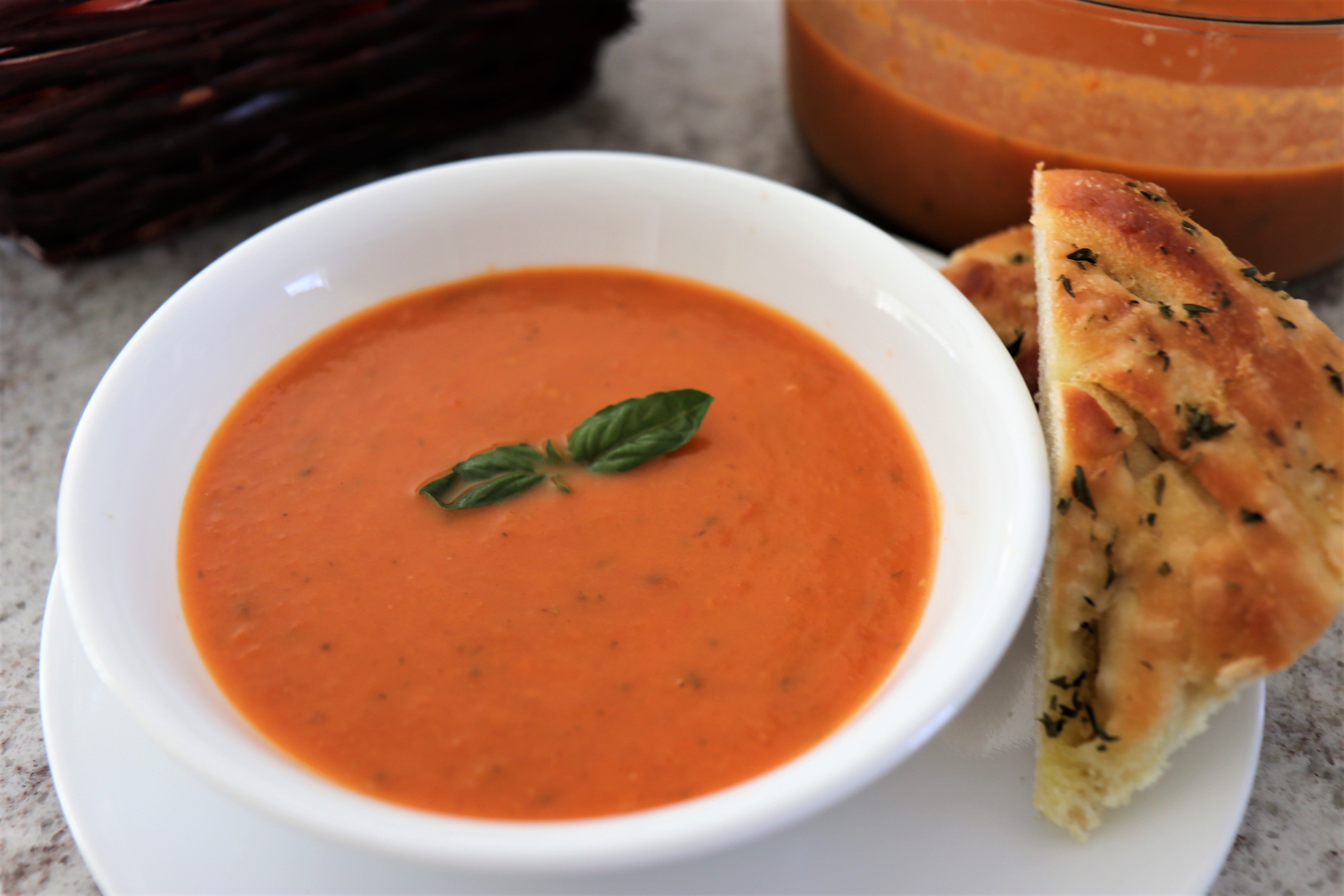 Ingredients:
Olive oil – 2 tablespoon
Butter – 1 tablespoon
Tomatoes – about 3 lbs
White onion – 1 medium
Garlic – 3 cloves
Carrots – 2
Tomato paste – 1 tablespoon (optional)
Broth – 4 cups (more or less, depending on the consistency of soup you like)
Saffron – a pinch (optional)
Sugar – 3-4 teaspoons
Basil leaves – ¼ cup packed plus more for serving
Heavy cream – ½ cup
Salt and pepper – to taste
Method:
Peel and chop the onions and carrots and mince garlic.
Set a heavy-bottomed saucepan over medium-low heat. Add oil and butter and let the butter melt. Add the onions, carrots, garlic, and sauté for about 10 minutes. While the onions, carrots and garlic are cooking, roughly chop the tomatoes and chop the ¼ cup basil leaves. I have used a mix of whatever tomatoes were growing in our garden – romas, grape, cherry, and some slicing tomatoes. If you are using tomatoes from the grocery store, I would suggest using the kind that come on the vine, 4 or 5 big, juicy ones. Add the tomato paste to onion-carrots-garlic and cook for 30 seconds. Now add the tomatoes, basil, broth (vegetable or chicken), saffron, salt, and pepper and mix well. Bring the soup to a boil, lower the heat and cook covered for 25-30 minutes. Add the cream to the soup and turn the heat off.
Using a hand blender, very carefully blend the soup to your liking – very smooth, smooth or chunky. All the power to you…:). If using a regular blender, do not blend while the soup is very hot, wait for it to cool down. Reheat the soup over low heat when ready to serve. Serve with julienned basil leaves in each bowl. Enjoy!
Love – Vaishali.
Tools used:
Saucepan
Knife and chopping board
Measuring cups and spoons
Spatula
Hand blender