Few days ago I wrote about a coconut ladoo recipe (here) for Navratri. My plan was to share with you all the staples of Navratri that our family enjoys over these special days. But that didn't go as planned. Navratri days are full of celebrations, prayers and get togethers devoted to celebration of different avtaars or incarnations of Goddess Durga. We are blessed to have a great community in our little town that comes together to celebrate almost every Indian festival, irrespective of which part of the country you originally are from. So for all nine days of Navratri we meet at one friend's house, recite bhajans and prayers and conclude the evening with offering of fruits, nuts and specially prepared Prasad to the Goddess and then sharing among each other. And then a big celebration follows on the tenth day to celebrate Dussehra, prayers, singing and lot of food.
One important tradition of Navratri is fasting. Some people fast for all the eight or nine days, eating mostly fruits during the day and breaking the fast with a special dinner. Some people (like me) fast only one or two days…so basically whatever you can follow and devote yourself to. The meal prepared at end of fasting day is really a special one and varies from family to family and region to region. Sabudana or tapioca pearl khichdi is one such dish. Its not traditional in Punjab and belongs to the western states of India, but we love it and make it for our fasting dinner. In our house it is accompanied by a vrat ki roti (flat bread made with dough of potatoes and a special flour), aloo tamatar ki sabzi (potatoes in tomato gravy), dahi (yogurt) and a salad of radish (mooli kachumbar). Hopefully I will get to writing down all these recipes for you. For now, here is my sabudana khichdi.
Note: Plan ahead for this recipe. Soaking time required…:)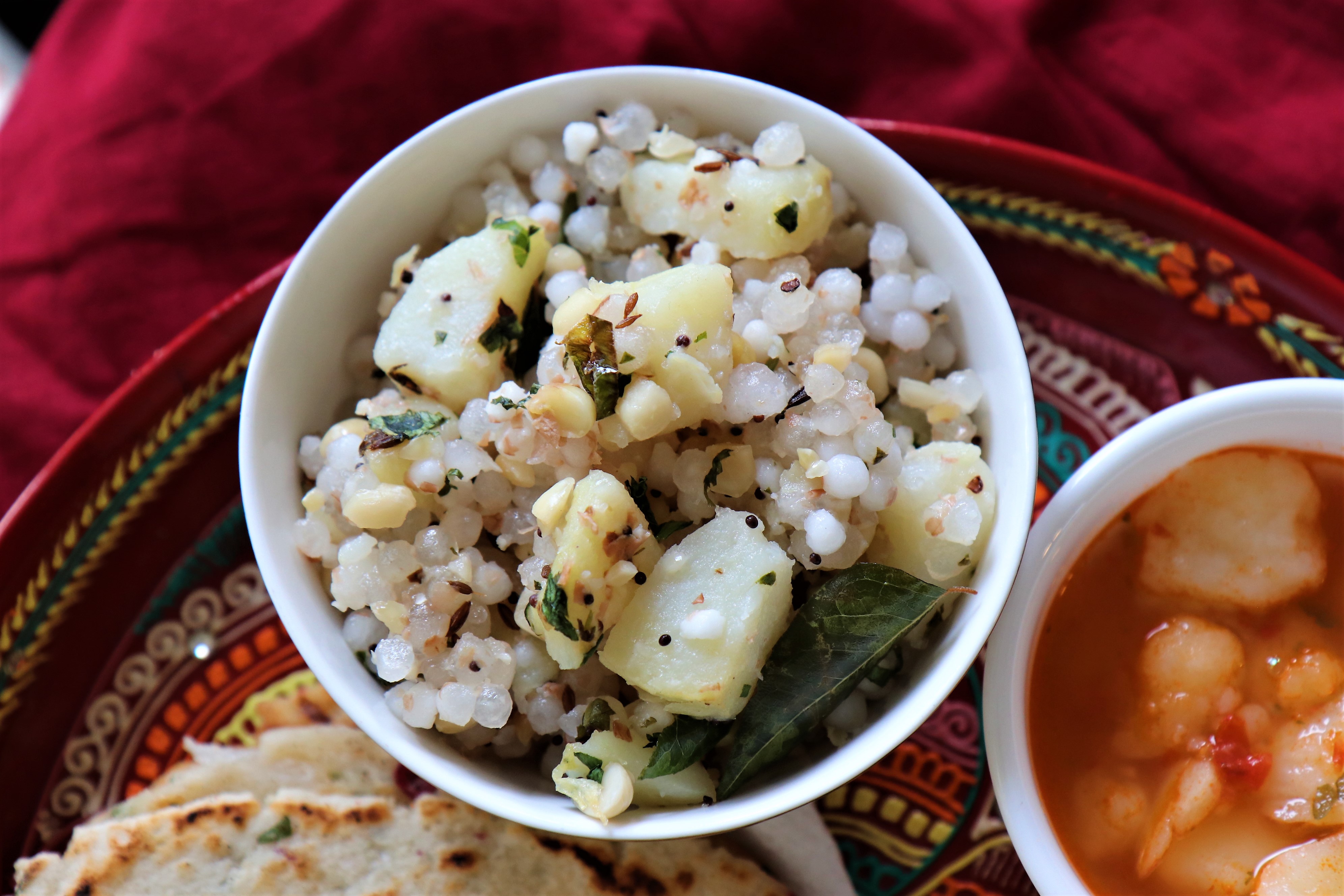 Ingredients:
Sabudana/ Tapioca Pearls/ Sago – 1 cup
Peanuts – ¼ cup
Ghee – 2 tablespoon (recipe here)
Green chili – 1
Cumin seeds – ½ teaspoon
Mustard seeds – ½ teaspoon
Curry leaves – 1 sprig
Boiled Potato – 1
Salt – to taste
Coriander leaves – from 5 sprigs (about 1 tablespoon chopped)
Lime juice – from ½ lime
Method:
Wash and rinse sabudana and soak in 2-3 cups of water for 3-4 hours. Drain in a colander and spread on a kitchen towel for about 30 minutes. I have found that letting the sabudana dry out a little bit after soaking helps in it not clumping together after cooking.
While the sabudana is drying out, set a heavy bottomed skillet on medium high heat and dry roast the peanuts for 5-7 minutes while continuously stirring. Turn the heat off, let the peanuts cool a little bit and then lay them on a kitchen towel, fold the towel over the peanuts and pound them lightly with a rolling pin to coarsely crush. Mix the crushed peanuts with sabudana and set aside.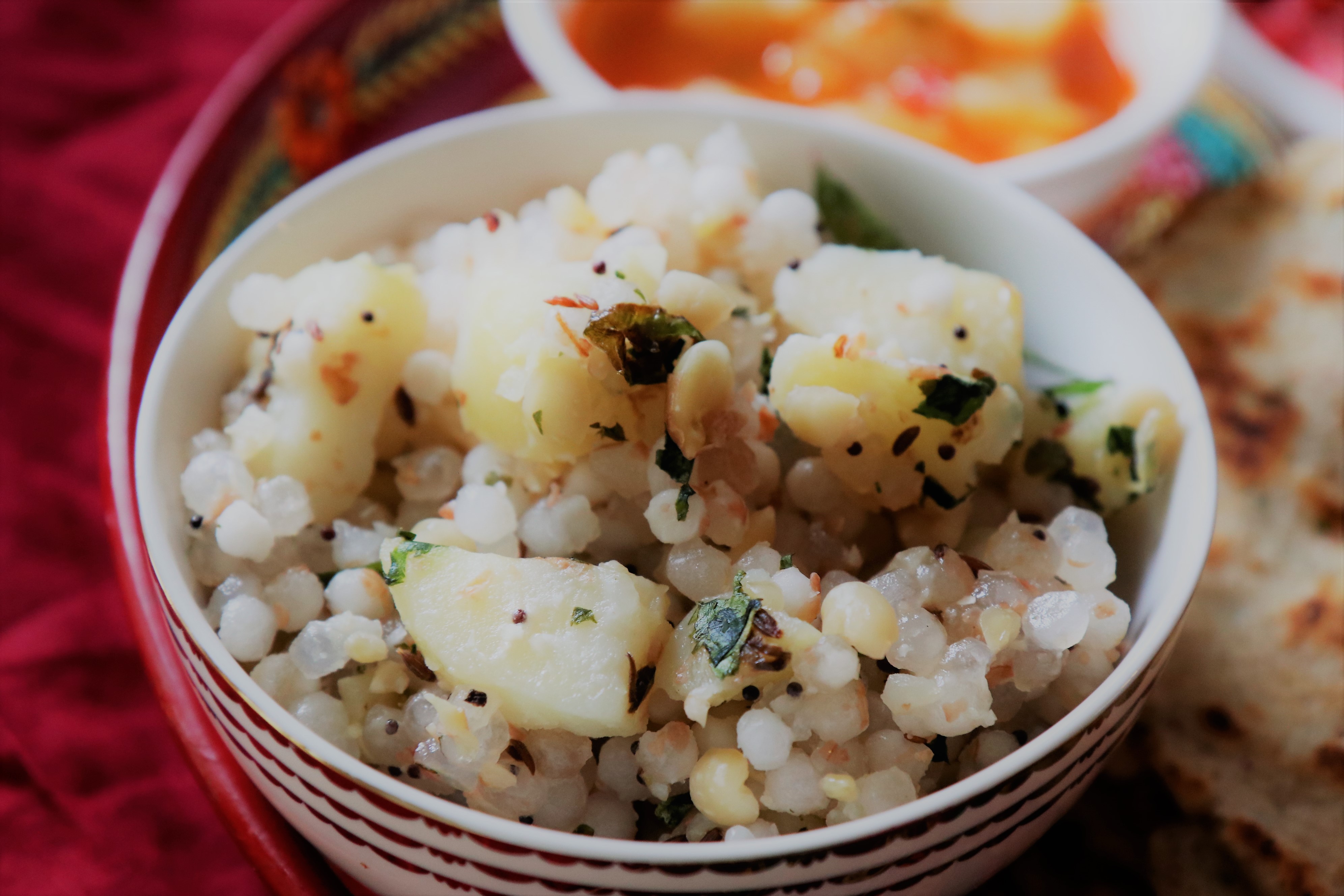 Peel and cut the potato into small cubes. Chop the green chili and coriander leaves, strip the leaves off from curry leaves stem. Set a skillet or fry pan (non-stick works great) on medium heat. Add ghee to the pan and heat till shiny. Add cumin and mustard seeds and wait for them to pop. At this time add the curry leaves and green chili. Mix and cook for 30 seconds before adding the potato cubes. Add a pinch of salt and stir around for a 2-3 minutes or till the potatoes are very lightly browned. Add sabudana mixture, salt to taste, lower the heat, stir and cook for about five minutes. Finish by adding cilantro and lime juice. Give it a taste check and ta-da!!!
Can be served with Aloo/Potato Curry (recipe here).
Love- Vaishali.
Tools used:
Skillet
Knife and chopping board
Spatula