Holy days of Navratri mark the beginning of the Hindu festival season that ends with celebrations of Diwali. Navratri literally translates into nine nights and Goddess Durga is worshiped in each of her nine forms, with each day associated with an incarnation of the Goddess, ending on the tenth day which is called Dussehra or Vijay Dashmi, marking the victory of good over evil. The festival is celebrated in many different ways in various parts of India. One common thread that ties the Navratri rituals throughout the country is Mithaii – or sweets, made and shared with everyone you know. I have written about how cooking and serving something sweet is entwined in our culture as a way to celebrate (find it here, here and here).
Coconut ladoos are almost fudge-like and I try to make these relatively smaller, more like guilt free, bite-size version. Only if you can eat just one…:-P. You can use fresh grated coconut or desiccated coconut for this recipe. I have always made it with dried coconut that you can find at almost every grocery store (in the baking aisle of your regular grocery store, get unsweetened coconut). This coconut ladoo is a shortcut version of a more traditional recipe. Using condensed milk instead of cooking and reducing milk over low flame cuts down the time and effort involved in this recipe dramatically. And just three ingredients for an Indian mithaii recipe – c'mon people we can't ask for more!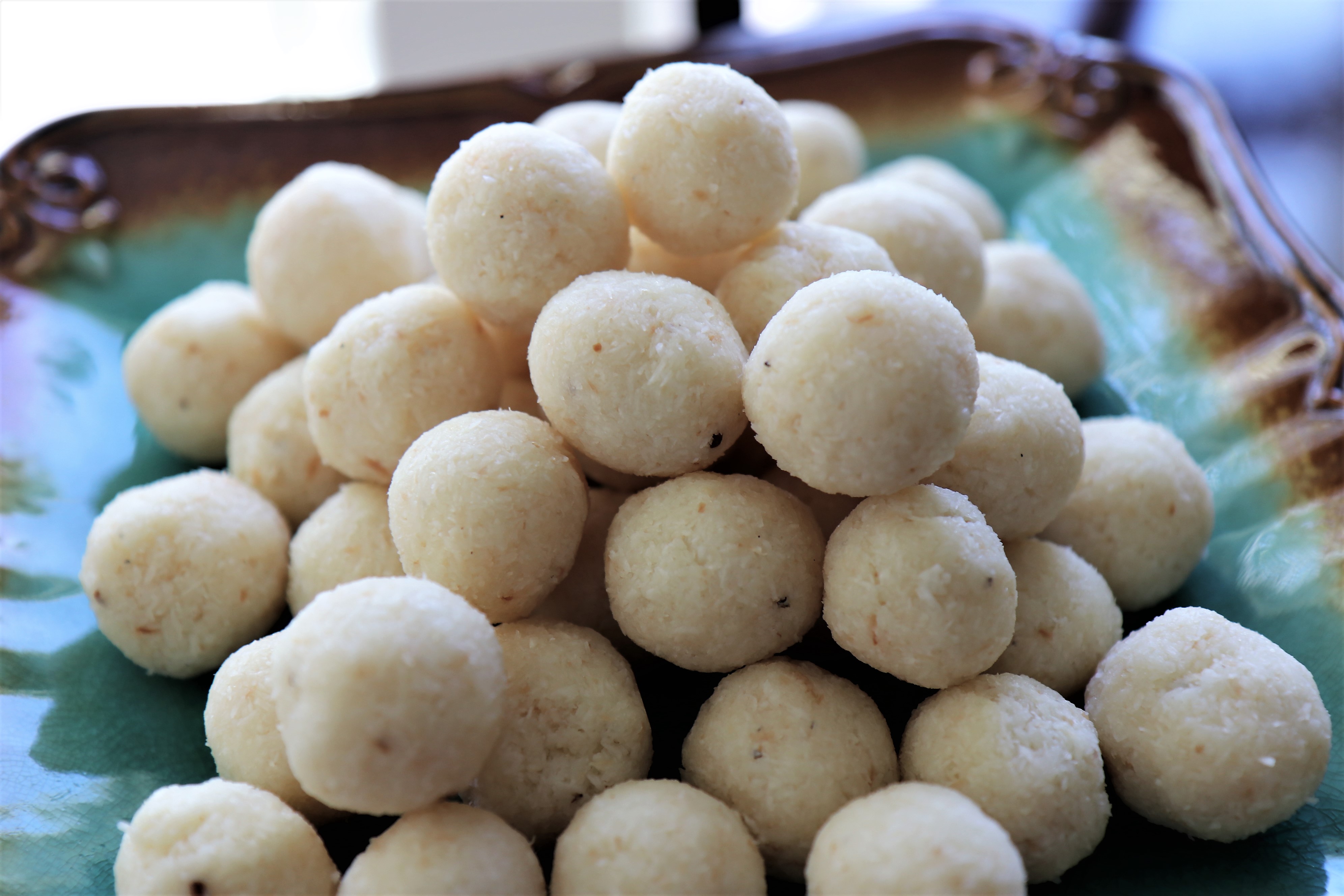 Ingredients:
Shredded Coconut – 4 cups (1 lb/ 400 g bag)
Condensed milk – 1 14 oz (400 g) can
Green cardamoms – 4
Method:
Set a heavy bottomed or non-stick pan on medium low heat. Add the coconut and dry roast it till fragrant but not browned. While the coconut is roasting, break apart the cardamom pods, take the seeds out and grind the seeds into a powder. Add the sweetened condensed milk and cardamom powder to the coconut and mix well. Keep stirring and mixing till the mixture comes together, approximately 2 to 3 minutes. Turn the heat off and let the mixture cool for 5 minutes or so. Line a cookie sheet with parchment or silicon mat and take some room temperature water in a bowl. To form the ladoos, rub your hands with water, take about a tablespoon of coconut mixture and form it into a ball, and lay it on the cookie sheet. Repeat till all the coconut mixture is used up. This recipe should make close to 50 bite-size ladoos. Kids and grown-ups will love these alike.
You have to form the ladoos while the coconut mixture is still warm. As the mixture gets cooler it will get harder to form it into ladoos. Refrigerate the ladoos for about an hour and then store in an air tight container in the refrigerator. Best if served at room temperature.
You can also form the mixture into burfee by pouring the coconut mixture onto a greased baking sheet, spreading it in an even layer. Refrigerate for an hour and then cut into squares. Enjoy!
Love- vaishali.
Tools used:
heavy bottomed or a nonstick skillet
Spatuala
Measuring cup
Mortar and pestle
Cookie sheet