I am so excited to share these cookies with you – to celebrate love and to share our love with others whose lives might have been adversely effected by something completely out of their control.
Love for your soul mate, love for the life that you created, love for learning, love for the environment and the earth, and above love for all humankind. This valentine's day let's celebrate all forms of love. A card, a song, hugs, kisses, chocolates, wine, roses, jewelry, cakes and cookies – so many ways to express love. As we step into the week of celebrating every beautiful feeling that we, as human beings, are capable of feeling and expressing, I invite you to take few moments and read through the description of this fundraiser for which me and Ms. Little A baked almost four dozen of these dye-free cookies, packed and delivered them to the bake sale organized in our small town. We raised close to $2500..yayyy!
A restaurant in our town hosted a silent auction and bake sale in honor of one of their friends and chose La Casa de Todos, an orphanage in Juncos, Puerto Rico to benefit from the fundraiser. This orphanage has suffered a lot in the recent past due to Hurricane Maria and circumstances that existed before that. More details about the fundraiser can be found at: www.gofundme.com/ntnjv-relief-supplies-for-puerto-rico
Now back to the cookies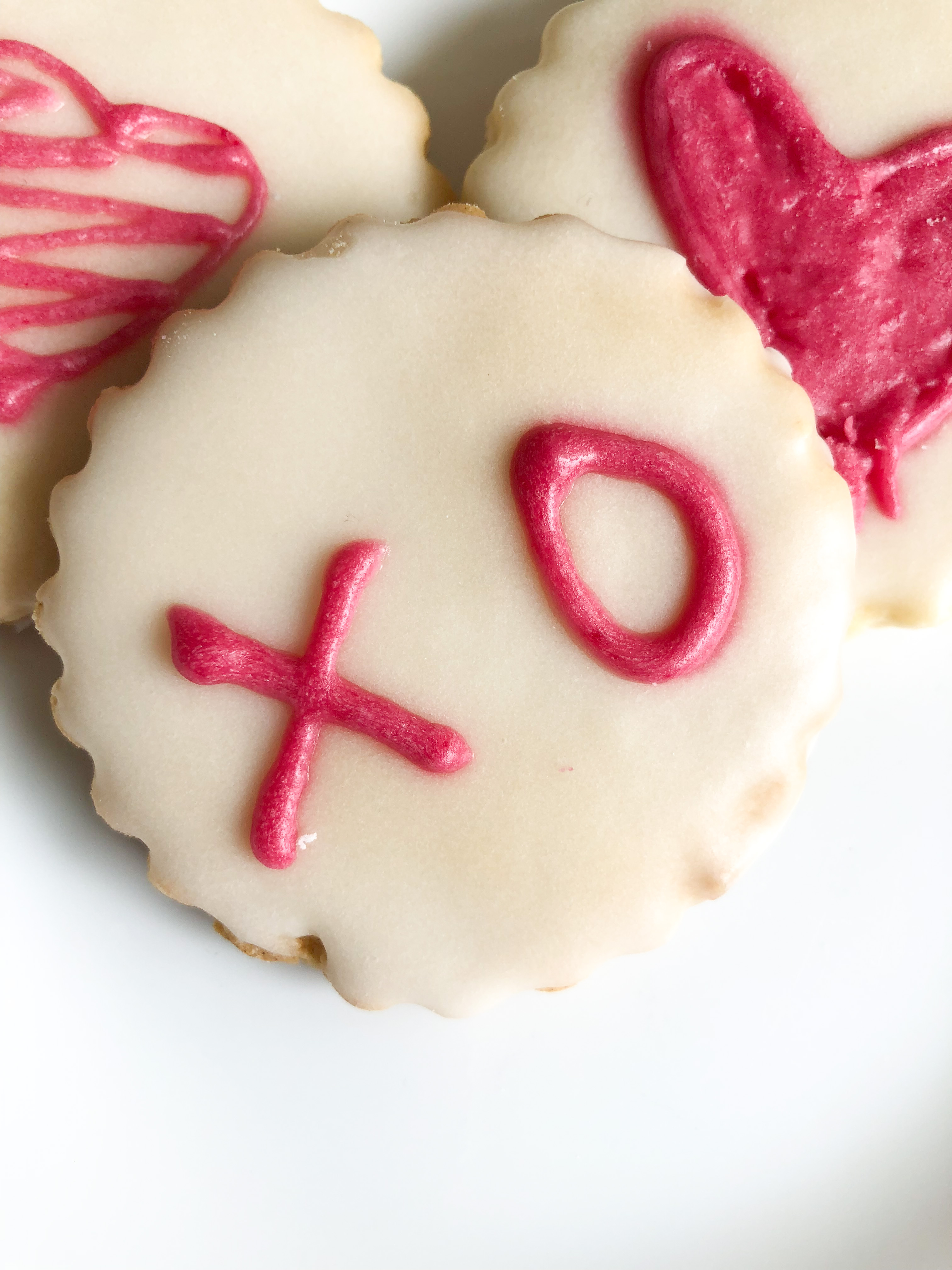 Remember when we baked easy cutout sugar cookies for the Holidays (recipe here)? Yup, this is the exact same cookie recipe with a change to the frosting. Of course, I used my trusted Kitchenaid Stand Mixer to mix the cookie dough. And the coolest thing about this sugar cookie dough is that it requires no chilling. To top that, the frosting is dye free – no artificial colors and yucky stuff, only pure, vegetable based, beautiful and vibrant deep pink color from beetroots. Major score!
Ingredients:
One batch of Easy Cut-out sugar cookies – recipe here
For the glaze:
Confectioners or powdered sugar – 2 cups
Half and half (or milk/heavy cream) – 5 tablespoons (you need the glaze to be on a thicker side)
Pure vanilla extract – ½ teaspoon
For the red buttercream frosting:
Unsalted butter – 1 tablespoon (softened)
Confectioners/powdered sugar – ¾  cup
Beetroot – ½
Water – few tablespoons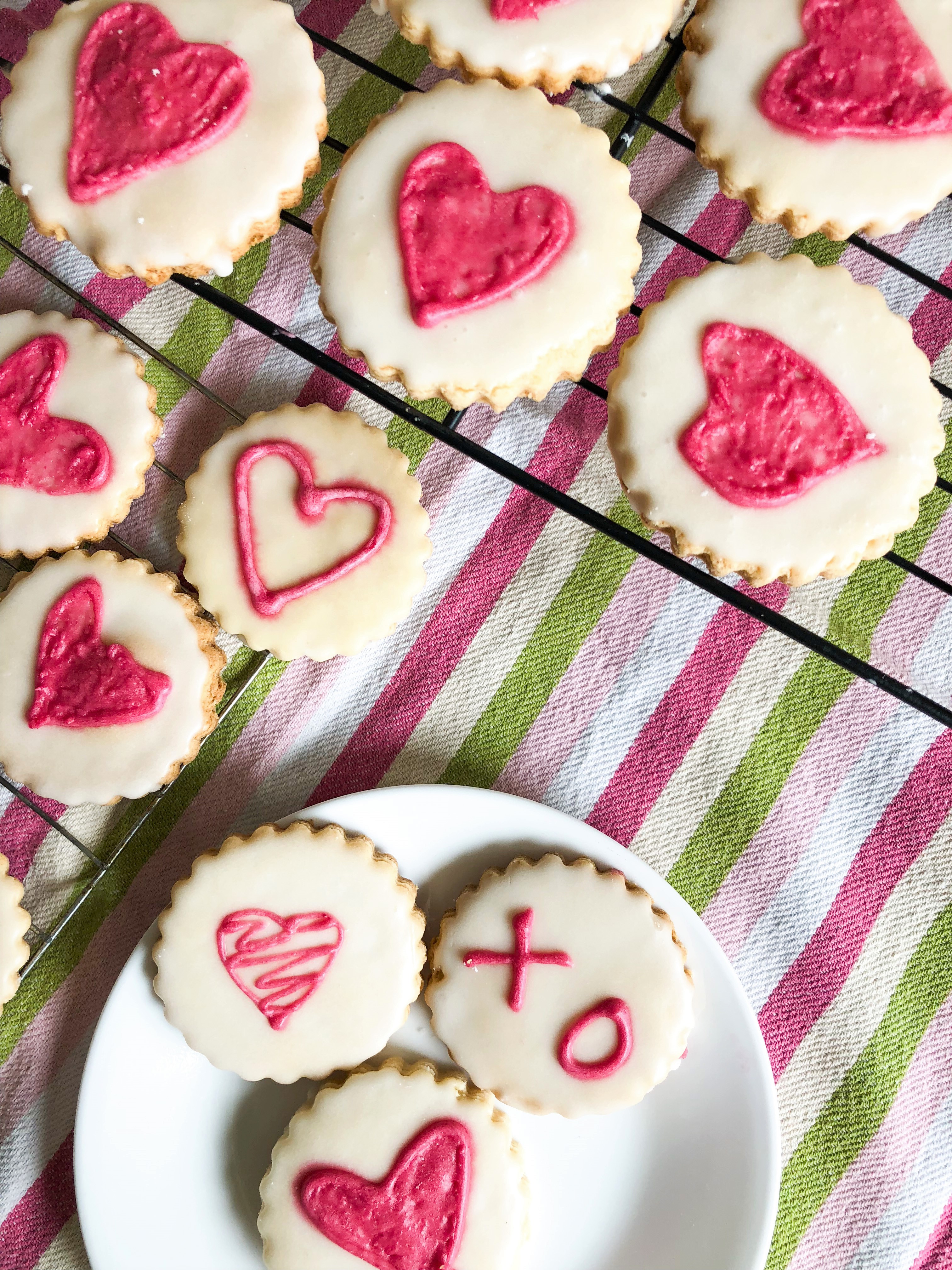 Method:
Preheat the oven to 350 degrees F and bake cookies as directed in this post.
While the cookies are cooling, proceed to make the glaze. Take the powdered sugar and half and half in a tumbler or big cup and blend it with a hand blender (or whisk vigorously) until smooth.
To glaze the cookies, take a cookie and dip the top surface into the glaze, and make sure the entire surface is glazed. Allow excess glaze to drip back into the bowl, flip the cookie and put it on the cooling rack to set. Allow the glaze to dry (about 30 minutes), and in the meantime get the buttercream frosting ready.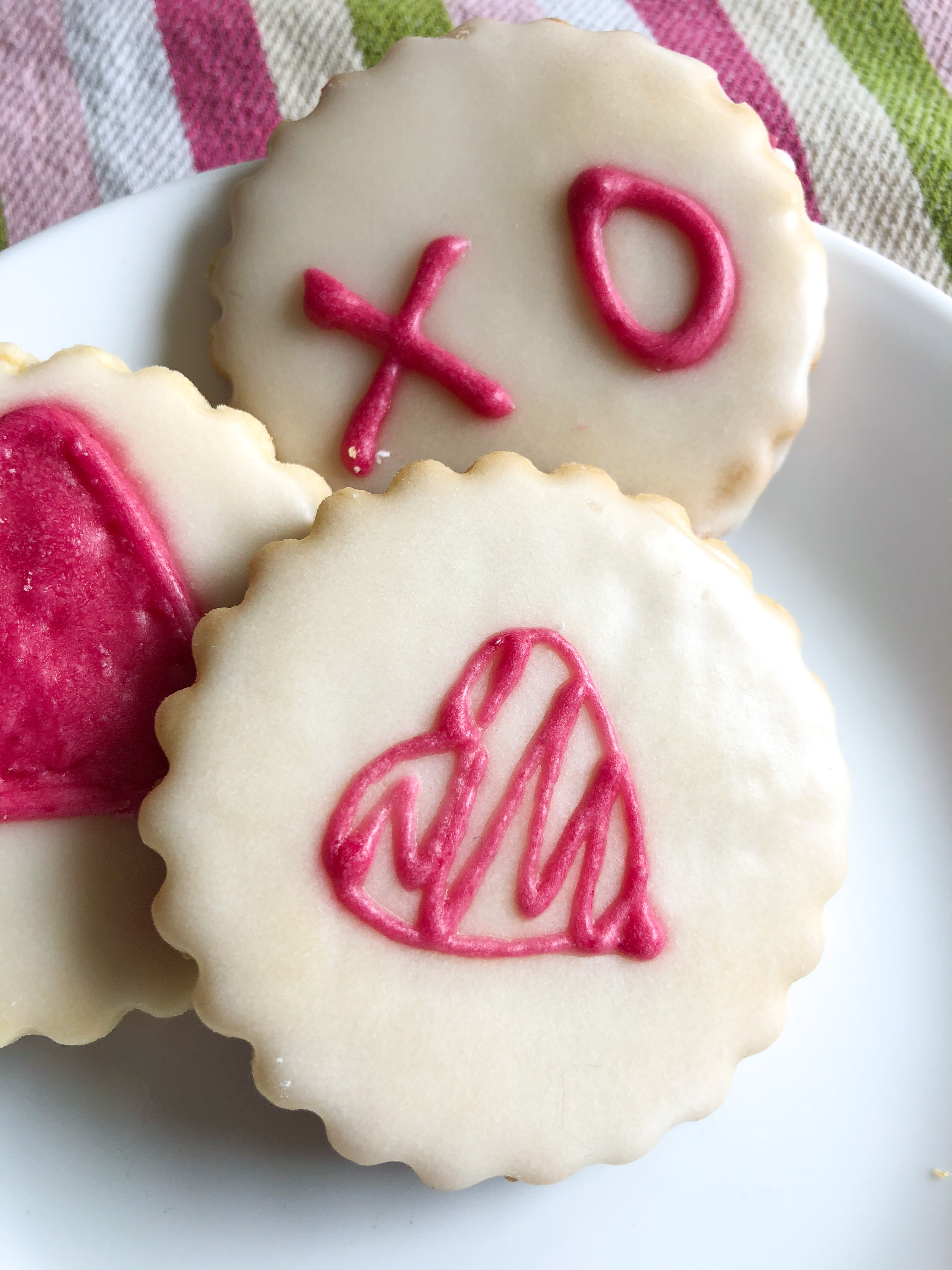 To make the frosting for the hearts, wash the beet and wrap in a piece of plastic wrap. Poke a few holes in the wrapped beet with a fork. Place a bowl of water in the microwave and set the beet beside it. Microwave on high for 2-3 minutes. Once cool enough to handle, unwrap and peel. Add a few tablespoons of water and blend in a blender or with a hand blender to make a smooth puree. Take butter, confectioners' sugar, vanilla and a teaspoon of beet puree and blend until smooth. You can more beetroot puree to achiever a deeper reddish pink color for the frosting. The consistency should be thick and not very flowy. You might need to add more powdered sugar, if it seems that way. Take a zip top bag and add the buttercream in it. Once the glaze is set, snip a tiny hole at one corner of the ziptop bag that has frosting in it and begin piping the hearts (or any other design that you like) on the cookies (see pictures).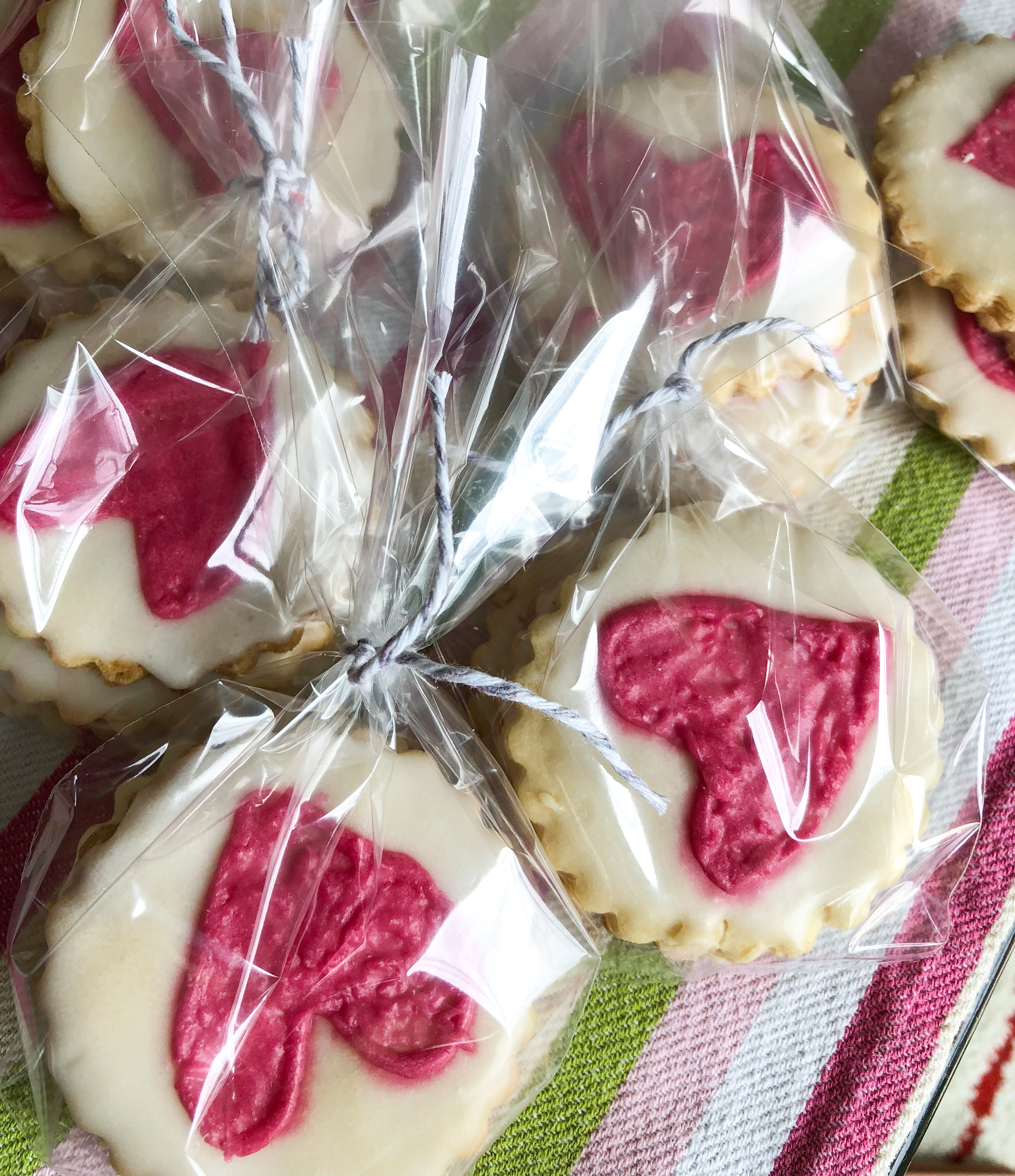 Share with someone you love!
Love – Vaishali.
P.S - If you would like, please consider giving by visiting www.gofundme.com/ntnjv-relief-supplies-for-puerto-rico
Tools used:
Oven
Cookie sheet
Cooling rack (I use this)
Hand blender (Cuisinart)
Measuring Cups and Measuring Spoons