These Easy Potato Tikka Kebabs are easily one of my favorite entertaining recipes that everyone enjoys.
This post may contain affiliate links. As an Amazon Associate I earn a small commission from qualifying purchases.
Jump to Recipe
Everything tastes better on a stick, right? And when it involves baby potatoes marinated in a creamy Indian spiced concoction then it especially tastes great! Think of these Potato Tikka Kebabs as the vegetarian version of a chicken tikka or a humble cousin of the paneer tikka. These are made with baby potatoes marinated in a creamy combination of yogurt, cream cheese and warm Indian spices, skewered with bell peppers and onions and grilled to perfection.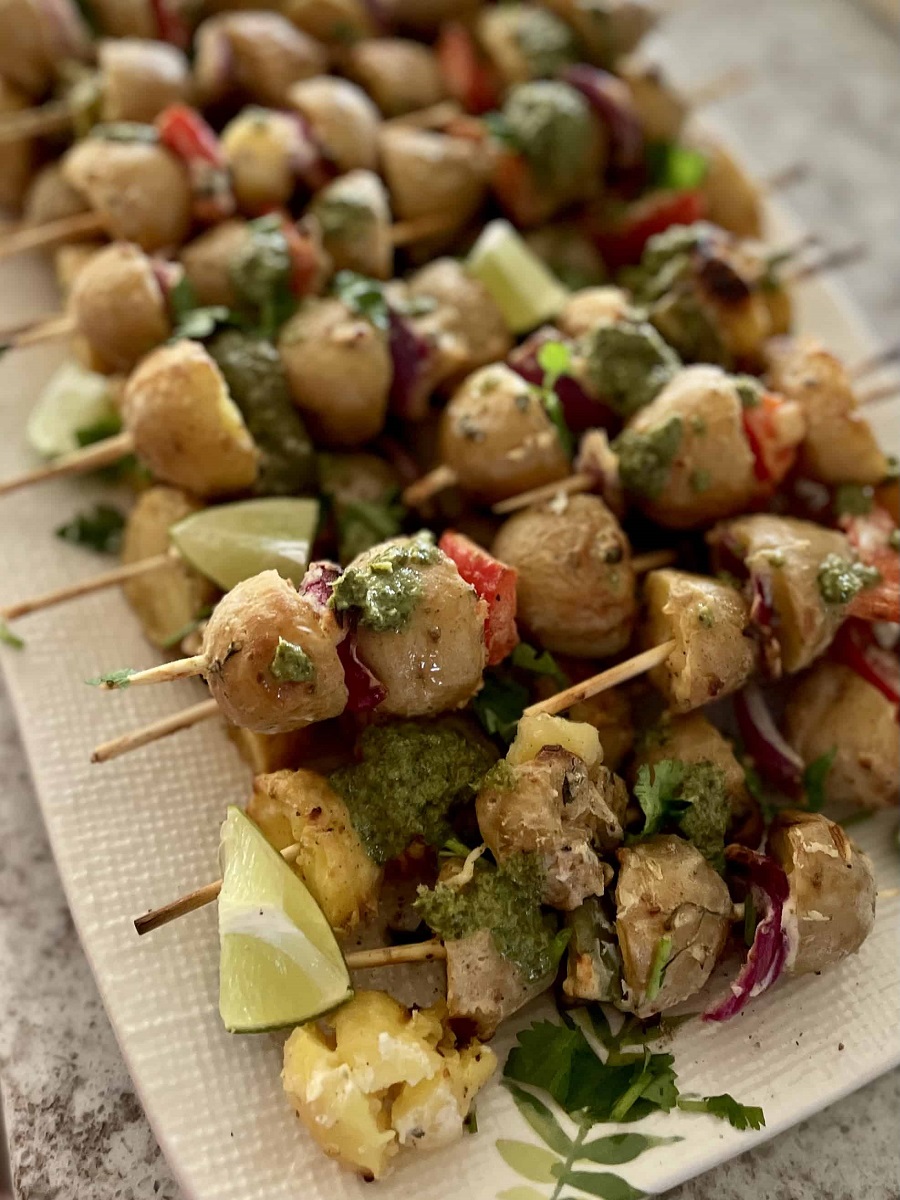 Most tikkas are cooked in tandoor , which is a clay oven used to make pretty much all popular Indian dishes like naan, tandoori chicken, and butter chicken. In America, we're so used to our full-size ovens, but in other parts of the world, like India, they are uncommon. Most houses that have ovens usually have tabletop ovens/OTGs (Oven Toaster Grill). The beauty of this recipe of potato tikka kebabs is that it can be easily made in your toaster oven, on an outdoor grill, in an air fryer or if you are wanting to crank the big boy in your kitchen up, that will work as well. Don't want to skewer these? Sure, throw them in a cast iron pan and call it a day!
So let's get these going, shall we?
Ingredients for Potato Tikka Kebabs
Baby potatoes - I half the baby taters or if you cannot find them get smallish potatoes and cut them into bite sized chunks
Bell peppers and Onions - use any color bell peppers you can get or mix them together. Red onions will work best.
Marinade - Just like these veggie kebabs or this skillet chicken, the marinade is the star of this potato tikka kebabs recipe. Since potatoes by themselves are like a blank canvas, the marinade ingredients add all the flavors. It's made thick and creamy with yogurt and cream cheese and flavored with most flavorful, earthy Indian spices. The spices we will use mainly are garam masala, cardamom powder, kasoori methi, and chaat masala.
How long to marinate the potatoes?
I would say at least 30 minutes and no more than 2 hours. If left to marinate for too long, the bell peppers and onions might lose their crunch and we don't want that.
How to cook these potato tikka kebabs?
Ideally, in a tandoor! Hah, which is not going to happen..lol. The next best option to get that traditional tandoori smoky flavor is to grill them. But making these in the oven with a few minutes under the broiler can also achieve very close results. And like I said, there is no reason that an air fryer or cooking on high heat in a cast iron/grill pan won't work. The instructions here show the bake in the oven followed by a quick broil method.
Prep your oven. Preheat oven to 425 degrees F. Line a large baking sheet with foil and spray it with cooking spray.
Prepare your kebabs. Thread on the potatoes and veggies as directed in the recipe below.
Bake your kebabs. Place skewers on the prepared baking sheet. Bake for 15-18 minutes, flipping halfway through. Serve with cilantro mint dipping sauce!
Using wooden skewers? Don't forget this step
If you're using wooden or bamboo skewers, be sure to soak them for 30 minutes before cooking your kebabs in the oven so that they don't burn. I usually do this while my veggies are marinating.
Can I make these vegan/dairy free?
Yes! Use your favorite dairy free yogurt and cream cheese. I would recommend using a yogurt that is thick and has consistency similar to greek yogurt or hung curd. The spices will take care of the flavors!
Serving suggestions
You can enjoy these as appetizers on their own when served with the mint cilantro dipping sauce. To make these into a vegetarian meal, serve tucked inside a naan like a wrap. You can add mint cilantro chutney dip to the wrap along with pickled onions!
Other similar recipes that you might like
Here's your handy dandy printable
Easy Potato Tikka Kebabs Recipes | Malai Aloo Kebab
These Easy Potato Tikka Kebabs are easily one of my favorite entertaining recipes that everyone enjoys.
Ingredients
2

lb

baby potatoes

900gm, OR use regular potatoes and cut them into bite size chunks

1

tablespoon

mustard or olive oil

¾

cup

yogurt Greek yogurt

or hung curd (see notes)

½

cup

cream cheese at room temperature

see notes

2

tablespoon

heavy cream

1

tablespoon

ginger garlic paste

2

teaspoon

coriander powder

1

teaspoon

garam masala

½

teaspoon

cardamom powder

2

teaspoon

kasuri methi

dried fenugreek leaves

Salt and black pepper

to taste

1

large green bell pepper

cut into 1 inch cubes

1

large colored bell pepper

red, yellow or orange cut into 1 inch cubes

1

large red onion

quartered and layers separated

Cooking spray

Chaat masala, chopped cilantro and lime juice

to garnish

Cilantro mint chutney

to serve
Instructions
Set a heavy bottomed pot with water on high heat. Season with salt, cover and let the water come to a boil.

While you are waiting for the water to boil, Wash and half the baby potatoes. Cut green bell pepper, red bell pepper and the red onion into 1 X 1 inch chunks.

Uncover the water pot and add the potatoes and cook for 8-10 minutes. You want your potatoes to be about 70% done.

To make the marinade add yogurt, cream cheese, heavy cream, ginger garlic paste and all the spices into a deep mixing bowl.

Drain the potatoes in a colander. Add the peppers and onions to your marinade followed by the potatoes. Mix everything and give the marinade a taste check and adjust seasoning if needed. Let the veggies marinate for 30 minutes (or up to 2 hours)

If using wooden skewers, soak them in water now. I cut each regular skewer into two to have an individual serving size of the potato tikka kebabs. See notes

Line a cookie sheet with foil, put a cooling rack on it and spray the rack with cooking spray. Preheat your oven to 425 degrees F/220 degrees C

After 30 minutes, skewer peppers, onions and potatoes onto a skewer, leaving a small space in between each ingredient and alternating ingredients as desired. You should be able to get about 20 small skewers total. Lay them on the prepared cookie sheet and spray with cooking spray.

Bake for 15 minutes, flipping the skewers half way through, followed by a quick broil (no more than a minute or two) to get the classic charred tandoori look and flavor.

Place the Potato Tikka Kebabs on a serving platter. Generously sprinkle with chaat masala, add chopped cilantro and give a big squeeze of lime juice. Serve warm with this mint cilantro dipping sauce.
Notes
Hung curd is regular yogurt which has been strained for 4-5 hours before using. You can use jalapeno cream cheese to add a kick to the marinade You can also use longer party picks if you don't want to get into cutting each "standard" length skewer into two. If using wooden skewers, make sure to soak them before cooking; this is to prevent burning in the oven or on the grill.
If you make this recipe be sure to leave a comment and let me know how you liked it! Snap a photo and share it on Instagram with the hashtag #thekitchendocs or share on Facebook, too.
Love – Vaishali
Key Tools and Ingredients for this Recipe:
Mixing Bowl:
Skewers:
Cookie Sheet:
Cooking Spray:
Chaat Masala: