This Besan Pedaa recipe is the easiest Indian Mithai or dessert that you can make for any special occasion and impress your guests. A softer version of besan ka ladoo, besan pedaa melts in your mouth and is a taste to remember.
Jump to Recipe
This post may contain affiliate links.
As the festival season rolls around every year, I try to make some mithais or Indian sweets. Navratri is the beginning of almost a month of celebration that includes major festivals like Dussehra, Karvachauth, Ahoi Ashtami, DIWALI and Bhaiya Dooj. Each of these festivals call for special prayer rituals and celebrations. And none of them is complete without offering the Gods and Goddesses something sweet. A pretty good excuse to indulge in creating a varied range of sweet treats at home. Especially if you don't have any option to buy any mithai nearby. You become your own halwaai or the mithai wala (sweet monger). Happily so. Talk about sooji and atte ka halwa, homemade rusgullas, besan burfee, besan badaam burfee, coconut ladoo, atte ki pinni, kesar malaai pedaa etc. and this besan pedaa.
Festival Season 2020?
Like everything in life right now, this festive season is different due to the looming pandemic. We kick started our Navratri Poojas on zoom. Which is a first and I hope it's a last as well. I miss the gatherings, the socializing, the singing together of worship songs, the dressing up, the communal eating...everything. I am very thankful for technology and that we are still able to do what we are doing but I will love to go back to normal, whatever that means anymore. Cooking and making festive foods is my attempt to keep some of that "normalcy" going. This besan pedaa recipe is pretty much similar to my besan burfee recipe with a very slight change. If besan ka hulva and besan ka ladoo had a love child...this pedaa would be it. Not as flowy and soft as the hulva but also not as firm and uptight as the ladoo. It is soft, slightly fudgy but also melts in your mouth. Try making it and you will see what I mean.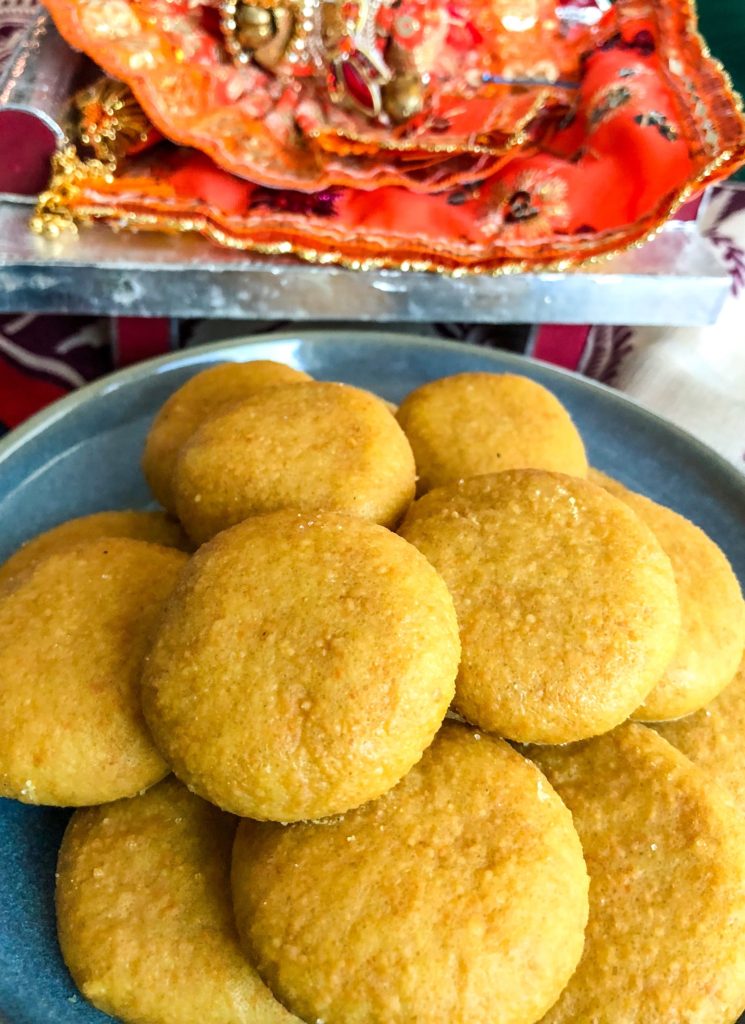 Recipe Run Down
Just like the besan burfee, this besan pedaa recipe also starts with making sure that your besan
" target="_blank" rel="noreferrer noopener">besan has some texture and is not paste like. To achieve this, you can either use store bought ladoo besan or make your own by adding a teensy bit of ghee and milk to the besan and then adding some elbow grease to it. Once you have your textured besan, you "bhoono" it in ghee until your kitchen is perfumed with toasty, earthy aroma. Turn the heat off, add sugar and cardamom powder, let cool and form into pedaas. That's it, folks!! Easy Peasy.
Here's your handy dandy printable:
Easy Besan Pedaa Recipe | Chickpea Flour Fudge Discs
This Besan Pedaa recipe is the easiest Indian Mithai or dessert that you can make for any special occasion and impress your guests. A softer version of besan ka ladoo, besan pedaa melts in your mouth and is a taste to remember.
Ingredients
1

cup

Besan/Chickpea/Gram flour

⅓

cup

Ghee/ Unsalted butter + 1 teaspoon

1

tablespoon

Milk

½

cup

Sugar

2

Green cardamoms
Instructions
In a small bowl, warm up milk and 1 teaspoon ghee/butter in the microwave.

Add the warmed milk and ghee mixture to besan and rub with with your fingers till mixed through. Keep aside for a few minutes. Set a fine stainless steel mesh sieve over a deep bowl. Run the prepared besan through the sieve into the bowl. Using a wooden spoon might help. This might take some elbow grease but this extra step is worth it to give pedaas some grainy texture, which might otherwise be 'pasty'.

Take out the seeds from the green cardamom pods and grind them into a powder.

Set a deep, heavy bottomed pan over medium high heat and add ghee or butter into it. Wait till ghee melts. If using butter, let it melt and let it heat up for a minute. If you are a fan of non-stick pans, feel free to use one.

Add besan to the pan and lower the heat to medium. Start roasting the besan and stir it continuously to avoid burning. After about 5-6 minutes, the besan will start changing its color to a deeper golden and your kitchen will be filled with a beautiful toasty aroma. Since there is not as much ghee in this recipe as compared to besan burfee, roasting besan while stirring it takes some effort. Keep at it.

At this point, turn the heat off and add sugar and cardamom powder. Mix thoroughly. Let the besan pedaa mixture cool in the pan.

Line a cookie sheet or plate with parchment. Once the mixture is cool enough to handle but still warm, take about a tablespoon of it and form into a smooth ball. Then press it slightly to form a disc. If the edges break, seal them together using your fingers. You can use some warm milk to accomplish this step, if needed. Place the pedaa on the lined cookie sheet. Repeat until the entire besan mixture is used up.

Let the pedaas set in the refrigerator for about one hour. After which, take them out and store in an air tight container. These pedaas store well in the refrigerator. Best served at room temperature. Hah - good luck with keeping them "stored" for too long...Enjoy!
Notes
If you find ladoo besan at a store, feel free to use it and skip steps 1 and 2
Ghee or butter can be used. The use of butter, however, makes a difference in the texture of the pedaas. Besan pedaas made with butter will be less "nutty" in flavor. If left at room temperature, these might become soft and loose shape (just like butter would). I store pedaas made with butter in the refrigerator. Dr. A actually prefers the one made with butter instead of ghee..:)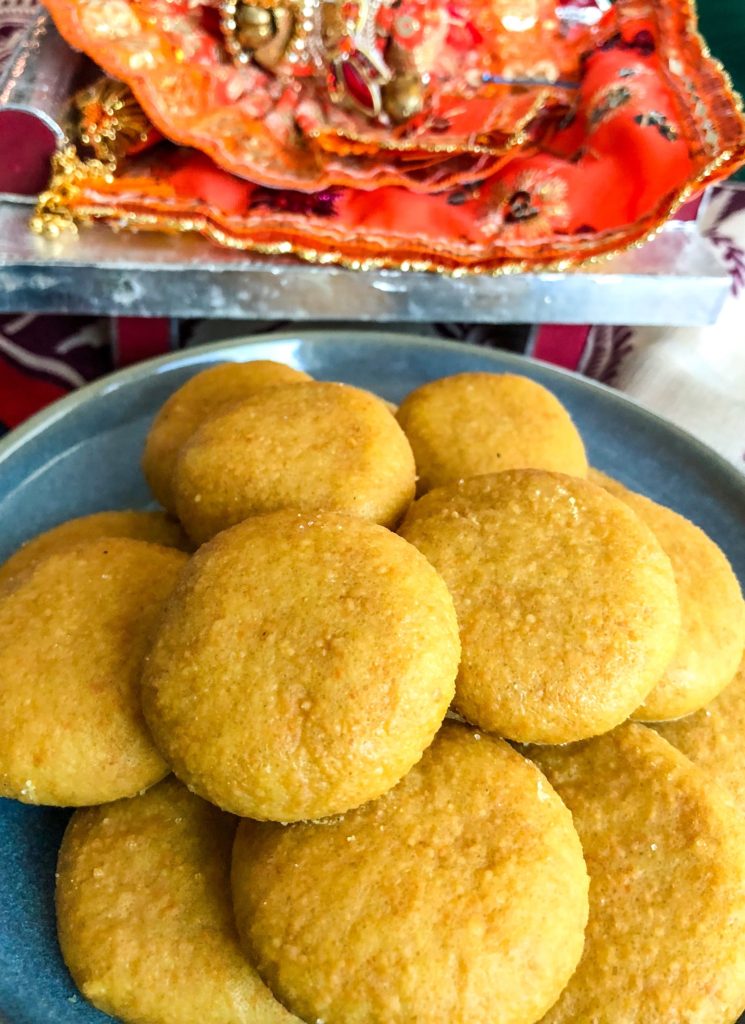 If you make this Besan Pedaas, please leave a comment and/or give this recipe a rating! I love to hear from you guys. And if you do make this recipe, don't forget to tag me on Instagram and Facebook! I love to look through your creations!!
Love – Vaishali