Atte ki Pinni is a traditional Punjabi winter food – call it a dessert or a snack. We grew up eating it (or trying to not eat it) mostly as a power snack. I was not a huge fan of pinnis growing up but your tastes, likes, and dislikes change as you get older, all a part of growing up. My sister and I had a good laugh the other day when I told I was making pinnis. We reminisced about our childhood days when we would try our best to evade eating anything that was healthy. I can now imagine what our parents must have thought at that time – ignorant girls – they know not what they are doing….
Pinnis are made with whole-wheat flour that is toasted in ghee (recipe here) and then mawa or khoya is added along with sugar and nuts. I add chickpea flour/besan to the whole-wheat flour to add some nutty flavor, but it is totally optional. You can make pinnis with just whole-wheat flour. The mixture is then rolled into bite size balls that are full of nutrition from whole grains, milk products, and nuts. Addition of nuts is up to you, I take out about a fourth of pinni mixture before adding nuts, to make nut free pinnis for Mr. Little V.  I normally make pinnis smaller, because they tend to be heavy due to all the ghee, khoya and nuts that is added into them. A small pinni is perfect for when that late afternoon or early evening hunger cramps creep in, or a pinni with a cup of whole milk is perfect for breakfast too. Khoya can be made at home or bought from the store. Here in the United States, you can buy khoya (or mava) in the refrigerator/freezer section of your Indian grocery store. I am also adding some notes on how to make khoya at home, if you so intend to. It is tedious but super simple.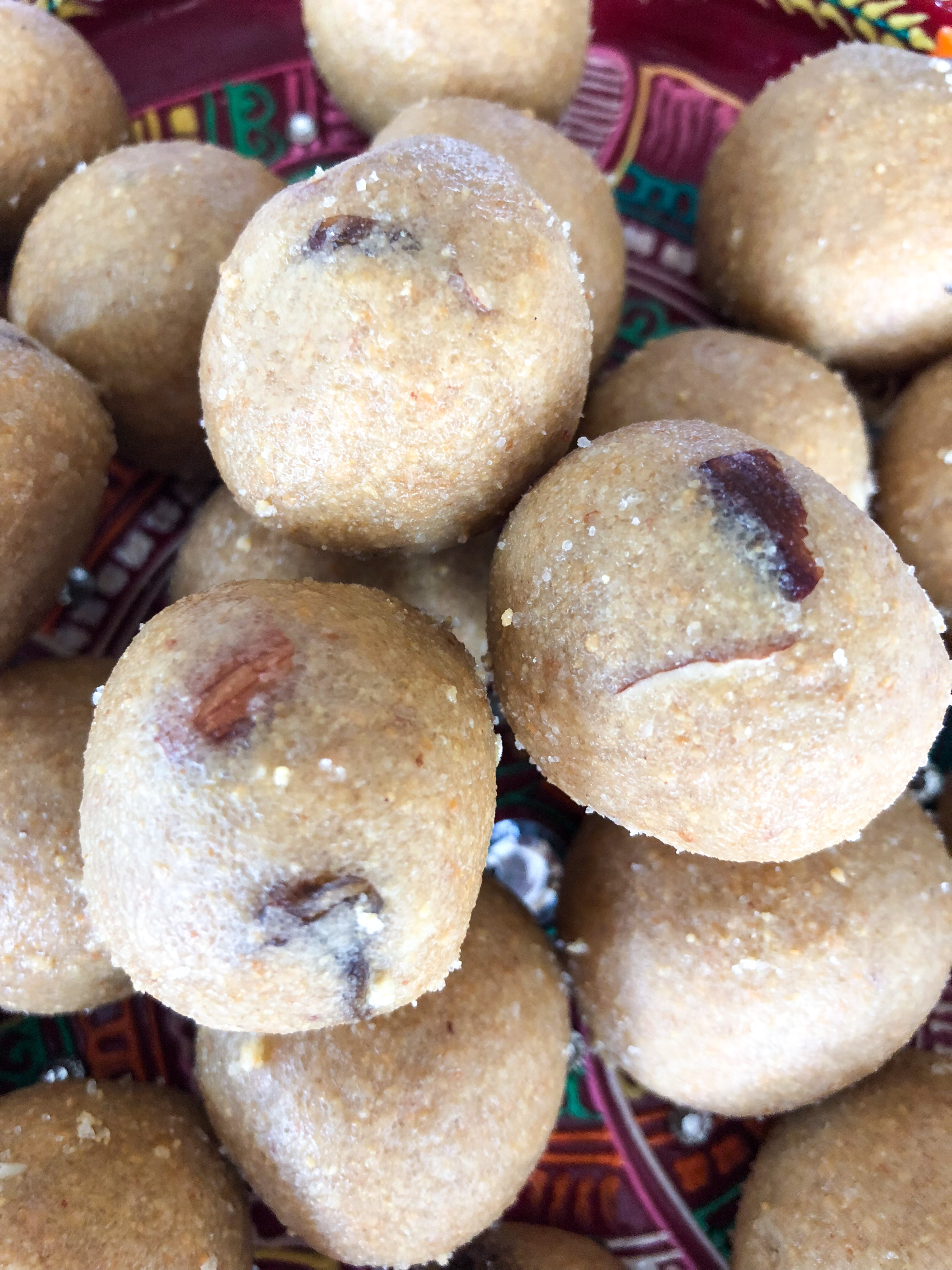 Ingredients:
For Khoya/mava:
Full fat milk – 4 cups or 1 quart/1 litre
For Pinnis:
Whole-wheat flour – 1.5 cups
Chickpea flour/Besan – ½ cup (optional, if not using, use 2 cups of whole wheat flour)
Ghee – ¾ cup + 1 tablespoon (recipe here)
Khoya/Mava – 1 cup
Green cardamom powder – from 2-3 pods, crack open the pods and crush the seeds in to a powder
Sugar – ¾ cup to 1 cup
Almonds – 2 tablespoons, chopped
Raisins – 2 tablespoons
Milk – 1-2 tablespoon, if needed
Method:
If making Khoya/mava at home, start here. Otherwise, skip to next paragraph. Set a non-stick pan on medium heat and add the milk into it. Bring it to a boil and lower the heat to medium low. At this point, a real test of patience begins. The idea is to cook the milk low and slow until all the moisture evaporates and you are left with just milk solids. Scrape the sides of the pan and keep stirring occasionally. The milk will start reducing in quantity and changing color from white to more off-whitish/creamish or pale yellow. As the milk starts to thicken, keep stirring until it starts to come together into a glob (for the lack of a better word) or a sticky, almost semi-solid mass. It will leave the sides of the pan and come together. Your fresh khoya is ready. This process will take close to one hour or more. Let it cool and store in the refrigerator for 3-4 days or freeze. Or you can buy khoya from the store, that is what I normally do and proceed as directed below to make pinnis.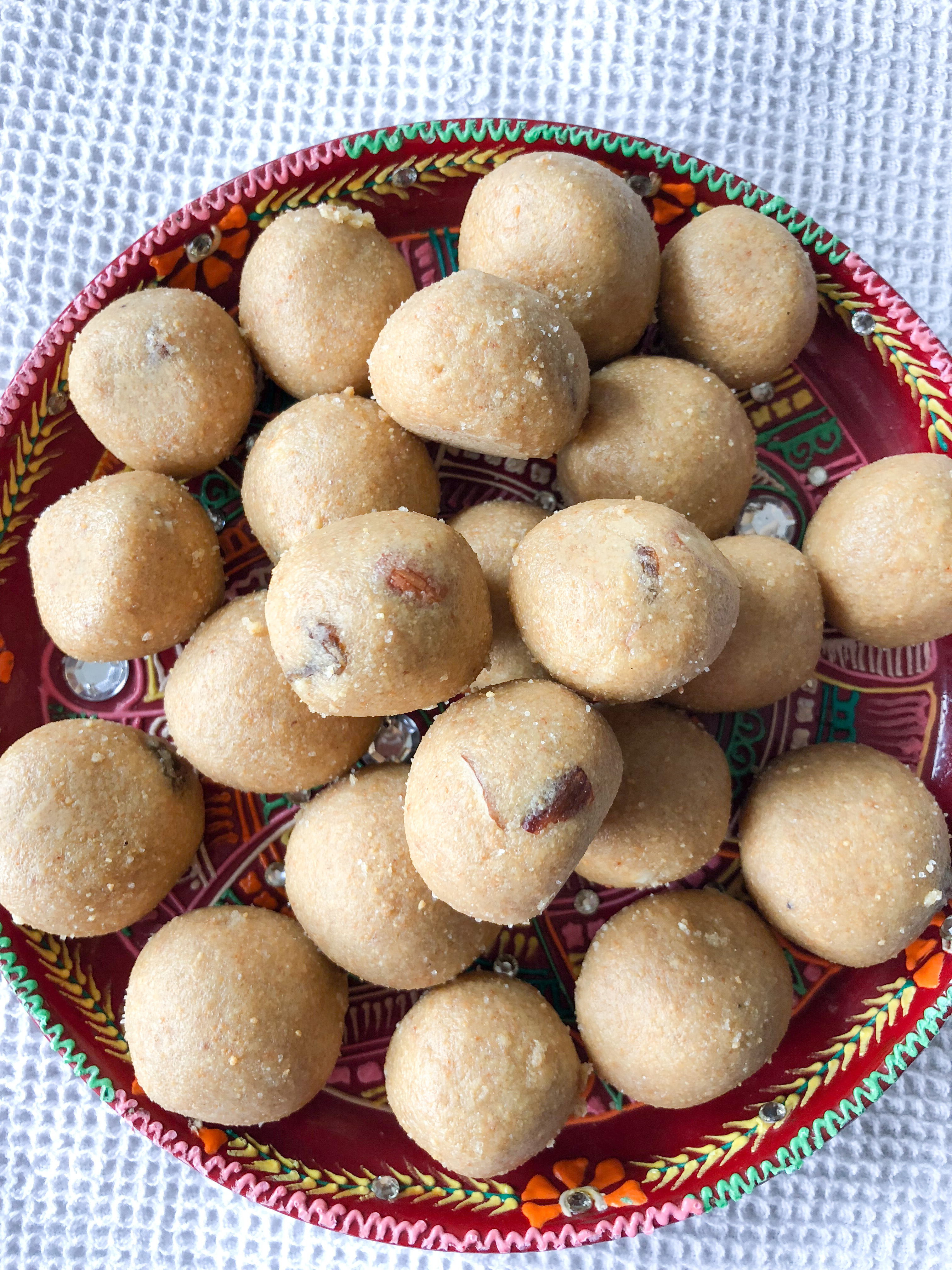 Set a heavy bottomed skillet or kadaahi on medium low heat. If using nuts, add a tablespoon of ghee into the skillet and lightly fry the chopped almonds and raising until light golden. Remove the nuts from the pan and set aside. Add the flour (or flours if using besan) in to skillet and dry roast it till a beautiful toasty aroma fills your kitchen or the color of the flour starts to deepen just a tad bit. At this point, add the ghee and start mixing. Keep stirring the ghee and flour mixture until the flour is little brownish in color and fragrant. It will take about 7-8 minutes. After the flour has turned golden brown in color, add 1 cup of khoya. If you are using store bought khoya, it would be best to grate it with a box grater. Grating the khoya helps to mix it evenly in the flour mixture without having to break apart big lumps. Stir the khoya in until it is completely incorporated, about 5 more minutes. Add the cardamom powder, mix, and turn the heat off.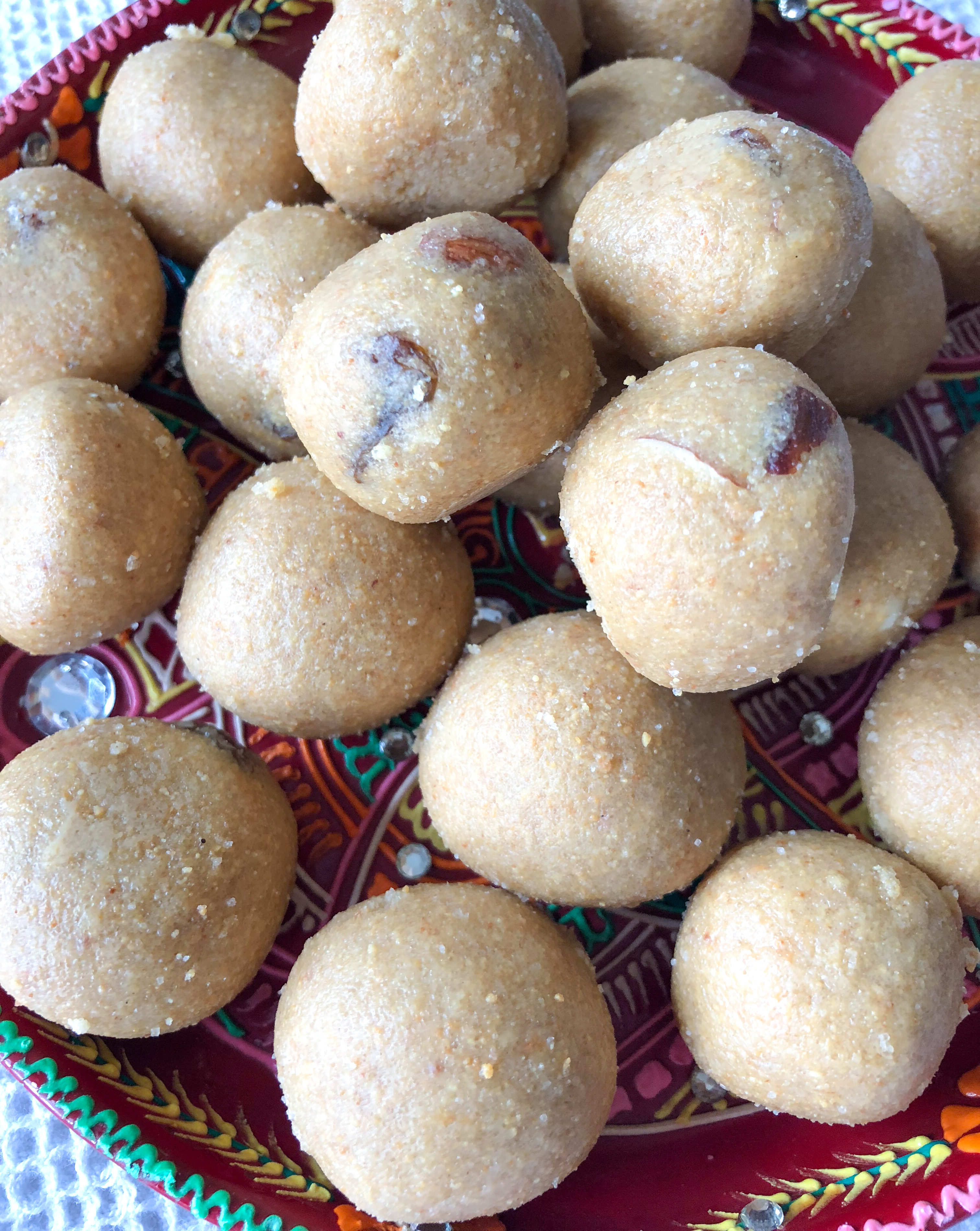 Let the pinni mixture cool slightly (you should be able to touch it without burning your hands) and then add sugar. Start with a ¾th cup of sugar, mix and give it a taste check and feel free to add a few tablespoons or up to ¼th cup more to achieve your desired level of sweetness. Dr. A lies more in the whole 1 cup sugar range..uhmm. Stir in the nuts and make sure everything is evenly incorporated and there are no lumps. It is best achieved using your hands. If the mixture is cool enough for you to handle, take about a tablespoon and a half of pinni mixture and start pressing and rolling it into small ball and put them on a cookie sheet lined with parchment. You might have to keep at it, but the balls will start coming together. If you think the mixture is too crumbly and it is hard to roll it into balls, sprinkle a few drops of milk into it. For me, this mixture worked just fine and I did not have to add any milk. But, for sure, use your judgement. Repeat until all the mixture is used up. The pinnis will store well in a clean and dry air-tight container for 7-10 days at room temperature or you can store them in the refrigerator for longer. Best served at room temperature!
Love – Vaishali.
Notes:
If you are using sugar that has coarse granules, (the kind we get in India), it would be a good idea to grind it or use powdered sugar.
Tools used:
Non-stick pan (for making khoya/mava), I love my Scanpan
Heavy bottomed skillet/kadahi
Spatula
Box grater