Rusgullas are one of the most iconic Indian desserts. Soft, spongy and gluten-free, this easy 5-ingredient recipe is sure to impress.
Rusgullas and Super Bowl?
Rusgulla is a very famous sweet from the state of West Bengal in India. Rusgullas are light and spongy balls made of chaina (whole milk curds left after separating whey) soaked in sweet syrupy yumminess. This rusgulla recipe dates back to Superbowl 2014. Superbowl?? You ask…what's the connection here? Well the connection is that our hosts for the Superbowl party that year decided it was going to be a potluck style gathering where everybody brings a dish to share.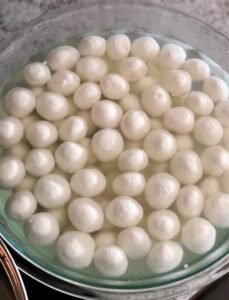 If I remember correctly I made some pistachio bundt cake…which was pretty awesome..until…another sweet friend, who was new in our town, brought rusgulla to the party. My pistachio cake totally lost out in the dessert game…just kidding. But yeah the rusgullas were pretty spectacular and every.single.person at the party was going on and on about how great the rusgullas were. And Dr. A made sure that I ask her for her recipe and try recreating the goodness. So I asked our sweet new friend if she would share her recipe with me and she happily agreed. So here it is: Mamta's Rusgulla recipe!!
A Regular in Our House
After I tried making these..there has been no going back. So simple, so easy and so refreshing. Believe me – before we tried these homemade rusgullas – Dr. A and Ms. little A. would always eat them out of a can that we bought at the local Indian grocery stores… super sweet, super heavy and nothing like this homemade version. I have to admit though, that once these two opened a can, they would inhale all the 10-12 rusgullas that were in that nasty can..lol. We have never bought a can of rusgullas since spring of 2014.
Nutrition
MILK people..that's the starting point of this recipe..do I need to say more? Well there's rose water with its cooling and refreshing properties. And its a dessert so is not anyways supposed to be super-healthy..:P
Recipe:
Ingredients:
Full fat milk – 8 cups/ almost half gallon/ 2 liter
Vinegar – 4 teaspoon
Rose water – 3 teaspoons divided
Water – 8 -10 cups
Method:
In a big, heavy bottomed pan, add the milk and set it on a medium heat. Let it come to a boil and turn off the heat. Add vinegar – start with 2 teaspoon and mix. Keep adding vinegar till the milk curdles and you are left with milk solids separated from a translucent, almost yellowish liquid. Let it sit for 15-20 minutes so that the the curds develop further. These curds or solids will form our chaina.  Line a strainer with several layers of cheese cloth. Drain the curdled milk/chaina into the strainer lined with cheese cloth and run it under cold water. Turn the water off, and collect the corners of the cheese cloth, bring them together, twist them and squeeze out as much water as you can from the chaina.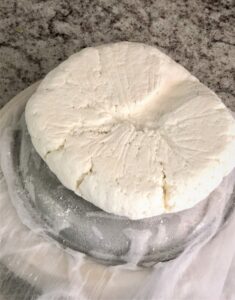 Press it and shape into a disc and put some weight on it to further dry it out. You may put a heavy pan full of water on top of it and set it at a place where it can drain. I normally put my marble rolling surface that I use to make flat breads on top of it. It is pretty heavy. I put it close to the sink so that it can directly drain into the sink without making a mess on my kitchen counter. Let it stay in that position for at least 3-4 hours or overnight.
Kneading
Now if you have a stand mixer ( I love my Kitchen Aid), fit it with the dough hook and knead your chaina with a teaspoon of rosewater till its smooth.
If you are kneading with hands, lay it on a flat surface and knead and rub it with your palm for about 10-15 minutes till smooth. Don't forget the rose water.
Meanwhile add sugar and remaining rose water to the water and set it to boil in a large pan (see note below). While you wait for the sugar syrup to boil, make small balls of chaina – I would say a little bigger than bingo balls..lol. You should get about 40 rusgulla balls. Make sure the balls are smooth with no cracks on the surface. If the balls are not smooth your rusgullas will break while boiling…:(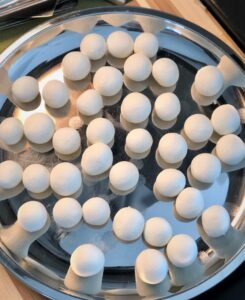 After the sugar syrup comes to a boil, add in chaina balls and cook it covered on medium flame for about 18-20 minutes till the balls puff up and float on the top.

Once done switch it off and let it cool down to room temperature. Take the rusgullas out in a bowl and cover with syrup and chill in the refrigerator. You will have lot of syrup leftover. I normally just discard the leftover syrup. Serve chilled!!!

This recipe does seem time consuming. But once you have tried making rusgullas once or twice, you will be all set and it is going to become a regular in your kitchen.
Note: I normally boil the rusgullas in 2 pots. Keep 4-5 cups water in each pan with 2 cups sugar and set to boil. Add half the chaina balls in each pan and cook covered for 15-20 minutes. I find this way, the rusgullas have enough space in each pan and they don't stick to each other.