Protein rich lentils and lots of vegetables along with warm Indian spices make this hearty Vegetarian Shepherd's Pie just as satisfying as its meaty counterparts. This easy vegetarian version of a classic is comfort food at its finest and is sure to be a show stopper at your holiday table!
Jump to Recipe
Ahhh…it's the season to give thanks. Though Thanksgiving is a few days away, we hosted our first Friendsgiving party this past weekend. We have some awesome neighbors and friends so we decided to invite them over to share the blessings and gather over food. We are forever blessed and thankful that we get to live in this wonderful community. Steering away from the traditional turkey, we made two roasted chickens using Ina Garten's recipe. My love for Ina and her recipes is no secret, you can read about it here. Other than the roasted chicken, everything else on the menu was vegetarian. Since some of our friends are vegetarians, I wanted to make a vegetarian "Main Dish" along with the sides. Hence this Vegetarian Shepherd's Pie with Lentils!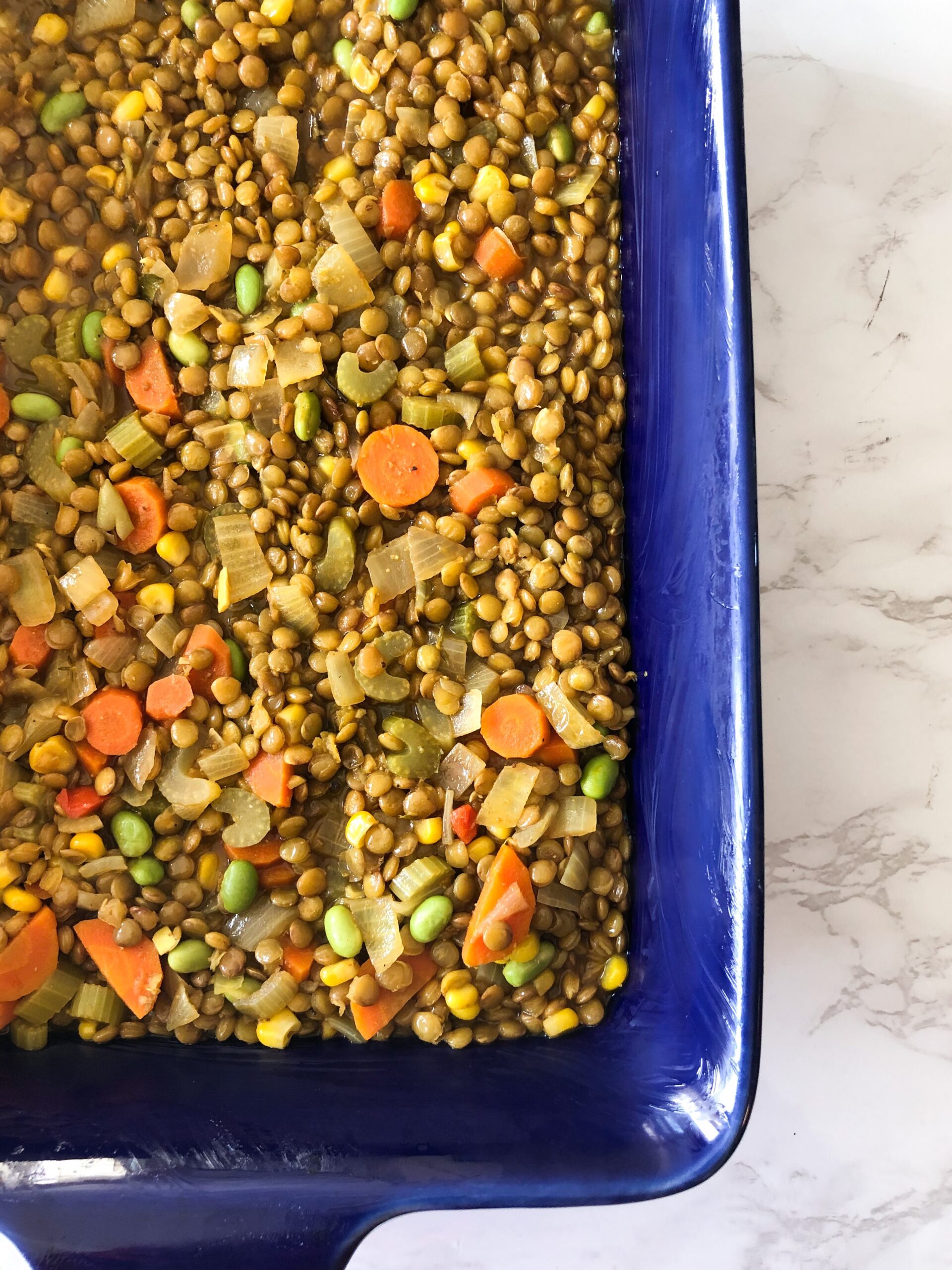 Few years ago, one of Dr. A's work friends invited us to their home for a vegetarian Friendsgiving lunch. I clearly remember his wife explaining to me what her vegetarian main dish was. And, well, you guessed it – it was a vegetarian shepherd's pie with lentils. I took a mental note to try it sometime. Fast forward three years and here it is for you and for me and for the……you know how it goes!
Why Lentils?
Traditionally, shepherd's pie is made with some kind of ground meat, either beef or lamb. In this lentil version of a classic, you won't even miss meat – the lentils and yummy vegetables make up for any kind of meat. Lentils pack a solid nutritional punch which is a major plus. They are affordable, easy to cook, and soak up any flavors that you add to them. Lentils are also high in vital nutrients like protein, fiber, and iron. So, if you ask me, going the lentils route in this shepherd's pie was a no brainer though I might have considered mushrooms for a split second.
I knew some of our guests would expect Indian food at the party but I wanted to stick to casually traditional Thanksgiving dishes. Since lentils are like a blank slate, I thought of taking some liberties here. For this vegetarian shepherd's pie with lentils, I incorporated subtle Indian spice notes here and there. Some cumin and garam masala in the lentils and turmeric and chaat masala in the mashed potato topping to give it a golden look. That's it and you have a vegetarian shepherd's with lentils flavored with healing and immune boosting Indian spices.
Recipe run down:
First things first, rinse and soak the lentils in warm water. This will give us a head start with lentil cooking time. Then grab a nice trusted heavy bottom skillet (like this) to prepare the lentils and vegetable filling. If you have one that is oven proof (this is gorgeous and functional), go for it. One less dish to wash – Hallelujah!! In another pot set the potatoes to boil. I cheated and pressure cooked them (you can use this pressure cooker or Instant Pot, instructions for all three are added in the recipe). The lentils cook up nicely while your potatoes are boiling (on stovetop), so don't fret if you don't have a pressure cooker/instant pot.
Prepare the filling by sautéing the onions, celery and carrots with garlic. Add spices, lentils and broth and let the lentils cook for 25-30 minutes. Set the potatoes to boil. In last 10 minutes of cooking add a load of frozen veggies. To your hearts content. Nobody's judging if you love veggies. Preheat the oven at 425 degrees F or 220 degrees C. Drain the cooked potatoes and add back to the pot to evaporate any remaining water, add yogurt, butter and spices. Use a potato masher or a large fork to mash until smooth. Spread (or pipe using a really big pastry tip to channel your inner Martha Stewart) the potatoes over the lentils and veggie mixture. Bake for 15 minutes and then broil to get some color on those yummy potatoes. Ta Da!!
Friendsgiving/Thanksgiving or not, this is a great vegetarian recipe that comes together in about an hour, is nourishing, delicious and satisfying! So what are you waiting for? Grab the printable here and go to town with it.
Handy dandy printable
Vegetarian Shepherds Pie with Lentils and Indian Flavors
Protein rich lentils and lots of vegetables along with warm Indian spices make this hearty vegetarian shepherd's pie just as satisfying as its meaty counterparts. This easy vegetarian version of a classic is comfort food at its finest and is sure to be a show stopper at your holiday table!
Ingredients
Filling:
2

tablespoons

olive oil

1

medium onion

diced

2

cloves

garlic

minced

3

carrots

peeled and chopped

2

stalks celery

chopped

1 ½

cups

uncooked brown or green lentils

rinsed and soaked

Fresh herbs to taste

I used 1 sprig of rosemary, 3 sprigs of thyme

2

tablespoons

tomato paste

1

teaspoon

roasted cumin powder

½

teaspoon

garam masala

4

cups

vegetable broth

1

cup

frozen mixed veggies:

I used edamame, red bell pepper and corn

Salt and black pepper to taste
Mashed Potatoes:
5

Yukon gold potatoes

½

cup

full fat Greek yogurt

¼

cup

butter or olive oil

Salt and black pepper to taste

¼

teaspoon

turmeric

¼

teaspoon

chaat masala

optional
Instructions
Rinse and soak the lentils in warm water
Mashed potatoes:
Cut any big potatoes in half. Set a big a big pot of water on high heat, salt it and add the potatoes. Boil them until fork tender (for 20-30 minutes).

If using instant pot or pressure cooker, add the potatoes, cover them with water and set to cook on high pressure for 1 minute. Let the pressure release naturally after that.
Lentil and veggie filling:
While potatoes are cooking, preheat oven to 425 degrees F (220 C).

Set a large oven-safe skillet (see notes) over medium high heat and add oil. Once the oil is shiny, add onions and garlic and sauté until fragrant and slightly browned, about 2-3 minutes.

Add celery, carrots and herbs and sauté until carrots are softened. Add the tomato paste, roasted cumin powder and garam masala.

Drain the soaked lentils and add them to the skillet along with stock, salt and black pepper and stir. Bring to a low boil. Then reduce heat to simmer. Cover and continue cooking until lentils are tender (30-35 minutes). At this point, I set the timer for 20 minutes. After 20 minutes, add the frozen veggies, stir, cover and set the timer for 10 more minutes. Check the lentils for doneness after the timer goes off, they should retain some bite and should not be mushy. Turn the heat off.

Once the potatoes are cooked, drain and peel them (see notes), and add back to the pot. Add yogurt, butter, turmeric, chaat masala 9if using), salt and black pepper.

Mash everything together until smooth and creamy. Give a taste check for seasonings.
Bake:
Spread (or pipe) the mashed potatoes on top of the filling, brush with extra melted butter if you like and bake for 10-15 minutes at 350. Broil on high (very carefully) until the mashers are lightly browned on top to be extra awesome.
Notes
If you do not have an oven safe skillet (like this one
), grease an oven-safe dish (9X13) and transfer the cooked filling into it.
I peel the potatoes after boiling. I find it easier and the potatoes do not get mushy and wet. If the potatoes are too hot for you to handle, stick a fork in, hold the potato up using the fork handle and then peel.
Make it vegan: Use olive oil instead of butter and non-dairy milk in place of yogurt.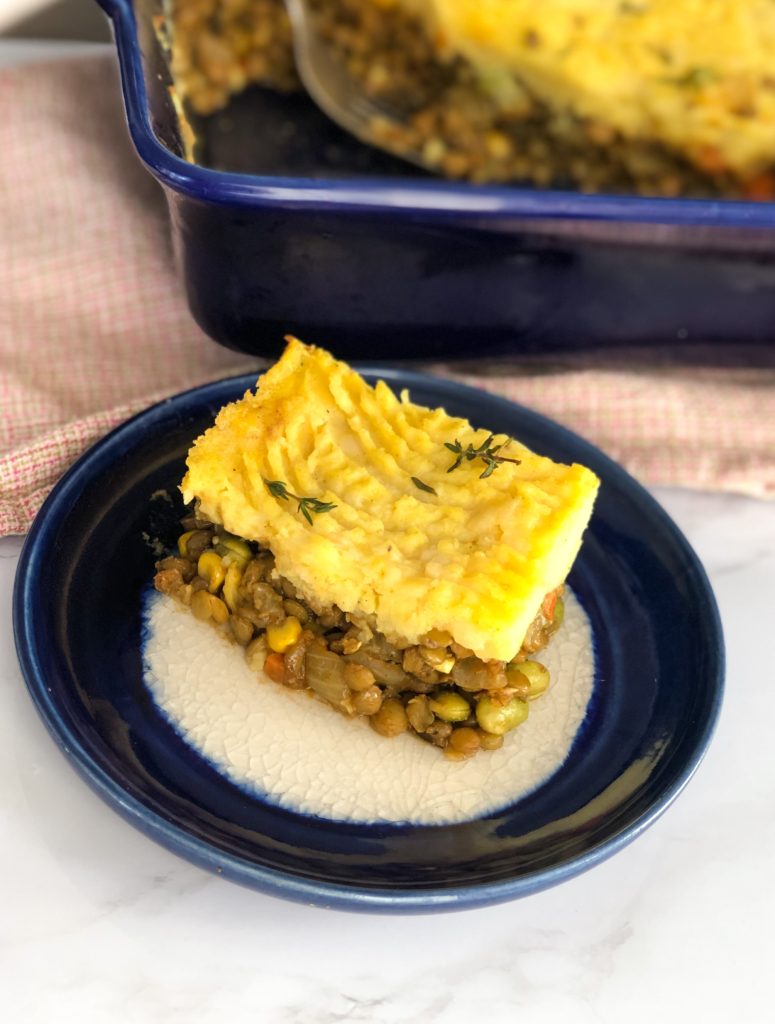 I hope you all love this recipe! Make it now or Pin it for later. If you give it a try, be sure to let us know in the comments, or by tagging a photo #thekitchendocs on Instagram! I'd love to see.
Love- Vaishali!
Tools used:
Chopping Board:
Potato Masher: