Any Ina Garten fans out here? I still have to find an Ina Garten recipe that I didn't like. Most of her recipes are fool and fail proof and oh so delicious. Her show on food network is great, the approach to dishes is simple and her recipes can be easily up or downscaled to make desired quantities. The romance between her and her husband Geoffrey, though a bit cheesy, is hard to miss and smile about. Geoffrey's love for chicken and cake is pretty evident in her show and cookbooks. I love Ina's recipes and have some of them bookmarked and make them often.
My wonderful neighbor and friend, Amanda, one time brought an apple tart/slab pie to one of our school events, and when I inquired about the recipe (I'm nosy like that..hah), she told me it's one of Ina's recipe. I looked it up, and set out to make it. The recipe that I wrote today is adapted from Ina's recipe and I also took some notes from "Cooking at home with Bridget and Julia" – an America's Test Kitchen Cookbook.
It's a great dessert recipe to feed a crowd. It does not need to be perfect looking, like you would envision a pie, and is very forgiving. My favorite part of the recipe is the crust, which is buttery and bakes into this crisp and flavorful pastry; and also the apricot glaze, so please do not skimp on it. Apples are very important – because, well you know – it's an apple slab pie. Granny Smiths work great because they are crisp and tart and that helps, because otherwise this pie would be mushy and almost too sweet. So here it goes:
Adapted from Ina Garten's French Apple Tart recipe.
Ingredients
For the crust:
All-purpose flour – 2 cups
Salt – ½ teaspoon
Sugar – 1 tablespoon
Unsalted butter – 1 and a ½ sticks or 1.5 cups, cold, diced
Cold water – ½ cup
For the apple topping:
Granny Smith apples – 1 and a ½ lbs, about 4-5, peeled, cored and sliced thin (see pictures)
Sugar – ½ cup
Unsalted butter – 4 tablespoons (½ stick) cold, small diced
Apricot preserves – ¼ cup
Water – 2 tablespoons
Method:
For the crust:
In the bowl of your stand mixer or food processor, add flour, sugar and salt and mix for few seconds until combined. Add the cold diced butter and mix/pulse a few times, until the mixture resembles size of peas or coarse cornmeal. Continue to pulse and add cold water, one tablespoon at a time until the dough begins to come together. You want the dough to just hold together when pinched. Dump this dough to a lightly floured counter and knead quickly a few times, and shape into a rectangle. You do not want to knead it too much and heat from your hands melt those bits of cold butter in this dough. These yummy bits of butter are going to lend a yummy, light and crisp texture to our crust. Wrap the dough rectangle tightly with plastic wrap and chill in the refrigerator for at least one hour.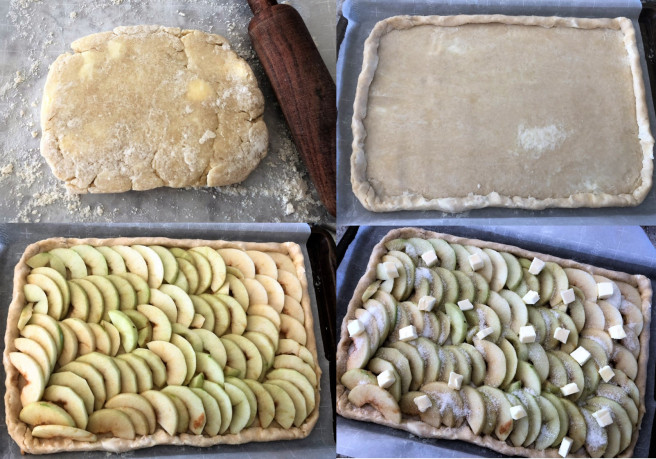 While the dough is chilling, prep the apples by peeling, halving, coring and thinly slicing (about ¼ -inch thick).
Preheat your oven to 400 degrees F or 200 degrees C.
Next, cut a piece of parchment paper to measure 16 by 12 inches, just bigger than your cookie sheet. After the dough has chilled for an hour, remove it from the fridge and let it rest at room temperature for about 10 minutes, so that it would be easy to roll out. Place the measured sheet of parchment on your kitchen counter and sprinkle some flour on it. Place the dough rectangle in the center and with a rolling pin, begin to roll it outwards until the dough just overhangs the parchment in both directions. Roll up outer 1-inch of dough to create a ½ inch-thick border for the pastry (see pictures). Slide parchment with the formed crust on to a cookie sheet.
Place overlapping slices of apples diagonally, starting from one corner, until the pastry is covered with apple slices. When this step is completed, sprinkle the ½ cup sugar evenly over the top (do not worry if this seems too much sugar – you need it!) and dot the apples with four tablespoons of diced cold butter.
Slide the cookie sheet on to the middle rack of your preheated oven and bake until the bottom is deep golden brown and the edges of the apples start to brown and look caramelized, about 45 minutes. Rotate the pan once at about 20 minutes mark. When the tart is done, remove it from the oven and set out to cool. In a small saucepan, warm up the apricot preserves mixed with water and brush the apples and the pastry completely with this mixture. Allow to cool, slice and serve warm or at room temperature. Enjoy!
Love- Vaishali
Notes:
Any leftover slices warm up nicely in a toaster oven. Great snack!
Tools used:
Stand Mixer/Food processor
Rolling pin
Parchment paper
Sauce pan
Pastry brush
Measuring cups and spoons
Knife, peeler and chopping board
Oven