Just tomatoes, cheese, puff pastry, olives and basil are all you need for this tomato galette. It's fancy yet ridiculously simple to make!
Jump to Recipe
I picked the last of the heirloom tomatoes from the garden and I had an epiphany. It took me back to our recent trip to Washington DC. We undertook this 2800 miles road trip and it was great! On our way to DC we spent a night in Columbus, Ohio and on a friend's (this is her) recommendation went to Pistachia Vera, a pastry kitchen. And man...that place was amazing...everything from the macarons, pastries, croissants, coffee and eclairs was awesome. But one thing that we tried that stayed with us was their tomato galette, so much so that we stopped at their little baker again on our way back. And Pistachia Vera's Tomato Galette is precisely the epiphany. So here we go!
Like I said there are 5-ingredients in this recipe so make everyone of these create their magic. In other words, choose wisely people!
Heirloom Tomatoes
Heirloom tomatoes would be my choice. Why? Because there is none other like that heirloom. Heck, even one heirloom is not like another. The taste, the meatiness, and the beauty...no match. I grow heirlooms in my garden every year and they are the best ever. Each tomato is unique when you cut into it and this always blows my mind away. But don't let the lack of availability or access or price (who are we kidding...these babies are expensive!!) to these tomatoes hold you back. Use any fleshy, flavorful tomato...beef steak would be the next best option. You do you - but don't do roma please!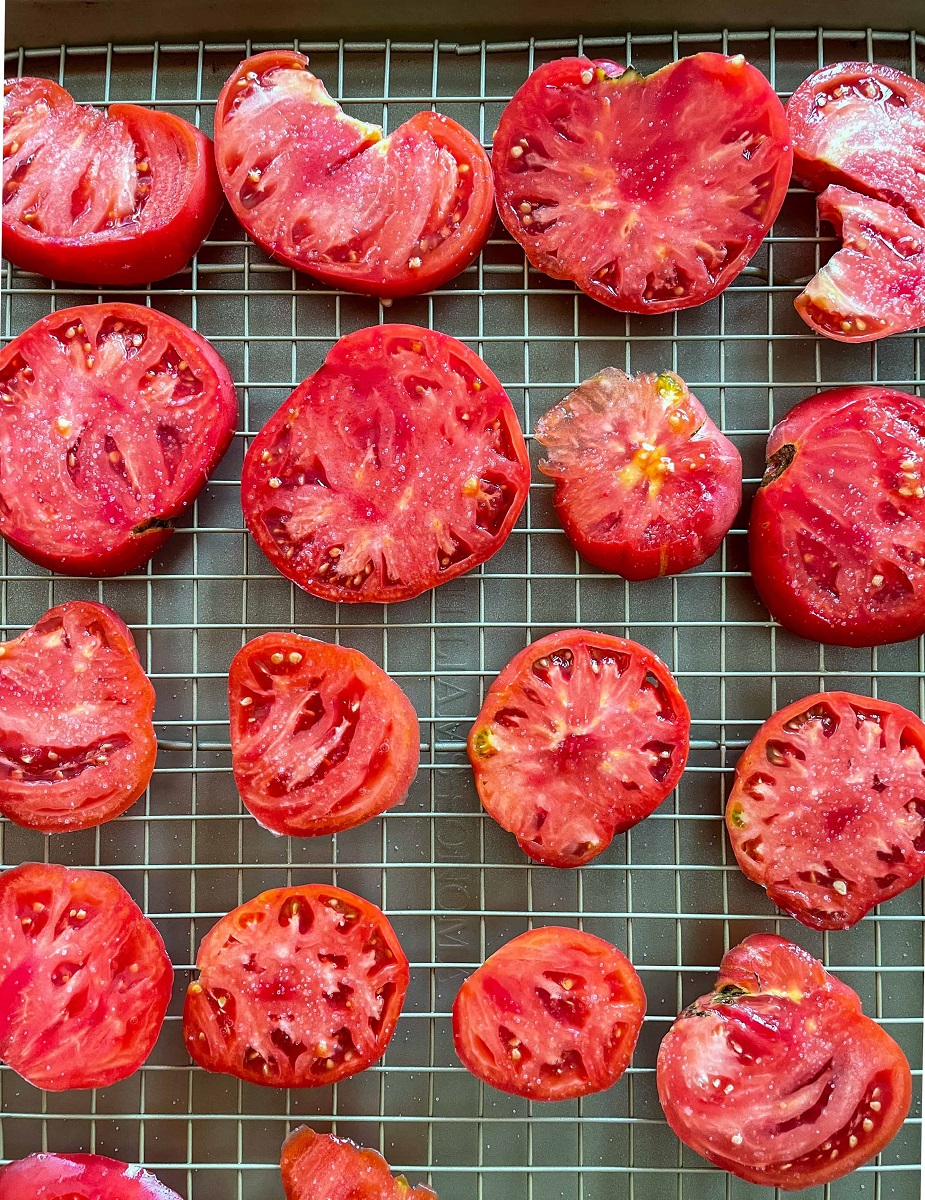 Goat Cheese
We are not big fans of goat cheese in TKD family...there I said it! But it works! And it works beautifully. I used herbed goat cheese but you can use plain one as well. Just make sure to add some seasoning/herbs de provence in that case. You can add as little or as much per your liking. I basically smeared the puff pastry with a thin layer of it.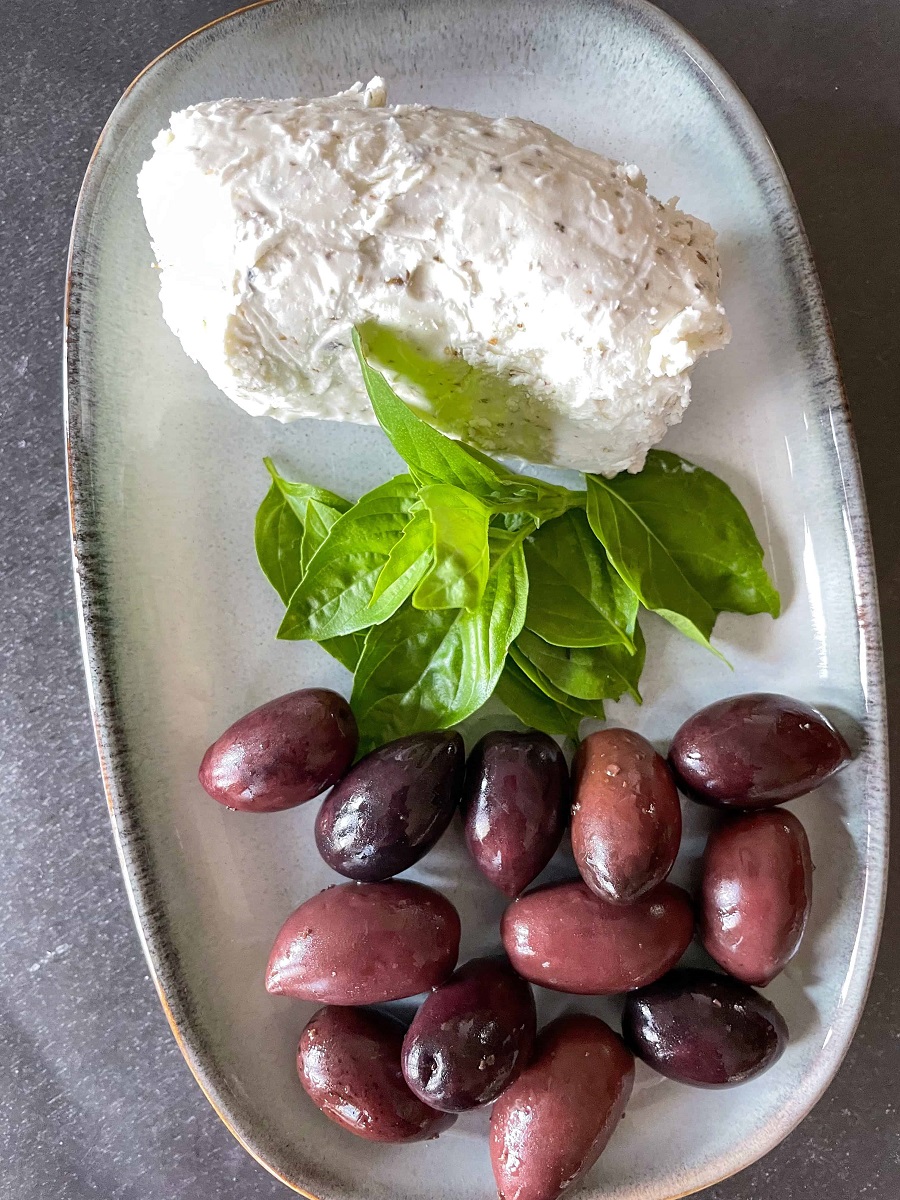 Puff Pastry
Just use the store bought one. Even Ina Garten does not make her own puff pastry!
Olives
I used Kalamata olives. Original Pistachia Vera menu says they use Taggiasca Olives, and they are wonderful...only if you can find them. If not, use kalamatas!
Fresh herbs
I loved fresh basil on these and there is something about that tomato basil marriage that is so romantic and sexy. Thyme and rosemary will work in a pinch! That's it with the substitutions...no more..lol!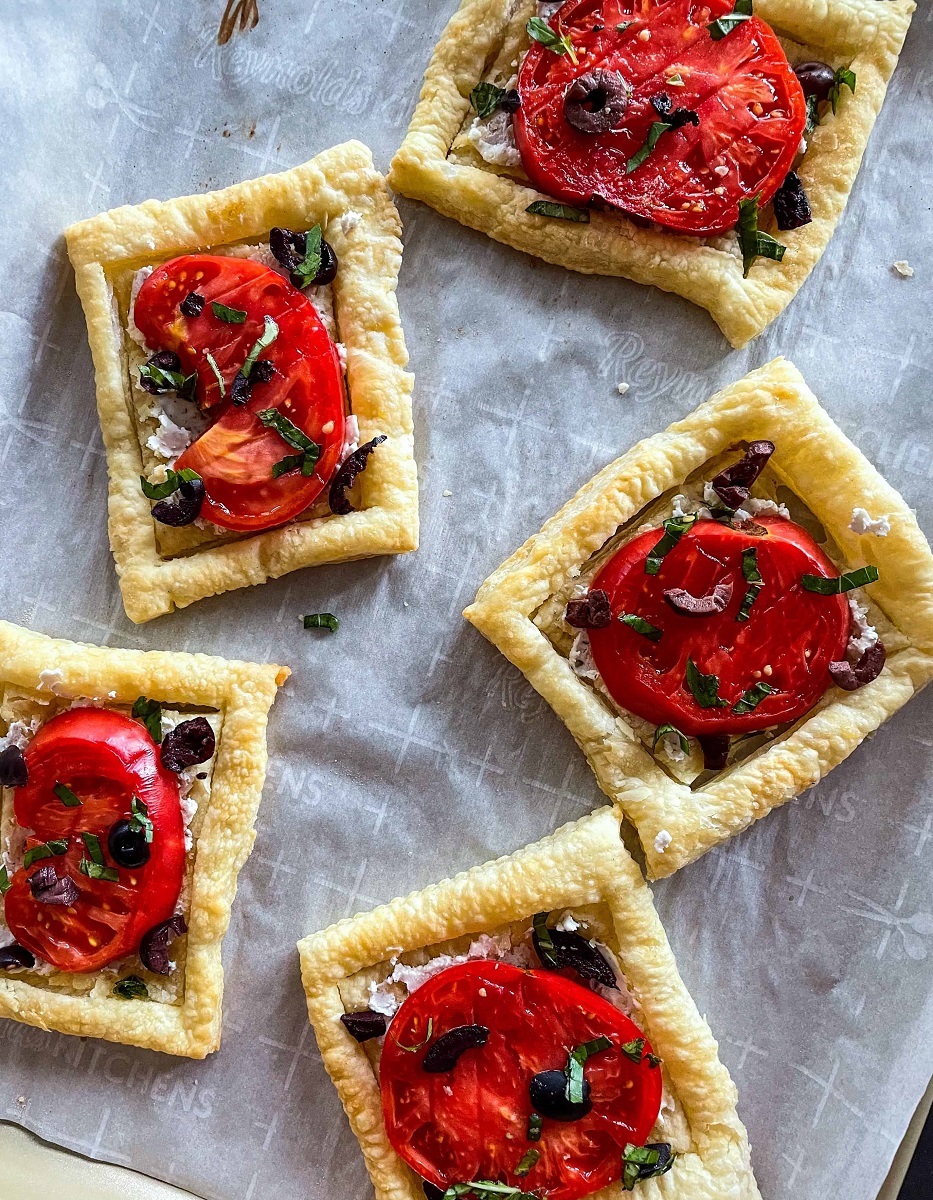 Recipe Run Down
Begin by slicing and salting the tomatoes to get rid of some of that moisture. Thaw and roll out the puff pastry. Cut each sheet into 6 equal rectangles and then using a rolling pin, roll them out a little. Par bake, let cool slightly and smear with goat cheese. Pat dry the tomato slices, add to the puff pastry, add olives and basil and bake. Let cool slightly..resist the temptation or you'll burn your mouth...not that I would know.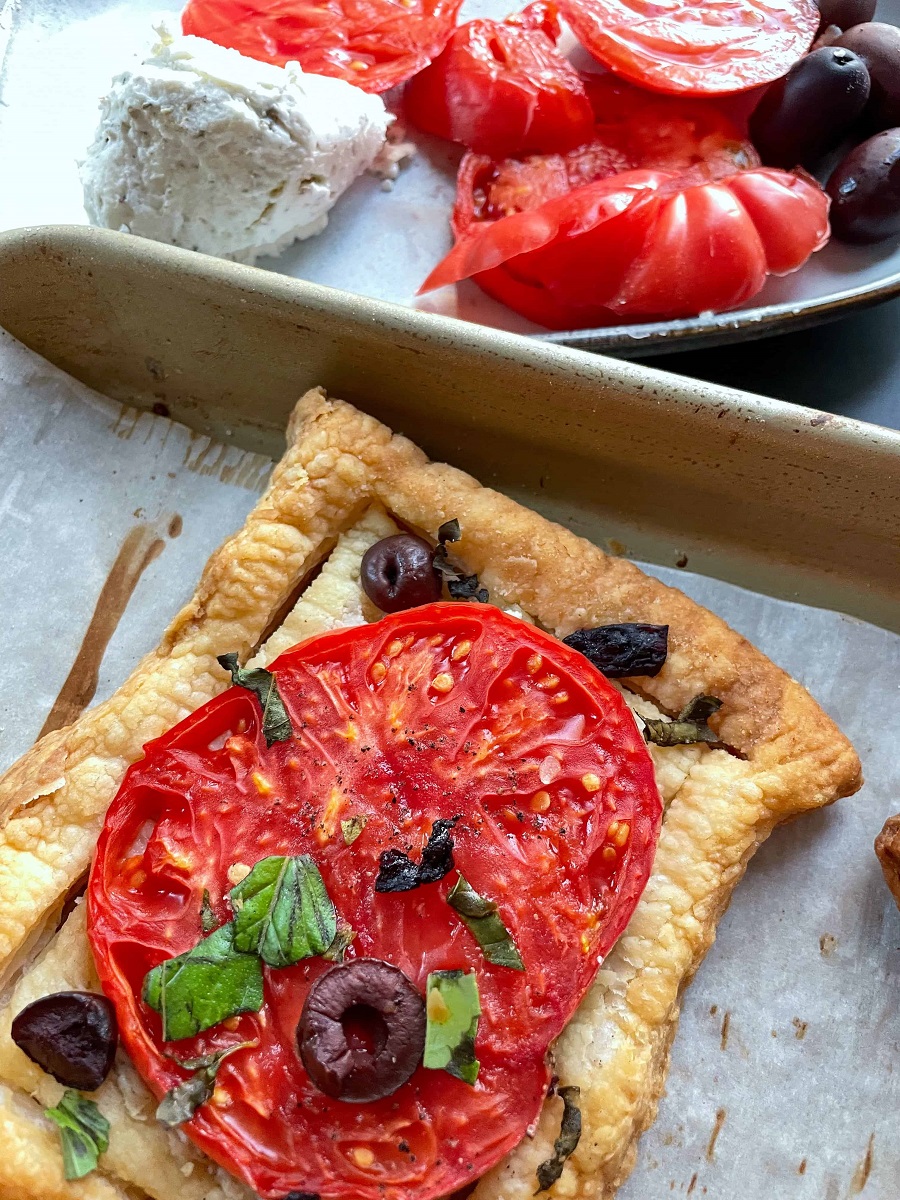 Here's your handy dandy printable
5-ingredient Tomato Galette
Just tomatoes, cheese, puff pastry, olives and basil are all you need for this tomato galette. It's fancy yet ridiculously simple to make!
Ingredients
2

sheets

puff pastry

1 package

2

heirloom tomatoes

sliced, you should have 12 slices

4

oz

herbed goat cheese

see notes

6-8

Kalamata olives

sliced

4

tablespoon

fresh basil

chopped

Fresh cracked black pepper

optional
Instructions
Start by salting the tomato slices and letting them drain in a sieve/colander or a cooling rack set over a cookie sheet for at least 30 minutes.

Take the puff pastry out of the freezer and let it thaw.

Pat dry the tomatoes with a paper towel. Preheat your oven to 400 degrees F/ 200 degrees C. Get two cookie sheets ready.

Remove each puff pastry from its packaging and cut into 6 rectangles each of approximately 3.5 inch by 5 inch size. You should have 12 rectangles.

Using a rolling pin, roll out each rectangle slightly. Use a sharp knife to score a 1 inch border. Make sure not to cut all the way through the puff pastry. Poke the inner rectangle with a fork so that it does not puff up. Repeat for all the rectangles.

Bake the prepared puff pastry rectangles for 10 minutes. Let cool slightly.

Smear each rectangle with goat cheese. Use as much goat cheese as you like. I only applied a very thin layer.

Add a tomato slice, top with olives and basil (and some freshly cracked black pepper if you like) and return the cookie sheets to the oven to bake for another 15-20 minutes. Start checking at 15 minute mark.

Enjoy warm or at room temperature.
Notes
If you use plain goat cheese, make sure to add some seasoning like herbs de provence or Italian seasoning.
Store leftovers in the refrigerator. Reheat in a toaster oven.
If you try this recipe, I would love to hear your feedback and see your beautiful re-creation. Leave me a comment, rate it, and tag @thekitchendocs and #thekitchendocs in your photos on Instagram or Facebook. Happy cooking, friends!
Love – Vaishali
Key Tools and Ingredients:
Cookie Sheet:
Cooling Rack:
Knife:
Olives: