Happy Friday folks! This Friday brings us to the end of nine days of Navratri, today being Navmi, or the ninth day. In my family (uhmm…my parents house), we always celebrate the eighth day or Ashtami as a day to worship Kanjkein or nine young girls representing the nine forms of Goddess Durga. The little girls are welcomed in to the house, worshiped, fed, sought blessings from, and given gifts. In Hinduism, the female is revered and believed to be the inspiration behind all creation. Whatever is the situation of a girl-child in many sections of our Indian society is a whole different and sad part of the story. For some other day…L
In "our" family (the in-laws house), we celebrate the ninth day. So that's the tradition I'm keeping with in "my" family. The basic thought and feeling behind the ritual is celebration of the power of mighty Durga and seeking her blessings. So the day you do it should not matter as much…right? We have tried to keep the tradition of kanjkein alive in our house and we do it twice during a year. Once during Navratri in fall (now) and once in spring. I and Dr. A try to show our kids the beauty and richness of our culture and what meaning and importance it holds in our lives.
The meal that is prepared for kanjkein includes poori (deep fried bread made with whole wheat flour), hulva (recipe here), and sookhe chane (dry whole black gram) along with fruit, yogurt etc. I am sharing the recipe of sookhe kale chane here today. Think about black gram as a younger sibling of chickpea, smaller in size and tanned. You can find dry black gram at most Indian grocery stores, or order it online. I cannot even begin to count how many of our friends love this dish and have asked for the recipe. Hopefully this note will make its way to them..:)
Also, you really don't have to wait for Navratri to make sookhe kale chane. This dish is just as good for any other time or day of the year. As a matter fact, during my undergrad days, our dining hall used to serve it along with Kadhi (recipe here) and rice (recipe here) every Tuesday…:-P. Please don't ask me how I remember that…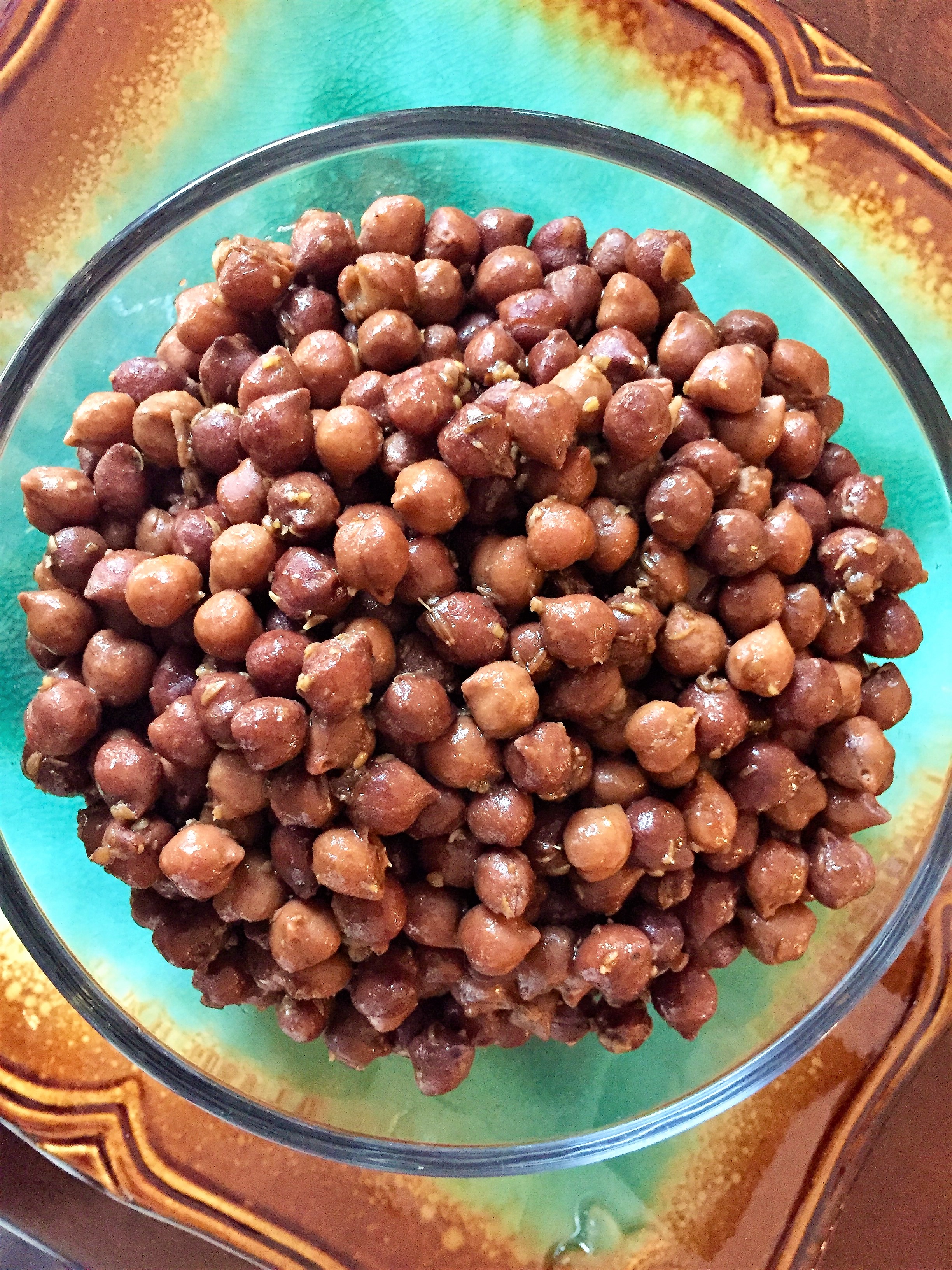 Note: Plan ahead, soaking time required.
Ingredients:
Black gram/ kaala chana – 1.5 cups
Water – 5 cups
Salt – to taste
Oil – 2 tablespoon
Cumin seeds – ½ teaspoon
Red chili powder – ⅛ teaspoon or to taste
Coriander powder  – 2 tablespoon
Garam masala – ¼ teaspoon
Method:
Clean, wash, and soak chane for 5-6 hours. After the soak, drain and rinse the chane again. Set a pressure cooker on high heat, add chane along with 5 cups of water. Add salt and close the lid. After 1 whistle, lower the heat and cook for another 45 minutes. After the cooking time, wait for the pressure to release by itself, about 10-15 minutes and then open the lid. Crush a chana (singular of chane) between your thumb and fore finger to check if it's cooked.
Set a big pan over medium high heat and heat the oil in it till shiny. Add the cumin seeds, once they crackle add red chili and coriander powders and cook for 30 seconds. Then carefully add the boiled chane into the pan, water and all. Increase the heat to high and cook for  5-10 minutes. Lower the heat to medium low and continue cooking till all the water evaporates. As this happens, all the water that was in the pan turns into this thick and delicious coating of masala that sticks to the kaale chane. Irresistible!
Some people don't use garam masala during Navratri. If so, skip it. Otherwise please add it.
Love- Vaishali
Tools used:
Pressure cooker
Measuring spoon
Skillet/Saucepan
Spatula