Happy Monday friends!
We had a crazy weekend, it almost seems like it has become a pattern. Not that I am complaining, I love the craziness of running around with kids activities, day to day errands and our social engagements plus football. Can I get a yay for football season please? Go Auburn Tigers! And Kansas Wildcats! And Carolina Panthers. We are extremely blessed that we live in a small college town and don't have to think about commute times and traffic hours. I cannot imagine dealing with that along with our busy daily schedules. If you live in a big city, I commend you!
In today's times, everyone's life is busy in its own way. I talk to my parents in India who are now retired (mostly), kids are gone, little bit of social engagements here and there and still they are always busy. Which, by the way, is a good thing. I cannot imagine having nothing to do. That will drive me nuts!
Coming to the point of busy lives – do you eat breakfast? Recently, I came across a study that found that most people don't eat breakfast. I couldn't believe it, breakfast is a very important meal in our family and I strongly believe that a good breakfast gives a kick start to your day. Full bellies mean happy hearts!
On most days we choose from breakfast staples like whole wheat toasts, pancakes (that I make during weekends and freeze, recipes here, and here), multi-grain waffles, cereals, oats, eggs (scrambled eggs recipe here), fruits, smoothies (recipe here), milk, and nuts. Weekends call for more elaborate breakfast spreads that may include Indian stuffed flatbreads (parantha), pancakes, scrambled eggs, biscuits, and breakfast potatoes. The breakfast potatoes recipe I share today is easy to come together though the roasting time may need you to get these started first thing in the morning. And make more than you think your family will consume. You will thank me that I told you this..:).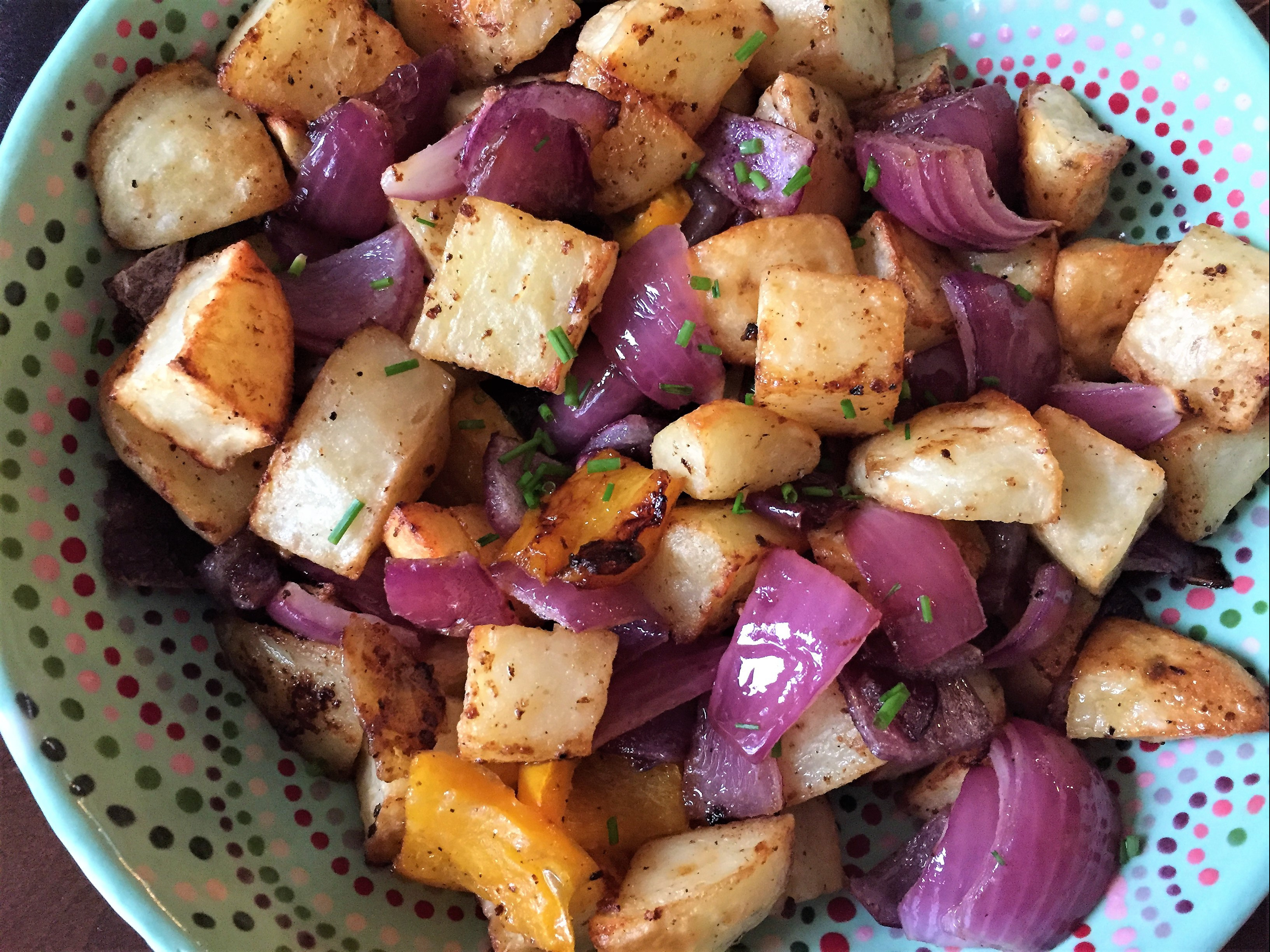 Ingredients:
Potatoes – 4, big, cut into chunky cubes (peeling or not peeling is your call)
Onion – 1, big, peeled and chopped into big pieces
Green Bell Pepper – ½, seeded and cut into chunks
Red or Yellow Bell Pepper – ½, seeded and cut into chunks
Olive Oil – 2 tablespoon (divided)
Butter – 2 tablespoon, melted (divided)
Salt – to taste (divided)
Garlic powder – ½ teaspoon (divided)
Cayenne Pepper – ¼ teaspoon
Freshly Ground Black Pepper – to taste (divided)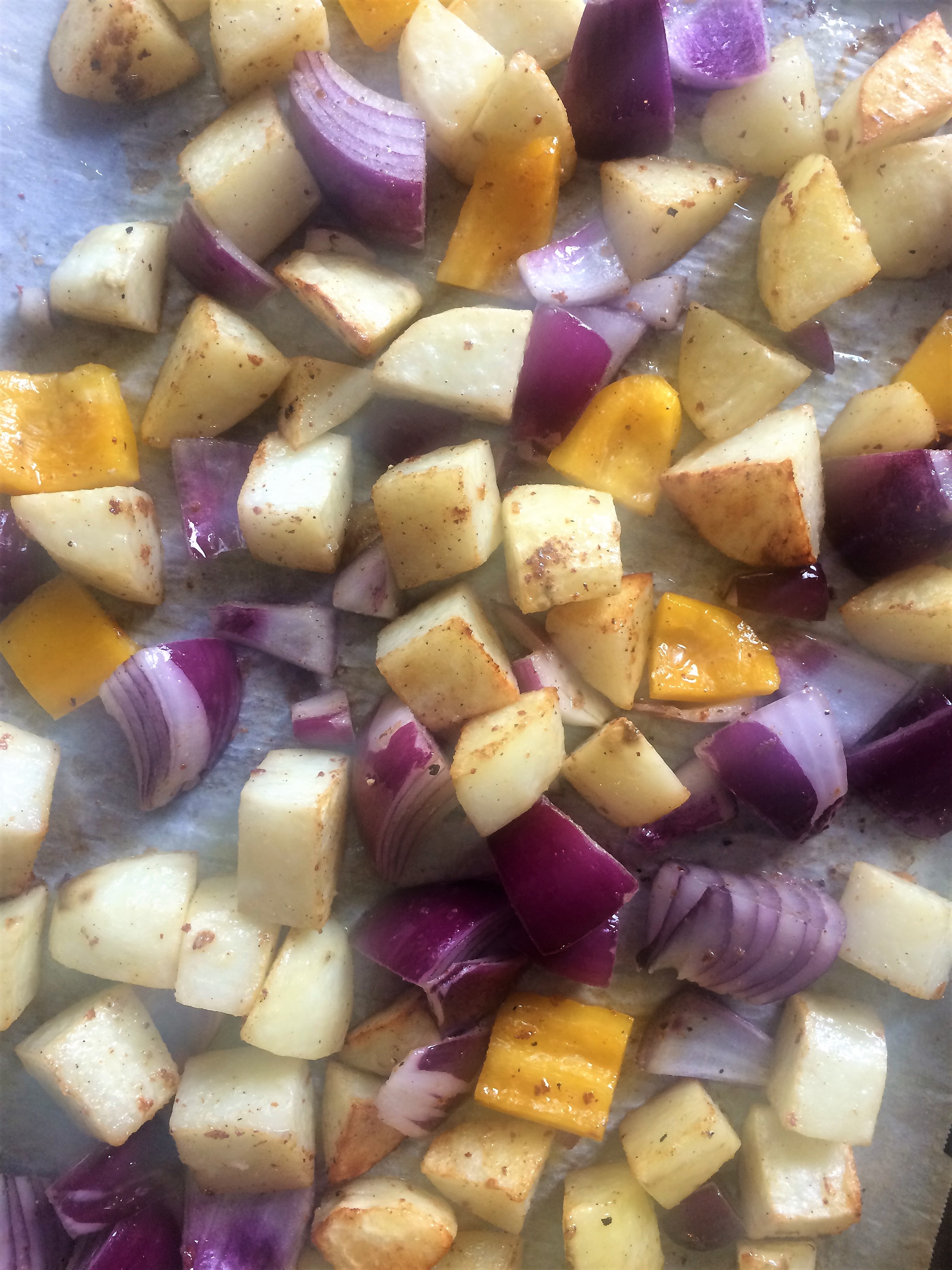 Method:
Preheat the oven to 425 degrees F or 220 degrees C.
*  (please see note below) In a large mixing bowl, toss together the potatoes with half the amount of each of garlic powder, olive oil, butter, salt, cayenne pepper and black pepper. Pour potatoes onto a rimmed cookie sheet. Bake for 15 minutes, shaking the pan once in between.
In the same mixing bowl that you used for the potatoes, add onion, green bell pepper, red (or yellow) bell pepper, and remaining amounts of garlic powder, olive oil, butter, salt, and black pepper. After 15 minutes of roasting the potatoes add the onion and bell peppers to that potatoes and toss everything together before returning to the oven for another 10 minutes. Then raise the heat to 500 degrees F or 260 degrees C and bake until crisp and brown, about 5 more minutes. Turn the oven off, take out the cookie sheet and check for seasonings. Sprinkle with a little more salt and pepper if needed before serving.
Serve with scrambled eggs (recipe here), toast or biscuits. I hope you will like these potatoes as much as we do..:)
Love – Vaishali.
* Note – I have tried mixing and tossing all the veggies together in the oven at once. But the onions and bell peppers get overcooked and charred in the time it takes to nicely roast the potatoes. If this is not a concern for you, please feel free to mix everything together at once and bake for 25 minutes at 425 and then 5 minutes at 500.
Tools used:
Mixing bowl
Knife and chopping board
Measuring spoons
Cookie sheet
Oven
Spatula