This is one of those best out of waste kind of recipes where leftover black Bengal gram (kaala chana) can be transformed into a flavorful and nutritious vegan and gluten free dish. Now, I won't go about specially making chane (plural of chana..:p) for this recipe, but if you have some leftover chane hanging out in the refrigerator, cooking them with some rice is a match made in heaven! Sookha Kaale chane (recipe here) is an energy powerhouse kind of dish, as Bengal gram is full of plant based protein. So when you make your next batch of sookhe kale chane and have some leftovers (or intentionally sneak out a bowl and save for making this pulao later), do not worry about what to do with them. Sookhe Kaale chane freeze beautifully, so you can freeze any leftovers in a freezer bag for up to three months and then pull them out to make this pulao.
Pulao or Pilaf is the name given to a rice dish that is traditionally cooked with spices and/or vegetables in stock or broth. There are numerous versions and recipes of Pulao cooked in our families and this recipe of kaala chana pulao is just one of those. I like to make this pulao with some South Indian flavors, which I bring about by using mustard seeds, and curry leaves. However, please do not fret if you do not have curry leaves, the pulao can be made without these, though the flavors might be a tad bit different.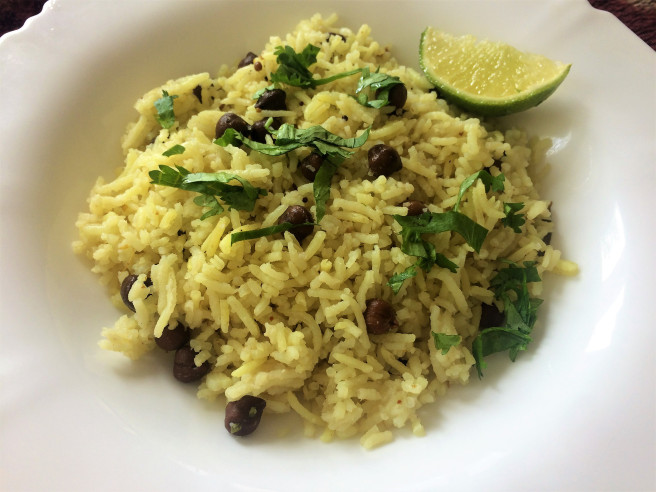 Ingredients:
Basmati rice – 1 cup
Cooked Black Bengal gram – ¾ cup (recipe here)
Olive oil/ Ghee – 1 tablespoon
Cumin seeds – ½ teaspoon
Mustard seeds – ½ teaspoon
Curry Leaves – 1-sprig (optional), leaves stripped
Green Chili – 1, chopped
Ginger – ½ inch piece, grated or minced
Onion – ½, sliced
Turmeric – ¼ teaspoon
Salt – to taste
Lime juice – from half a lime
Cilantro – 4-5 sprigs, leaves stripped and chopped
Method:
Start by rinsing the rice a couple of times in room temperature water. Let the rice soak while you chop and prep other ingredients.
Set a heavy bottom pan on medium high heat and add oil/ghee to it (use olive oil if making it vegan). Once the oil is hot and shimmery, add the mustard and cumin seeds and wait for them to crackle, at which point add in the curry leaves. Stir and wait for 30 seconds before adding the chopped green chili and sliced onions. Mix and stir for about a minute or two or until the onions turn a light pink. Add turmeric followed by ginger and cook until the raw smell goes away, about a minute. At this point, drain the rice and add to the pan. Stir around until the rice are coated with the masala and lightly toasted, a minute or two. Add this point; add the cooked chane, salt and black pepper. Add 2 cups of water, increase the heat to high, and cover the pan with a lid. Once the water starts to boil, lower the heat to lowest setting on your stove and cook covered for about 20 minutes (just like you would cook plain basmati rice, recipe here).
After about 20 minutes, turn the heat off and let the pulao sit, covered for another 10 minutes. After this time, gently fluff the rice with stem of a fork, stir in lime juice and cilantro. Serve hot with yogurt. Enjoy!
Love – Vaishali.
Tools used:
Knife and chopping board
Grater
Measuring cups and spoons
Pan/skillet with a lid
Spatula + Fork