In your opinion, which food group do eggs belong to – vegetarian or non-vegetarian? Chances are that if you grew up in India, you consider eggs non-vegetarian. Now vegan vs. vegetarian advocates might differ on this. However, growing up in a traditional Hindu Brahmin family, I grew up thinking that eggs were strictly non-veg. In my grandma's kitchen, no eggs were allowed. My mom, who has never tasted an egg to date, is more liberal. We grew up eating eggs cooked in all different forms. If you think about it, for someone who follows ovo-lacto diet, eggs are like the most prized delicacy. And when you are talking about eggs coated with a flavorful masala of onions, tomatoes, ginger, garlic and major aromatics, it is a whole different ball game.
The recipe run down is simple – a masala that has a depth of flavor, hard boiled eggs, peeled and pan fried to get a crispy skin and then the masala and the eggs get married to live happily ever after. Amen! It is a simple dish, so quality of the ingredients used matters, especially the eggs. There is a huge difference between the taste and flavor of a fresh, farm-raised (may I say organic?) egg and eggs that have been stored in the walk-ins of grocery store for days. If possible, take a walk (or drive – duh) to your local farmers market and try the eggs from a local farmer's stall. You will enjoy the freshness and flavor of what you paid for while supporting a local farmer. A total win-win situation! Eggs are protein bombs – so if you want to add a protein punch to your vegetarian diet (there we go again!), eggs are your best-friends!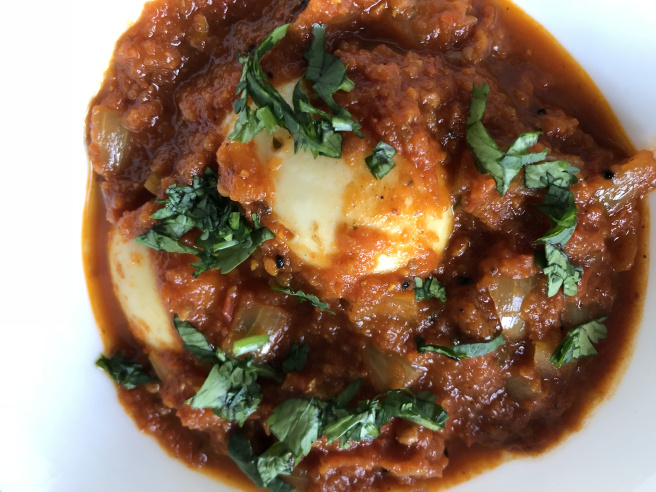 Ingredients:
Eggs – 6
Onion – ½, medium, roughly chopped
Ginger – 1 inch piece
Garlic – 2 cloves
Tomatoes – 2, large, roughly chopped
Green chili – 1
Oil – 1.5 tablespoon
Cumin seeds – 1 teaspoon
Kalaunji/Nigella seeds – 1 teaspoon
Turmeric powder – ¼ teaspoon
Red chili powder – ¼ teaspoon (optional)
Coriander powder – 1 tablespoon
Tomato ketchup – 1 tablespoon
Sugar/honey – 1 teaspoon
Garam masala – ¼ teaspoon
Salt – to taste
Cilantro – 4-5 sprigs, leaves stripped and chopped (optional)
Method:
Set a medium sauce pan three fourth full of water on high heat. Cover and let the water come to a boil. Using a ladle, gently add the whole eggs to the pan, one by one. Set the timer to 12 minutes to cook the eggs. Perfect hard boiled eggs every time!
While the eggs are cooking, blend together onion, ginger, garlic, tomatoes and green chili into a fine paste. Set a heavy bottomed skillet over medium heat and add oil to it. Once the oil is nice and shiny, add the cumin and nigella seeds. After about 30 seconds, carefully add the blended paste. I say carefully because it might splutter. Add turmeric, red chili, coriander powders and mix. Cook the masala until all the moisture evaporates and you can see tiny droplets of oil appear on the edges of the masala. The masala slowly begins to come together and this method is called "bhoono". I love bhoonoing all my masalas for my curries as it adds a deep flavor that is otherwise hard to achieve. The whole bhoonoing the masala will take 10-15 minutes. If at some point, the masala begins to stick to the bottom of the skillet, sprinkle a few drops of water to loosen the bits and continue bhoonoing.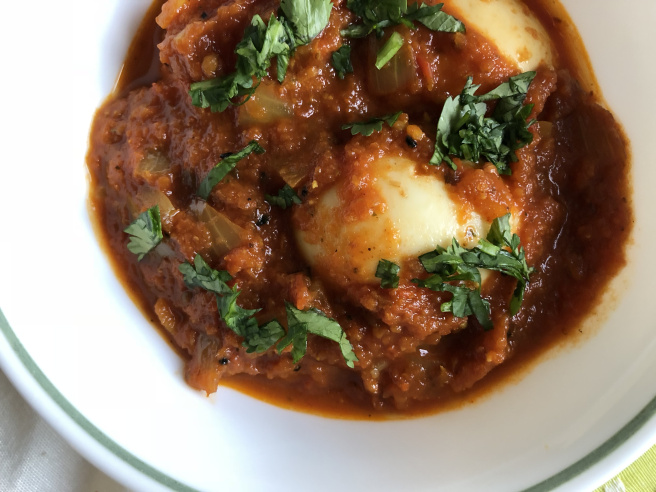 Once the timer on the eggs get done, turn the heat off and carefully drain the hot water. Fill the sauce pan with eggs in it with cold water and let sit for few minutes. After the eggs have cooled down a bit, peel the eggs. Set a non-stick pan over medium heat and add just a few drops of oil to it. Add the peeled, boiled eggs to this pan and cook them for just a few minutes to get a crispy texture on the egg surface. Set aside.
If your masala is almost done, add the tomato ketchup and sugar/honey to it to take care of the tartness of the masala. Add about a cup of water to the masala along with salt and increase the heat to high to bring the curry to a boil. Lower the heat to medium and let the curry bubble away. I like to cut the eggs in half before adding them to the prepared masala. This way some of the yolk flavor goes into the curry. But totally your call – keep the boiled eggs whole or cut in half.
Add the eggs to the masala along with garam masala and gently mix. Turn the heat off, give a taste check and cover with a lid to let the flavors marry. Sprinkle with chopped cilantro before serving. Enjoy with chapathi (recipe here) or rice (recipe here).
Love – Vaishali.
Tools used:
Sauce pan
Skillets
Spatula
Knife and chopping board
Blender
Measuring spoons and cups