So rich and buttery while being crunchy, these egg less cookies have a delicious combination Of flavors. Sprinkled with sugar on top for an extra sparkle this holiday season!
When I set out to make a list of cookies I wanted to bake for this Holiday season, I knew I wanted to make some of my favorite cake recipes into cookies. With no idea how I will do it, I thought I'll plan on it. As November rolls around, cranberry fever takes over the country. Dried cranberries are my absolute favorite and I use them often in making homemade granola (recipe here), in oatmeal, or straight up as a snack with nuts. Last month, I shared the recipe of my citrus scented carrot cranberry loaf cake with you all. Since I already have carrot cake cookies recipe on the blog, I wanted to make just cranberry and orange cookies for the Holidays. Hence the name - citrus scented egg less cranberry cookies.
Jump to Recipe
Dr. A is not a very big fan of chocolate which is just one of the many ways both of us are polar opposites to each other. Anyways, he does not enjoy regular chocolate chip cookies or mocha cookies (my favorites). He enjoys oatmeal raisins, macadamia nut, snicker doodles or anything fruity. So these citrus scented egg less cranberry cookies sounded right up his alley. Though most of the cookies I make have eggs in them, I kept these egg less, just like the whole wheat thumbprint cookies (recipe here). I like the bite that these egg less cookies have and also love the buttery flavor. Cookie recipe no. 2 of the season based on my citrus scented carrot cranberry loaf cake is here for you. Cakish cookie..hah!
Recipe Run Down

Just like the jam thumbprint cookies, these start with creaming butter and sugar along with orange zest and juice. Give sweetened dried cranberries a run through in the stand mixer along with some sugar so as to break them apart a bit. The only dry ingredient is flour which makes life easier. Some vanilla goes in until everything comes together as a dough.
I shaped the dough into a log and chilled it for almost 24 hours. You don't have to, I made the dough one night and had to wait until the next night to bake it. I would still recommend chilling it for a few hours so that the butter can work its magic while baking. After it's beauty sleep, unwrap the dough and using a sharp knife cut it into ¼th of an inch thick slices. I rolled mine in sugar but that is optional. Bake at 325 on a parchment/silicon mat lined sheet for about 12 minutes. Let cool and enjoy.
Here is a handy dandy printable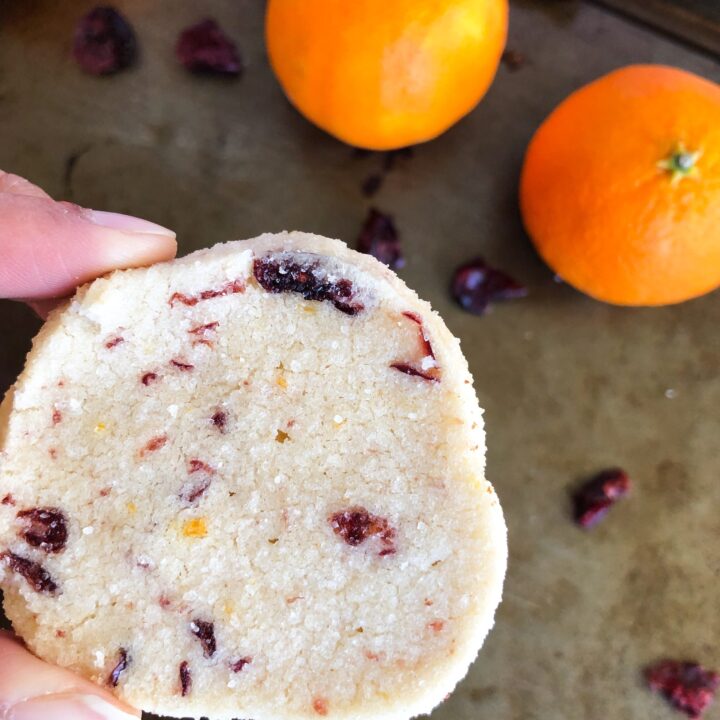 Citrus Scented Egg Less Cranberry Cookies
So rich and buttery while being crunchy, these egg less cookies have a delicious combination Of flavors. Sprinkled with sugar on top for an extra sparkle this holiday season!

Ingredients
½

cup

dried cranberries

like craisins

1

cup

sugar

divided

1

cup

butter

room temperature

1

teaspoon

pure vanilla essence

1

orange, zested and juiced

about 2-3 tablespoon juice

2 ½

cups

all purpose flour
Instructions
Plan Ahead - this recipe calls for chilling the dough. Also take the butter out of the refrigerator ahead of time.


Add the cranberries and ¼ cup sugar to the bowl of your stand mixer and mix on medium high speed. This will help in breaking up the cranberries into smaller bits.


Add butter and ½ cup more of sugar to the mixer and mix at high speed till the mixture is light and creamy.


Now add the vanilla, orange zest and juice. With the mixer running on low speed, carefully add the flour, ½ cup at a time. Mix until the dough comes together. (See notes)


Cut a piece of plastic wrap and lay it on your kitchen counter. Dump the dough out on the plastic wrap and shape into a smooth log about 1.5 inches wide.


Wrap the dough completely, fold the ends of the plastic wrap and put it in the refrigerator to chill for at least two hour and upto 24 hours.


After the dough is chilled, take it out and preheat your oven to 325 degrees F or 163 degrees C. Put parchment paper on 2-3 cookie sheets.


Unwrap the dough log and using a very sharp knife, cut it into ¼ inch thick slices. Roll the cut slices into remaining sugar and lay on the cookie sheet.


Bake the cookies for about 12 minutes, rotating the cookie sheets at about 6 minute mark. I also switch the cookie sheets among different rack positions at this time so that they bake evenly.


Take the cookies out of the oven and let cool in the cookie sheet for 5 minutes before removing to a cooling rack and letting them cool completely.


Enjoy the cookies yourself or pack them in little baggies or boxes to share with friends and family.

Notes
If the dough is not coming together, you can add orange juice or milk 1 tablespoon at a time until it happens. It should not take you more than 2 tablespoons.
Sliced, unbaked cookies can be flash frozen and then stored in freezer bags for later. Bake straight from the freezer. Add 2-3 minutes of baking time.
I hope you will give these a try and enjoy them as much as we at TKD do.
Love - Vaishali.
Tools Used:

Stand Mixer:
Measuring Cups:
Measuring Spoons:
Cookie Sheets:
Knives:
Cooling Rack:
Supplies you might need:

Craisins: Vanilla: