It is super busy time of the year but also oh so fun! Festive, joyous, season of giving and celebrating what makes us all more similar than different. We all (or most of us) feel grateful for our own health, health of our family; being surrounded by great friends, family, mentors and guides; opportunities that exist to succeed and reach our dreams; and a drive to be a better human being every day. Above all, the smiles and happiness that you see all around – whether its little kids taking carriage rides around downtown of your small college-town, Christmas lights displayed everywhere, your sweet neighbor bringing a loaf of cranberry bread to wish you happy holidays or sweet children caroling in the neighborhood – it's just so heartwarming and beautiful.
Yesterday, while waiting in the checkout line in Target, the wonderful woman ahead of me had a cartful of toys, blankets, and other goodies and as I was emptying my cart on to the conveyor belt, I noticed that she was paying for all the stuff out of an envelope marked "Adopt A Family". It instantly warmed my heart and brought a smile to my face. A family somewhere is going to receive their Christmas because of generosity, kindness and love of complete strangers. That is what I am talking about.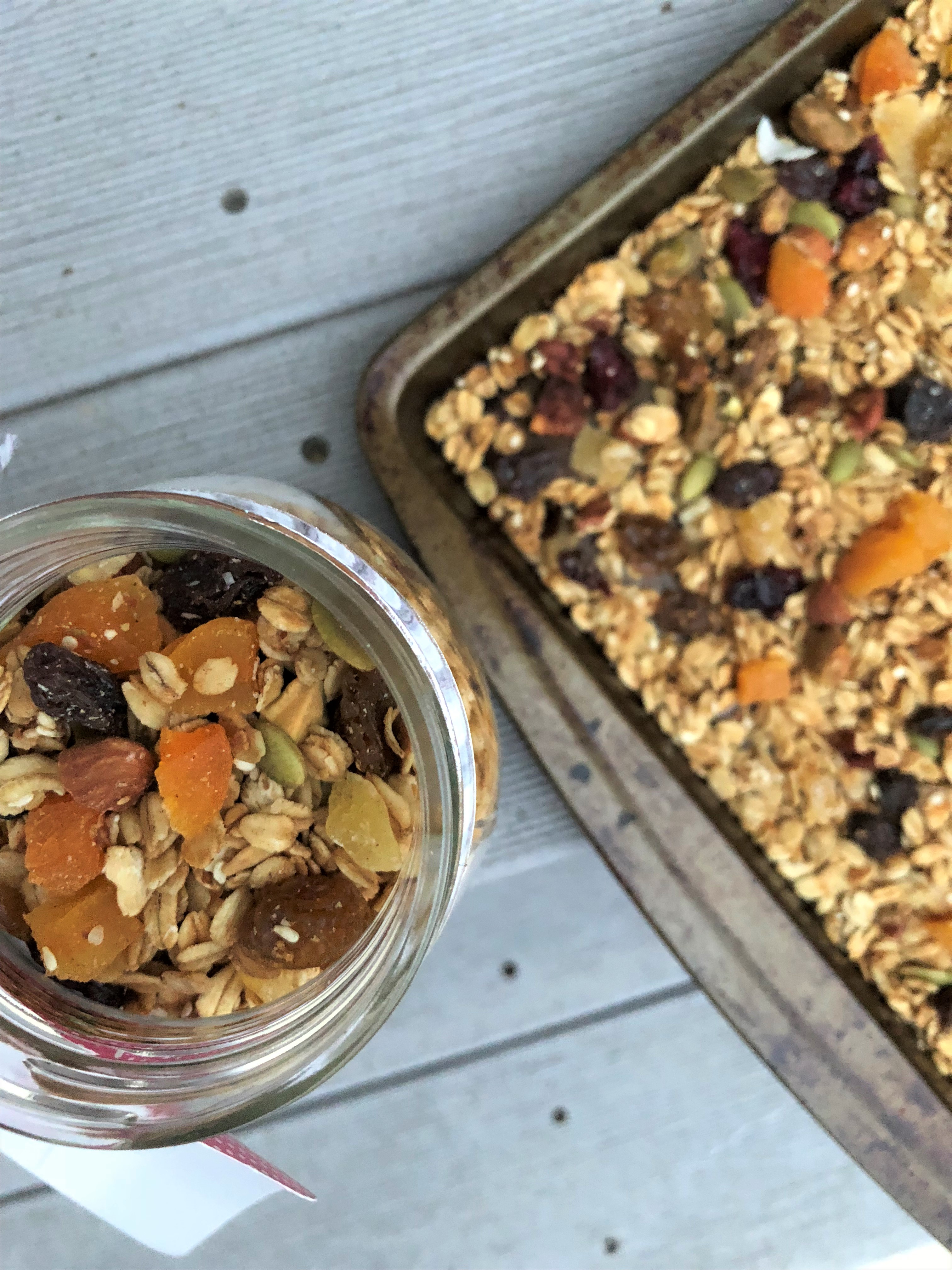 One way we show our gratitude, love and appreciation for the teachers of our kids is during the Holidays. Seriously, teachers are one of the hardest working people in my opinion. The holidays are just an excuse to bring the teachers a gift – big or small, inexpensive or a splurge, homemade or store-bought – does not matter. What matters is the thought behind it and personally, I always try to pack something homemade for our teachers – just as an extra personal touch. This year we are doing homemade granola.
The recipe is from Jennifer Perillo's book Homemade with Love. I have written earlier about my love for Jennie (read it here) and her recipes. This granola recipe is one of my favorites. I do not remember how many times I have made it. It is so simple and you really cannot go wrong with it. It has all the components of a complete nutritious breakfast, if you will. Oats, nuts, dried fruits, seeds, and no refined sugars. Dr. A likes to keep a mason jar full of this granola on his desk at work to snack on. It is great with milk, sprinkled on yogurt or just as is. Use whatever nuts and dried fruits you like and make it your own.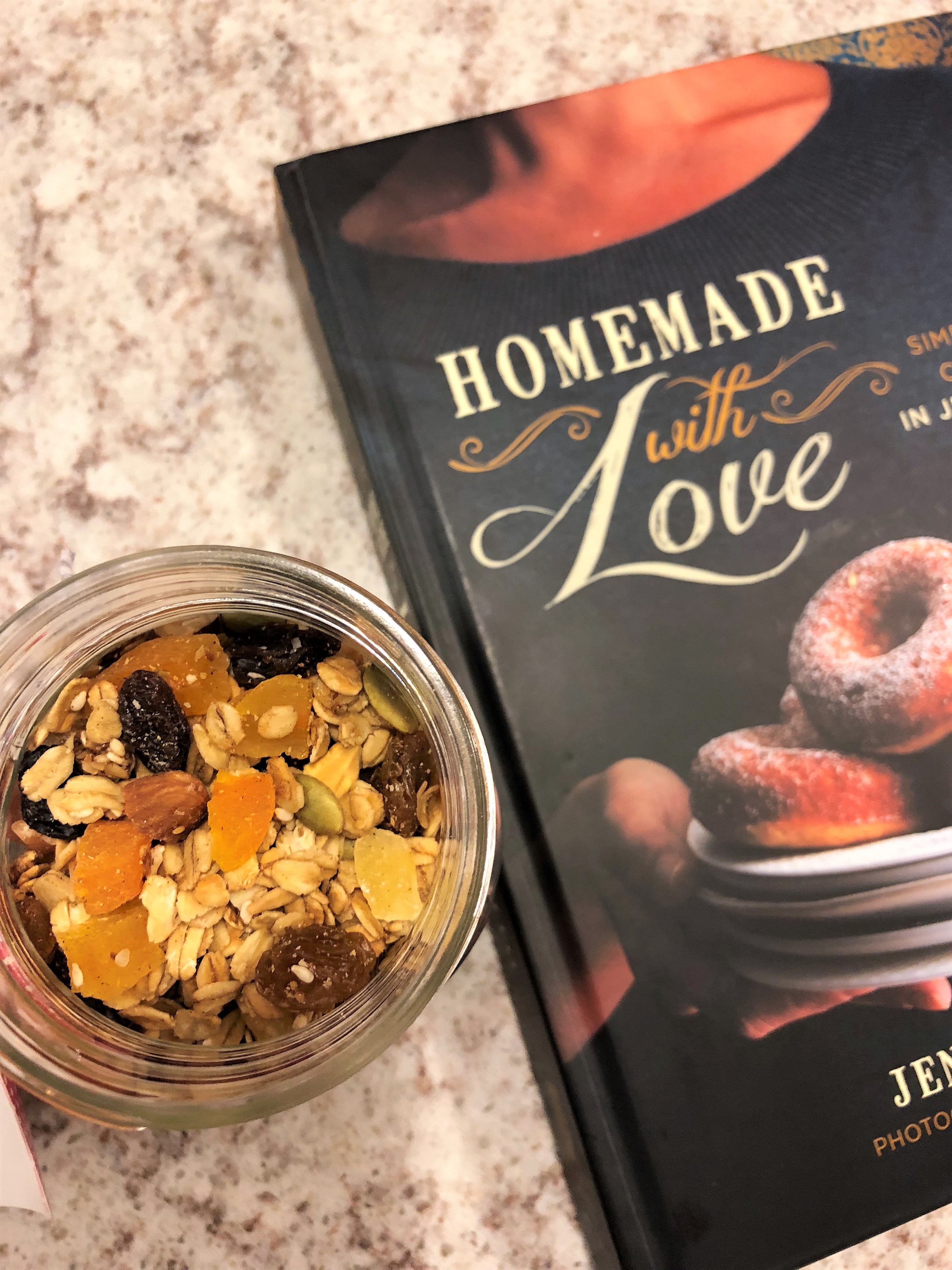 Adapted from Homemade with Love
Ingredients:
Rolled oats – 3 cups
Mixed nuts – 1 cup (for this batch I used pistachios, almonds, pecans and pumpkin seeds)
Sesame seeds – 2 tablespoon
Maple syrup – ¼ cup
Extra virgin olive oil – ¼ cup
Salt – ¼ teaspoon
Ground cinnamon – ½ teaspoon
Mixed dried fruit – 2 cups (I used tropical medley, candied ginger, apricots, cranberries and raisins)
Method:
Preheat the oven to 300 degrees F or 150 degrees C.
In a big mixing bowl, mix together oats, nuts, sesame seeds, extra virgin olive oil, maple syrup, salt and cinnamon. Spread it on a big cookie sheet. Bake for 30 minutes, shaking the pan/cookie sheet once midway during the baking time.
Once done, turn the oven off and take the cookie sheet out. Mix the dried fruit and let cool before storing in mason jars or other airtight containers. The granola can be stored in the pantry for up to two weeks. Like that is going to happen! Hah!
Love – Vaishali.
Tools used:
Oven
Cookie sheet
Measuring spoons and cups
Knife and chopping board
Mixing bowl
Rubber spatula