These carrot cookies are goodness of a carrot cake in a handy little cookie. Yes please! It's funny how as Easter rolls around the World Wide Web gets flooded with all kinds of carrot recipes. To say that Easter Bunny is coming so get the carrots out. Another way or my way to look at it is purely environmental. Easter almost marks the beginning of spring (in the Northern hemisphere, of course), and that is around when all the beautiful flowers and fresh spring vegetables and fruits start making appearances. Carrots, asparagus, early strawberries, fresh spinach, rhubarb, and many other gems of the nature's bounty.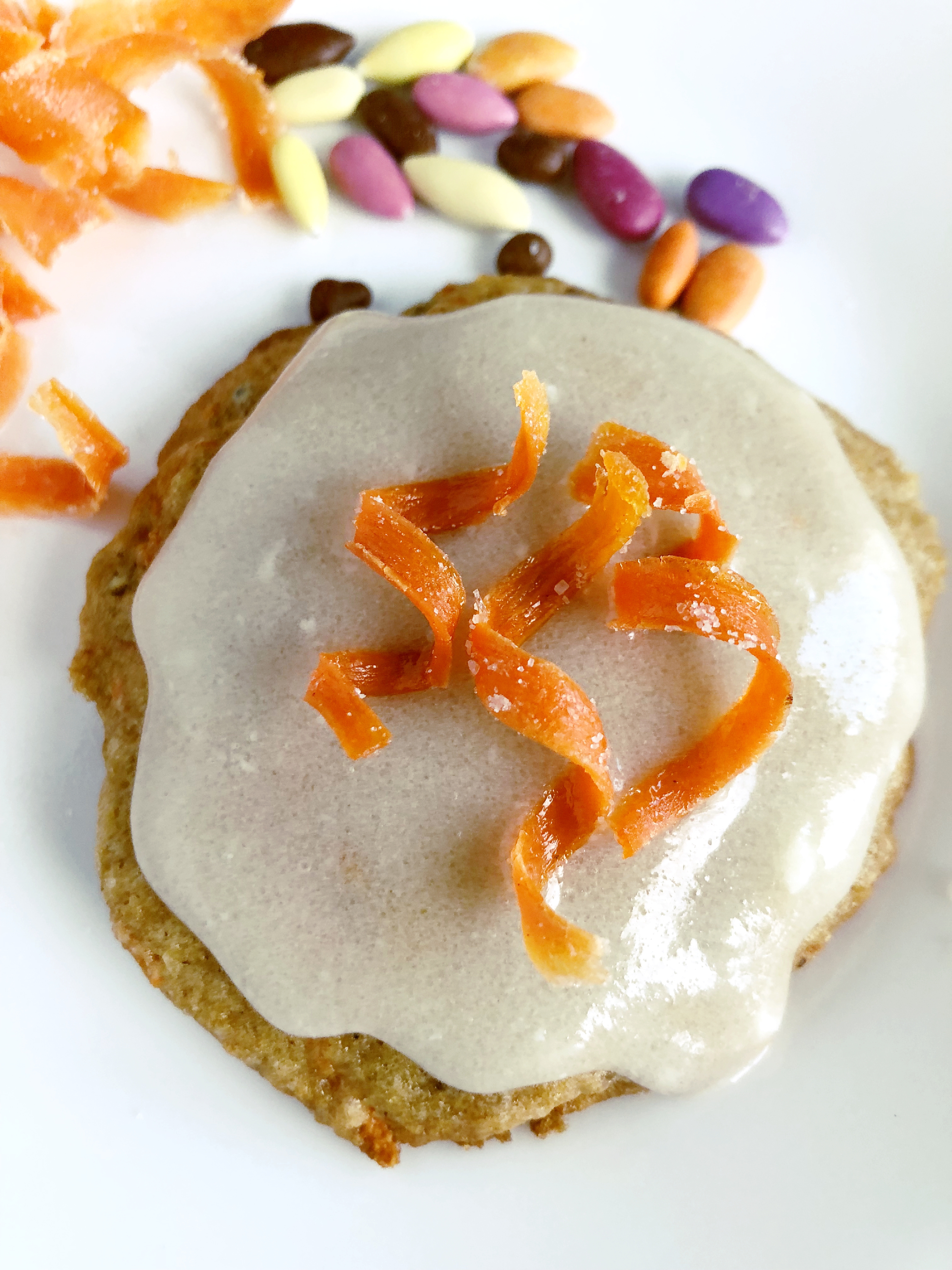 Anywho, the point is Easter or not, carrot cake is one of my favorite kind of cakes. However, today I want to share with you carrot cake cookies. These cookies are awesome. Think of just the right serving size of a carrot cake that is not as sweet but just as great. The lightness and softness of a cake in the form a handy little cookie (have you seen these cookies and these ones?). I made the cookies nut-free by using dye-free, chocolate covered sunflower seeds. You can sure use walnuts or even pumpkin seeds; just make sure to chop them small. Sunflower seeds are the perfect size. Some of the cookies were frosted with a maple frosting and some were left naked.
Oh, and I also made candies carrot ribbons. It was such a fun project and they turned out great. I am so proud of myself. So, friends try this cookie recipe, frosting or no frosting, candied carrot ribbons or not, with or without nuts – take it in your stride!
Nut-free Carrot Cake Cookies
The goodness of a carrot cake in a cookie. These carrot cake cookies are a perfect serving of the flavorful carrots, cinnamon, nutmeg and sunflower seeds.
Ingredients
For the cookies:
½

cup

unsalted butter

at room temperature

½

cup

sugar

¼

cup

brown sugar

packed

1

large egg

room temperature

1

teaspoon

pure vanilla extract

1 ¼

cup

all purpose flour

1

teaspoon

baking soda

½

teaspoon

ground cinnamon powder

¼

teaspoon

ground nutmeg powder

A

pinch

salt

1

cup

grated carrots

about 2 carrots

½

cup

sunflower seeds

See notes
For frosting:
½

cup

confectioner's sugar

1

tablespoon

unsalted butter

room temperature

1

tablespoon

maple syrup

A

splash

pure vanilla extract

Milk for adjusting consistency

a tablespoon or so
For the candied carrot ribbons:
I carrot

peeled into ribbons

½

cup

sugar

½

cup

water

2

tablespoon

sugar

for dusting
Instructions
To make the cookies:
Preheat the oven to 350 degrees F or 175 degrees C. line cookie sheets with parchment paper or silpat.

In the bowl of your stand mixer (fitted with paddle attachment) or a deep mixing bowl, cream together butter, sugar and brown sugar till light and creamy, about 2-3 minutes.

Add egg and vanilla and mix until incorporated.

In a mixing bowl, add all purpose flour, baking soda, nutmeg, cinnamon and salt and whisk to combine.

Add the dry ingredients to wet and mix until just combined.

Stir in the grated carrots and sunflower seeds.

Drop dough by rounded tablespoonfuls onto cookie sheets. These cookie do not spread a lot.

Bake for 12-13 minutes, till the edges just start to brown. Removw fom oven, let cool on the cookie sheets for a few minutes and then transfer t a coling rack and let cool completely.
To make frosting: (See Notes)
Blend everything together till smooth and creamy. Add milk to adjust consistency.
To make the candied carrot ribbons: (See Notes)
Preheat the oven to 200 degrees F or 95 degrees C.

In a heavy bottomed sauce pan heat together water and sugar on medium high heat. When the syrup attains a gentle boil, add the ribbon and cook for 10 minutes.

After 10 minutes take the ribbons out of the sugar syrup, separate and lay on a parchment lined cookie sheet. Bake for 25 minutes till translucent.


Take the cookie sheet out and while still warm, start curling the ribbons using a straw. Wrap each ribbon gently around a straw, and remove on to plate that has sugar on it.

Gently roll the curled ribbon in sugar. Repeat till all the ribbons have been curled. You will have to work quickly so that the ribbons don't cool down too much before curling.
To assemble:
Once the cookies have cooled down completely, frost them and add candied carrot ribbons or more sunflower seeds.
Notes
You can use pumpkin seeds or a nut of your choice. Make sure to chop them into small pieces.
The cookies taste great even without frosting and the candied carrot ribbons. So these two steps are optional.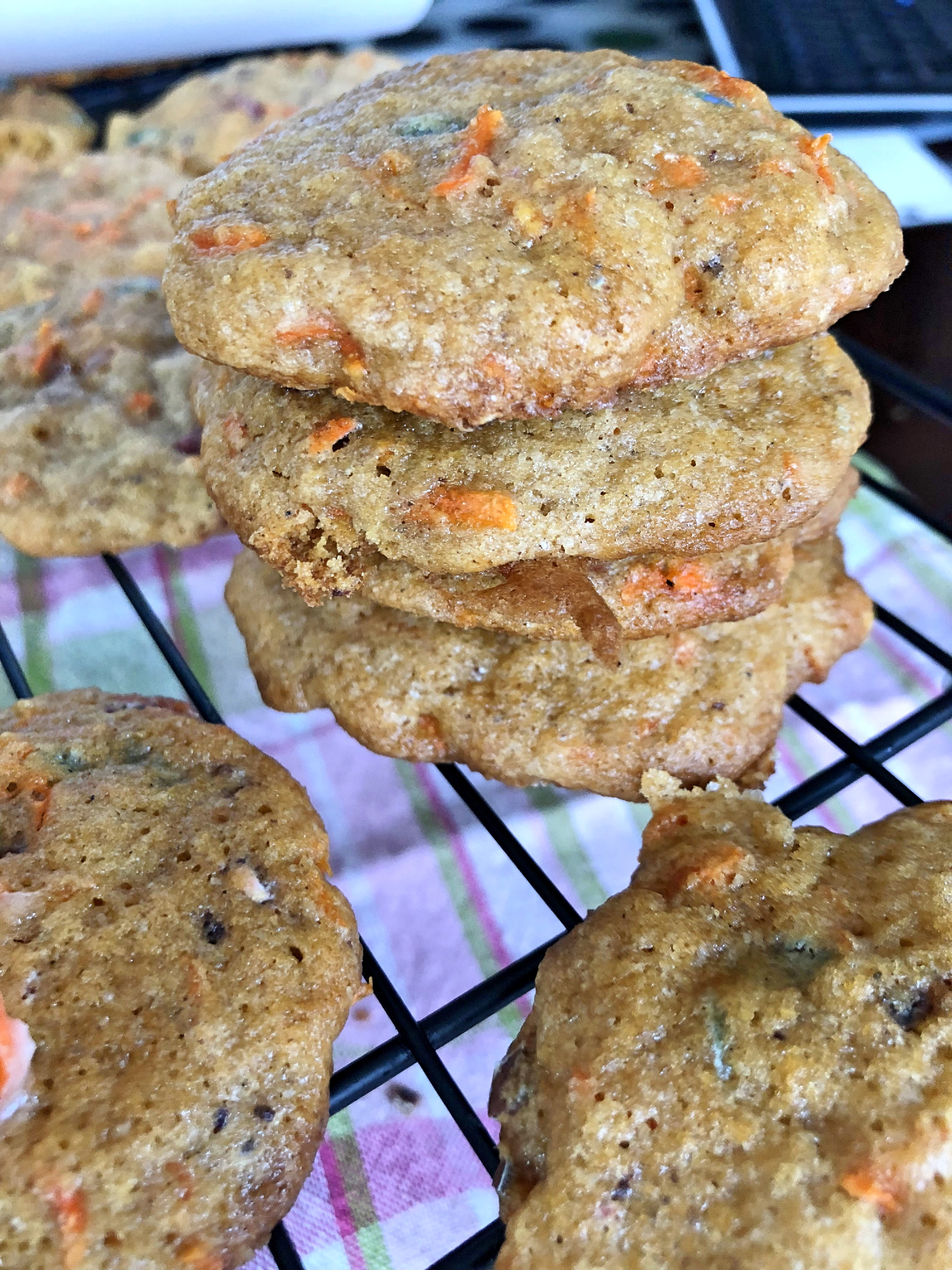 Enjoy the cookies as a dessert or with a cup of milk.
Happy almost weekend!
Love – Vaishali.
Tools used:
Stand mixer (I use my KitchenAid) or mixing bowl+hand mixer
Mixing bowl
Measuring Cups and Measuring Spoons
Box Grater
Peeler
Cookie sheets
Oven
Sauce pan
Straw
Whisk
Cooling rack (I have this one)