A handful of easy to find ingredients and the easiest recipe ever will make you a fan of my Greek take of this baked feta pasta.
Trending on Tik Tok
Have you been paying attention to Tik Tok? I have to confess that I recently started learning more about and how it's driving food trends. First this tortilla trend and now the viral baked feta pasta recipe. I found out about this baked feta pasta recipe trend through Alphafoodie. The more videos I watched, the more fun the idea seemed. So, here we are with my Greek version of baked feta pasta trend with spinach and kalamata olives.
Jump to Recipe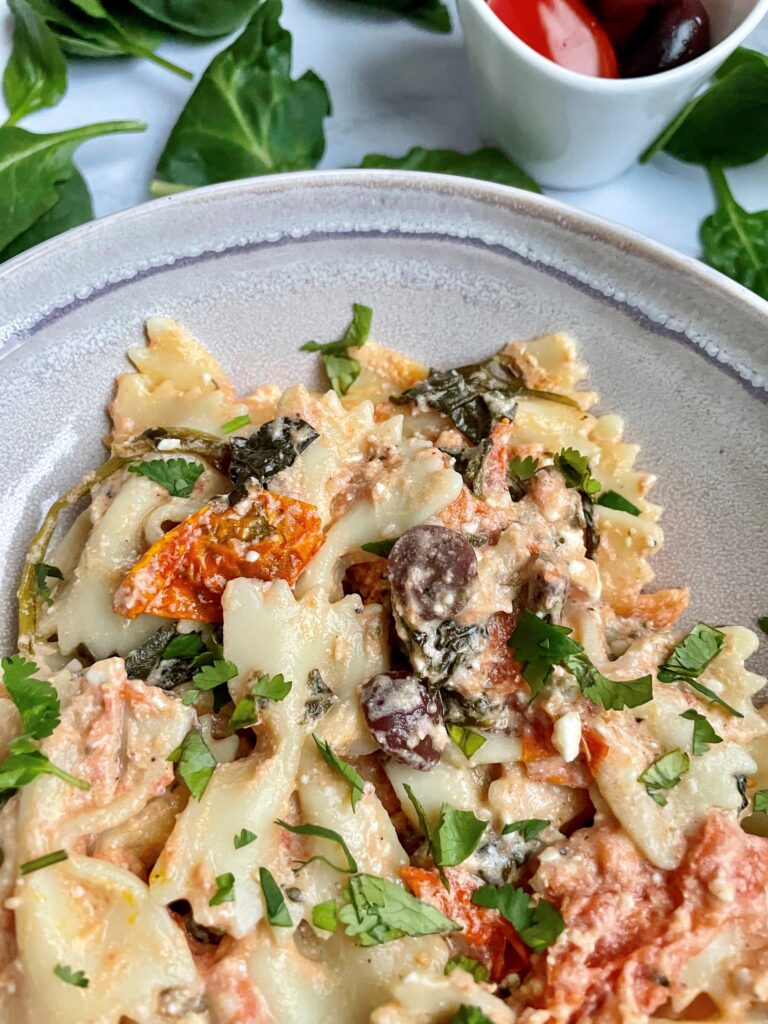 Feta Cheese
Undoubtedly, Feta is the star of this baked feta pasta. Simple, easy to find quality ingredients like spinach, garlic, cherry or grape tomatoes, olive oil, thyme and kalamata olives add a Greek flair to this pasta dish. The set up is quite simple yet the flavors are exquisite. Very very few recipes on this blog can boast of being knife and chopping board free. This one takes the crown.
Simply start by dumping baby spinach in a baking dish, add some cherry tomatoes, thyme, and garlic. I love the combination of tomatoes, herbs and olive oil (like in this recipe). Give it a drizzle of olive oil and add some salt and freshly cracked black pepper.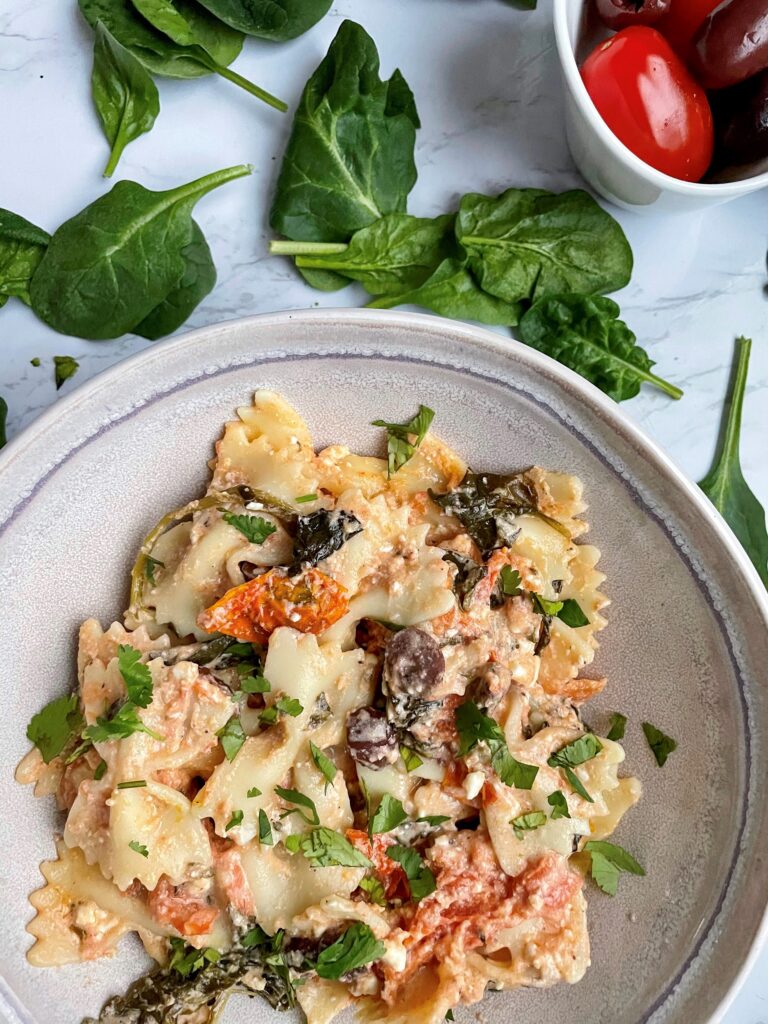 Spread the tomatoes out, lay the feta block, drizzle it with some more olive oil and off into the oven it goes. The magic happens in the oven - the spinach becomes soft, the tomatoes burst and release their juices, garlic sweetens, thyme flavors the oil and the feta softens. Mix it all together and you have a heck of flavorful sauce. Add cooked pasta and enjoy!!
Craving more? Make sure to enter your email in "Never miss a post" box on the right. You will get new recipes and a newsletter delivered straight to your inbox! And stay in touch on Facebook, Twitter, Pinterest and Instagram for all of the latest updates.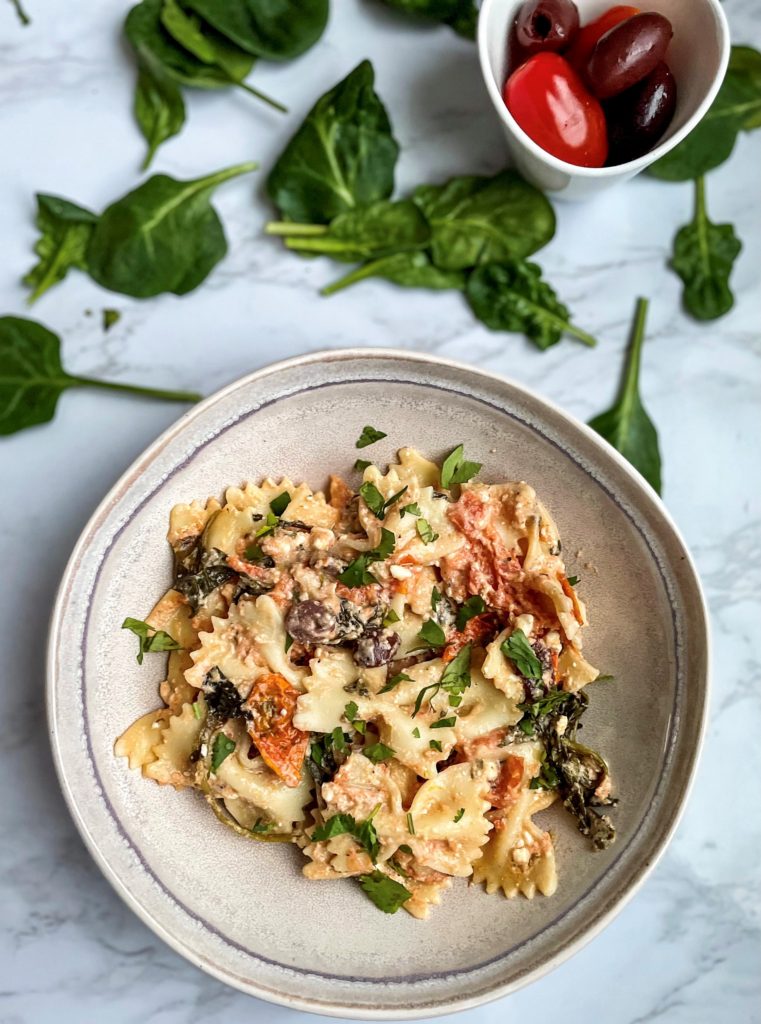 Here's your Handy Dandy Printable:
Greek Baked Feta Pasta
A handful of easy to find ingredients and the easiest recipe ever will make you a fan of my Greek take of this baked feta pasta.
Ingredients
4

cups

loosely packed baby spinach

2

cups

cherry tomatoes

4

cloves

of garlic

peeled

3

tablespoon

olive oil

divided

4-5

sprigs of thyme

½

cup

sliced kalamata olives

1 8

oz

block Feta cheese

8

oz

dry pasta
Instructions
Preheat the oven to 400°F. Set a big pot of salted water to boil.

In an oven-safe dish (about the size of 13x9-inch baking dish), add the spinach and garlic cloves.Stir in the cherry tomatoes, 2 tablespoons olive oil, salt and ½ teaspoon black pepper. Add thyme sprigs.

Push the tomatoes to the sides of the dish and then place the block of feta cheese in the center. Drizzle the remaining 1 tablespoon olive oil on top of the feta and crack some fresh black pepper on it.

Place the dish in the oven and bake until the cheese has softened and the tomatoes are roasted, about 25 minutes.

Add your to the pot of salted boiling water and cook until al dente, about 10 minutes. Drain the pasta and set it aside.

Take the dish out of the oven. Strip the thyme leaves off of the sprigs using a fork, Using the same fork, mash and mix everything together to make a "sauce". Add the drained pasta to the sauce, mix and enjoy!
★ Did you make this recipe? Don't forget to give it a star rating! I love to hear from you guys. And if you do make this recipe, don't forget to tag me on Instagram and Facebook! I love to look through your creations!!
Love – Vaishali