"Long time no see" is a common phrase that I grew up using. Does anyone use it anymore? I do not even know if this expression is used in places other than Indian high schools/colleges. The phrase is commonly used when you meet someone after a long time. Hence, here, today!  I miss our virtual meeting place, this journal, when I do not come and talk to you all for sometime. But what is a girl supposed to do? Summer has gotten me big time. I mean June, seriously? Ms. Little A is out of school, a trip to Bay Area in California for family commitments, work piled up, and my sweet garden always calling my name. So, as much as I miss being here, I just cannot get around to. Hope you understand.
Jump to Recipe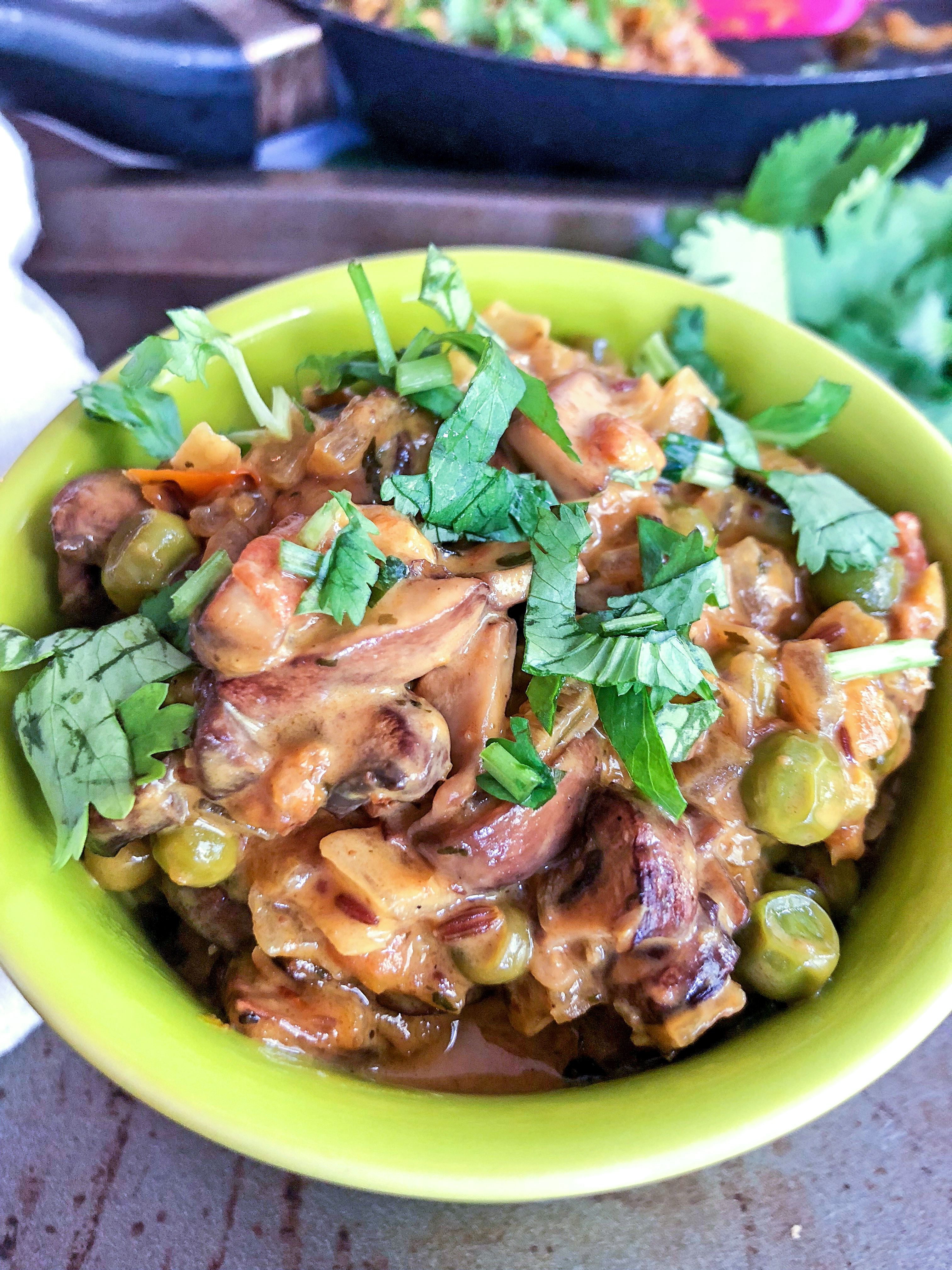 But today is different and I really want to keep it that way. Today, I am here with the recipe of Lehsuni Khumbh for you. What in the world is that, you ask? Lehsuni means garlicky in Hindi and Khumbh means Mushroom, hence garlicky mushrooms. A fancy title that you might most likely stumble upon in a restaurant menu. This recipe is a mix of two recipes that I have here on The Kitchen Docs. One is mushroom mutter (find it here) and the other is curried chickpeas with greens and paneer (recipe here). I just went with whatever ingredients I had on hand and whatever way in flavor town my sense of smell lead me to. So here we go - Garlic Mushroom Curry made in a creamy sauce.
My mom is not a big fan of mushrooms. Being a pure vegetarian (she does not even eat eggs), the texture of mushrooms is too meaty for her. My dad, on the other hand, loves them. Being an olericulturist by training, he always experimented with growing all kinds of vegetables in our garden. In a dark and dingy room on our terrace, white button mushrooms grew in a funky smelling concoction of dirt and moss. My sister and I would get a kick out of harvesting those pearly whites and bring them downstairs, where my mom would make a delicious curry with them. And never try it herself.
Garlic and roasted cumin powder are the two prominent flavors in this dish, so I would strongly advise against skipping or substituting them. Take time to make your own toasted (or roasted?) cumin powder. You can find the instructions in this post. It is a game changer, the store bought one is just not the same. Heavy cream and kasuri methi give this curry a rich flavor and aroma. The other invitees to the party are the regulars – onions, tomatoes, turmeric powder, garam masala and salt. Plus the garnish queen (or king?), cilantro! Enjoy these Lehsuni Khumbh with roti (recipe here) or rice (recipe here).
Lehsuni Khumbh – Mushrooms in Creamy Garlic Curry
A rich and luscious curry made with generous amount of garlic and good bit of cream to balance the garlic. This mushroom in creamy garlic curry recipe is a true delight in every bite for garlic and mushroom lovers.
Ingredients
8

oz

or 250 g mushrooms

sliced

1

cup

chopped white onion

3

cloves

of garlic

minced

1

green chili

chopped (optional)

½

cup

chopped tomatoes

1

cup

frozen green peas, thawed

you can use fresh too

1.5

tablespoon

olive oil

divided

A

pinch

asafoetida

1

green cardamom

1

teaspoon

cumin seeds

¼

teaspoon

turmeric powder

¼

teaspoon

red chili powder

1.5

teaspoon

toasted cumin powder

1

tablespoon

coriander powder

¼

teaspoon

garam masala

¼

cup

heavy cream

1

teaspoon

kasuri methi

4-5

sprigs

cilantro leaves chopped
Instructions
Wipe the mushrooms with a wet paper towel to get the dirt off. Mushrooms have a lot of water in them and washing them in water makes them even more moist and kind of mushy so wiping them clean works better. Slice the mushrooms.


Set a heavy bottomed non stick or cast iron skillet on medium high heat. Add half a tablespoon of oil to the skillet and add the mushrooms. Let the mushrooms sweat and loose their moisture till they turn a nice deep brown in color and look a bit dried.

While the mushrooms are cooking, finely chop the onion, tomato and green chili (if using) and mince garlic.

Once the mushrooms are done, take them out in a bowl and add the remaining oil to the pan. Break apart the pod of green cardamom. Once the oil is shiny and hot, add asafoetida, cumin seeds and green cardamom. Wait for the cumin seeds to splutter and then add minced garlic, turn the heat to low so that the garlic does not burn.

Wait for 30 seconds before adding green chili (if using) and onions. Turn the heat back up to medium high and add a pinch of salt to the onions. Adding salt to onions helps to pull out the moisture and they cook faster.

Cook the onions for 2-3 minutes, then add turmeric, red chili, toasted cumin, and coriander powders and mix.

Add the chopped tomatoes and cook for another 2-3 minutes. Then add about a ¼-cup water along with green peas and cooked mushrooms. Cover and let cook for 5 minutes.


In a small bowl, mix the heavy cream with kasuri methi leaves (see notes). Uncover the pan, add the cream and kasuri methi mixture, followed by salt and garam masala. Give everything a big mix, cover and cook another 2-3 minutes for the flavors to mingle.
Notes
Rub the dried kasuri methi between the palms of your hand to release flavors before adding them to the curry.
Cremini or baby bella mushrooms are my favorite to use in this curry. Feel free to use white button mushrooms if they are your thing.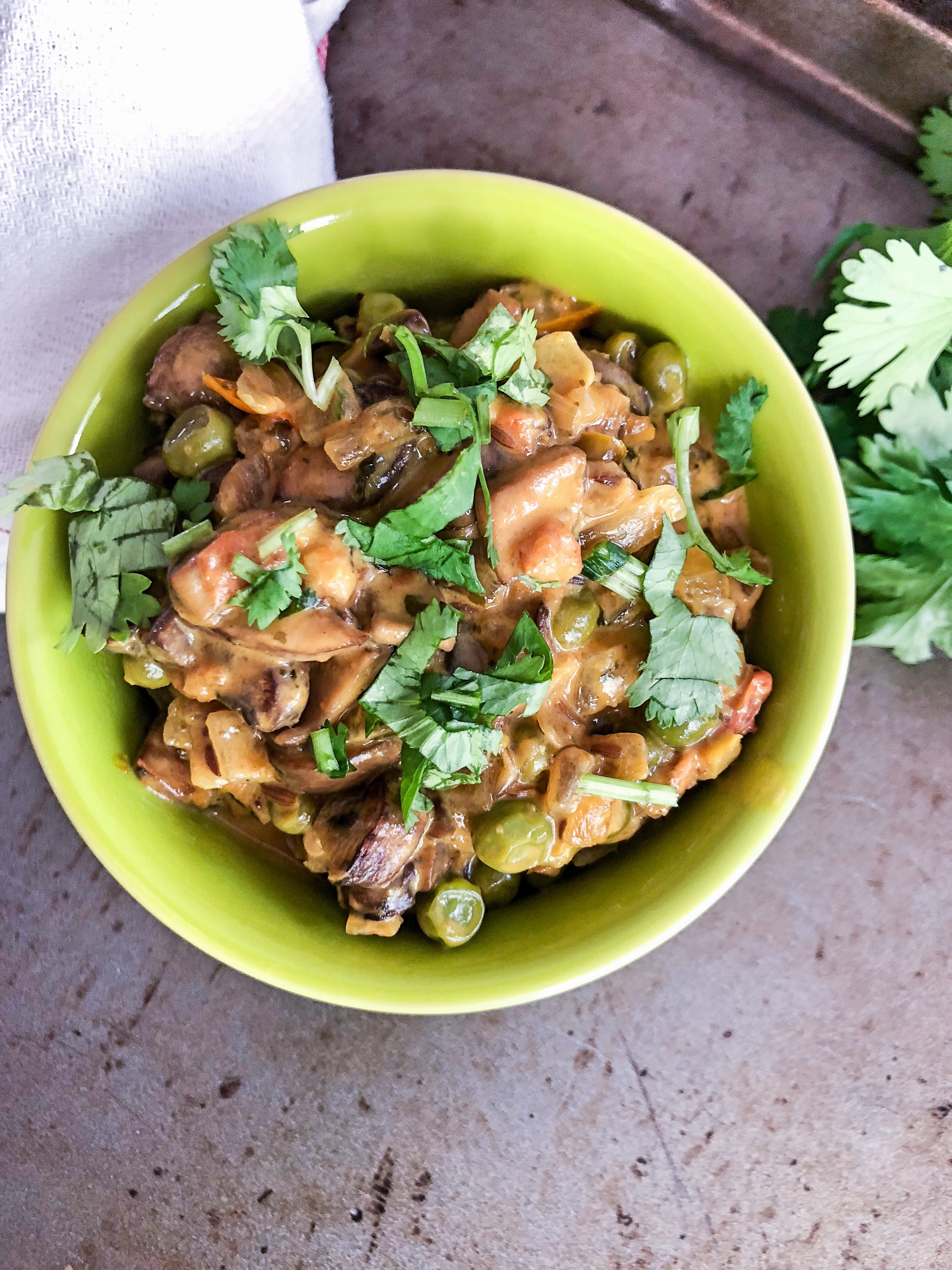 I hope you will give this garlic Mushroom Curry a try. if you do let me know by commenting below or on TKD's Facebook, Instagram or Twitter pages. You can also save this recipe on Pinterest.
Love - Vaishali.
Tools used: