This post seems like that a dessert storm (pun intended) has taken over The Kitchen Docs. I have a confession to make – I am not a big Indian dessert person – there I said it! Or at least I didn't used to be and I think I am slowly converting to one now and this transition has been recent – I would say after the birth of Mr. little V. You never know what those pregnancy and post-partum hormones do to you…:P.
As I have shared with you earlier, Dr. A is the big dessert lover in our family and he is the one who normally takes on the task of cooking Indian desserts for us (Sooji hulva, Atta hulva). I am more of a anything chocolate dessert…anybody with me on that? Coming back to the recipe that I am sharing here today is a blast from my past. My mom would always make this dish whenever we had company and she had one or two different versions of it. One that I share today is made by deep frying slices of bread and then dunking them in a flavored sugar syrup before topping it with a delicious creamy concoction. Remember the rabdee we made yesterday…yeah it makes a royal appearance in this dessert fit for nawaabs of India.
Back in the day the bread would be fried in vegetable shortening so that after cooling it would retain its crisp texture. But as time passed and we learned better about various fats used for frying foods and their good and bad effects on our health, vegetable shortening disappeared from the pantries of our kitchens. And thankfully so. Ghee is another flavorful choice to fry the bread slices for shahi tukdaa. I would say use any neutral tasting oil/fat of your choice to use in this recipe. I would not recommend super nutty olive oil though…:P.
The recipe run down is simple and once you have rabdee ready and chilling in the refrigerator, this doesn't take too long to come together. And one bite of crunchy and sweet fried bread topped with that luscious and rich rabdee is sure to transport you into streets of flavor-town. This sweet bread and rabdee combination is a match made in dessert heaven and is sure to impress.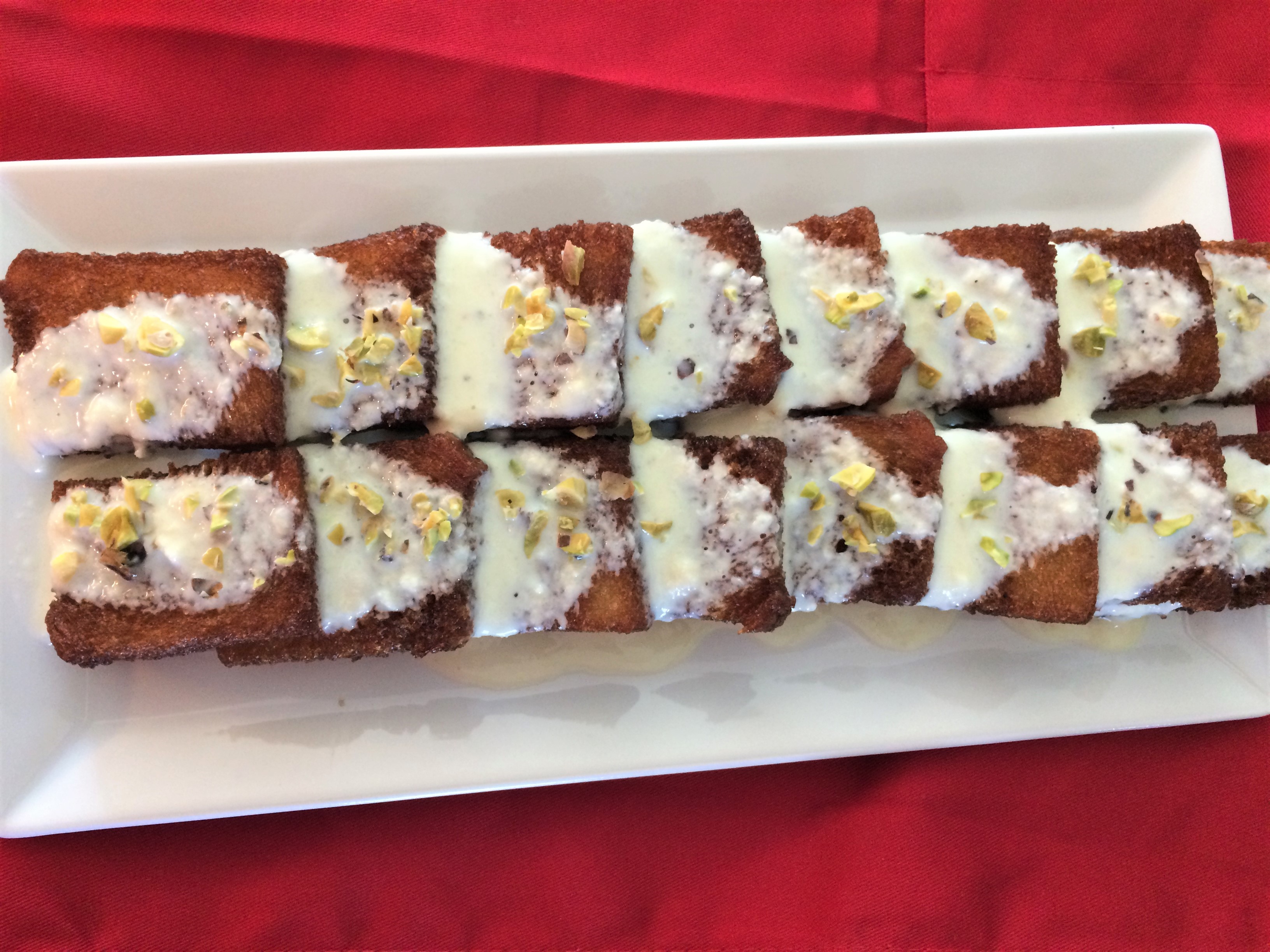 Ingredients:
For the bread:
White bread slices – 12
Oil – to deep fry
For the sugar syrup:
Sugar – 1.5 cups
Water – 2 cups
Green Cardamom – 1
Saffron – a pinch (optional)
One recipe of Rabdee for serving
Method:
Set the oil to heat up in a deep, heavy bottomed pan. In a sauce pan add the sugar and water and set it on medium high heat. Break open a pod of one green cardamom and add it to the water-sugar mix (skin and seeds) along with the saffron, if using.
Cut the crusts off of the bread slices and cut each slice into two pieces. You can make rectangles or triangles – choose the shape your heart desires. you should have 25 shahi tukdaas by the time you are done. Mathematics is my strength..lol.
Once the oil is hot and shimmering, turn the heat to medium and start frying the bread slices. You want them to turn deep golden brown but don't let them burn..:P.
Keep an eye on the sugar syrup. Once it starts boiling, lower the heat to medium low and let it cook for around 20 minutes or till you reach one-string consistency syrup.
Once both the breads and the syrup is ready, start soaking fried bread slices in the syrup, 2-3 at a time for about a minute or so. Lay the slices on a cooling rack set over a cookie sheet to let the excess syrup drain. When ready to serve, top each slice of bread with about a teaspoon of rabdee. Chill and serve with extra rabdee on the side.
Love – Vaishali.
Tools used:
Pan for deep frying
Sauce pan
Knife and chopping board
Cookie sheet and cooling rack (optional)
Measuring cups and spoons
Frying spatula/spider