Poha is a great recipe when you are in a mood for quick breakfasts or snack. It is of course not as quick as slathering a toast with a dab of butter or a bagel with cream cheese, but is still comes together pretty quickly if you want to escape the toast/bagel/cereal/oatmeal rut…:P.
Some of you might ask – what is Poha? It is a dish made with flattened rice that you can buy at any Indian grocery store. As far as my knowledge goes, parboiled rice is flattened, dried, and are sold in two forms – thin poha and thick poha. I prefer to use the thick kind, since it absorbs the liquid that it is soaked in slowly, hence not getting mushy and sticky when cooked.
Poha is not something that is traditionally a part of Punjabi cuisine but I love how liberating cooking foods from all around the country or from all around the world can be. Any boundaries or zones do not tie you. My mom and dad both grew up in Delhi, and my mom specifically was very exposed to all different kinds of foods and she never hesitated from trying a new recipe at home. Same is true for my aunt, my mom's elder sister – I remember trying so many new things in her kitchen whenever we visited them in Delhi. Poha is one dish that I remember eating a lot whenever we were at massi's (my aunt) house. I have been making poha for so long but still whenever I make it, I fondly remember massi's version.
My dad traveled a lot throughout India for his work and would often bring back descriptions of any new foods that he tried while on the road. Once he explained a version of poha made in a state in central India named Bihar. In that version, poha is soaked in salted yogurt for some time or till it softens and then it's eaten with potato curry. I am sure there are many versions of poha, cooked in different parts of the country, to suit to locally available ingredients and tastes. The one I make is cooked with onions, potatoes and peanuts; and tempered with mustard seeds and turmeric.
Feel free to add veggies like peas and carrots to make it healthier. Peanuts or other nuts add the proteins and spices like turmeric add the anti-inflammatory and antiseptic properties to the dish. A sprinkling of cilantro and squeeze of lime adds the freshness that this dish desperately needs.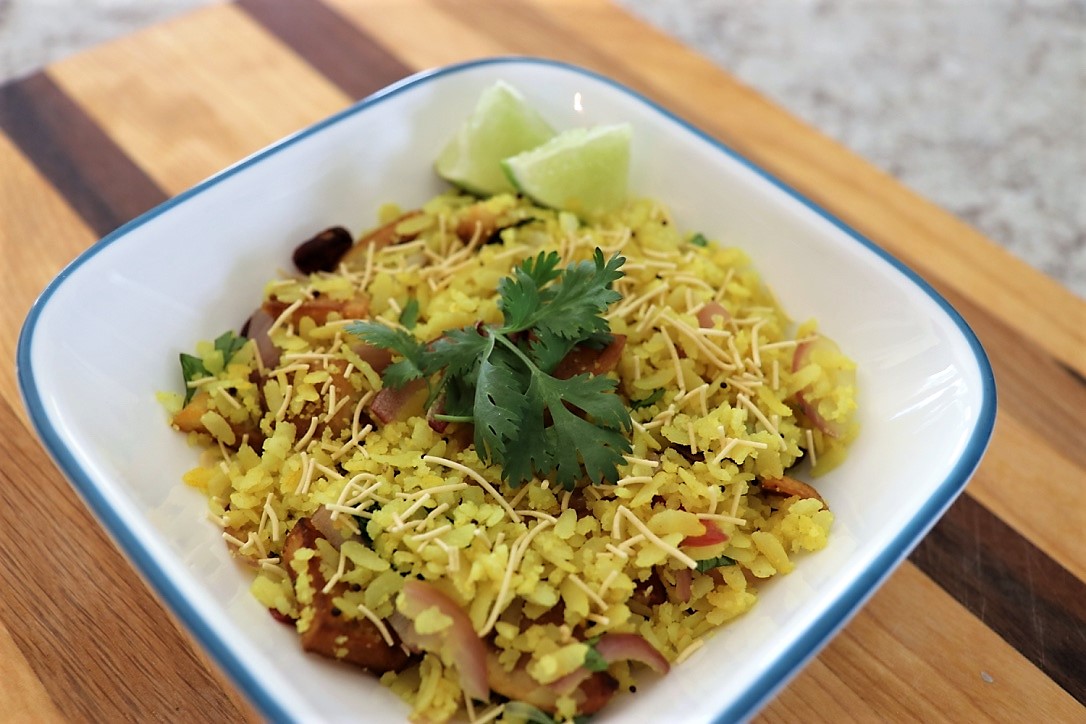 Ingredients:
Poha – 2 cups
Red onion – 1, small
Potato – 1, small
Peanuts – ¼ cup (optional)
Curry leaves – 1 sprig
Oil – 2 tablespoons
Mustard seeds – ½ tablespoon
Green chili – 1 (optional)
Turmeric – ½ teaspoon
Salt to taste
Lime juice – from ½ a lime
Cilantro/Coriander – 5-6 sprigs
Sev – for serving (optional)
Method:
Slice the onions and dice the potatoes. Strip curry leaves off the sprig and slit the green chill down the middle. Chop cilantro. Set a heavy bottomed pan on medium heat. Swirl the pan with oil, wait until the oil is heated, and shimmering. Add the peanuts and fry until light golden. Remove the peanuts from the oil and set aside. Now add the potatoes to the oil and fry until crisp. Remove from the oil and set aside. Rinse the poha in a colander with cold water. If you want your poha to be soft and little bit on a mushy side, you might want to soak the poha in cold water for a few minutes. Otherwise, 2-3 rinses will work just fine too.
Add a little more oil to the pan if needed. Add the mustard seeds and wait them to pop and crackle. Add curry leaves, green chili (if using) and onions and stir around for a minute or two. Add the fried peanuts and potatoes. Add poha (if you had soaked it, drain it first), turmeric and salt. Give everything a big mix. The idea here is just to warm everything up because you really do not need to 'cook' anything here. Give it a taste check for seasoning. Give it a big squeeze of lime juice and add cilantro. Serve warm with a sprinkling of sev for crunch.
Enjoy!
Love – Vaishali.
Note: Feel free to skip peanuts or replace with any other nut if there are allergy issues. Mr. little V has peanut allergy, so I mix everything except peanuts, take out a serving for him and then stir in peanuts.
If you want to add other vegetables like peas and carrots, you can add them after adding onions. Stir-fry for an extra minute or two and then add poha.
This recipe is great to take to potlucks or cookouts. My friends who are not from India, also love it..:).
Tools used:
Heavy bottomed pan
Measuring cups and spoons
Knife and chopping board
Colander
Spatula