Hope you guys are enjoying your summer. It's the season to be outdoors and enjoy your family and friends over a cookout or barbecue. Such gatherings also call for plenty of side dishes or potluck friendly dishes. When we lived in Alabama, a bowl of traditional chilled potato salad with chopped hard boiled eggs mixed in was sure to make an appearance at a grilling party. This salad is refreshing and goes really well with grilled meats or barbecue.
The potato salad is traditionally made with mayonnaise, which always makes me a little uneasy about consuming it, specially if it is hot outside and the food has been set out picnic style. The mayonnaise based salad, in my mind, becomes a food safety issue plus its not the healthiest of condiments…agreed or not?..:P. Oh yeah and Mr. little V. is allergic to eggs so that gave me another reason to try and make this recipe healthier, mayonnaise/egg free, with a lower risk of getting spoilt in the sun or in other words more picnic friendly.
Nutrition: To replace mayonnaise I used greek yogurt – it tastes good and is good for you. Its so high in protein that one serving of greek yogurt could meet ⅓rd of your daily protein intake. I have also tried this recipe with homemade yogurt , but there are few extra steps involved there and we will talk about them some other day. Deal. Potatoes are a great source of carbs and potassium and give your body a boost of energy. Eggs – what can I say about eggs – you know it right? – another perfect source of protein – so easy and so versatile and so good! There are other goodies in this salad that are mostly good for you so here we go: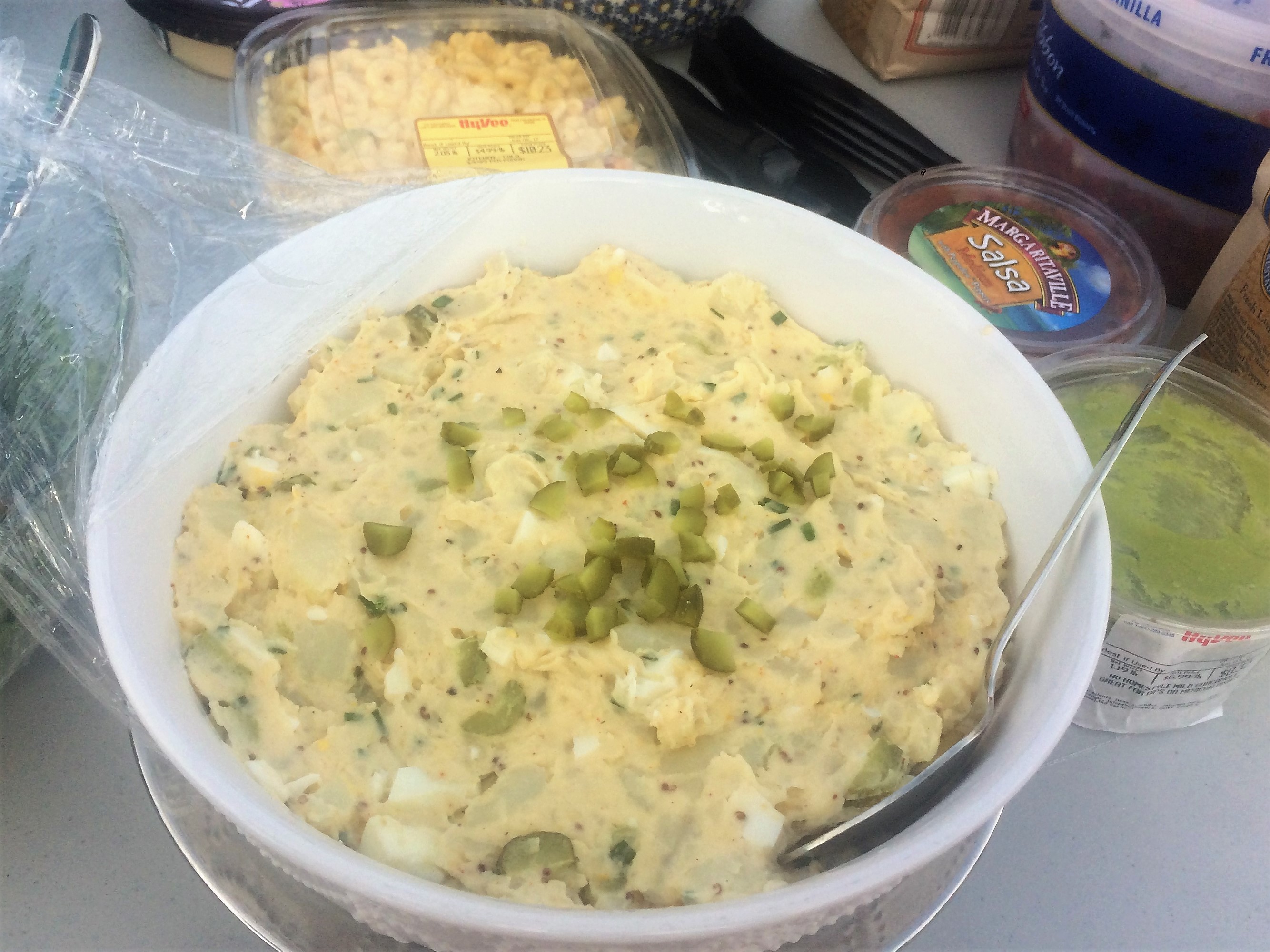 Ingredients:
Idaho/Russet potatoes – 4 medium
Eggs – 4
Chopped pickles – ¼ cup
Chopped Chives – 2-3 tablespoons
Greek Yogurt – ¼ cup
Whole grain mustard – 1 tablespoon
Honey mustard – 1 tablespoon
Pickle juice – 1 tablespoon
Salt – to taste
Black Pepper – to taste
Garlic powder – ¼ teaspoon
Paprika/Cayenne pepper – ¼ teaspoon
Sugar – 1 teaspoon
Method
Peel and boil the potatoes till fork tender. Let them cool down a little bit, transfer to a big mixing bowl, and then either chop them small or mash them with a fork, depending on your liking. In a saucepan boil the eggs in water for 12 minutes. Drain the hot water and add cold water to the eggs. Peel the eggs and chop them. I only used 1 yolk out of the three eggs as we are not big yolk fans around here. Totally your call. Add to the mixing bowl that has potatoes in it. To the same bowl add all otherthe remaining ingredients. Give a big mix. Give it a taste test and adjust the seasonings. Transfer it to a serving bowl and garnish with more chopped pickles and/or chives. Let the salad chill in the refrigerator for at least an hour before serving. And if you don't tell anyone that this is a lightened up/healthier version of a traditional potato salad, no one will ever know….Shhhh. Enjoy!!
Love – Vaishali.
Tools used
Sauce pans for boiling potatoes and eggs
Potato masher/fork
Knife and chopping board
Mixing bowl
Spatula