How to make easy, vegan, and gluten free falafel with bonus tzatziki recipe!
Falafel is one of the many foods that I had no idea existed before moving to the United States. More than a decade ago, a friend introduced me to falafel while we were looking for some vegetarian fast food options during lunch break between two class lectures. It was at Pita-Pit, a fast food chain restaurant that specializes in (or so they claim) Mediterranean inspired food. That first impression of falafel was good, not the best I would say, and it left me craving for more.
If you have not had falafel before, think of it as a crispy, fried chickpea fritter. Though it is fried, it still scores big on health scale. If you have had falafel before, and love it, but may be thinking to yourself that there is no way it can be made at home, I happily report that you are wrong. Now sure – your local international grocery store or the Mediterranean isle of your grocery store may be studded with falafel mixes or ready to eat falafel packages – but trust me, once you give this recipe a read, you will be convinced not to buy that box. The point is that any type of mix or prepackaged food most likely consists of ingredients that you have not heard of, that are unnecessary, and are laced with preservatives. You do not need that in your life, especially since you can easily make it at home.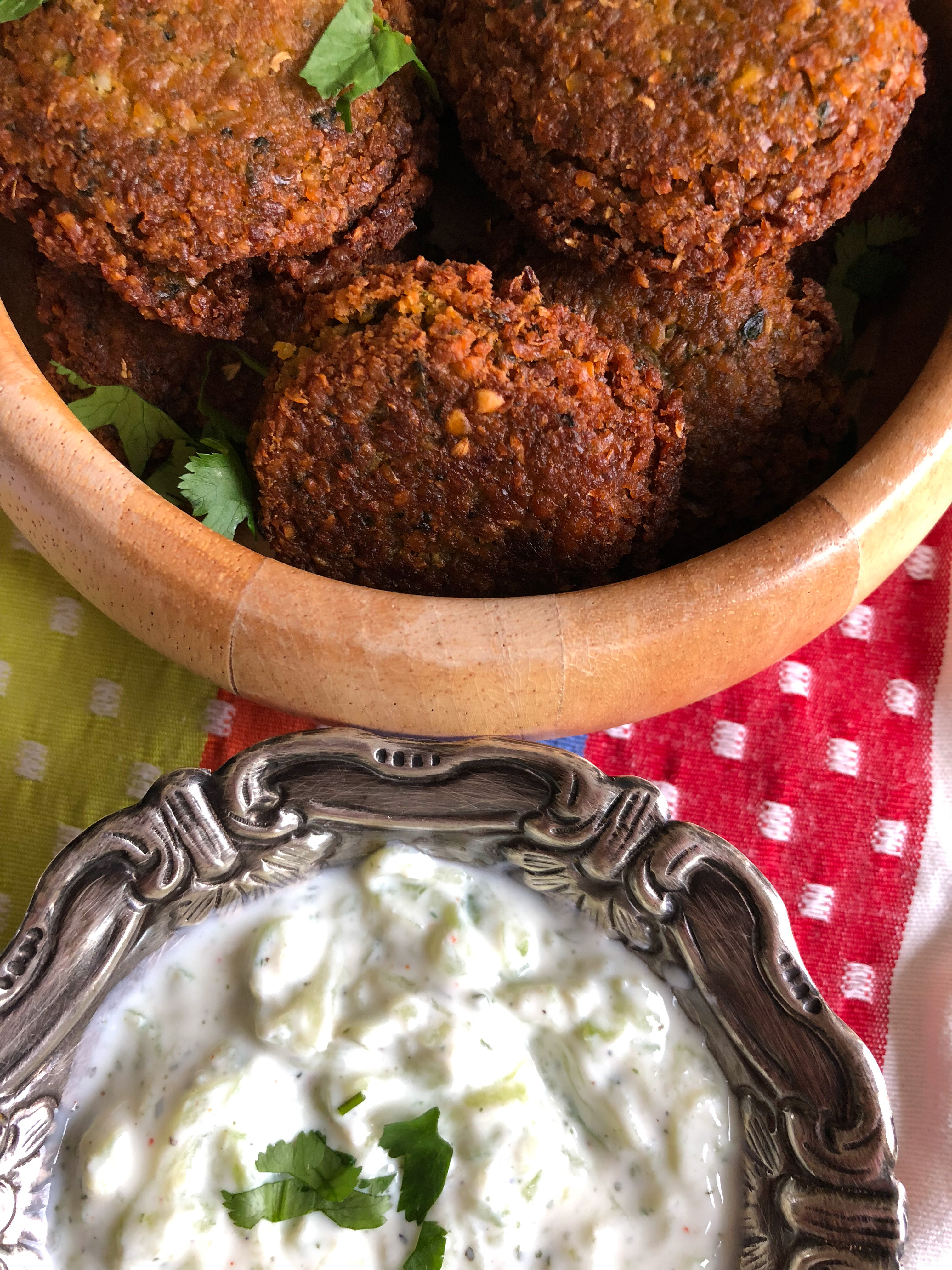 The star of the show here are the chickpeas or garbanzo beans. This recipe requires soaking chickpeas for a good 18-24 hours before you proceed to make the falafel mixture, so please PLAN AHEAD. And no, you cannot use canned chickpeas because they are already cooked and would not work in this recipe. There are no shortcuts to success my friends!
The soaked chickpeas are drained, mixed with some flavor enhancers, just a small bit of binding agent for which I use chickpea flour (you can use all purpose flour, but then the recipe would not be gluten free), and processed in a food processor till it all comes together in form of a coarse cornmeal-ish texture. And yes, a blender would work fine too (I use my blender – this one), though a food processor definitely makes the job easier. The mixture is then set aside for a little bit to rest, during which time you can get your hummus, tahini, tzatziki etc. ready. Here is the recipe (adapted from Chef John's falafel recipe).
Ingredients:
For falafel:
Dried chickpeas/garbanzo beans - 1 cup
Yellow onion – ½, diced
Garlic – 3 cloves, minced
Cilantro - ½ cup chopped, about 10 sprigs
Salt - to taste (approximately 2 teaspoon)
Fresh ground black pepper – ½ teaspoon
Cumin powder - 1 teaspoon
Ground coriander powder – 1 teaspoon
Baking soda – ¼ teaspoon
Chickpea flour* - 1.5 tablespoon
Lime juice – 2 teaspoon (about ½ lime)
Oil - for frying
For tzatziki sauce:
Yogurt – 1 cup (use greek yogurt or hung curd)
English Cucumber – ½, peeled and grated
Garlic – 1 clove, very finely minced or grated
Lime juice – from ½ a lime
Fresh mint* – 1 tablespoon
Salt and freshly ground black pepper - to taste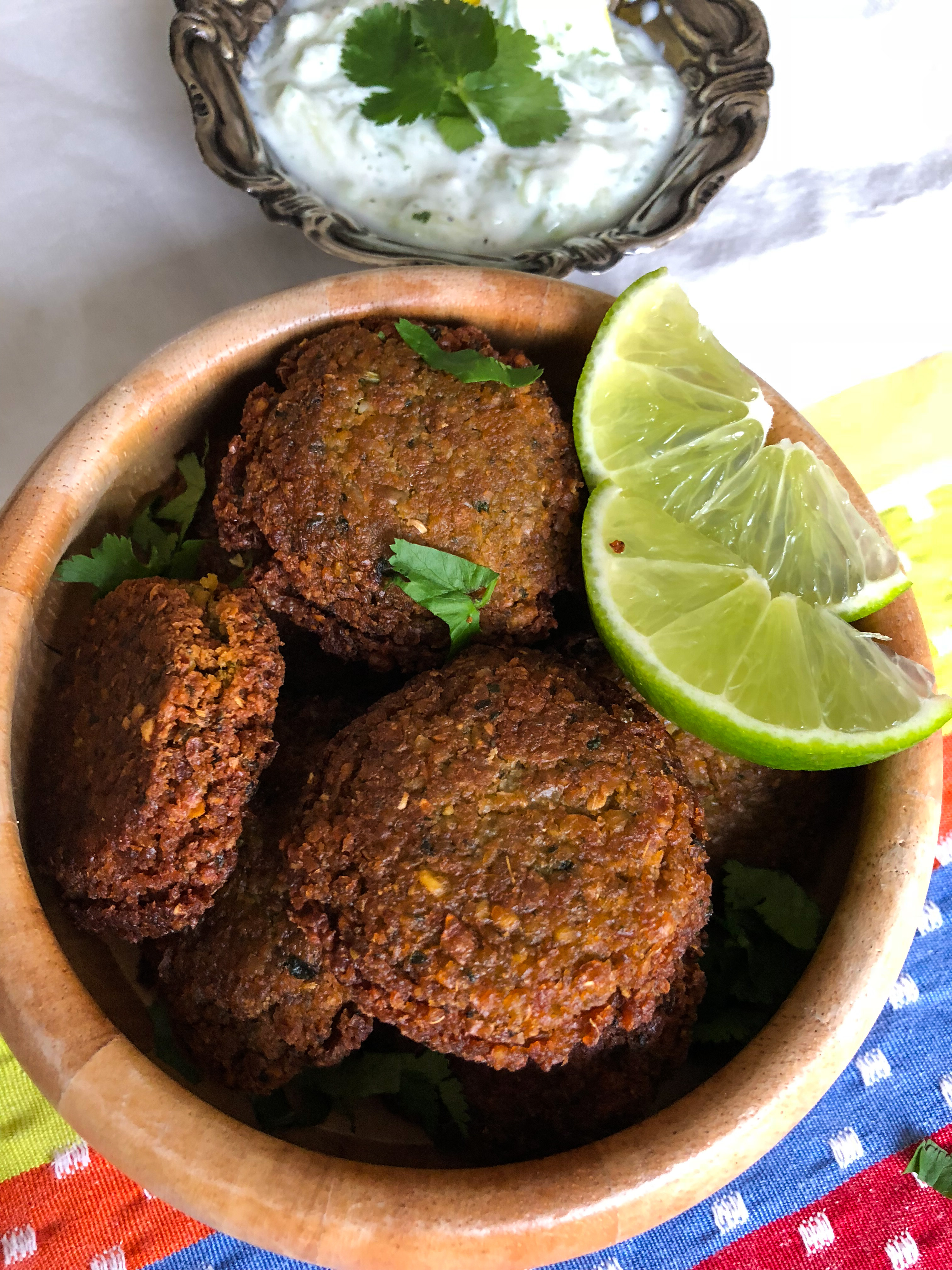 Method:
Start yesterday!
Soak a cup of chickpeas in a large bowl and cover them by about 3 inches of cold water. Let them soak for 18 -24 hours. So if I want to make falafel for dinner tomorrow night, I usually would soak them before starting dinner tonight. Next day, start at least two hours before dinnertime, drain and rinse the garbanzo beans well. Transfer them to your food processor or blender and add diced onions, garlic, seasonings, lime juice, cilantro (or parsley), chickpea flour (or all purpose flour) and baking soda. Pulse all ingredients together until a rough, coarse meal forms. Scrape the sides of the processor periodically and push the mixture down the sides. If you are using a blender (like me), you will have to more careful about the mixture in the bottom of the blender not turning in to a paste. So keep moving it around using a rubber spatula. You want the mixture to hold together when pressed.
Once the mixture reaches the desired texture, pour it out into a bowl and use a fork to stir; this will make the texture more even throughout.  Cover the bowl with plastic wrap and refrigerate for at least an hour.
In the meantime, make tzatziki. Add a teaspoon of salt to grated cucumber and set aside for 10 minutes. After ten minutes, squeeze out all the liquid from the cucumber using a kitchen towel or cheesecloth. Take a mixing bowl, add all the tzatziki ingredients and mix. Give a taste check to adjust seasoning and refrigerate till ready to eat.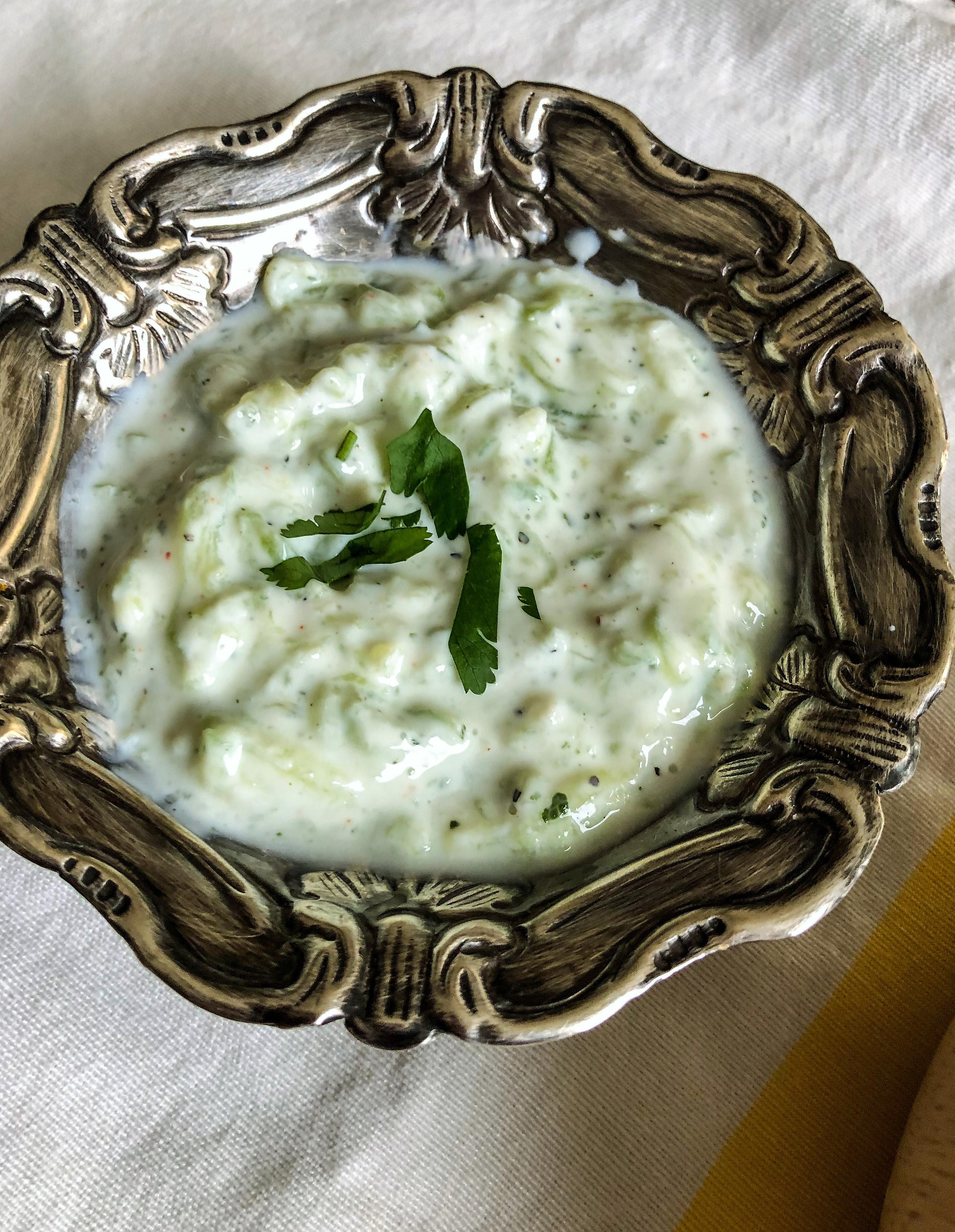 We will be shallow frying our falafel "discs" so set a frying pan with about an inch of oil on medium high heat. While the oil is heating up, take the falafel mixture out of the refrigerator and start forming falafel discs. Take a cookie scoop or a tablespoon measure to scoop out the mixture, form into a ball, and then press it into a thick disc.
If you have a thermometer, heat the oil to 350 degrees. If not, try the oil temperature by dropping a small ball of falafel mix into the oil. It should slowly rise to the top and not brown too fast. Try frying one disc first to make sure the mixture holds together. If it does not, add some more chickpea flour and try again, though 1.5 tablespoon chickpea flour should work perfectly.
Add 3 – 4 discs to the pan (depending on its size) and fry about two minutes on each side or until nicely browned. Use a slotted spoon to remove the falafel and drain on a paper towel/kitchen towel lined plate.
Serve the falafels with tzatziki as a dipping sauce. They also go really well with a plate of fresh hummus or tucked inside a pita with drizzle of tahini sauce. Recipes of tahini and hummus are for another day though…peace out!
Love – Vaishali.
Notes:
This recipe is naturally vegan
Using chickpea flour makes the recipe gluten free. You can, however, substitute all-purpose flour according to your preference or convenience.
Feel free to use parsley instead of cilantro in the falafel mixture
Traditionally, dill is used in tzatziki sauce. We like ours with mint.
You can certainly deep fry falafel, if you shape them into balls. Making discs helps in shallow frying.
Tools used:
Blender (My KitchenAid)/food processor
Mixing bowls
Measuring Cups and Measuring Spoons
Grater
Whisk
Frying pan
Slotted spoon/Spider strainer
Knife and chopping board