Sweet, Buttery, Soft and slightly crunchy, these Blackberry Crumb Bars are perfect for a healthy-ish snack, breakfast or even dessert. Made with homemade blackberry jam, they are a great combination of cookie like crust, juicy jam filling and soft streusel like crumb.
Jump to Recipe
If I tell you that I have completely settled into this remote learning, back to school routine, I'll be lying. We do have a system in place where Dr. A and I take turns working from home white online school goes on. Have a school/work area defined, snacks and lunches are pre-planned and I cook a bunch on Sunday to meal-prep so that weeknights are relatively easy. But still there are so many moving parts - school pick up for Ms. A during days she goes to school, juggling face to face meetings for both of us while teaching face to face at the university (both Dr. A and I). With almost 5 months of lazy mornings and elaborate, laid back breakfasts; we needed to up our game for school days. That's how this recipe of Blueberry Crumb Bars gained popularity in our house.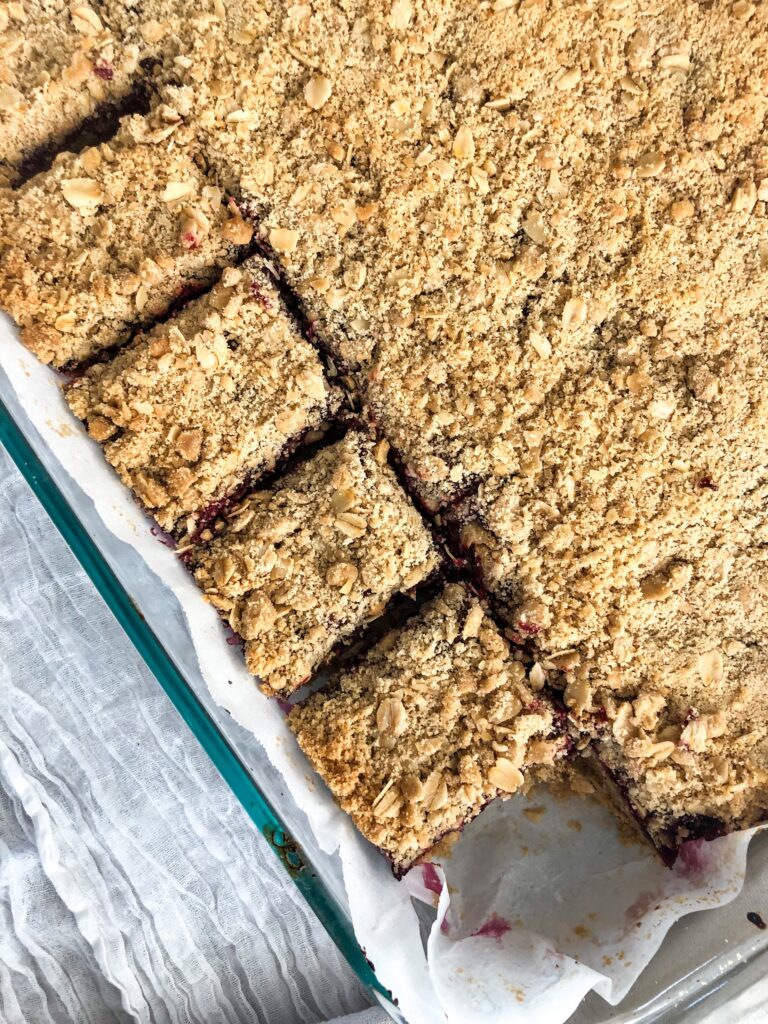 Breakfast, Dessert, Snack!
I started making these easy, blackberry crumb bars last year when I first made a batch of this seedless blackberry jam. Simple, homemade ingredients with no unnecessary additives and colors. Now, you can, in a pinch use your favorite store-bought blackberry jam or any other jam for that purpose and the bars would turn out just fine. By using homemade jam, I am able to cut the sugar content of this recipe, making them healthy-ish. A base and top crumble made with oats make these blackberry crumb bars filling while still being super yummy. My kids love them and they have been a big hit for breakfast and snack alike.
Dr. A and I also enjoy these blackberry crumb bars on the go or when we sit down to enjoy a cup of coffee or tea. A perfect pairing. And don't let the healthy-ish ingredients fool you, these bars make a perfect dessert as well.
How are these different from granola bars?
We love granola bars in our family. Sometimes I make my homemade granola (recipe here) in to granola bars. Hopefully I will be able to photograph and share that recipe sometime. Ms. A loves herself some Clif Bars and Dr. A enjoys Thunderbird . Me - not so much! A Kind Bar or thunderbird only if I'm in a fix for a snack. Little V is pretty restricted in his choice for granola bars because of his allergies. But these - they are perfect! Think of these as a play between a cookie, a granola bar and a soft crumble. And that's the reason I love these. And everyone else does too - though their reason might differ. I don't care. As long as they love and enjoy what I make, this mama is a happy camper.
So no nuts, not as structured as granola bars and inching closer to a proper decadent dessert. Total winner in my eyes (and mouth or tongue...whatever!).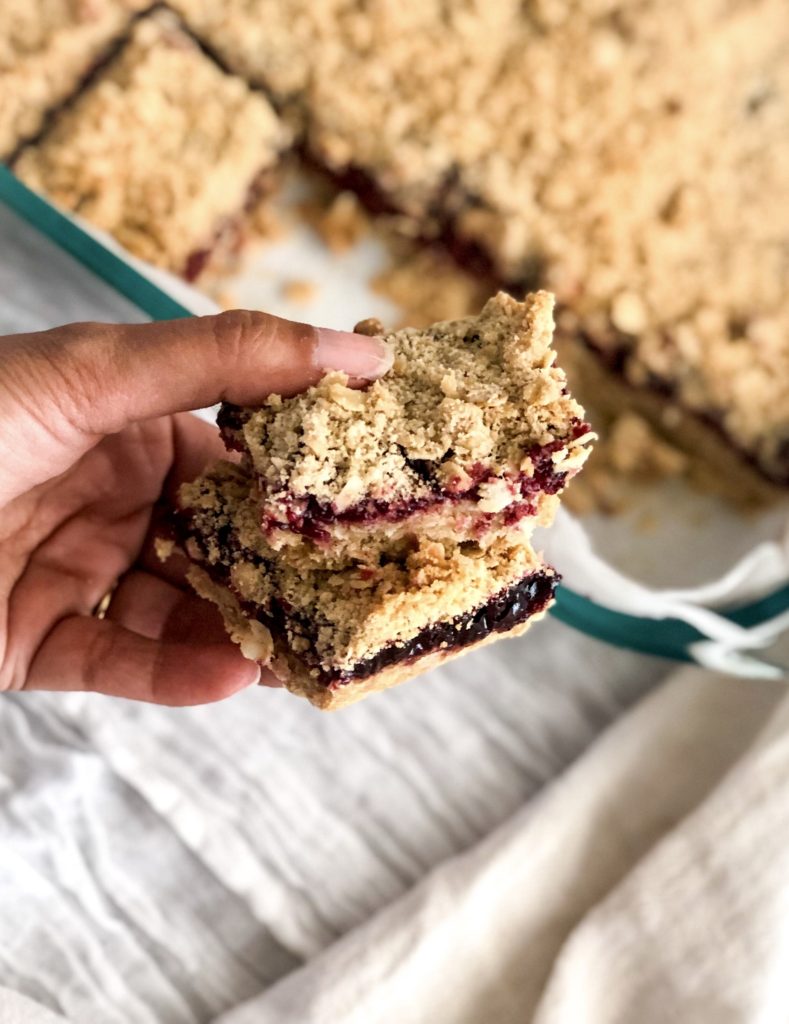 Recipe Run Down
The crust and crumble has the usual most delicious culprits - oats, brown sugar, butter and flour. I have tried this recipe two ways - one where I pre-baked the bottom crust before adding the jam and the crumble and two where I layered the bars and then baked the whole thing together. I have come to the conclusion that pre-baking the crust definitely yields better results and that's what we are doing here. So mix the crust ingredients, layer a portion of this mix in a dish lined with parchment and bake. After that add a layer of your jam and top it with the crumble and bake again. Let cool (hah!) and then cut into bars. Lock the doors because your neighbors might come asking for some!!
Here's your handy dandy printable:
Easy Blackberry Crumb Bars
Sweet, Buttery, Soft and slightly crunchy, these Blackberry Crumb Bars are perfect for a healthy-ish snack, breakfast or even dessert. Made with homemade blackberry jam, they are a great combination of cookie like crust, juicy jam filling and soft streusel like crumb.
Ingredients
1.5

c

all purpose flour

or whole wheat pastry flour

1.5

c

old fashioned oats

1

cup

brown sugar

loosely packed

¾

c

melted butter

unsalted

¼

teaspoon

salt

½

teaspoon

baking powder

¾ -1

c

homemade blackberry jam

or store bought jam of your choice
Instructions
Preheat your oven to 350F (175 C). Line an 8-inch square baking dish with parchment paper. Make sure that parchment paper is large enough to cover the bottom and come up, over the sides.

To make the crust and crumble mixture, add the flour, oats, brown sugar, baking powder and salt to a mixing bowl. Whisk to combine. Pour in the melted butter, and using a sturdy fork, mix it into a crumble-like mixture.

Press about 2.5 cups of the crumble mixture into the bottom of the prepared baking dish. You can use your hands or bottom of a cup to evenly spread and press the mixture into the baking dish. Bake for 10 minutes.

Carefully take the baking dish out of the oven and spread the blackberry jam into an even layer on top of the baked crust. Sprinkle the remaining crumble mixture evenly over the filling.

Bake for another 25 - 30 minutes, until the top is deep golden.

Remove from the oven, and let cool completely in the pan. After it is cool enough to handle, cut into 12 equal rectangular bars. You can also hold the ends of the parchment paper and lift the whole thing out of the dish onto a chopping board and then cut into bars.

Store bars in an air-tight container at room temperature for up to 5 days.
Notes
Quick cooking oats will not work in this recipe.
If you do not have unsalted butter, you can use salted butter and skip the salt.
The bars can last longer if stored in the refrigerator.
You can use any jam of your liking.
If you make these blackberry crumb bars, please leave a comment and/or give this recipe a rating! I love to hear from you guys. And if you do make this recipe, don't forget to tag me on Instagram and Facebook! I love to look through your creations!!
Love – Vaishali!
Key Recipe Tools and Ingredients:
Measuring Cups:
Measuring Spoons:
Mixing Bowls:
Baking Dish:
Old fashioned oats:
Brown Sugar: