Have I told you people about my family's love for potatoes? Alternatively, a general public awareness announcement about the romance of Indian cuisine with potatoes? I think I have mentioned it in the past. So I will not bore you again. The bottom line is potatoes are eaten all along the length and breadth of India, and I believe all around the world in general. There is a huge line of Indo-Chinese recipes in India, which I believe, are more Indian than Chinese, and are associated with Chinese flavors just because of use of soy and chili garlic sauces. Ignorance is a bliss my friends!
This recipe of honey chili potatoes is more of trying to recreate something that I tried at a restaurant on our last trip to India. Served on the side with lo-mein noodles and vegetable Manchurian, these crisp, sweet and spicy potatoes are great. They are absolute deliciousness even to munch on by themselves as a snack. You do not need a huge list of things to make these and most of what is required might already be there in your pantry.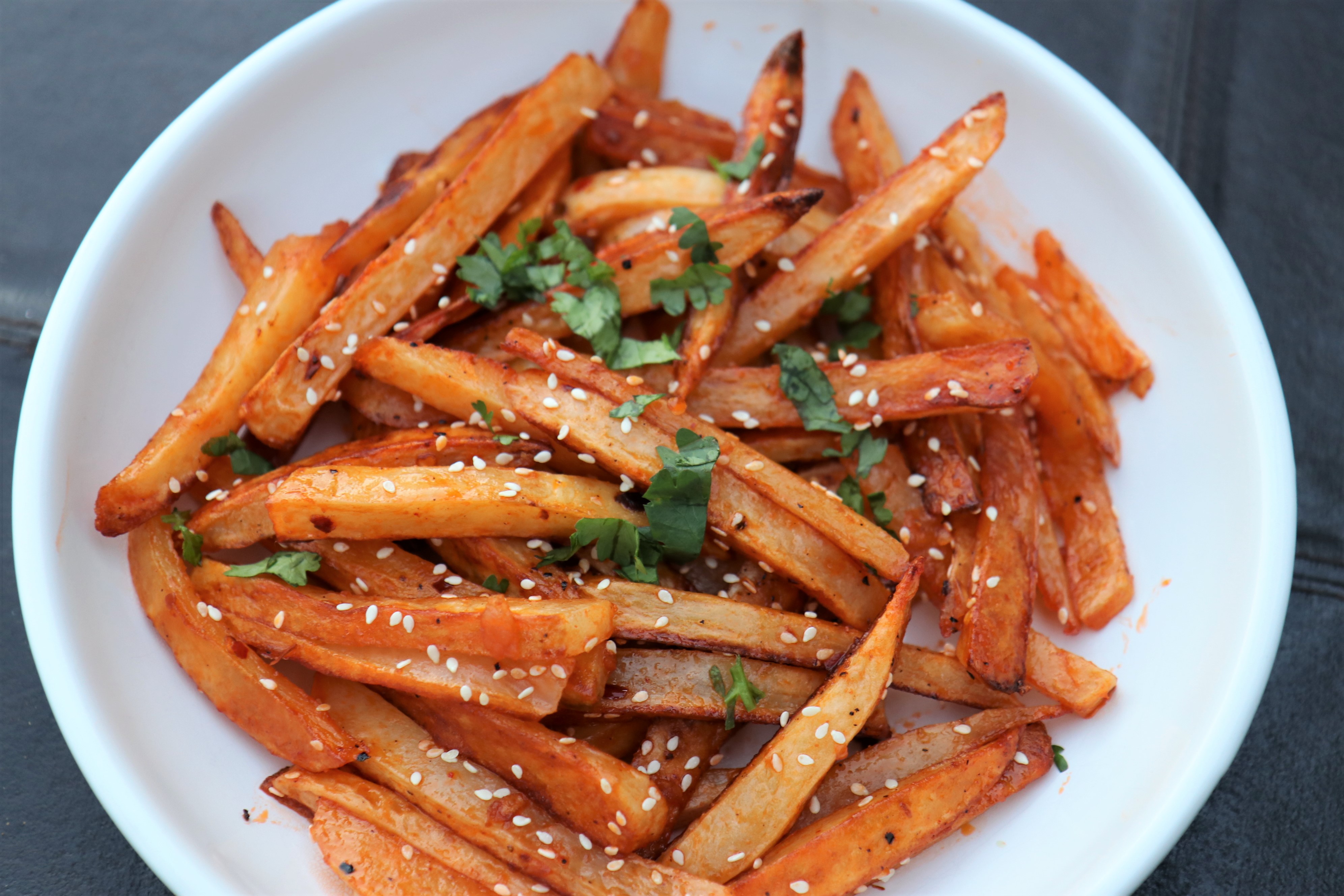 Ingredients:
Potatoes – 4 large
Olive oil – 3 tablespoon, divided
Chili flakes – 1 teaspoon, divided
Garlic powder – 1 teaspoon
Garlic – 1 clove, minced
Tomato ketchup – 2 tablespoon
Honey – 1 tablespoon
Sesame seeds – 1 teaspoon
Salt – to taste
Cilantro – 2 sprigs (optional)
Method:
Preheat the oven to 425 degrees F/ 220 degrees C. Peel and slice each potato into 3-4 thick slices. Then cut each slice into sticks, just like French fries. Layer a large cookie sheet with a piece of parchment paper (optional). Lay the potatoes on your cookie sheet, drizzle with 2 tablespoons of olive oil, sprinkle ½ teaspoon chili flakes (more or less depending on your choice of spice level), garlic powder and salt to taste. Give everything a mix, and spread on the cookie sheet in a single layer. Bake for 20-25 minutes, until the potatoes are cooked and crispy on the edges, shaking and rotating the cookie sheet mid-way (See note).
While the potatoes are cooking, mince garlic and chop the cilantro.
After the potatoes are out of the oven, set a medium non-stick or heavy bottomed frying pan on medium heat. Swirl the pan with remaining 1 tablespoon of olive oil and add garlic to it. Mix and add the chili flakes and tomato ketchup. Stand back, the water in tomato ketchup will splutter. Stir for 30 seconds and add the roasted potatoes. Stir around, add honey and more salt if you would like. Give it a taste check, add more ketchup or honey as per your liking. Sprinkle with sesame seeds and cilantro and serve hot or warm. Enjoy!
Love- Vaishali.
Note: You can also deep fry the potatoes instead of roasting them in the oven, if you would like.
Tools used:
Oven
Measuring spoons
Knife and chopping board
Cookie sheet
Non-stick frying pan
Spatula