Curious George is a character that is very close to our heart. Little Ms. A loved curious George cartoons when she was little and also loved George's books wonderfully written by Margret and H. A. Rey. As Mr. little V came along, he also hopped on to the Curious George fans family bandwagon and absolutely adores him. I mean, what is not to love about Curious George – kids and grownups alike. His curiosity and wisdom teach us to never grow up and never be content with what you already know. Since little V loves George so much, I decide it would be fun have a Curious George themed birthday party for him. Once the decision was made, there was no looking back. It is so fun and exciting to plan for parties with a theme and I totally get a kick out of these. So with lots of love for our boogie boy in my heart, a fierce determination to accomplish everything in little less than three weeks, and a good bit of pinspiration, I began working towards it.
I decided to stick to classic George color scheme which was yellow, red and blue. The food was also inspired by Curious George books and so were the activities during the party. The party favors, you guessed it, had George's and little V's favorites. I share some details of the party here. This post is going to be picture heavy – you have been warned!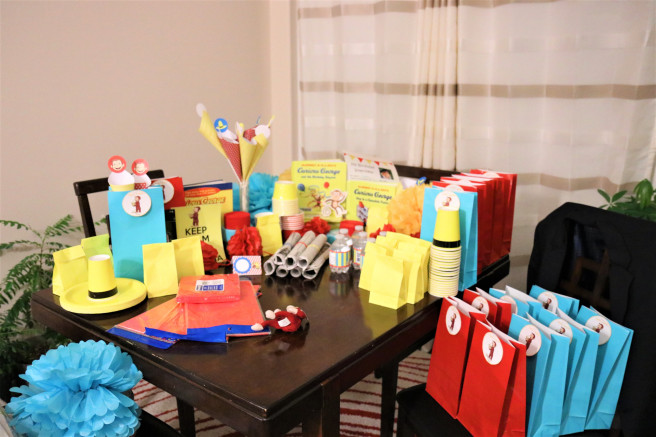 I cannot, for the love of my life, plan ahead of time to get everything ordered online so that the stuff can reach us well before the party. So what ends u happening is that I, along with help from Ms. Little A, turn into a DIYer. So no etsy or oriental trading for me. I so sometimes wish that we had a party supply store in our town to help with some favors and stuff. I am not a very visual person, and I cannot imagine how a particular thing will look if I put one way or the other. But thankfully, I have Dr. A and the World Wide Web to help with that. And for that, my friends, I am forever grateful. Coming back to the party details, me and Ms. Little A printed created and printed out lot of the decorations etc. a week in advance and then there was a lot of cutting, pasting, folding, stringing, etc.. involved; which was mostly done by me late into the nights leading up to the party.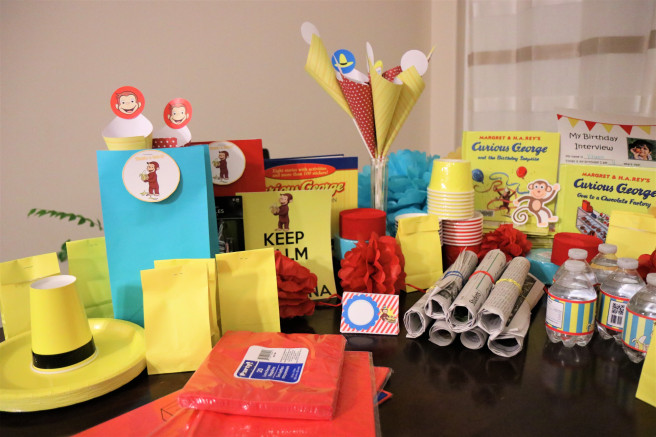 Everything (almost) ready and set to go for the next morning. Curious George took over house!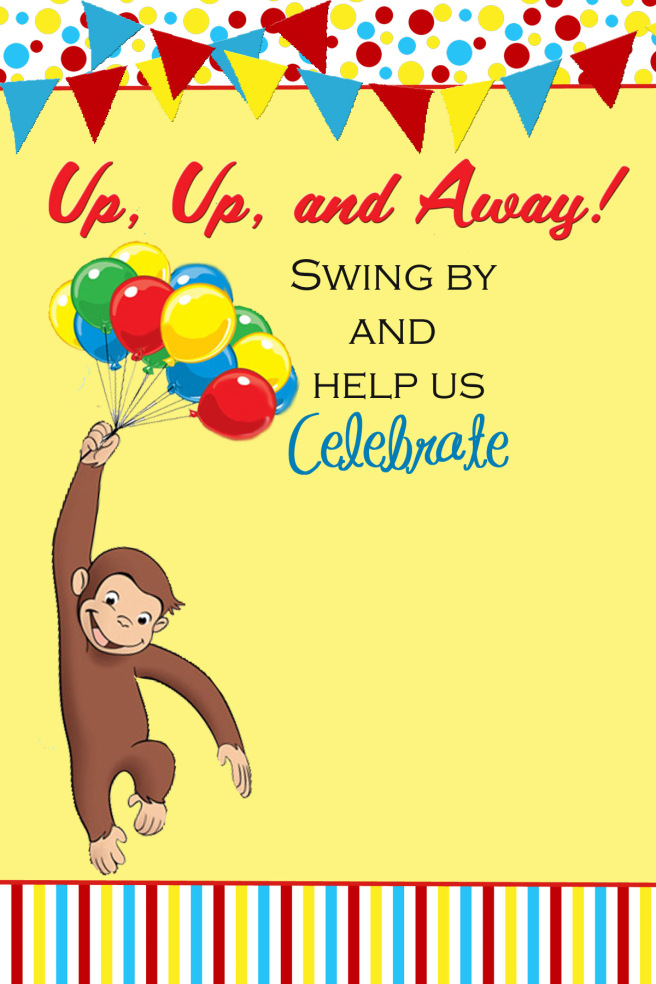 The invitations were based on the "Up up and away" Curious George book. I used a template that I found online and customized it. I liked how it turned out.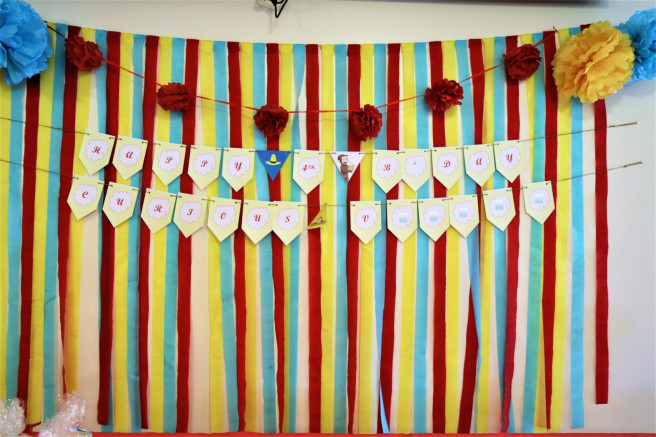 The party backdrop was made of string of red, blue and yellow streamers that hung from a twine. There were paper pom-poms that I bought from Hobby Lobby to go with the color theme. I created the "Happy Birthday Curious V" banner using MS Office on my computer and printed it on card-stock. I even downloaded the Curious George font for it. The font is called Wrexham, for any of you who are interested. The backdrop was easy to hang and looked great. If I had a chance to redo it, I would make the banner background a deeper yellow…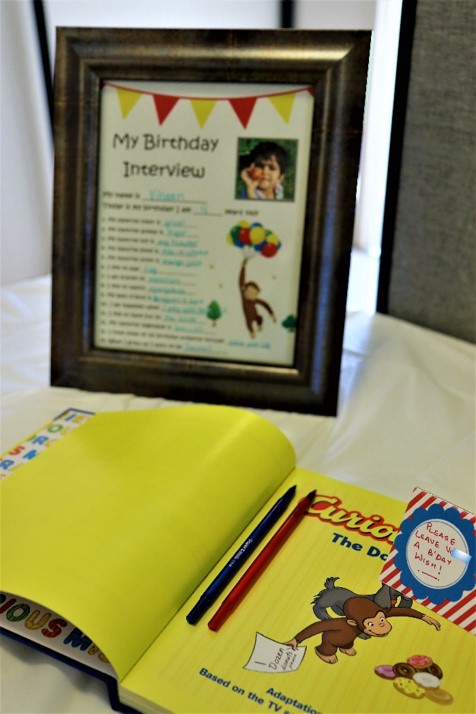 The party was at a park that had a building attached to it, which you can rent for parties and gatherings. It was great to have the option to play outside and be inside if it got too windy or cold. We had a table set up by the entrance of the building that had little V's birthday interview (which, by the way, is too cute), and a Curious George book for the guests to sign. This book is a great keepsake, too! The guests also utilized this same table for so many wonderful birthday cards and gifts that they go for our little munchkin. Thank You!
The kids table was covered in a red table cloth; I taped yellow drink cups with black tape and inverted them over yellow plates to look like the hats of the man with the yellow hat. So fun! Nobody drank in the cups, since the drinks were bottled water and juice, but still this plate and cup combination was a good addition to the party and the kids really got a kick out of it. There were curious George books that were displayed all over the place for anybody to grab and read.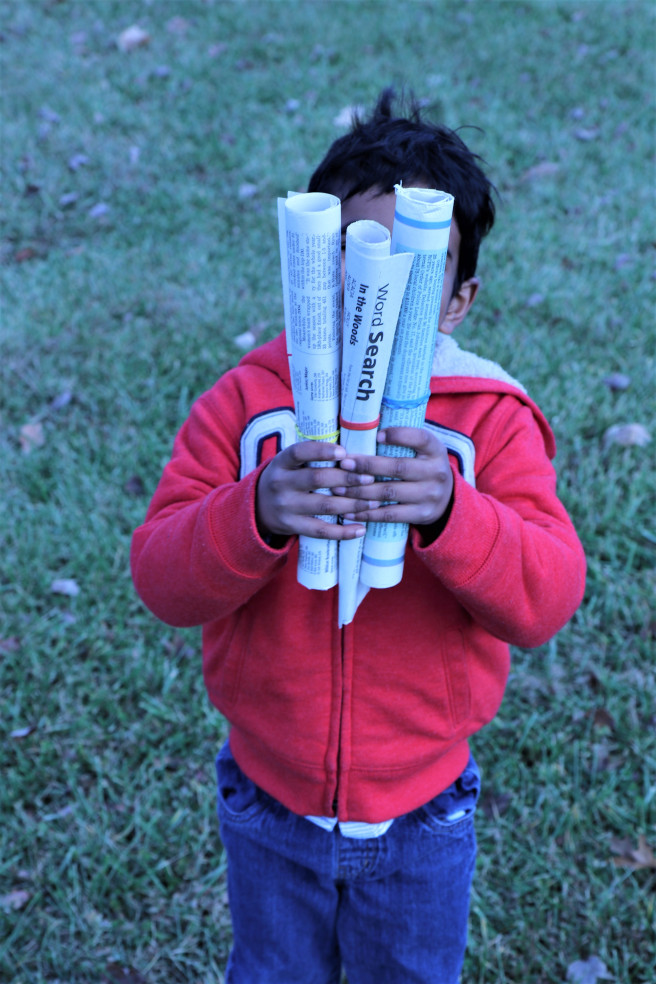 Ms. Little A handled all the activities and games at the party. The kids played a game of newspaper hunt (Inspiration book: Curious George rides a bike); a game of monkeys in the barrel; monkey see monkey do; and duck, duck, MONKEY! Despite the weather being windy, all our little guests enjoyed playing in the playground at the park.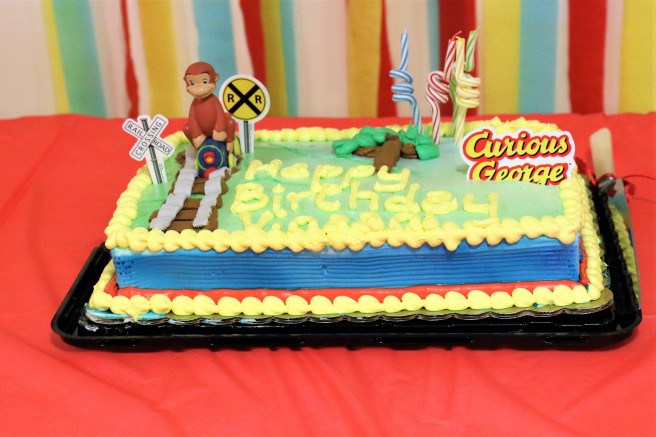 The cake was not what I envisioned and wanted, but V loved it and it went with the theme so I do not have major regrets about it. Since the party was on the weekend before thanksgiving, all the major bakers in the town declined to make a custom cake at a short notice. So we ended up ordering this cake from a local grocery store bakery. Note to self for next time – cake needs to be taken care of FIRST! We also had some chocolate cupcakes with tiny curious George faces that we had printed and taped on toothpicks.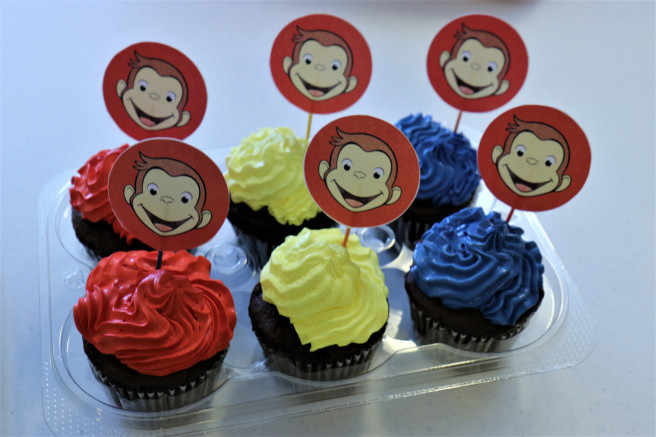 Food – glorious food! I made chocolate covered banana coins (copycat recipe of Trader Joe's) and popcorn balls to go with the theme. I will post both the recipes soon! There were fresh veggies with Ranch, Chex mix in cute paper cones that we made with construction paper, macaroni and cheese, and water and juice to go along with the birthday cake. I made food labels using a template I found online.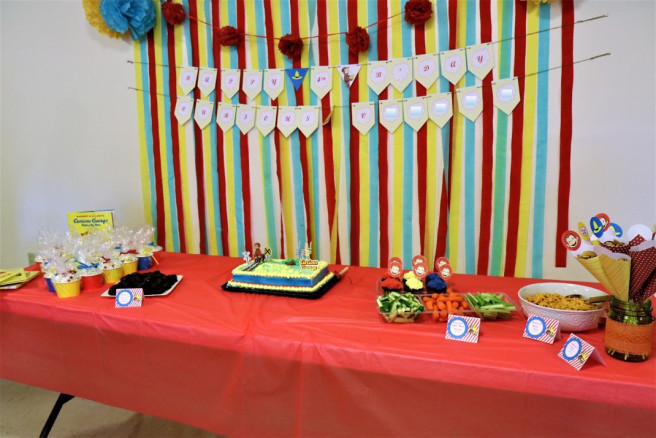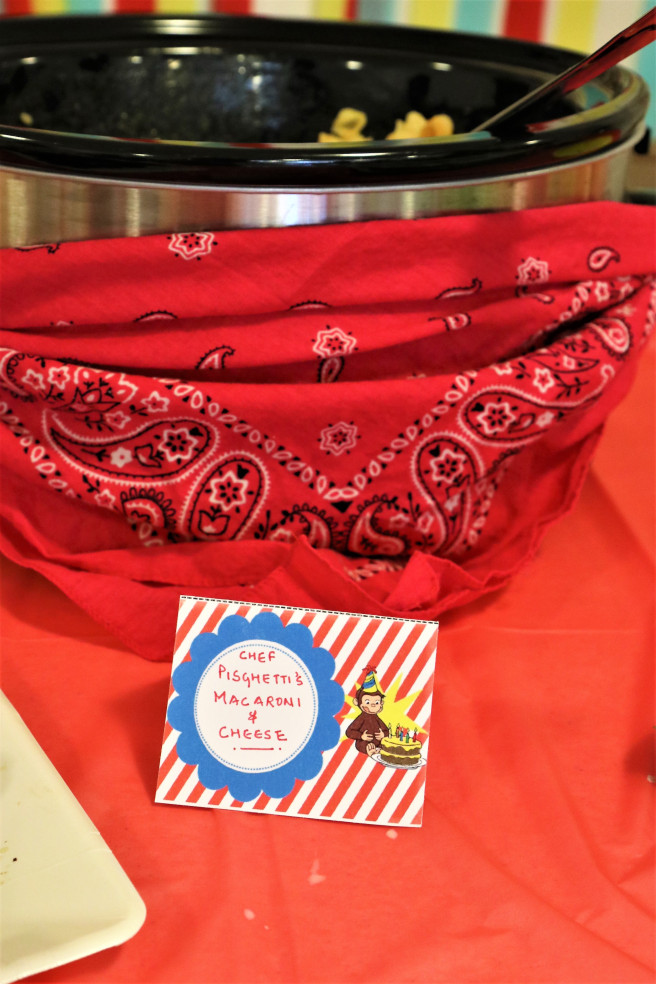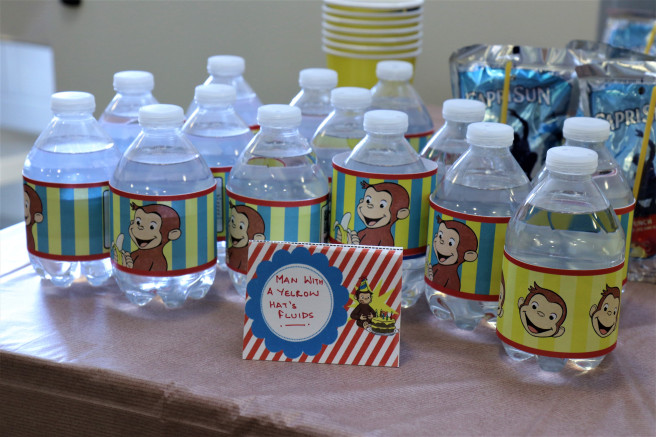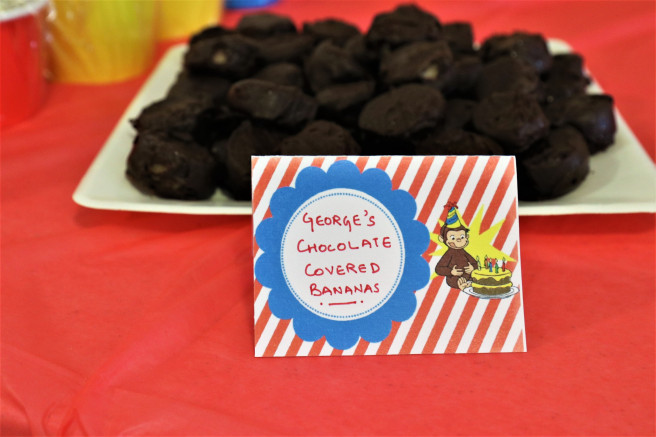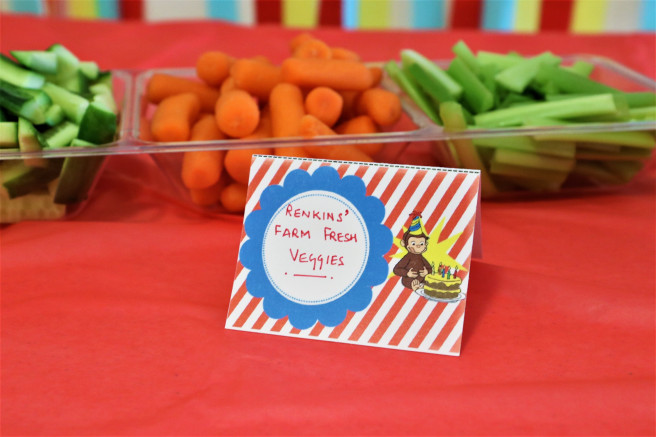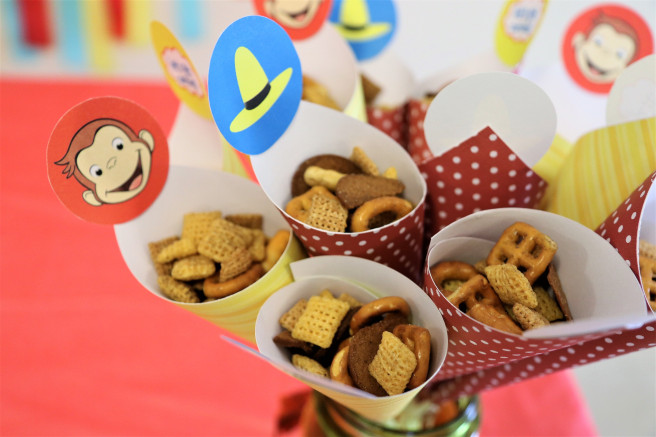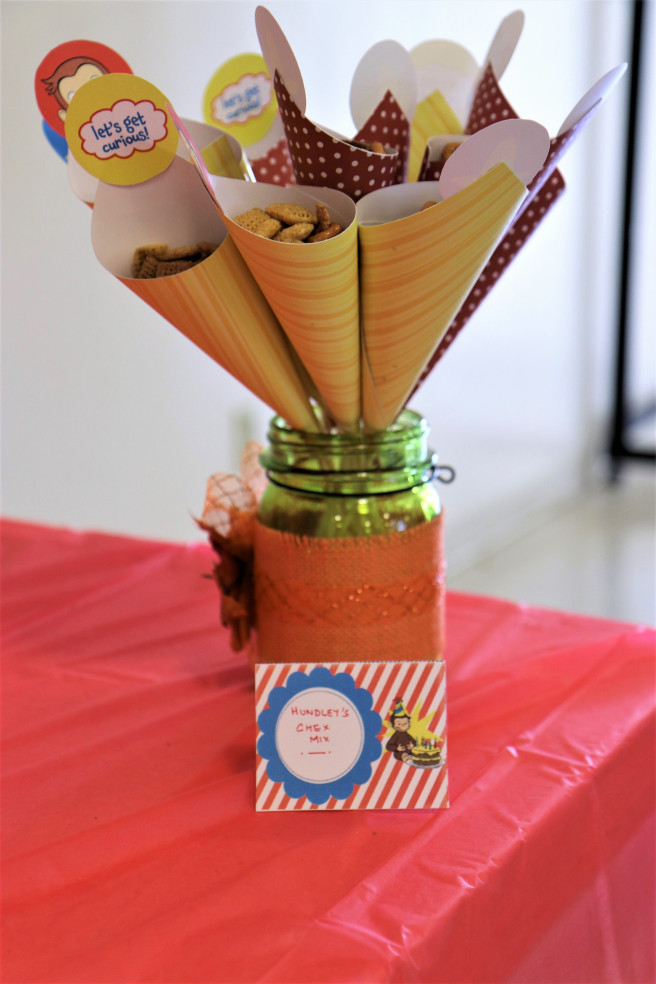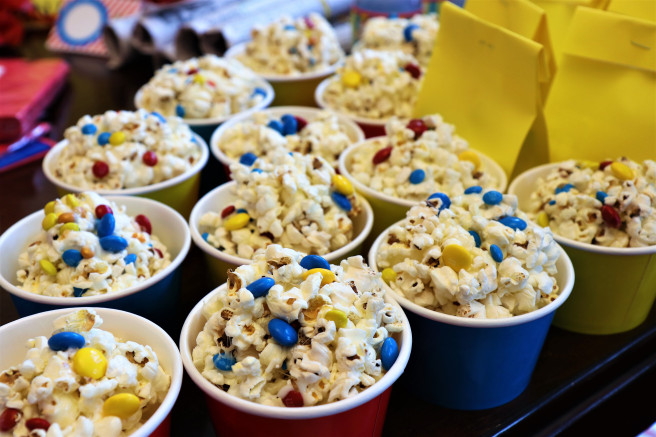 Each guest went home with a favor bag with a printable tag that said "Thanks a bunch". Each bag had a squeezy rocket launcher thingy that I found at Target (Inspiration book: Curious George and the Rocket), a Curious George bookmark, Curious George gummies, a candy pack, and the popcorn in cute festive cups.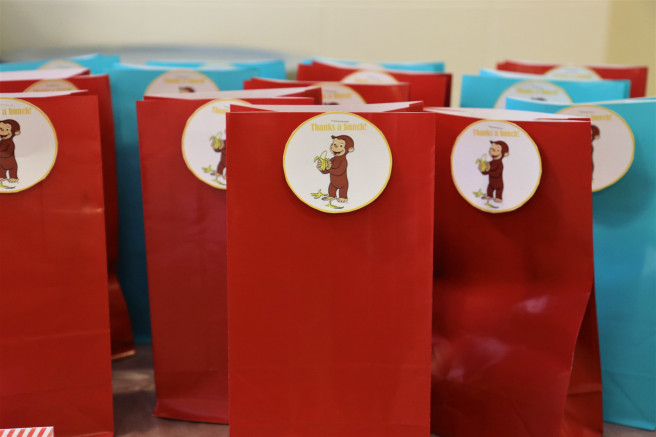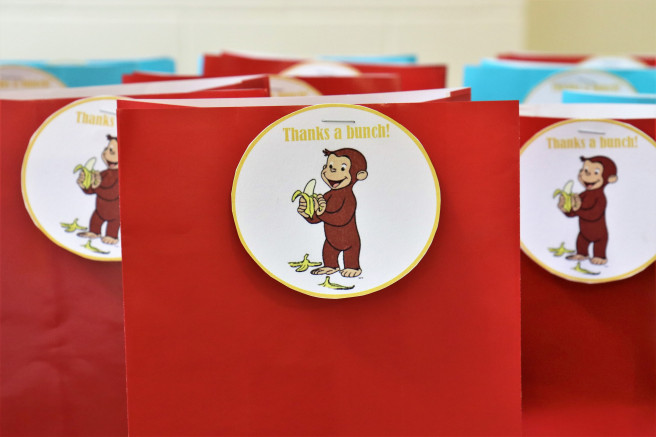 It was a great party! I needed a nap after it was over!
Love – Vaishali.
Invitation – http://timandkarla.blogspot.com/2012/04/freebie-friday-curious-george.html
Birthday Interview – http://www.birthdaypartyideas4u.com/free-birthday-interview-printable/